This is the tenth in my
"Forgotten Artists" series
and it seemed high time to show that "artists" is not meant as a synonym for "conductors. So this time it's a pianist, and a well-kept secret among them.
"Forgotten Artists" may be forgotten to various degrees. In the case of Hélène Boschi I may not be alone in never having forgotten her because I'd never heard of her in the first place. My curiosity was aroused by the seemingly hyperbolic estimates of her stature advanced by the various bloggers and youtube posters offering her recordings for downloads. Now I've heard them I can only respond by becoming a full-rave fan myself, so here goes. As ever I am grateful, and most profoundly so in the present case, to all those collectors who share their treasures in this way. In particular, as so often, to René Gagnaux and his
Mon Musée Musicale
and to "Fred" of Random Classics.
Hélène Boschi was born in Lausanne, Switzerland, on 11 August 1917. Her career took place almost entirely in France. She studied at the
École normale de musique
of Paris with Yvonne Lefébure and Alfred Cortot and was established as a performer and recording artist by the early 1950s. She was the first to record music by Padre Soler, for which she won the Grand Prix du Disque in 1952. In the same year she also proved her advocacy of contemporary music by giving the first performance, in Paris, of Dallapiccola's
Quaderni di Annalibera
, which was dedicated to her. She was also active as a chamber music player and accompanist. From 1955 to 1965 she was soloist with the Radiodiffusion-Télévision Française, covering a wide repertoire. A noted interpreter of Schumann, she was awarded the Robert Schumann prize in 1976.
Boschi taught at the
École normale de musique
of Paris from 1960 to 1965, was head of the higher piano courses of Strasbourg Conservatoire from 1965 to 1985 and taught at the Weimar International Summer Seminars from 1960 to 1976. Her most noted pupil, Piotr Anderszewski, has spoken very warmly of her. She died in Strasbourg on 9 July 1990.
Boschi can be seen playing in a brief piece of film, visible on Youtube, made in Zurich in 1959. She plays Schubert's third Moment Musical. The first impression is not especially favourable. If it would be unkind to call her matronly, then "teacherly" would be a fair enough adjective as she sits there sedately, her head bobbing up and down in time to the music. You might initially find the performance, too, a bit dead-pan. But as it proceeds, with the left hand keeping strict, but not ungracious, time, you realize that the tempo is absolutely spot on. The melody can sing, dance, protest or weep, with complete freedom. By the end, you might even feel you've never heard it so well played. And so you will wonder what else is on offer.
Boschi set down around thirty discs, a few for Supraphon and the East German company Eterna, most of the rest for Le Chant du Monde in Paris. A glance at e-bay listings shows that they have become rare collector's items, commanding very high prices if in good condition. An association called
Les amis de Hélène Boschi
has issued some of her radio recordings, but as private releases for members only. I haven't heard any of these, but I have been able to hear a fair number of her commercial discs, enough to offer a preliminary assessment of her work.
Baroque
I haven't heard Boschi's Soler, but I have heard her coupling, issued on both Musical Masterpieces and on Supraphon, of 8 pieces by
Couperin
and 7 by
Rameau
(MM 476/LPM 224).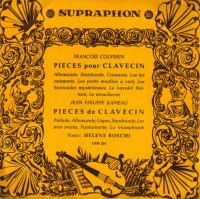 Starting with the Couperin, the listener needs to get acclimatized, first of all, to a recording with a heavy background hiss, a shallow, brittle sound and a slightly wavery pitch. And then, of course, while we are still used to hearing Bach on the piano, conventional wisdom has it that early French composers don't work on the modern instrument. And yet I found that, from the third piece onwards, I was simply hooked. Boschi has a clear but singing sound, with ornaments that really sound like a harpsichord – just how does she do it? She also uses a wide range of dynamics and plays with expressive freedom, yet also with rhythmic discipline. At times there's real passion in her playing, at others she teases out inner melodies by dynamic terracing. Once you've got onto her wavelength, it's an enthralling experience, to be taken
sui generis
. It would be nice to think that somebody today could learn to do something similar.
In Rameau, Boschi is sometimes surprisingly robust, unashamedly full-toned, even passionate in her treatment of a composer who tends to be regarded as the epitome of French elegance. But then, how magically she ushers in the triplet section of the A minor prelude, how she inflects the following Allemande with expression that is involving yet never inappropriately romantic. And above all, how she makes this music speak. Her playing of
Les Trois Mains
might be held up as a shining example before anyone who says Rameau doesn't work on the piano. As in her Couperin Boschi, alone in my experience, has found a pianistic performing style for the French baroque that is true both to the music and to the instrument she plays.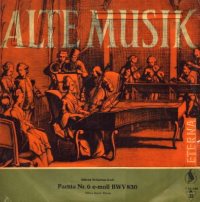 In
J.S. Bach's Partita no.6
, ignorance of certain rhythmic conventions, notably in the
Tempo di Gavotta
, proclaim this an interpretation of yesteryear. Furthermore, though the performance was spread across two sides of an LP, Boschi repeats only the first half of each dance, and in the
Tempo di Gavotta
not even that, making a total timing for the two sides of 25:17. With so much groove-space it is disappointing to find quite a bit of distortion in the louder passages. If M. Gagnaux's dating of the LP to between 1958 and 1961 is correct, it should sound far better. I wonder if it was originally taped, maybe for the radio, quite a bit earlier.
That said, this is marvellous Bach-playing. Boschi is one of the chosen few who can find inspired melodic simplicity in Bach's most complicated textures. It all sounds so natural. Furthermore, a sense of spiritual illumination hovers over her sound. These are the qualities we are always told to find in Edwin Fischer's Bach, but I find his rhythmic unsteadiness too forbidding. Boschi, on the other hand, sounds quite at home in the recording studio, with evenly flowing rhythms and a fine clarity that never becomes dry. In spirit, this is Bach-on-the-piano as good as it comes (Eterna 720039).
Haydn and Mozart
In
Haydn's Sonata in E flat, Hob.XVI:52
, Boschi achieves fire, weight and rhetoric, as well as sheer quirkiness, without ever going beyond the crystalline sonorities proper to music of that period. Except in the elimination of all repeats except the first in the slow movement, this is exemplary Haydn. Nay, enthralling Haydn, in its combination of a free spirit with rhythmic discipline. The recording is woozy but I soon forgot about it (Artia ALPS 708, but also issued by Supraphon).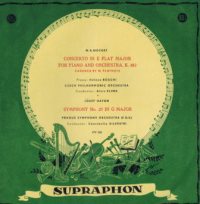 Mozart's Concerto in E flat, K.482,
was set down with the Czech Philharmonic Orchestra conducted by Alois Klima. It may seem perverse to begin a discussion of a concerto record by speaking of the conductor and orchestra, the more so in an article about the pianist. Yet this is a performance that gets off to such a wonderfully characterful start that I cannot begin any other way. Alois Klima is not one of the better known of the glorious Supraphon 1950s roster, but it sounds as if he should be. The opening ritornello is full yet luminous, free-spirited yet disciplined, openhearted yet detailed in its phrasing. Above all it is imbued with a songful humanity that I have rarely encountered except in Karel Sejna's nearly contemporary "Prague" Symphony with this same orchestra. Furthermore, the unique Czech timbres, especially in the woodwind, were still fully in force. Passages such as the C major episode in the second movement or the slower section in the finale can rarely have sounded so enchantingly rustic. On the strength of this – and the Sejna "Prague" – Czech performances of Mozart, at least from the 1950s, need urgent investigation.
Another pianist might have emerged a mere passenger to such a backdrop, or have entered with different ideas entirely. Boschi and Klima are so completely united in their approach that it is impossible to surmise which of the two provided the initial interpretative input – maybe they simply relied on Mozart himself. To the orchestral backdrop just described, Boschi brings a limpid evenness of touch and a phrasing that marries vitality with delicacy and, when it is occasionally called for, strength. In the last resort it is the supreme naturalness of everything that leaves the lasting impression. This has to be one of the very finest Mozart concerto performances ever set down.
The downloaded recording sounds good enough. Maybe one day Supraphon themselves will do better with the original master to work from (Supraphon LPV 205, rec.1 July 1953).
Schubert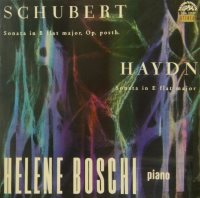 For better or worse, Boschi does not appear to have recorded a note of Beethoven. It would be interesting to know if this stems from a lack of sympathy with this composer, or whether she simply wasn't asked to. In compensation, she recorded some notable Schubert.
The Zurich video footage with her performance of the third Moment Musical has already been discussed. Her performance of the late Sonata in B flat major shared an LP with the Haydn sonata described above.
The prolonged up-beat with which Boschi begins, and which she maintains in later enunciations of the theme, may initially disconcert. It is her only liberty in a performance that gives Schubert his full lyrical head yet never lets us forget the pain and the tragedy behind the composer's apparently endless flow of melody. While she does not quarry and worry every phrase for its disturbing connotations as Brendel was later to do, nor does she allow us to forget that Schubertian innocence is ambiguous and illusory. Her pianism, moreover, is supreme, whether in her control of the full yet limpid textures or in her ability to convey long, singing lines. The recording is good enough to allow the performance to be appreciated (Artia ALPS 708, but also issued by Supraphon).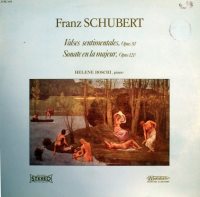 The "little"
Sonata in A, D.664,
however, possibly displays Boschi's Schubertian gifts to an even greater degree. Though there is quite a lot of artful rubato in her shaping of the opening theme, the effect is of natural songfulness. There is throughout a dialogue between the hands that provides a chiaroscuro of changing colours. This music may be "charming" rather than "deep" Schubert, but there is a whole range of human experience in it when played like this. The return of the second-movement theme must surely be among the most inspired Schubert-playing on disc. Likewise the "
Valses Sentimentales
", on the "other side", scamper along with sparkling vivacity, yet each one is a little poetic statement of its own.
There's a problem, though. This disc, as heard on Youtube, plays about a semitone sharp. It is just possible that it was set down in a city like Vienna or Dresden where a higher concert pitch is used. But it seems unlikely that a French company recorded a French-based pianist anywhere but in France, which uses a "normal" concert pitch of A = 440. So either the Youtube poster's equipment runs fast or the disc was transferred at the wrong pitch. This wasn't so unusual in the days of the LP, especially with smaller companies. A discrepancy of up to a quarter of a tone does not markedly affect our perception of the performance. Half a tone begins to do so. In the sonata a certain loss of vivacity – and an occasional sense of breathlessness – would probably be compensated by the emergence of deeper qualities. The dialogue between the hands and the range of colours would remain. In the "Valses", where verve is the prevailing feature, the performances may in reality be a tad less wonderful than they sound. So I'll have to suspend my final judgement on this disc (Musidisc 30 RC 604, rec. 1955).
Schumann
As has already been said. Boschi was particularly noted for her Schumann. It is typical of her recorded legacy that we cannot hear her in any of this composer's best known works, such as the Concerto,
Kinderszenen
or
Carnaval
. While one can only applaud her wish to promote the rarer corner of the Schumann canon, this does make it difficult to assess her alongside such artists as Annie Fischer or her master Cortot.
Boschi's performances of the
Intermezzi op.4
and the
Gesänge der Fruhe op.133
have been put up on Youtube without any indication of date or provenance. The op.133 pieces, at least, seem to come from a French LP made in the early 1960s. Both cycles, with some other Schumann, have been put on a CD, but this does not seem to be available now.
The sound is discernibly more recent than most of the material I discuss here. It is also a little close and dry. This may contribute to the impression that in the Intermezzi Boschi provides abundant but slightly splashy energy. She catches a few crabs in the opening piece, raising the question of whether the standard she achieved in the 1950s was wholly maintained later. On the other hand, "a slightly splashy energy" is a description that might be made of Schumann himself in these little-played pieces where the composer almost obsessively parades his Florestan side at the expense of the intimate poetry for which we love him so much. Boschi's commitment is certainly not in doubt.
Conventional wisdom has it that late Schumann shows a sorry decline, yet Gesänge der Fruhe has its admirers and it makes the stronger impression here. Boschi finds all the necessary poetry and also considerable power. Moreover, she elucidates the often dense textures with much skill. Boschi also set down an LP selection from the
Album for the Young
.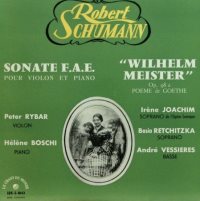 Possibly, though, Boschi's greatest contribution to Schumann on disc is her coupling of the
Lieder und Gesänge aus Goethes "Wilhelm Meister" op.98a
with the
F.A.E. Sonata
(Le Chant du Monde LDX-S-8143, rec. 22-23 October 1956, Paris). In the Lieder she is joined by
Irène Joachim
(Mignon, soprano),
Basia Retchitzka
(Philine, soprano) and
André Vessières
(Harper, bass). Her partner in the Sonata is another cult figure, the violinist
Peter Rybar
.
Schumann's "Wilhelm Meister" settings are generally held to have been superseded by those of Hugo Wolf. They certainly make a strong impression in this world première recording. This is all the more surprising when one does not automatically think of France as a likely source of fine lieder singing – nor does the designation of Irène Joachim on the LP cover, perhaps for contractual reasons, as "Soprano de l'Opéra Comique" inspire much faith. However, the enormous heights attained by Gérard Souzay in this field should cause us to question our conceptions.
All three singers have voices that sound intrinsically right for lieder, not operatic at all. They are also exactly right for the characters. Irène Joachim expresses perfectly the fragile, homesick quality of Mignon, André Vessières is a suitably grave Harper and Basia Retchitzka is a deliciously charming Philine. All give due weight to their words and their German, in so far as I can judge, is convincing.
In the case of Irène Joachim (1913-2001) this is hardly to be wondered at. With a German father and a French mother – she was a granddaughter of the great violinist Joseph Joachim – she was bilingual. Her first recordings, in 1938, were of lieder by Mozart and Brahms. Her recording of lieder by Weber (1959) won a Grand Prix du Disque. However, her greatest fame came from her impersonation of Debussy's Mélisande. She sang this role in the first-ever – and forever famous – recording under Désormière (1941). She was also at home in lighter fare. In 1946 she sang Kosma's "Feuilles Mortes" with Yves Montand in the film "Les Portes del la Nuit".
Basia (or Bazia) Retchitzka (b.1920) was a Swiss soprano who specialized mainly in baroque and modern works. No information has emerged about André Vessières, though his name appears on a number of other recordings from the 1950s, mainly of French repertoire.
Boschi's contribution cannot be praised too highly, whether as pianism or as accompanying. Schumann's often complex textures are always kept clear, his swings of mood from passion to intimate, conversational self-communing expressed with a tone that can be strong or limpid as required. The music always sings with supreme musicality. Her phrasing is, moreover, always supportive of the singers, creating mini-dialogues with them, entering the texture positively at one moment, retiring the next. Has this first recording been bettered?
The F.A.E. Sonata is a composite work for which Schumann provided two movements. The others were written by Albert Dietrich and the young Brahms. It does not really add up to a satisfactory whole, though the weaknesses are not always as one would expect. The disappointing movement is not Dietrich's attractively lyrical-reminiscent opening allegro but Schumann's finale. While the misfit in terms of tone is the young Brahms's impetuously upfront scherzo. Schumann makes amends for his finale with a brief but highly attractive Intermezzo. This intermezzo, however, is the nearest the sonata comes to having a slow movement. It is neither slow enough nor extended enough to provide a real point of repose. Evidently the three composers had not put their heads together sufficiently over a basic ground-plan for a convincing sonata.
All this does not mean that the work is not worth hearing, especially in a performance such as this. Boschi provides full but never heavy textures in which every note sings. The phrasing is full of natural musicality. This goes well with Rybar's slightly old-world playing – lyrically generous with a warm vibrato and touches – not overdone – of portamento. Brilliance and fire are not lacking where required. The pair make a good case for further investigation of Dietrich – there's a violin concerto and a cello sonata. They find the right moods for Schumann's delicate intermezzo and Brahms's abrasive scherzo. They do all they can with Schumann's laboured attempt at a finale. The recording is mono but is no bar to appreciation ( rec. 25-26 September, 10 October 1955, Paris).
French composers
In 1998 a CD was issued by Hermitage containing six French works set down by Boschi for Le Chant du Monde in the 1950s. This CD is no longer available, but all its component parts can be heard on Youtube. The repertoire ranges from the familiar to the very rare.
Starting with the best-known work, in
Franck's Prélude, Choral et Fuge
Boschi can withstand comparison with her master Cortot, while by no means offering a carbon copy of his famous interpretation. Boschi is rhetorical and improvisatory without losing control of the larger structure. She offers a warm, rounded tone and Franck's many countermelodies are given their full due. The timing tells us this is a fairly swift reading, but the overall effect is one of unhurried majesty.
The other familiar work is
Satie's 3 Gnossiennes
. These famous little pieces cast effortlessly their pools of melancholy sweetness, an effect far harder to achieve than it sounds. This interestingly-planned LP also contained three
Mélodies
sung by
Christiane Castelli
, the
3 Morceaux en forme de poire
for piano duet, in which Boschi is joined by
Serge Nigg
, and 3 Chansons in which
Colinette
accompanies herself (Le Chant du Monde LD-A-4003).
Fauré's
unusually dark
Thème et variations, op.73
gets a performance of strength and unfailing textural command as well as of beauty. The sublime ninth variation could stand as a touchstone of perfect Fauré-playing. It is interesting to find that, when you listen without a score the effect is of complete naturalness. Whereas, if you open the score to see how Boschi is achieving this, her playing is actually full of expressive pauses and quite extreme rubato. The art that conceals art, evidently.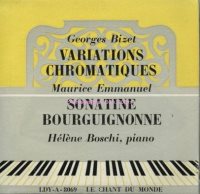 Rather further from the beaten track – though recorded by Glenn Gould, of all people – is
Bizet's Thème et variations
. The theme itself is surprisingly grave and dark for Bizet, but it gives rise to variations in which charm, humour and vivacity are to the fore. Boschi provides a dazzling display of pianistic colours. She certainly had me wondering why this piece is so little played, especially when Bizet is hardly a name to drive the public away (Le Chant du Monde LDY-A-8069).
Another rarity is
Dukas's Variations, interlude et finale sur un thème de Rameau
. In this work the composer is almost obsessively concerned with wide contrasts, teeming textures and striking effects. Boschi responds with stunning pianistic mastery. What she cannot quite do is persuade this listener that there is a genuinely personal voice behind Dukas's compositional antics (Le Chant du Monde LDY 8117).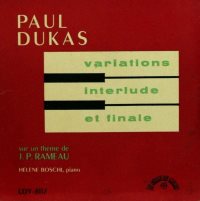 A much more personal voice, to my ears, emerges from
Maurice Emmanuel's Sonatine bourguignonne
. Though this is clearly a French post-impressionist – Roussel would seem the closest reference – there is a fierce, proud and luminous exaltation behind it that makes the music resemble nothing else. The performance is surely supreme (Le Chant du Monde LDY-A-8069).
Boschi collaborated again with Christiane Castelli in
mélodies
by
Chabrier
-
Chanson de l'alouette, Chanson pour Jean, L'Ile heureuse, Fileuse, Ballade des gros dindons, Pastorale des cochons roses
– and
Duparc -
La vie antérieure, L'invitation au Voyage, Chanson triste, Elégie, Extase.
In the Chabrier pieces Boschi finds delicately fragrant textures that almost suggest the young Delius, while in Duparc's heavier manner she is grave in a luminous manner, never clogged. "L'invitation au Voyage" shimmers where in some hands it rattles.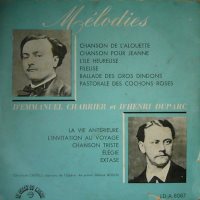 So far, so good, but these are songs. Christiane Castelli (1922-1989) has the sort of fixed-production, childish voice that would do very well for Yniold and which the French have traditionally applied to roles such as Siébel. Or at least, that is her chosen manner here. Turning to her biography, I find that she sang Musetta rather than Mimì, which sounds reasonable, but she also essayed Tosca, Nedda, Desdemona and Elisabeth de Valois. On the basis of her singing on this record, my mind simply boggles. Her Nedda was recorded, in French, under Pierre Dervaux, as was her Musetta under Georges Tzipine. I'll hear them with an open mind if they come my way.
To return to this disc, I can only say that, even if you like this sort of voice more than I do, you'd have to admit that there is far more in the way of sensitive colouring and phrasing on offer from the pianist than from the singer, and that Castelli is seriously over-parted by Chabrier's "Ballade des gros Dindons". Some of the Duparc songs, even most of them, begin sufficiently well to have one think that maybe this one, at least will be good all through. But they all have strong climaxes that cry out for a richer tone when Castelli can only manage shrillness.
A pity. The only recommendation for this disc, as far as I can see, is to pianists preparing to accompany these songs. They will get a lesson of imperishable value.
Pride of place among Boschi's recordings of French music must surely go to her performance of
D'Indy's Symphonie sur un Chant Montagnard
, in which she is joined by the Prague Radio Symphony Orchestra under
Karel Sejna
.
For a work on the fringe of the repertoire, D'Indy's symphony-cum-piano concerto picked up quite a number of authoritative recordings in the 78 and LP era. I compared the Boschi/Sejna with three others, all involving artists with some claim to discussion as "Forgotten Artists". I suppose I should have refreshed my memory as to the Henriot-Schweitzer version with the far-from-forgotten Charles Munch, but recollections of very unappealing piano tone, as recorded, did not tempt me back.
I listened first to Jean Doyen with the Lamoureux Orchestra under Jean Fournet (1954). Slightly to my surprise, I found the artists keen to relate D'Indy's writing to grand Rachmaninov-style pianism. It is a commandingly effective view.
In truth, a not dissimilar interpretation was offered by Jeanne-Marie Darré and the Lamoureux Orchestra under Albert Wolff, presumably the work's first recording (1931). However, Darré and Wolff are a little fleeter, adding a touch of Fauré to the menu.
Relative outsiders were Grant Johannesen, an American pianist particularly noted for his performances of French music, and Sir Eugene Goossens, conducting the London Symphony Orchestra (c.1958). It may be a penny-in-the-slot reaction to an English conductor, but Goossens opens the work with a hint of Delian poetry and a certain over-the-hills-and-far-away atmosphere is maintained throughout. Goossens lets a lot more light into D'Indy's stuffed textures and altogether the emphasis here is on colour and tone-painting. Johannesen plays very well.
But I think Boschi plays better. Her voicing of the solo passages at the opening of the second movement surely proclaim her the best equipped of this particular quartet of pianists, and her give and take with the orchestra provides further evidence of her sensibility and artistry. As for Sejna, the rustic Czech wind at the beginning enable him to remind us that this is, after all, a folk-tune, however lushly D'Indy has dressed it up. Of all these conductors, he is the one that brings the music closest to pure nature-painting. His climaxes in the first movement, for example, seem like mountain storms rather than a brassy noise. The mountain breezes blow freshly and exuberantly across the finale and the whole performance takes off marvellously. If I had to take just one of these records it would be this (Supraphon
LPM 90
, rec. 1953). The performance has been reissued by Forgotten Records, coupled with Boschi's recordings of
Debussy's Children's Corner
and
Ravel's Sonatine
(FR 581).
More to come?
With the noted Czech cellist
Milos Sadlo
, Boschi set down three works that don't quite fit under any of the above headings: cello sonatas by
Chopin, Janacek
and
Martinu
. As I said at the beginning,
Les amis de Hélène Boschi
have issued some of her radio recordings. Since she was a staff pianist at French Radio for ten years, there must surely be a large amount of material buried away there. Unless a Boschi cult got into full swing, it's not so very likely that anyone will be tempted by the financial prospects of releasing some of it. And yet, the possibility that other performances of Bach, Haydn, Mozart, Schubert, Schumann and French composers as good – even great – as those I've been listening to are lying in limbo for all eternity is a disconcerting one.