Choosing one recording from all those reviewed in the last months is an impossible task, yet pick one we must. Does one look at the multiply-nominated recordings above? If so, how does one pick between the nine? It is certainly not possible to listen to all the options, for the practical reasons of time and availability, but also one's own personal preferences. What might be unlistenable for one person is the best recording ever for another.

Therefore, it seems appropriate to take as read the quality of the recordings and to look beyond that to some greater significance. This led me to considering some of the outstanding recordings featuring composers with birth or death anniversaries. The 150th anniversary of the birth of Richard Strauss is probably the most prominent, but I have gone for the combination of an anniversary of his birth in 1914, the culmination of an eight volume set of his orchestral works, and an appearance as BBC Radio 3's Composer of the Week. I am, of course, referring to the Polish-British composer Andrzej Panufnik and the CPO set.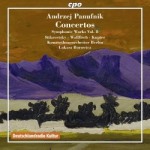 Andrzej PANUFNIK Symphonic Works Vol. 8: Violin Concerto, Cello Concerto, Piano Concerto - Alexander Sitkovetsky (violin) Raphael Wallfisch (cello) Ewa Kupiec (piano) Konzerthaus O Berlin/Łukasz Borowicz rec. 2013 CPO 7776872
This final volume featuring three concertos follows on from those containing his ten symphonies and many orchestral pieces. It may be that this is not the best place to start your collection of his works - my suggestion would be Volume 2 - but the overall quality of the music is undeniable.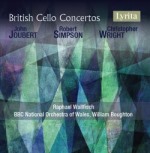 British Cello Concertos by John Joubert, Robert Simpson & Christopher Wright - Raphael Wallfisch (cello) BBC Ntl O Wales/William Boughton rec. 2013 LYRITA SRCD344
Lyrita has been, as they say, part of the soundtrack of my life since the 1970s when classical music began to take its hold on me. I welcome this disc for various reasons. It's among a small group of truly newly recorded Lyritas - the first to appear in decades. It upholds the label's finest traditions. The music is worthwhile: I was especially gripped by the Wright and Joubert; the Simpson may take longer. It's a no-compromise CD with long playing time and three substantial concertos never previously recorded commercially. Wright and Simpson are new to Lyrita but are better than a good fit. There's no mainstream sweetener; no concession to simple-minded commercialism. As for Raphael Wallfisch his freshness and inspiration is a match for his appetite for mapping out new cello concerto boundaries. The performances, documentation and recording sides are exemplary. The label's adherence to exploring and adventures in repertoire is admirable and to be celebrated as is its continuing avoiding of the obvious and the mainstream. We are sorry that Richard Itter is no longer there - he died earlier this year - but on this showing Lyrita has new energy and may well have agreeable surprises in store.
Declaration of Interest: Recently I have been acting as a repertoire sounding-board for Lyrita but have had no role in relation to the present disc. RB