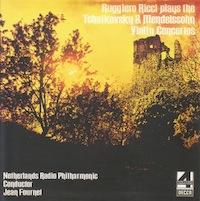 CD 17
[60:02]
Peter Il'yich TCHAIKOVSKY
Violin Concerto in D, Op. 35
Felix MENDELSSOHN
Violin Concerto in E minor, Op. 64
Ruggiero Ricci (violin)
Netherlands Radio Philharmonic Orchestra/Jean Fournet
rec. 1974
First released on LP as PFS 4345 (November 1975)
Following on from his solos in
Swan Lake
(CDs 15/16) violinist Ruggiero Ricci now tackles two of the great Romantic concertos. This coupling has been available for ages as part of Decca's budget Weekend series, while the Tchaikovsky has also been paired with Postnikova's account of the First Piano Concerto with the Vienna Symphony under Rozhdestvensky. The latter is advertised as a re-master, but I'm assuming that doesn't apply to this Phase 4 release. The conductor here is Jean Fournet, who made several recordings with the Netherlands Radio Philharmonic.
First impressions of the Tchaikovsky concerto are not unfavourable, although some may find Ricci's well-upholstered tone something of an acquired taste. The orchestral sound is bass heavy and the soloist is more forwardly placed than is fashionable these days. As John Quinn noted in his comments from the
MusicWeb Listening Room
there's little to criticise when it comes to Ricci's playing, even if his technique is a little old fashioned. He's incisive in the outer movements and he spins a lovely line in the central one. Fournet's conducting is best described as reliable rather than revealing.
I was less enamoured of the Mendelssohn E minor concerto, whose first movement could do with a bit more transparency and lift. Alas, the somewhat boomy sound has been carried over from the Tchaikovsky and that really doesn't help to animate the piece. Compared with his more modern rivals Ricci is prone to expressive overload; indeed, the entire performance is apt to clot and cloy. Ricci's solos are unnaturally highlighted as well. As for the AVRO Studio acoustic it's much better served elsewhere in this box.
Dated sound and technique; safe, uninspired conducting.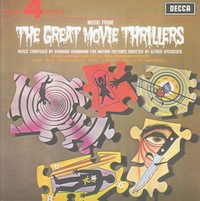 CD 18
[46:39]
The Great Movie Thrillers
Bernard HERRMANN
Psycho (A Narrative for Orchestra), Marnie, North by Northwest, Vertigo, A Portrait of Hitch (from The Trouble with Harry)
London Philharmonic Orchestra/Bernard Herrmann
rec. 1968
First released on LP as PFS 4173 (December 1969)
Herrmann conducting Herrmann is not to be missed; and what luxury casting, the LPO no less. I much enjoyed John Mauceri directing his arrangements of some of these scores, even if they don't always capture the true spirit of the originals (
review
). One of the relative disappointments on that CD was the low-key version of
Psycho (A Narrative
for Orchestra)
, which Herrmann wrote in the 1960s. The composer's own performance is in another league altogether; those shrill, slashing strings are especially terrifying, and he welds the film's various themes into a very dramatic and cohesive whole.
The recording – taped at Decca's No. 3 Studio, West Hampstead - is close, and there's some aural shunting; however, that's less injurious in the context of film music. It goes without saying that the LPO play with tremendous bite and body, and Herrmann maintains a firm grip on the music at all times. I've never thought the score for
Marnie
(1964) one of Herrmann's best, although he does bring a touch of old-style excess to a film whose very obvious use of back-projection harks back to an earlier age of film-making. Still, Herrmann underlines Marnie's traumatic past – symbolised by her catatonic response to the colour red - with music of terrific force and imagination. It's also a love story, and that's very evident in the score's more refulgent moments.
Mauceri's title sequence for
North by Northwest
(1959) is one of the very best things in his collection; big-boned and propulsive it has commendable clout. That said, one only has to hear the wonderfully explicit sounds of the original scoring to realise that Mauceri has blunted some of the music's edge. Just like Saul Bass's opening credits Herrmann's performance zips and slices like no other; indeed, there's an astonishing amount of detail here that doesn't come across on the soundtrack itself. The crisp, pulse-racing timps are especially well caught.
Edges and edginess are built into
Vertigo
(1957), whose dissonances have never sounded as disturbing as they do here. This suite has an almost symphonic breadth at times; now troubled, now meditative it's superbly atmospheric too. Thankfully the engineers have left well alone, so the music swells and surges without help or hindrance. True, Herrmann inserts plenty of melo- into the drama, and that makes for some rather crude emotional 'signposting'. Still, the LPO bring thrilling weight and sonority to the climaxes. Herrmann fashioned the music from
The Trouble with Harry
(1955), into a suite entitled
A Portrait of Hitch
. This light, transparent score has a jauntiness and wit that's simply irresistible.
Some of the best film music ever written; very well played and recorded.
CD 19
[45:57]
The Fantasy Film World of Bernard Herrmann
Journey to the Center of the Earth, The 7th Voyage of Sinbad, The Day the Earth Stood Still, Fahrenheit 451
The National Philharmonic Orchestra/Bernard Herrmann
Rec. 1973
First released on LP as PFS 4309 (November 1974)
Composers aren't always the best interpreters of their own music, but Herrmann's authoritative take on his Hitchcock scores is an exception. Sampling CD 18 again I'm pretty sure his accounts of those well-crafted suites are as good as you're likely to hear. His work for other directors is a little more variable though; the tectonic shudder and grind of his suite from Henry Levin's
Journey to the Center of the Earth
(1959) is a case in point. It does have its moments – organ, rasping tubas and cymbal clashes feature prominently – and the recording is good, if a little congested in the climaxes.
For me
The 7th Voyage of Sinbad
(1958) is most notable for its remarkable visuals, courtesy of the great Ray Harryhausen. Dynamation may seem quaint in this age of advanced CGI, but what he did here and in
Jason and the Argonauts
– which Herrmann also scored – is always worth watch. The Sinbad films – there were three of them – are diverting enough, and Herrmann's sparkling suite from this one is refreshingly free of the usual Eastern clichés. The combination of dark, Arnoldian brass and chirruping percussion sounds remarkably tactile. I imagine this would have made an excellent demo track in its day.
The Day the Earth Stood Still
(1951) has to be one of the most memorable sci-fi films of all time. From its broad premise – humankind must be prevented from destroying themselves – to characters such as Gort the robot, this earnest little flick is full of memorable scenes and dialogue. Who doesn't remember Michael Rennie's command to Gort, 'Klaatu barada nikto'? By comparison the 2008 remake is weak and witless; Tyler Bates's score certainly doesn't hold a candle to his predecessor's highly individual and atmospheric one.
Herrmann employed a range of electronic instruments, including electric strings, theremins, Hammond organs and vibraphones. The result is an endlessly fascinating suite whose sound world is a perfect mirror of the film's narrative. Herrmann directs this glorious performance with assurance and flair, and I daresay the musicians enjoyed themselves immensely. Once again the tuba, a key player, is very well caught, and the recording is thoroughly immersive. The engineers really did a good job with this one; a classic in every conceivable sense.
Staying in the realm of science-fiction and fantasy Herrmann also penned the score for Hitch fan François Truffaut's 1966 film
Fahrenheit 451
. His use of strings, harp and a selection of percussion instruments is inspired; that sudden martial interlude – harp and glockenspiel to the fore – is pretty impressive too, even if the high strings are a little glassy. The music is very much of its time - brittle, dystopian - but Herrmann adds his distinctive brand of tender lyricism to the mix. Really, there's nothing formulaic about this music, which is always apt and original. With the possible exception of John Williams contemporary cinema has no one to rival Herrmann at his best.
Masterful; a must for all film-music fans.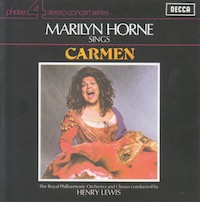 CD 20
[84:12]
Georges BIZET
Carmen (excerpts)
Peter Il'yich TCHAIKOVSKY
Symphony No. 6 In B minor, Op. 74 'Pathétique'
Marilyn Horne (mezzo)
Michele Molese (tenor)
rec. 1968/70
Royal Philharmonic Orchestra & Chorus/Henry Lewis
First released on LP as PFS 4204 (January 1971) and PFS 4161 (July 1969)
The role of Carmen seems to have been part of Marilyn Horne's career from the beginning; she dubbed the singing voice of Dorothy Dandridge in Otto Preminger's 1954 film
Carmen Jones
, and in an episode of
The Odd Couple
she played a singer who goes on to triumph in
Carmen
. Horne went on to sing the role for real at the Met in 1972. This may seem like something of a departure for one so closely associated with the
bel canto
rep, but a quick Google confirms she was remarkably versatile. She's accompanied in this Kingsway Hall recording by her then husband Henry Lewis and the Royal Philharmonic.
Things get off to a precipitous start, as the engineers are caught off guard by the overture. It isn't the first time this has happened, and I wonder why they didn't insist on a retake. Meanwhile Lewis zips through this zesty preamble; the sound is light and bright and the signature cymbals have plenty of tizz. The orchestral sound is apt to 'shred' in the tuttis, but the voices of Horne and compatriot Michele Molese, her Don José, are quite well managed. I must admit I'm not a great fan of opera highlights, as they seldom capture the cumulative drama of the piece; that said, this string of excerpts works better than most.
Despite a few sobs and barks Molese makes a very decent Don José; surely even the hyper-critical Harold Schonberg would have been impressed by his range and power. In contrast the chorus sounds rather anaemic. Horne may not have the sultriness of a Leontyne Price or a Grace Bumbry but she's a still a convincing Carmen. Lewis does a fair job of holding it all together and Decca's compulsive knob twiddlers sit on their hands most of the time.
Given that Lewis hasn't made a very good impression thus far I approached his
Pathétique
with trepidation. Recorded at Decca's No. 3 Studio, West Hampstead, this somewhat lugubrious performance isn't helped by a suffocating balance. Although the first movement comes perilously close to stalling the
Allegro con grazia
displays some much-needed lift. Unfortunately the RPO aren't on top form, which just adds to the sense of a scrappy, meandering performance. Rather alarmingly the third movement is horribly compressed; it sounds so peculiar, almost as if it were recorded at another time and place. After that unexpected wrinkle the finale opens up a bit only to be closed down by a fatal lack of impetus and inspiration.
Good bits from Bizet; enervating Tchaikovsky.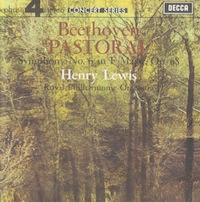 CD 21
[59:22]
Ludwig van BEETHOVEN
Symphony No. 6 in F, Op. 68 'Pastoral'
Richard STRAUSS
Till Eulenspiegels lustige Streiche, Op. 28
rec. 1969/70
Royal Philharmonic Orchestra/Henry Lewis
First released on LP as PFS 4188 (July 1970) and PFS 4215 (April 1971)
Frankly I'm not hopeful; Henry Lewis was never a front-rank baton waver and everything I've heard here confirms that. The Royal Philharmonic certainly don't respond to him with the passion and unanimity that they managed for others at the time. They were all over the place in the
Pathétique
(CD 20) and the first movement of this
Pastoral
is little better. I suspect part of the problem is Lewis's sedate – nay, sedated - pace. Anyone used to more recent performances – and not necessarily HIPP-inspired ones, either – will find this reading dull beyond measure.
The brook in the second movement is a mere trickle, its flow dammed by the conductor's life-denying speeds. Lewis's tendency to surge and retreat is also extremely irritating, as is the unsubtle spotlighting of the woodwinds. The bucolic gathering has all the excitement of a wake and the feeble storm confirms this as a scrawny, underpowered
Pastoral
. It's hard to believe this is one of Beethoven's sunnier creations, such is the lack of warmth and air in this performance. Lewis may be the villain of the piece but his cohorts, the engineers, deserve a good flogging too.
With so little merriment on display in that Beethoven what are the chances of finding any in this
Till
? About zero, I'd say. And so it proves; the opening is horribly approximate and instruments go walkabout without warning. Add to that some odd phrasing and agogic pauses and there's little to smile about. It gives me no pleasure to diss one disc after another – least of all when I still have 20 to get through – but I'm staggered that so many sub-standard performances and recordings were ever deemed fit for release.
Halfway through and I'm losing the will to live; thank heavens for Herrmann.
Dan Morgan