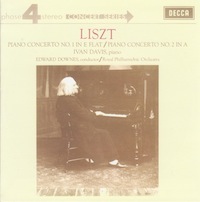 CD 6 [78:05]
Franz LISZT
Piano Concertos 1 & 2
Sergey Vasil'yevich RACHMANINOV
Piano Concerto No. 2
Ivan Davis (piano)
Royal Philharmonic Orchestra/Edward Downes, Henry Lewis
rec. 1970/71
First released on LP as PFS 4214 (April 1971) and PFS 4252 (November 1972)
The second instalment of this eight-part review begins with another CD whose content is culled from two separate LPs. The US-born pianist Ivan Davis is the featured soloist; Ted Downes conducts the Liszt concertos – last issued as part of Decca's cheap and cheerful Weekend series - Henry Lewis the Rachmaninov. Both albums were recorded in the early 1970s, but even at this stage the engineers were still playing fast and loose with the music. Indeed, unless I find some decent discs soon I'll be tempted to declare this box a disaster zone.
Minutes into the first Liszt concerto and it's not looking good; instruments are shunted around with little regard for natural perspectives and the piano sounds as if it's wrapped in cotton wool. Tuttis are strained, and the entire recording is heavily compressed. Just sample the start of the second movement, with its wandering solos and its curiously damped piano. As for Davis's studied playing it's an acquired taste, and I don't care for Downes's dour accompaniment either. There are moments when Davis almost breaks free of these sonic shackles, but such attempts are short-lived. Frankly it would be hard to imagine a more turgid rendition of a coruscating concerto than this; the congested sound of the RPO is particularly repellent.
Given that both the Liszt concertos were recorded at the same Kingsway session in October 1971 the second one isn't likely to sound any different; and so it proves, with the orchestra and piano as muffled as before. Curiously the piano's lower registers are chosen for emphasis, especially in the first movement. All this gerrymandering is most unpleasant - claustrophobic, even – and Davis's precipitous pianism simply adds to a depressing sense of befuddlement. Only in quieter passages are there hints of tender lyricism, but they just can't flourish in such toxic conditions.
Is the Rachmaninov any better? Also recorded in Kingsway Hall – normally such a pleasing performance space, hence its popularity with recording companies over the years – this concerto starts reasonably well. Davis isn't as weighty as some, but that odd damping effect is still very much in evidence. Even if one didn't have reservations about the sound Davis's excitable – nay, eccentric – performance leaves a lot to be desired. As for conductor Henry Lewis he's exceedingly dull. No, this isn't remotely competitive, artistically or technically; indeed, one only has to sample the Previn/Ashkenazy version – recorded by Decca at roughly the same time - to realise just how hideous the Davis/Lewis account really is.
Irredeemably awful; one for the charity pile.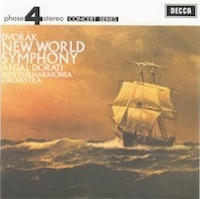 CD 7 [67:09]
Antonín DVOŘÁK
Symphony No. 9 in E minor, Op. 95 'From the New World'
Zoltán KODÁLY
Háry János Suite
New Philharmonia Orchestra, Netherlands Radio Philharmonic Orchestra/Antal Doráti
rec. 1966/73
First released on LP as PFS 4128 (January 1968) and PFS 4355 (March 1976)
After that it's a relief to find a slew of recordings by the well-regarded Hungarian conductor Antal Doráti. I have fond memories of his exceptional Mahler Third with the RPO at the Festival Hall about 35 years ago. On record his Mercury Living Presence performances are deserving classics; now
there's
a company whose pioneering output has stood the test of time. I suppose some might say I'm not comparing like with like, as Phase 4 was more of a fun, mass-market project than a serious, precisely targeted one. Then – as now - Decca's marketing has made extravagant claims about the sonic virtues of Phase 4 that are ludicrous to say the least.
The start of Doráti's
New
World
is a case in point; it's ruined by the usual interventions and the tuttis leap out in the most alarming and unpredictable way. This creates an oddly segmented performance, whose musical coherence is undermined at every turn. The performance is a muscular one, and the New Philharmonia are on good form, so it's all the more dispiriting that the music is tugged about so mercilessly. As for the start of the
Largo
it has an organ-like weight and sonority that won't appeal to everyone; also, the sound of this recording is overstuffed, and that detracts from any virtues this reading might possess. Intrusive hiss and a peaky treble don't help.
The
Háry János Suite
, recorded at the AVRO Studio in Hilversum, is airier and more believably balanced. The brass, side and bass drums are well caught and the Dutch band sound very idiomatic indeed. There is some spotlighting, but dynamics don't appear to have been compromised and it all sounds more natural than usual; even the solo cello - a little thin, perhaps - comes in a standard size. As for the dark-farting tuba in
The Battle and Defeat of Napoleon
it sounds terrific; indeed, it's a pleasure to hear the work's peacock colours picked out with such clarity and care.
Doráti's
Háry János
is well worth hearing; his Dvořák Ninth is far less interesting.
CD 8 [63:46]
Carl ORFF
Carmina Burana
Louis Devos (tenor)
John Shirley-Quirk (bass-baritone)
Norma Burrowes (soprano)
Southend Boys Choir, Brighton Festival Chorus, Royal Philharmonic Orchestra/Antal Doráti
rec. 1976
First released on LP as PFS 4368 (November 1976)
Could Doráti's mischievous and subtly characterised
Háry János
signal a change for the better? Thus far it's the only performance in the box that I'd be happy to have on my shelves. His
Carmina Burana
once nestled there, many years ago; admittedly it was on cassette, so the dynamic range of the piece was somewhat limited. On this CD
O Fortuna
opens up rather well, and the singing of the Brighton Festival Chorus is suitably febrile. Doráti's pacing is on the brisk side - no bad thing - and there's a thrilling urgency to the performance as a whole.
Orff's distinctive timbres ring out nicely from the orchestra, and it's only in the first part of
Primo vere
that the chorus is pushed back too far. Suddenly Doráti is measured – even a tad lethargic – and Shirley-Quirk's
Omnia Sol temperat
is perhaps a little tremulous for my tastes. We're soon back in the swing with a virile
Ecce gratum
; best of all, though, is the bacchanalian dance from
Uf dem anger
. The terrific timps and transported loveliness of
Floret silva
and
Chramer, gip die varwe mir
have seldom sounded so fresh, Orff's much-derided narrative so beguiling. What a pity, then, that the round dance drags so.
Still, the opposing shouts of
Swaz hie
gat umbe
are simply splendid; what's more the sound has real body and it's secure in the climaxes too; indeed,
Were diu werlt alle min
is carried off with aplomb by singers, players and engineers alike. After that slightly disappointing start Shirley-Quirk's
Estuans interius
and
Ego sum abbas
are sung with rare intelligence and character; as for Doráti's accompaniment it's always imaginative. The tenor Louis Devos he copes admirably with the demands of
Olim lacus colueram
. The RPO really deserves a mention, for they play with all the energy and commitment that the piece deserves but rarely gets.
It just gets better, with a hair-raising rendition of
In taberna quando sumus
, to which everyone responds with delicious abandon. Frankly, when the performances are this good technical quibbles become less important. Apart from noticeable hiss in quieter passages I really can't fault this fine recording. Norma Burrowes is also beyond reproach, for she also sings with rare conviction. And that's the secret to a half-decent
Carmina Burana
, it must be played and sung for all it's worth. I've heard far too many performances that seem either apologetic or undecided; Doráti's
Carmina Burana
is none of those things.
For once musical values are paramount, and what a relief it is to actually
enjoy
the music-making. The choruses – men, women and boys – are as impressive as I remember them, and their animated dialogues and sly asides are a treat.
Veni, veni
venias
builds to a sparkling climax, after which Burrowes'
In trutina
is voiced with great tenderness. Her stratospheric coloratura at the close is particularly thrilling. These are flesh-and-blood creations after all, and their feelings matter; otherwise what's the point? Admittedly balancing Orff's unique blend of exuberance and inwardness is tricky, but Doráti and the Phase 4 engineers did it; and in unforgettable style, too.
A hit, a palpable hit! Still one of the best
Carmina Buranas
in the catalogue.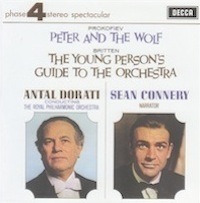 CD 9 [66:09]
Sergei PROKOFIEV
Peter and the Wolf, Op. 67 (narrative revised by Gabrielle Hilton)
Lieutenant Kijé Suite, Op. 60
Benjamin BRITTEN
The Young Person's Guide to the Orchestra, Op. 34 (with narration)
Sean Connery (narrator)
Royal Philharmonic Orchestra, Netherlands Radio Philharmonic Orchestra/Antal Doráti
rec. 1966/73
First released on LP as PFS 4104 (August 1966) and PFS 4355 (March 1976)
Peter and the Wolf
and
The Young Person's Guide to the Orchestra
make a natural coupling. Doráti's performances appeared together on LP as PFS 4104, but for this CD release Decca have added his
Lieutenant Kijé Suite
from PFS 4355. The ensemble in the latter performance is the Netherland Radio Philharmonic, recorded in the AVRO Studios, Hilversum; otherwise it's the Royal Philharmonic, taped in London's Kingsway Hall.
Sean Connery joins a long list of celebrities, actors and politicians who have narrated the story of
Peter and the Wolf
. This not the narration we normally hear, but it's engaging enough. Connery is his suave, Bond-like self and the orchestral
leitmotivs
are affectionately played and warmly recorded. Balances aren't entirely natural – Connery is centre stage, with the players ranged around him – but instrumental timbres are superbly rendered. There's some stress in tuttis and the narrator's more excitable passages; as for Doráti he keeps it all moving along nicely. So, not a pre-eminent
Peter,
perhaps – I'm very fond of Virgin's Stamp/Academy of London recording with Sir John Gielgud – but Doráti's is a very enjoyable version nonetheless.
Britten's piece, originally commissioned for a documentary entitled
Instruments of the Orchestra
, is one of the composer's most genial creations. The narration, by Eric Crozier, is seldom used these days, although it's good to hear it once in a while. As with
Peter
Connery begins his narratives after the orchestra has tuned up. He rolls his Rs in the most delightful way – 'brrass ... tambourrine' – but he certainly commands the listener's attention. As before the RPO play with commendable enthusiasm, and it all comes together with breath-taking brio. Grreat fun.
Sandwiched in between these pieces is Doráti's excellent
Kijé
, which has all the colour and excitement of his
Háry János
(CD 7). Both are strongly idiomatic performances, well played and recorded. I find few versions of
Kijé
rival Abbado and the LSO on DG – the sonic clout of that recording is astonishing – but the foaming detail and fine nuances of Doráti's account are a wonder to behold. Finally the Phase 4 engineers have given us a grown-up and musically astute recording, whose dynamics are well managed well; there's just a touch of 'shredding' in the transported brass.
Doráti makes it two in a row; his
Kijé
is especially welcome.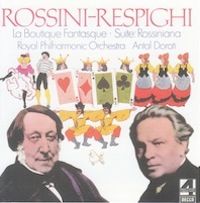 CD 10 [55:13]
Ottorino RESPIGHI
La boutique fantasque
Rossiniana
Royal Philharmonic Orchestra/Antal Doráti
rec. 1976
First released on LP as PFS 4407 (October 1977)
Can he make it three in a row?
La boutique fantasque
and
Rossiniana
, Respighi's affectionate tributes to Rossini, are lovely, effervescent scores that should play to Doráti's colouristic and dramatic strengths. The first work, a ballet composed for Diaghilev and premiered by his Ballets Russes in 1919, centres on a magic toyshop whose puppets come to life. It's a conceit familiar from 19th-century French ballet, but Respighi infuses it with a Mediterranean warmth that's utterly irresistible.
With remarkable ease Doráti and the RPO draw us deep into this delightful fantasy with playing of tremendous verve and character. Rhythms are well judged, colours are vibrant and the music's joyful bounce had me grinning like the village idiot. The orchestra play like angels, responding to the conductor's directions with a deftness and sense of delight that can't fail to please. This is dance music after all, and it's played with all the flex and flow one would expect to find in the theatre. As for the recording it's meltingly done, with good perspectives and a finely detailed yet velveteen sound.
Goodness, after all the adolescent japery of the early Phase 4s the marque has finally grown up. That means musical values are centre stage – as they should be – and the results are immensely satisfying. That's certainly true of this account of Respighi's less familiar
Rossiniana
(1925). Rarely have I heard this score beckon so becomingly, or its colours glow in such an eye-catching way. The soft repeated gong strokes of
Lamento
are magical and the recording has a dynamic reach and tonal sophistication that I've yet to hear in this chaotic box.
Doráti became the RPO's principal conductor in 1975, a position he held until 1979, and I firmly believe theirs was a very special partnership. Indeed, what I sense here is the same kind of rapport I witnessed in that RFH Mahler Third all those years ago. I'd even venture to say the orchestra has not sounded as good since.
That's three in a row; things are definitely looking up.
Dan Morgan