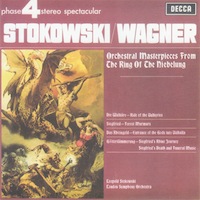 CD 37
[56:59]
Wagner: Orchestral Masterpieces from the Ring
London Symphony Orchestra/Leopold Stokowski
rec. 1966/72
First released on LP as PFS 4116 (May 1967) and OPFS3-4 (January 1973)
Stokowski, already well represented in this box, features in two more CDs; these bleeding chunks from the
Ring
– with a live Festival Hall
Meistersinger
prelude tacked on for good measure – and yet more of his transcriptions. The
Ring
excerpts, recorded at Kingsway Hall in 1966, gets airborne with a perfectly decent
Ride of the Valkyries
. Strings are a tad wiry though, and the recording sounds close to its dynamic limits most of the time. That said the LSO brass are splendid, and it's all intensely dramatic. The same is true of
Dawn and Siegfried's Rhine Journey
, which has an impetus and excitement that's all too rare in this series.
Not in the same league as George Szell's famous Cleveland set – that really needs to be re-mastered – but enjoyable nonetheless. Still, Stoky's account of
Siegfried's Death and Funeral March
is mighty impressive; not even the unsubtle spotlighting and aural catch-me-if-you-can undermines the dark majesty of the LSO's playing here. The
Entry of the Gods into Valhalla
is another cracker – at least the timps don't sound like imploding cartons, as they do in Klaus Tennstedt's otherwise excellent disc of excerpts with the Berliner Philharmoniker (Warner/EMI). Stokowski makes the most of those rippling harp figures too, and it all sounds more like a slow, dignified procession than usual.
Some may feel that these performances are just too measured at times – that last excerpt especially so – but the upside is that
Forest murmurs
unfolds in a way that highlights the richness and variety of Wagner's colour palette. The
Meistersinger
prelude, recorded in 1972, sounds rather diffuse by comparison, although it does improve. Not as cumulatively exciting as some – Sinopoli and Szell come to mind – but decent enough. This is definitely one of the better discs in the box – both musically and technically – and it's one I'd want to keep.
Stoky in commanding form; the LSO are superb, too.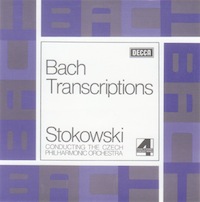 CD 38
[71:40]
Stokowski Orchestral Transcriptions
Bach, Byrd, Clarke, Schubert, Tchaikovsky, Duparc and Rachmaninov
Czech Philharmonic Orchestra, London Symphony Orchestra/Leopold Stokowski
rec. 1972
First released on LP as PFS 4278 (April 1974) and PFS 4351 (June 1976)
Stokowski and the Czech Philharmonic kick off with one of the conductor's best-known transcriptions, that of Bach's
Toccata and Fugue in D minor
. It's clever, if a tad impenetrable at times, but this is a performance that's bound to impress with its combination of weight and detail. The
Prelude in E flat minor
from Book 1 of
The Well Tempered Clavier
is lighter and more spontaneous than I'd expected; the Czech Phil, recorded live in the Rudolfinum in 1972, play very well here and in
Mein Jesu! was für Seelenweh
; they bring a real sense of gravitas to the latter and a delightful buoyancy to
Wir glauben all an einen Gott
that follows. As for Stoky's imposing take on bits of the
Easter Cantata
it's reminiscent of another age of Baroque performance, when size mattered most.
William Byrd's
Pavan
is more sensitively scaled and hence more appealing; the LSO play with remarkable lightness and transparency, even though the score does veer towards a cinematic soupiness at times. Howard Snell is the ringing soloist in this slightly cumbersome version of the famous
Trumpet Voluntary
. Alas, the plucked strings are bumped up to cartoonish levels, which just sounds bizarre.
We leap forward to the early 19th century and Schubert's
Moments musicaux
. Stokowski's orchestration of No. 3, the
Allegro moderato in F minor
, is attractive, if a tad lumpy at times. Chopin's Op. 17/4
Mazurka
is similarly proficient, although Tchaikovsky's
Chant sans paroles
is too overwrought for my tastes. Happily
Extase
, one of Henri Duparc's loveliest
mélodies
, is more discreetly done; David Gray's wistful horn is a diaphanous delight and the LSO play with telling restraint throughout. The Czech Phil return for a suitably Gothic rendition of Rachmaninov's
Prelude in C sharp minor
, Op.3/2. One of Stoky's more striking efforts its bold climaxes are magnificently played and recorded.
Duparc's
Extase
is a little gem; Stoky fans should enjoy this disc.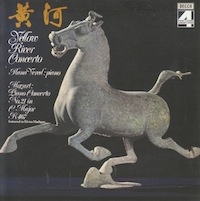 CD 39
[52:28]
Central Philharmonic Society
Concerto for Piano & Orchestra, 'The Yellow River'
Wolfgang Amadeus MOZART
Piano Concerto No. 21 In C, K.467
Ilana Vered (piano)
National Philharmonic Orchestra/Elgar Howarth; Royal Philharmonic Orchestra/Lawrence Foster
rec. 1973/74
First released on LP as PFS 4299 (June 1974)
Now here's an oddity; this collective reworking of Xian Xinghai's
Yellow River
Cantata
is a curious by-product of the Cultural Revolution. Premiered in 1969 it was popular for a time, but I daresay it's not programmed or recorded much these days. Elgar Howarth and the National Philharmonic are joined here by the Israeli pianist Ilana Vered, who I first encountered on a rather fine Phase 4 LP of Rachmaninov's
Second Piano Concerto
and
Rhapsody on a theme of Paganini
. She too seems to have vanished without trace.
The concerto isn't as awful as its provenance may suggest, although it has a paint-by-numbers pictorialism that some may find hard to tolerate. The first two movements – a prelude and ode to the great river – is followed by a somewhat glitzy movement entitled
Wrath of the Yellow River
that includes a part for the
dizi
, a traditional Chinese flute. As for Vered she plays with considerable weight; so was it really necessary to boost the piano even more? The patriotic flavour of the finale,
Defend the Yellow River
, is translated into music of cheery optimism. Everyone plays well and the recording – made at Decca's No. 3 Studio, West Hampstead – is fair to good.
Listening to Mozart's Piano Concerto No. 21 after that is something of a challenge. First impressions are good, though; that said, it's a bigger sound than we're apt to hear these days. The RPO, recorded in Barking Town Hall, are in sparkling, responsive form in the first movement. There's a fair amount of background noise – more hum than hiss – but in spite of that I did enjoy Vered's clear outlines and emphatic style. Once again the piano is more forwardly recorded than is customary now. By contrast the slow movement, made famous by Bo Widerberg's 1967 film
Elvira Madigan
, is too dominated by the lower strings; even the piano seems rather subdued. No, this is just too ponderous for words, a great disappointment after an encouraging start. The finale restores some of the energy that's ebbed away, but its sudden boldness just emphasises the wayward, rather lop-sided nature of both the performance and the recording.
Vered has her moments; the sound of fair to middling.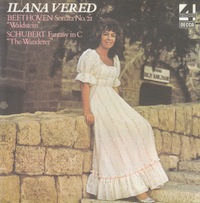 CD 40
[64:30]
Ludwig van BEETHOVEN
Piano Sonata No. 21 in C, Op. 53, 'Waldstein'
Franz SCHUBERT
Fantasy in C major, 'Wanderer'
Igor STRAVINSKY
Petrouchka - Three Movements for Piano
Ilana Vered (piano)
rec. 1975/77
First released on LP as PFS 4433 (October 1978) and PFS 4362 (March 1976)
Ilana Vered returns with what starts off as a fairly muscular rendition of Beethoven's
Waldstein
sonata that sounds like it was recorded at the bottom of a well; the bass is soggy and there's little or no 'air' in this recording, which was taped at Decca's No. 3 Studio, West Hampstead. That might not matter so much if the reading itself were in any way distinguished; alas, words such as dull and dogged come to mind. Her big sound just isn't right for this piece; it's even less suitable for Schubert's
Wanderer Fantasy,
which is bloated beyond recognition. Whoever decided to programme – let alone issue – such an unlovely performance deserves a good flogging.
Not surprisingly Vered is better suited to the Stravinsky – recorded at St John's Smith Square - although her somewhat splashy pianism blunts the music's leading edges. Then she spoils things by being just too heavy-handed. Also, this is a score that can so easily seem relentless, and that's just how it sounds here. Goodness, we do go from one extreme to the other with Ms Vered. Without wishing to seem uncharitable I do wonder whether such variability had something to do with the relative brevity of her career.
Vered is way out of her depth here; indifferent sonics.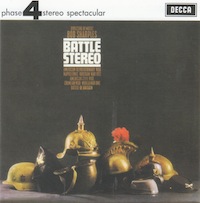 CD 41
[30:25]
Battle Stereo
rec. 1963
First released on LP as PFS 4034
I'd like to say I've left the best 'til last, but I'd be fibbing if I did so. As its title suggests this is a disc devoted to the sounds of warfare. Cue plenty of crumping ordnance, soldierly exhortations, stirring speeches, shrieking crowds and a peppering of appropriate tunes. I imagine this must have been a riot for anyone hearing stereo for the first time; that said, the exaggerated, widescreen presentation is just as tiresome and fatiguing as it is in modern cinemas, where distorting bass and a high decibel count are all that seem to matter. Bob Sharples' arrangements of
Dixie
,
La Marsellaise
and the infamous
Horst Wessel
song are frankly toe-curling. As for the audio image it's so extreme it's beyond ridiculous.
In closing ...
In my preamble to this series of reviews I invited listeners to enjoy the ride. Little did I know what craters and car crashes would litter the way. Which left me pondering: who on earth would waste Ł65 on this Pandora's Box? True, there are a few good discs, but most of those – if not all – are already available as single CDs, often in better sound. Another problem is that too many of these performers and performances are well below par. Factor in sound that varies from the unspeakable to the exceptional and you'll understand why this set doesn't make any kind of sense.
Big boxes such as this are two a penny as labels react in panic to the ever-dwindling demand for their product. Some are of genuine historical and technical import, and deserve to do well; among these are the RCA Living Stereo, Mercury Living Presence and The Decca Sound, which offer very desirable performances in pretty good sound. Apart from the Herrmann and Rózsa discs and a sprinkling of others there's nothing here that's in the same league. I was about to add that Decca Universal's presentation is rather low rent – some of the repackaging is frankly peculiar and their web listing is riddled with inaccuracies – but then the whole enterprise is a disaster. If they wanted to make a quick buck with this 'Limited Edition' I fear they will be sorely disappointed. All of which gives you some idea of just how dispirited I feel after this very long trek.
Dan Morgan