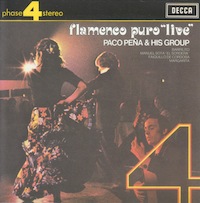 Links to all reviews

CD 27
[49:17]
Flamenco puro (live)
Paco Peńa and his Company
rec. 1971
First released on LP as PFS 4237 (February 1972)
This tranche of reviews begins with a disc featuring the Córdoba-born flamenco guitarist Paco Peńa and his ensemble. Like many of the discs in this Concert Series he was a child of the 1960s, when he moved from Spain to the UK and soon attracted quite a following. He is credited with doing a great deal to raise the profile of flamenco, first in Britain and then elsewhere via his world tours and prolific recordings. Now in his 70s Peńa seems to be as active as ever. On this CD he and his celebrated Players perform a number of flamenco pieces; all are Peńa's own arrangements.
As this is a live concert – taped at Decca's No. 3 Studio in West Hampstead - there's enthusiastic applause from what sounds like a sizeable crowd. The soundstage is wide and deep, and that combined with dialogue and stage noises between numbers makes for a pleasing sense of occasion. The trademark stamping and clapping is very well caught, and the singing is as ardent as one could wish. The playing is excellent, and balances are uncontroversial; indeed, this is one disc that can be approached without the usual caveats.
Should please lovers of the genre; good recording.
CD 28
[76:16]
The Immortal Works of Ketčlbey
&
Violin Favourites
Royal Philharmonic Orchestra & Chorus/Eric Rogers; The London Festival Orchestra/Josef Sakonov
rec. 1969
First released on LP as PFS 4170 (February 1969) and PFS 4265 (February 1973)
After all the heat and testosterone of CD 27 the cool, mellifluous tunes of Albert William Ketčlbey couldn't be more of a contrast. The original LP, with Eric Rogers and the RPO, is supplemented here by a potpourri of 'violin favourites' in arrangements by Sidney Sax. Sax was a fascinating character; not only was he a leading violinist/session musician in London in the 1960s he was also co-founder of the National Philharmonic Orchestra. The latter, an
ad hoc
group of professional musicians, features elsewhere in this box and in many fine recordings of the 1960s and 1970s. Sax conducts his arrangements under the pseudonym Josef Sakonov.
Eric Rogers, who I always associate with the
Carry On
films and other bits of risqué silliness, does a rather fine job with these Ketčlbey pieces. The RPO are almost Mantovani-like is their refulgence, which is not a problem in this largely mellow repertoire. Appropriately enough the choral part to
In a Monastery
Garden
sounds like distant monks heard as if from the cloister. The gavotte
Wedgwood Blue
gets a most affectionate outing, and the animated
In the Mystic Land of Egypt
emerges with startling impact and splendour.
Ketčlbey was a terrific tunesmith and the instrumental flourishes, exotic colours and taut rhythms of these pieces are beautifully conveyed by Rogers and his band; as for the RPO chorus, they sing with tremendous feeling throughout. The recording is warm, full-bodied and without distortions, musical or otherwise. The ear-pricking tintinnabulations of
Bells Across the Meadows
were made for Phase 4, as were the gongs – echoes of
Turandot
– and the
faux
orientalism of
In a Chinese Temple-Garden
. Oh, and I do like the big-band sweep and surge that Rogers brings to these well-crafted scores.
The incipient sentimentality of Ketčlbey's output really comes out in the rather dated
Sanctuary of the Heart
and
The Phantom Melody
, which are very different from the good humour and effervescence of
'Appy 'Ampstead
. This part of the programme ends with the Polovtsian-dance-like rhythms and tramping choruses of
In a Persian Market
. These are all charming pieces from another, more innocent, age and Rogers gives them the open-hearted, uncomplicated performances they deserve.
Following on from those full-cream confections Sax's playing and conducting of Hubay's
Hejre Kati
comes as something of a palate cleanser. The remaining fare is mixed; Godard's
Berceuse de Jocelyn
and Tchaikovsky's
Valse sentimentale
are high in calories and the extra sugar in
Thaďs
will only appeal to those with a very sweet tooth. Korngold's
Much Ado About Nothing
– which brings to mind his
Violin Concerto
– adds a touch of bitter to the sweetness. Balances are close, but otherwise there's little here to offend the ear.
The Ketčlbey is winningly played, sung and recorded; even the 'violin favourites' are enjoyable.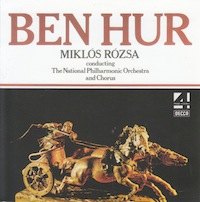 CD 29
[47:10]
Ben-Hur
National Philharmonic Orchestra & Chorus/Miklós Rózsa
rec. 1976
First released on LP as PFS 4394 (August 1977)
Just as the two Herrmann CDs in this box are definitive so too is this disc of Rózsa conducting his music for William Wyler's epic
Ben-Hur
(1959). We can only wonder at what Sir William Walton - the producer's first choice – would have done with this story, but we must give thanks that Rózsa was eventually chosen. This music - which Rózsa also conducted for the film itself – won him his third Oscar; listening to this marvellous recording – which starts with one of the most thrilling fanfares in all film - it's not difficult to see why.
The National Philharmonic - recorded in London's Walthamstow Assembly Hall – are in tremendous form. Not only that, this is one of the very best sounding discs in the box thus far, even though the engineers still haven't learned how to fade in and out properly. The start of
Star of Bethlehem
is a case in point, but that matters less when the NPO Chorus sing as well as they do. Two things strike me at this point; Rózsa's writing is genuinely symphonic, and that's something we hear in the work of John Williams too. Indeed, I found myself thinking of the latter all through this disc.
The sound in
The Burning Desert
is superb – no compression or audible manipulation here – the dark, weighty bass especially so. Even the treble, notably the strings, is full and surprisingly natural. In tracks such as
Arrius's Party
it's possible to hear the results of Rózsa's research into music of the place and time; it's all so fresh and interesting, and it brings an air of authenticity to the proceedings. That said, Rózsa is at his very best in the film's grander moments, such as
The Parade of the Charioteers
, where the aural spectacle is every bit as exciting as the visual one. There's more than a hint of Respighi's approaching legions at times, but the music is none the worse for that.
What glorious, beefy sound this is, and how splendid the NPO are at every turn. In more lyrical interludes –
The Mother's Love
,
Return to Judea
and
Ring for Freedom
– Rózsa is tender and sweet, never mawkish or saccharine. Indeed, there's a muscularity to all his writing that makes for endlessly robust and purposeful scores. The dragging torment of
The Procession to Calvary
– brass, percussion and organ to the fore – is harrowing without resorting to expressive overload. The healing of Miriam and Tirzah and that soul-lifting sense of benediction and release – cue a radiant chorus - brings the disc to a thrilling close.
Herrmann may be the master, but Rózsa is every bit his equal here; stunning performance and sound.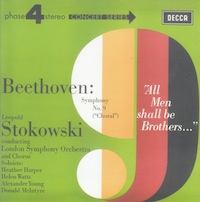 CD 30
[76:23]
Ludwig van BEETHOVEN
Egmont overture, Op. 84
Symphony No. 9 in D minor, Op. 125
Heather Harper (soprano), Helen Watts (mezzo), Alexander Young (tenor), Donald McIntyre (bass)
London Symphony Orchestra and Chorus/Leopold Stokowski
rec. 1967/73
First released on LP as PFS 4183 (October 1970) and PFS 4342 (December 1975)
Even if you regard Leopold Stokowski as something of a charlatan he remained a major star in the musical firmament for decades. Indeed, his LSO Mahler 2, recorded for RCA in the 1970s, shows just how compelling and insightful he could be, even in his declining years. He was always fascinated by technology, so it's not surprising he was part of RCA's move into stereo in the early 1950s and Everest's experiments with 35mm film stock a few years later. I've no idea what he thought of Phase 4, but I'd guess he felt very much at home with this wayward team. He certainly made enough records with them.
There's something odd about this
Egmont
, which seems to have very pronounced left and right channels but precious little in between. This 'doughnut effect' is just ridiculous, and it's made worse by the massive boost to brass and strings (extreme left) and timps (extreme right). Such quirks probably weren't as distracting in the 1960s and 1970s, but in the all-revealing world of modern digital audio they are likely to be a major turn-off. A friend confided that Stokowski's Phase 4 Beethoven 9th was his introduction to the work, but he has long since forgotten it and moved on. I imagine those keen to revive such memories are most likely to buy this maddening set.
I wonder what such collectors would make of this Beethoven 9th now, given the dozens – if not hundreds – of recordings that have appeared since? It's swift and light of texture – both welcome qualities in a work that's had far too many ponderous outings – but the downside is that it's strangely detached as well. This is one piece that really shouldn't be played on autopilot, but that's exactly what it sounds like here. The second movement, with its tinny bass, is even less engaging. Stokowski's mannered phrasing is particularly irritating and the jumbo-sized timps are frankly bizarre. Despite some fine playing the
Adagio
seems flat, and in time-honoured fashion the engineers banish the start of the finale to the outer reaches of the right channel. Doughnut, anyone?
Stokowski's pacing is a tad volatile and there's little feeling of an approaching apotheosis. In contrast he overstresses the music's nodal points, so the
Ode to Joy
motif is far more prominent than it needs to be. In between the music just sags and buckles. The soloists are pretty decent – Harper especially - as are the chorus. Alas, the latter sound very fierce in loud passages. In the topsy-turvy world of Phase 4 the bass drum thumps away slightly to the left of one's nose. Nothing coheres for very long, and musical sections begin and end with unnatural abruptness. The final pages, though exciting, are a sonic disaster zone.
There's no shortage of good Beethoven 9ths in the catalogue; this isn't one of them.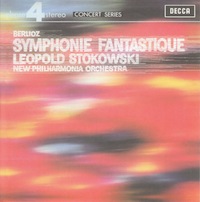 CD 31
[65:13]
Hector BERLIOZ
Symphonie fantastique, Op. 14
La Damnation de Faust, Op. 24 - Ballet des Sylphes
Maurice RAVEL
Fanfare from 'L'Eventail de Jeanne'
Daphnis & Chloë - Suite No. 2
New Philharmonia Orchestra, Netherlands Radio Philharmonic Orchestra, London Symphony Orchestra & Chorus/Leopold Stokowski
rec. 1968/70
First released on LP as PFS 4160 (June 1969), PFS 4220 (September 1971) and PFS 4218 (July 1971)
Now this is the kind of colourful repertoire that should play to Stokowski's strengths. The
Symphonie fantastique
, recorded with the New Philharmonia in Kingsway Hall, gets off to a promising start with a taut, clean account of the opening reveries. Detail is pin-sharp and despite some odd phrasing the music is as compelling as ever. There's still too much emphasis on the left and right channels, with not enough to fill the space in between; that said, it's nowhere near as bad as that
Egmont
. The ball is at once elegant and feverish, and Stokowski springs the waltz rhythms very nicely.
Despite the many performances I've heard over the years Stokowski's
Symphonie fantastique
seems rather good. It certainly has a transparency that should appeal to those who like Robin Ticciati's fresh, highly invigorating version (
review
). The idyll, soon to be blighted by the approaching storm – literal and metaphorical - is very atmospheric, and there's a growing sense of tension throughout. The finer details of Berlioz's score are surprisingly well caught, making this a pretty decent recording for 1968. It only shows its age in the congested climaxes.
Alas, it's downhill from here. The pesky left/right divide is very obvious at the start of the march, which isn't as lurid or as propulsive as usual. The sound here is very crude compared with the weight, colour and sophistication of Philips's recording for Sir Colin Davis a few years later (
review
). Stokowski just doesn't have the firm grip and depth of insight that make Davis so unforgettable in this music. In Stokowski's hands the witches' Sabbath, which uses bells
and
pianos, is curiously underwhelming. The
Dies irae
certainly adds its toll to the ghoulish landscape, but this performance is much too sporadic for my tastes. Davis and the Concertgebouw are still the ones to beat in this wild, skull-cracking finale.
Berlioz's
Dance of the Sylphs
is but a diaphanous flutter between this and the big, bold fanfare from Ravel's
L'Eventail de
Jeanne
. The Netherlands Radio Philharmonic are well recorded in the AVRO Studio, Hilversum. Moving on, and the woodwind and harp in the second
Daphnis
suite are further forward than is ideal. Also, I miss the easy ebb and flow that others find here. There are some peculiar shifts of acoustic, as if parts were recorded at different times and spliced in later. That said, the sizeable LSO Chorus give glorious voice to the work's vocal elements. At times Stokowski may treat the score as if it were Scriabin, but then he pulls back to reveal the suite's rampant, very Ravelian character.
The
Symphonie fantastique
starts well but goes awry; the big, bold
Daphnis
may be too forceful for some.
Dan Morgan