During the time of the Musikfest Berlin 2014 (September) I was delighted to have the opportunity to interview renowned Czech-born mezzo-soprano Magdalena Kožená.
It was a pleasant walk from the Railway Station into the affluent Wannsee area of Berlin. As I strode out down the tree-lined avenues I could hear and see conkers and acorns dropping onto car roofs and the leaf-strewn pavements and roads.
Another famous soprano had been prevaricating for well over a week trying to decide if she was well enough for an interview before telling me on my penultimate day in Berlin that she wasn't. Sadly an all too familiar situation with many singers. No such problem with Magdalena Kožená who was straightforward to deal with throughout the arrangement process. Magdalena now has a two month old baby daughter Anežka to care for and I was grateful that she was able to give up her precious time for an interview.
Looking blooming and natural Magdalena with her stunning good looks was most agreeable company and a delight to interview from the first moment to the last. By virtue of her marriage to Sir Simon Rattle, Magdalena Kožená gained the title Lady Rattle. I did mention the title Lady Rattle to her and she seemed uncomfortable with the designation which she evidently doesn't use. For an opportunity to hear the voice of Magdalena Kožená at its best I recommend listening to her 2012 recording '
Love and Longing
' with the Berliner Philharmoniker under Sir Simon Rattle on Deutsche Grammophon which includes a quite sublime performance of Mahler's Rückert-Lieder and in particular one of the finest accounts I have ever heard of the masterpiece Ich bin der Welt abhanden gekommen (I am lost to the world).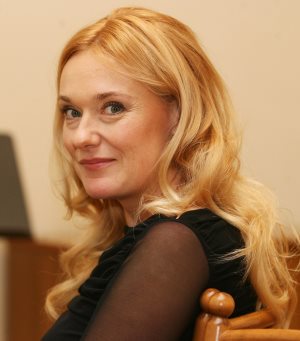 Magdalena Kozena
© Archiv Mafra - Jindrich Mynarik
Michael Cookson:
When I interview musicians they often say they were surrounded by music as a child. I recall earlier this year Brigitte Fassbaender saying to me that her mother was a successful actress and her father a renowned baritone, and there was music everywhere in the home and how she was often taken to theatres and concert halls by her parents when they were working. But your parents were professional people and not involved in the music profession?
Magdalena Kožená:
That's right. None of my parents were musicians. However, I lived in a most harmonious family but I was a strange child as I was obsessed with music ever since I was born. Basically I would watch programmes on television that contained music. You see we had no LPs at home. But in the kindergarten the teacher played quite a lot of piano. I simply wanted to make music without necessarily hearing it at home. My parents were excited for me and they started to learn about classical music while I was learning myself. They were happy to discover classical music through me. You see I had naturally in me a very strong passion to do music.

MC:
In your formative years Magdalena who would you say was most influential over your career?
MK:
What was extremely important to me as a child was joining and singing in the children's choir that belonged to the Brno Philharmonic Orchestra in the Czech Republic. We also sang in the Janáček Opera House so we got a lot of good experience. We rehearsed basically every day and at weekends sometimes twice. [
MC
: It sounds like marvellous training.] Oh, it was. So that was basically my life. I played the piano too and I set my heart on becoming a pianist. So all my childhood was singing and playing the piano. So really the conductor/chorus master was the most important person for me then in my life and my singing teachers too. Later I was to meet people such as Sir John Eliot Gardiner and Marc Minkowski. They showed me the way in baroque music at the beginning of my career so they were very significant.
MC:
You work a good deal in the opera house Magdalena. How important do you think the role of the director has become? Is it now too important?
MK:
For me opera is a wonderful combination bringing lots of different art together. In some opera houses the director takes a bigger chunk of the importance than the music which I don't like. I love to explore and take a modern look at opera but I always feel that first and foremost the director should respect and love the music. Because some directors come from the theatre and not only do they not know much about the music they don't love it. [
MC:
Yes I can sometimes sense that. I can understand how this happens too.] They sometimes think you should cut this and cut that from the score because it is repeated and ah I don't like this section we'll cut it. Sometimes they can distort the score musically which I think should never happen. I love to rehearse but I don't like revivals of operas where you come for just a single week and everyone flies in from all over the world and they do whatever they have learned somewhere else. For me that is not a satisfying situation for opera productions. I like to spend time to search collaboratively with all those involved in the production. The director should help the music and the story and not try to dominate.
MC:
What would you say is the most difficult part of the life of a singer?
MK:
Singing is a funny profession. Yes it can be very strange. When everything is going smoothly in your life then I sometimes think it's easy with everything coming naturally. But because the voice, our instrument, is in our body it is affected by all the events that happen in our lives, our new experiences as a person, it all combines to affect our voice. As you will know if you have a shock then suddenly you might not be able to speak. So suddenly everything can become difficult. I always love to sing with a natural feeling. But maybe you were asking about the life of a singer in practical terms. I always say how lucky I am to do what I love to do when most people just work for the money for their families to live. But fortunately this is not the case for me. Of course if you have a young family it gets terribly hard to be away from them. I don't like to be away from my family at all. At the moment I am taking my two month old baby with me if I go on tour and my two boys have to go to school so all that takes a lot of arranging. I don't want to miss too much of my children's development so that is why I don't do many opera productions at this time and I try to keep these to Europe so I can easily take a flight back for the weekend. The life of a singer can also be very lonely. At least if you are in an orchestra or a choir you have the group so you can socialise if you want and have a bit of a life, rather than being a solo singer where you totally concentrate and focus on those few hours when you perform. Then you don't meet friends because you want to save your voice by not speaking too much. It's a bit like living the life of a nun to enable you to have the chance of being successful at the evening's performance. But sometimes I think what on earth am I doing here looking at a score in a hotel room and killing time when I could be at home with my young family? But you have to live through these hours before the evening's concert for which everything is set and then you have to come back to that empty hotel room. It is much less glamorous than people may think. Yes, it can be a long day when I'm longing to be with my family. On the other hand it's a fantastic job and I'm not complaining.
MC:
I was wondering about your favourite roles in opera?
MK:
Well, I love to sing Mélisande from Pelléas et Mélisande and Octavian from Der Rosenkavalier and I also love to sing Idamante from Idomeneo. In fact I would like to sing many more baroque roles. You know at the start of my career I was doing so much baroque music, but never really opera productions. I have not done enough baroque opera, I think, which I would love to do more of such as Handel's Ariodante, Alicina and Agrippina. [
MC:
There is certainly lots of choice with Handel.] Yes there are lots of Handel roles for me to sing.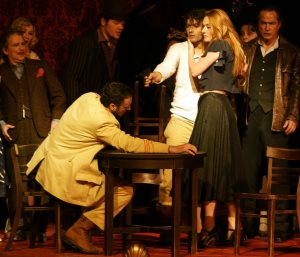 Kozena as Carmen, Kaufmann as Don José, 2012 Salzburger Festspiele © Forster
MC:
Have you ever had a stage director Magdalena that you couldn't work with?
MK:
Errm, no. I'm not the type of person that would walk off the stage during a production. When there are difficulties I always try to make some kind of compromise. Of course I have had more problems with some directors than with others. But I always try to make the best of the situation in front of me.
MC:
So it's never been that bad that you just couldn't work with a particular director?
MK:
No, it's never been that bad. I've been close to it but I never have.
MC:
Do you like to know a director before you begin to work on a production together?
MK:
Well actually now before I agree to do a production, I not only ask who is conducting but I make a point of asking who is directing. But did you know the director can often change mid-opera. They have this privilege. A director can say six months before the production for example they may not have found the inspiration or something and leave. Then you have another director coming in at short notice which can happen. They are not so tied with the production as a singer is. If I as a singer promise to do a production I am expected to do it. So the directors have a little bit more freedom so sometimes you think you are going to work with a particular director but in the end you work with somebody else, which happens often. If a singer changes that is usually owing to illness. But directors sometimes promise and find they don't want to do it or can't do it well and they would rather pull out at short notice. It seems to simply work like this and it has become commonplace. You cannot impose the stance "I work only with this director, and if he's not coming then I'm not coming." Well maybe I could, but I wouldn't behave that way.
MC:
Have you ever had problems with nerves or stage fright?
MK:
Sure, I've been through different phases. As a child I used to have horrible stage fright. I almost thought that I wouldn't make it as a performer. I was much more afraid when I played the piano than when I was singing. When I was studying I loved the piano even more than singing but when I played the piano in front of an audience I felt so alone with the keyboard and not being able to see the audience. For me it was liberating to actually sing and see people's faces and to have a feeling that I was communicating something whereas with the piano the audience was always at the side out of view. But I know performers who are the exact opposite to me but with singing I like the contact with people. It makes me calmer. I look at the audience with song recitals though of course with opera you can't see the audience. No, it makes me feel well because you feel the human response and even see people looking at their watches. [
MC:
Not too often I hope.] Yes not too often. But the atmosphere of the audience can influence the way that I sing and the way you tell them things can maybe influence their behaviour, their attention, and their concentration. So there is some kind of exchange of energy with an audience that I find positive, more than performing and not being able to see them.
MC:
I recall Brigitte Fassbender, a mezzo like yourself, saying that she had to deal with terrible nerves before going on stage from the day she started singing until the day she retired.
MK:
Yes, I can understand that as I also had a period early in my career when things were harder for me in that respect. When I suddenly felt like this child that was so very nervous about going on stage. So nerves can go up and down depending on the way you sing. The condition of my voice can be dependent on how I am feeling in my life.
MC:
Do you think people noticed your stage fright at that time?
MK:
Thank God, they said they didn't. But I frankly I think that when you are so scared on the stage as a singer you lose a certain freedom but maybe you gain a certain intensity instead. I believe when you are happy on stage even if you are shy it is better than being scared so therefore you can give more to the audience.
MC:
If you don't mind me asking Magdalena when you are with Simon do you speak English all the time?
MK:
Yes, we speak English. I wish he would learn Czech. Of course he knows some Czech words but it never gets to the point where he can speak a whole sentence.
MC:
I suppose with your English being so good there is less incentive for Simon to learn Czech?
MK:
That's exactly right.
MC:
With regards to opera and live concerts being streamed to cinemas around the world and the new audience it must attract, what are your thoughts?
MK:
Yes I think we are in a period of great change. Recordings of classical CDs are now coming to the end I think. Yeah, I mean how many young people are buying CD players now? Of course I think that the future is to have music content out there on the internet. Which means the Digital Concert Hall of the Berliner Philharmoniker and opera productions streamed to the cinema or pay-for-view at home. It's great that a lot more music content is available to people but as an artist you don't have full control over what is out there. From the start people are filming you when you don't want to be filmed, which can cause damage to an artist's reputation and stress as we can't be on top form all the time. But on the other hand if we think about it we do this music for as many people as possible, although, I don't believe that you can make classical music any more popular than it is. There is still an audience out there and this is the future of recordings.
MC:
What is your view over serious classical artists making cross-over recordings?
MK:
Personally I don't like it. For an opera singer trying to sing jazz like a jazz singer it never sounds right. I don't see very much point to it. Maybe a record company might say to a singer that singing this type of repertoire will bring in a new audience. I just don't like it. Even if you do it the people that bought the cross-over album are not for example going to come to my next concert of Debussy or Fauré, or Mahler lieder. So again the audience is not really persuaded into different types of music. I'm not against cross-over but I don't think it does service to either of the styles. [
MC:
For me cross-over rarely works. I say leave jazz to the jazz singer.] Oh, I so agree, it's a completely different style. I can't sing jazz, although, I love to listen to jazz and would love to be able to do it but it would sound artificial. You have to know what you can do well and of course we are trained in different way.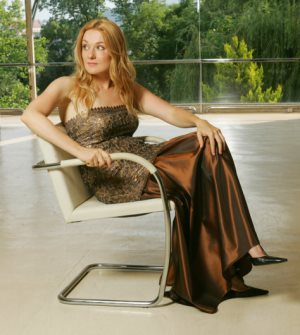 Magdalena Kozena
© C.E.M.A (2004)
MC:
Oh, I've just been reminded of your remarkable release from 2012 'Love and Longing' the orchestral songs you sang with the great Berlin Philharmoniker and Sir Simon. I'm extremely interested in the history of the Berlin Philharmoniker and investigate everything it does. I reviewed 'Love and Longing' which of course includes Mahler's Rückert-Lieder which you sing quite beautifully. I found especially moving your performance of the final song Ich bin der Welt abhanden gekommen (I am lost to the world) which made the hairs stand up on the back of my neck. When I've played your performance of the song at one of my presentations at Recorded Music Societies back in England it has always created a remarkably positive reaction.
MK:
Thank you very much. I'm so glad you enjoyed it. It's always rewarding to know that my singing is giving pleasure to people.
MC:
Next if I may I'd like to ask you about your opinion of music critics and reading reviews of your own performances. Does this bother you Magdalena?
MK:
Well not any more. I was a lot more concerned about critics earlier in my career. I think it's great that they inform the public. But as a professional artist I know when I performed well and when I didn't. Oh yes, I know it myself. Often you read different reviews for one performance and they give completely opposite opinions. So if you don't want to read bad criticisms don't read good criticism.
MC:
Do you still read reviews at all?
MK:
Not really … Sometimes people, often friends, might mention to me "Oh, you had a great review" and they might send me the link to it. Then ok I will read it and it will make me happy. But I try to be true to myself and about what I am capable of and what I can do to improve. I have people that I can turn to, that I trust if I need advice… I find sometimes journalists today can be rather inventive. I mean it's not always about what is written but more about the way it is written. Sometimes a CD review or a concert report can be on the aggressive side in a way that a journalist needs to capture more readers. There is no need to be personal or nasty, which can hurt, which there is no need for. You see performers such as singers need to work on their confidence the whole time so there is no need for it.
MC:
What about mishaps that have occurred on stage. Have you Magdalena had anything that went wrong?
MK:
I suppose this is a subjective thing. Well I don't think it went terribly wrong, I hope not for the listener. Once I was so exhausted and not in particularly good shape and just didn't sing two high notes. [
MC:
You left them out?] Yes, I left them out. For me it was a disaster but the audience probably didn't notice as it was not a well known piece. Apart from that, it wasn't a real catastrophe but whilst in San Francisco I had a very bad cold and had flown in just for that one concert and I really wanted to sing it and do well. I managed to sing only half the concert as I had one note less in my register. I had to apologise that I couldn't sing the second half. [
MC:
So there was no way of putting it right.] No there wasn't. You see I should have cancelled but I was really determined not to cancel the concert. I have a problem with cancelling concerts but of course some people are very good at cancelling concerts.
MC:
Yes, there are certain names associated with cancelling concerts. Certainly some singers gain a reputation for cancelling.
MK:
You have to take care of yourself and if you are ill then you should cancel but I am loathe doing this and I have to be terribly sick before I cancel. It's a strong sense of duty. I have promised people and I will try my best whatever. It is not always a good thing to persevere though; sometimes it is better to say no.
MC:
I interested to know if you have any rituals or superstitions before going on stage?
MK:
No, I don't think so… I'm not superstitious in any sense. Not rituals either. Each morning I regularly do 45-60 minutes of yoga. After lunch I try to lie down and rest. I don't always manage to sleep. I eat lunch but I don't have a meal before the concert. Something like a banana or dried fruit. Unfortunately after the concert we all eat a lot. We just feel so hungry. I know that it's the worst time to eat but it's all that adrenalin, you don't want to go to sleep so you go to a restaurant and you eat a lot. So it's always after the concert that I eat, never before.
MC:
Do you consider that there is such a thing as a perfect performance?
MK:
When my eldest son was three years of age he told me once in tears "mummy life is not perfect." He is a perfectionist and I am too. I'm often upset if something I do isn't perfect… I don't think there is a 'perfect state' in life. Maybe when it is less perfect it will have a bigger impact. It's about what you are able to give in terms of emotional strength. We are used to going as close as possible to perfection in the recording studio where you can do repeats and then do your montage. This is really strange because people want to hear the same in a live performance which doesn't happen. I see perfection as the ability to give at this very moment. There is sometimes a certain energy in the audience, for example, recently in September we gave Bach's St. Matthew Passion at the BBC Proms and it was one of my greatest musical moments I have to say. I could just feel the sense of awe from such a large number of people at the Royal Albert Hall. So the atmosphere in the hall was remarkable which seemed to encourage every one of the cast to sing better than in other circumstances. That concert staging was for me the nearest to perfection I have come across and I believe all of the other singers felt the same. We had done the concert staging a lot which gave us a sense of freedom because we didn't have to worry about memory issues etc. because we knew how to do it and we just performed. We go to New York with the St. Matthew Passion next month. It's an unbelievable work and there is so much in it for the choir who had learnt it all by heart.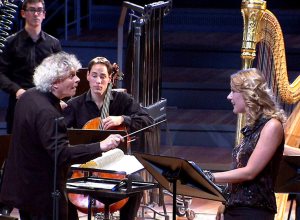 Sir Simon Rattle & Magdalena Kozena
© Berliner Philharmoniker Digital Concert Hall
MC:
Magdalena I'd like to ask you about working with your husband Sir Simon. You work with him often.
MK:
Often people say, Oh I could never work with my husband or wife. I find it a positive thing to work with my husband. Because if you know someone very well on a personal level you don't have to discuss things because it is instinctive. Simon knows what I am going to do and I know what he going to do and in that I find a certain freedom. Simon is one of the greatest conductors there is, so making music with him is a wonderful experience and I'm blessed to have that opportunity. I think it's fantastic that Simon brings so many styles to the Berliner Philharmoniker. There is baroque music which he will conduct himself or maybe bring in specialist interpreters, also contemporary music and of course the repertoire that the orchestra has become so famous for Brahms, Beethoven, Wagner etc. As you know Michael the orchestra has an incredible history of playing a variety of music. For example when we did the St. Matthew Passion the orchestra before Simon took over were not playing this type of music and if they did play it was given a more romantic approach. Now the Berliner Philharmoniker players know to play without vibrato, how to phrase in a way baroque specialists do which makes me feel as if I was performing with a baroque orchestra of the period and not a modern orchestra. This is one of the approaches that Simon has practised with them. When he finishes with the Berliner Philharmoniker he will have been here sixteen years. Before many Berliner Philharmoniker conductors had stayed with the orchestra until they died.
MC:
I wonder if there were ever times when you have been disappointed with the singers you were performing with?
MK:
Yes, there have been times such as when my fellow performers have come to rehearsals unprepared. Because it sometimes happens that they try to learn the role while they are rehearsing it. You can easily tell this is happening as they do not know the role by heart and they are slowing down the process when you could have moved on to doing more interesting and valuable work than coaching someone how it should go. This is something I get quite cross about when it happens. I believe that everyone should be taking responsibility for their own learning. I certainly wouldn't have the nerve to learn the part at the last minute. Clearly some people function like that but I don't think it shows much respect for their fellow colleagues who have been professional and have come prepared. But I adopt the view that there is nothing that I can do apart from concentrate on my own preparation.
MC:
What about conductors? You must have performed with so many in your career. Have you had many problems?
MK:
I've been incredible lucky that in the last ten years or so that I have been able to choose which conductors that I work with. I haven't had too many bad experiences in my career. Of course you do not always share the same opinion about the interpretation. This is one of the beauties of classical music that you can try other ways with the same work. But it is the conductor I believe who has the general concept about how the work should be performed. I personally don't want to disrupt the harmony but it's with my song recitals that I can do what I wish. I always think that when it's a collaboration of several people it should be about finding ways to make things work, not adopting a negative attitude from the start. I have a regular collaboration with keyboard player, conductor and early music specialist Andrea Marcon but because of my responsibilities for my children I am keeping my work with conductors to people that I know I will be on the same wavelength with. There are one or two people that I love to work with that spring to mind. There is Bernard Haitink who I worked with in 2007 in Paris with Debussy's Pelléas et Mélisande. He doesn't talk in rehearsal just for the sake of it yet everything falls into place during the performance. I love working with Mariss Jansons too who is also a great conductor. When the music just works between those involved it is a time to treasure.
MC:
In opera what is your opinion about modern opera staging or do you prefer the traditional approach?
MK:
I have no hard and fast opinion about opera staging. An opera can be set in the period it was written for or it can be a modern staging. If it's logical to a singer then I'm happy as long as it serves the music. A period staging in Grand Opera with its antique clothes, even horses on the stage isn't my type of thing. On the other hand when it's set in modern times doing things like sitting on a toilet singing an aria it's not for me. A staging whether traditional or contemporary must make sense to me.
MC:
To conclude Magdalena I would like to know your plans for the future?
MK:
We have the series of the St. Matthew Passion. Then I'm recording a new CD of Monteverdi. Next I'm singing the title role in Charpentier's Médée which is a fantastic piece that I especially love. Then it's Der Rosenkavalier and next I start a recital with Mitsuko Uchida and then a baroque project with Emmanuelle Haďm so that is what I'm doing this season. There is another Pelléas and Mélisande and then Martinů's Julietta which we will sing in French. I have sung Julietta in Czech and a few years ago I also recorded extracts with Sir Charles Mackerras on Supraphon. I love to sing Czech opera especially if I was able to sing Dvořák's Rusalka and those wonderful Janáček roles I would be so happy. But there is not much written to suit my voice which leads me down the direction of baroque or French opera.
MC:
Thank you so much for giving up your afternoon to speak to me.
Michael Cookson