This is the first in a series, introducing a set of related works
. These

may be connected by the composer, style, country or era

.
Its target audience is the inquisitive listener, whose journey has taken them towards a certain part of the repertoire, and asking the question "I wonder if I would like …, but there are quite a few and I'm not sure which one to try". It is not intended to provide detailed evaluations of the musical structures, nor a comprehensive survey of all known recordings.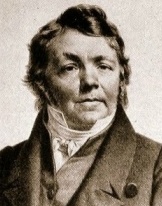 A little bit about the composer
Born: 1778, eight years after Beethoven, nineteen before Schubert
Died: 1837, ten years after Beethoven, nine after Schubert
He was born in what was then Hungary, but is now Slovakia. He was taught by Salieri and Mozart, spending a period living in the Mozart household, was a friend of Beethoven and succeeded Haydn at the Eisenstadt court. He became friends with Schubert at the memorial concert for Beethoven, at which Hummel performed, and Schubert's last three piano sonatas were originally dedicated to Hummel. He was a child prodigy at the piano, and toured Europe in the company of his father (that sounds familiar, doesn't it?). Like Bach and Liszt, he worked in Weimar, and was one of the first musicians to set up a pension scheme for performers, and to suggest that copyright to be extended to music. His compositions are dominated by those involving the piano; he wrote no symphonies, it is thought because of the overwhelming presence of Beethoven.
How many are there?
There are eight piano concertos, and a number of other works for piano and orchestra. The concertos are rarely given numbers on recordings, more often referred to by their opus number and key.
| | |
| --- | --- |
| Opus | Key |
| 34a/36 | C major |
| 85 | A minor |
| 89 | B minor |
| 110 | E major |
| 113 | A flat major |
| op. post 1 | F major |
| WoO 24 | A major |
| no number | A major |
I will like these works if …
Hummel is considered to be one of the composers whose music straddles the transition between the Classical period of Mozart and Haydn, and the Romantic era of Chopin, Mendelssohn and Schumann. The two minor key concertos are believed to have strongly influenced Chopin. If you drew a line between Haydn and Chopin, somewhere there you would find the Hummel concertos. His music doesn't reach any great depths, which makes them unlike the Beethoven concertos or those of mature Mozart. They are, however, unceasingly melodic and rhythmically interesting, and with virtuosic piano writing. They are certainly better than the Haydn piano concertos, but only in a couple of instances do they approach the Chopin pair.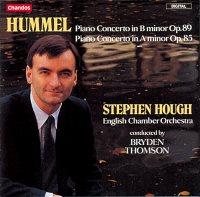 Which one should I start with?
My first encounter with the music of Hummel was a performance of the
B minor concerto
by Piers Lane and our long since disbanded local orchestra. At that point, I had not even heard his name. I doubt I was alone in that regard among the audience. I suspect there were plenty who were wondering "why are they playing something no one has ever heard?". Such thoughts were washed away in a performance that brought the house down. I went home and the next day enquired at my local record store – there was one then. They were able to find two recordings, one of which was by Stephen Hough on Chandos (CHAN8507). I had heard of him, so ordered it, and it remains, twenty years on, one of my most played CDs.
Astonishingly, there has not been a new recording of this concerto since the Hough in 1987! I find this quite incomprehensible, though admittedly the Hough recording is probably impossible to better. The only other recording is a 1980 Marco Polo release by Hae-Won Chang, reissued on Naxos in 1996 (8.550837). It is not remotely competitive with the Hough – too slow and the orchestral accompaniment palls in comparison with the English Chamber Orchestra and Bryden Thomson.
What makes this one better than the other seven? Well, to be accurate, it is better than six of the other seven (see below). Whether it is the minor key, or simply the presence of one of the world's great pianists early in his career, but from somewhere, Hummel finds a depth of expression that is missing from almost all of his compositions. Hummel's string writing is not his strong point, but here it doesn't seem out of its depth. In the slow movement, he dispenses with it entirely, the orchestral accompaniment being from the wind and brass sections only.
Which one next?
Well, this almost seems like cheating, as the next one is the discmate on the Hough recording, the other minor key concerto,
op. 85
. Basically everything I said about the B minor applies here, other than here the strings do play in the slow movement.
There are more recordings of this than any of the other Hummel piano concertos, though that still means fewer than ten, two of which we have already met. Of the other choices, the one with the pianist with the most significant reputation is a historic recording from 1954, featuring the Polish-American
Artur Balsam
(Bridge 9196 and Pristine Audio PASC021). The recording shows its age, though the Pristine Audio version shows some signs of having been worked on to improve the quality. The performance sounds quite good, but still not close to Hough's and compromised by the sound quality.
There are only two others that are readily available.
Ingrid Marsoner
on Gramola (98938) plays well, but tends to over-emphasise the work's romantic side, and in doing so, loses the sparkle. This is particularly evident in the rondo finale. The other, and most recent, release from
Alessandro Commellato
on Brilliant Classics (BC94338) is a particularly interesting one for two reasons. Firstly, it describes itself as Volume 1 – there are no complete Hummel sets from the same pianist/orchestra – and secondly, it uses authentic instruments and practices, meaning a fortepiano. I'm not a great fan of the sound produced by most instruments of this type, and the one used on this recording is fairly typical. However, I find the overall performance quite good, and certainly an interesting alternative.
There are two others which are not in print as CDs, but available by download or streaming: Martin Galling and Dana Protopopescu. Avoid them like the plague! They make the work seem mundane and dull.
The choice, therefore, is simple – buy the Hough disc and get the two best concertos of the set in magnificent recordings.
That leads us onto the major key concertos. None of them are at quite the same level as the minor key pair. That is not to say they are poor or uninteresting, just that they are exactly what they were intended for: entertainment. Somehow the minor key concertos have gone beyond that basic purpose, in the same way that Mozart's concerto No. 20 and symphony 40 seem to stand out from the others around them.
When I wrote that there were no complete sets, I had to be clear in specifying the same pianist and orchestra. Chandos has been loyal to Hummel, and has recorded all the remaining
concertos and concertante works for piano and other instruments, as well as some ballet suites and orchestral works. These has been in the safe and experienced hands of Howard Shelley as pianist and conductor of the London Mozart Players.
CHAN9558
Piano concerto in A flat major, op. 113
Piano concertino in G, op. 73
Gesellschafts-Rondo, op. 117
CHAN9687
Piano concerto in E major, op. 110
Concerto for piano & violin in G major, op. 17
CHAN9886
Piano concerto in F major, op. post. 1
Piano concerto in A major, WoO24
Theme and variations in F major, op. 97
CHAN10216
Piano concerto in C major, op. 34a/36
Rondo brilliant, op. 56
Rondo brilliant, op. 98
CHAN10374
Piano concerto in A major
L'Enchantment d'Oberon, op. 116
Le Retour à Londres, op. 127
O du lieber Augustin
You can't really go wrong with any of these recordings, but if you twisted my arm, I would probably choose the C major, op. 34a/36 with two substantial and entertaining Rondo brillants as couplings (CHAN10216). Its main failing is that at over well thirty minutes, it is rather stretching its contents.
In reality, the best place to go after the B minor concerto is the
trumpet concerto
. Indeed, it may be what led you to Hummel in the first place. It would be regarded by most as his masterwork – I would put it level with the two minor key piano concertos – and is, by a very large margin, his most recorded work with more than fifty. It is outside my remit here to evaluate these recordings, but let me direct you to that by Alison Balsom.
Review index
An index of all reviews of the Hummel piano concerto recordings on Musicweb International can be found
here
.