Over a number of years BIS have been recording the complete
Bachianas Brasileiras
and
Chôros
with the São Paolo Symphony Orchestra and Choir conducted by John Neschling and Roberto Minczuk. We have come a long way since I first heard
The Little Train of the Caipira,
the
toccata
finale of
Bachianas
No.2, on an Everest recording released by World Record Club many years ago and recently reissued on CD and download. I still enjoy that performance – see
2013/16 Download News
– but I doubt whether anyone then would have expected that we would ever have had the complete set of the
Bachianas
and
Chôros
.
Now, BIS are making all seven albums, with a total playing time of 8:44:53, available for download from their website, eclassical.com, as a bundle at a price of $39.37 (mp3 and 16-bit lossless) or $52.47 (24-bit lossless). (
BIS-CD-1320/2
– the set has also available for some time on CD for around £38:
Bargain of the Month
–
review
).
Note - this set has been offered recently at a discount, and I understand that it will be so again in the very near future (if you are reading this on its publishing date).
Some of the recordings on Volume 6 and all those on Volume 7 were recorded in 16-bit sound but have been up-sampled for those requiring 24-bit.
The constituent CDs are:
• Volume 1: Introduction to the
Chôros
(1929); Two
Chôros bis
(1928);
Chôros
No.2 (1924); No.3 (1925); No.10 (1926); No.12 (1929) [79:58] – from BIS-CD-1520
• Volume 2:
Chôros
No.6 (1926); No.1 (1920); No.8 (1925); No.4 (1926); No.9 (1929) [81:18] – from BIS-CD-1450
• Volume 3:
Chôros
No.11 (1928); No.5,
Alma Brasileira
(1925); No.7,
Settimo
(1924), with Cristina Ortiz [78:06] – from BIS-CD-1440
• Volume 4:
Bachianas Brasileiras
No.5 (1938-45); No.4 (1930-41); No.6 (1938) and No.1 (1930-38) with Donna Brown (soprano) and Jean-Louis Steuerman (piano) [59:23] from BIS-CD-1410 –
review
• Volume 5:
Bachianas Brasileiras
No.2 (1930); No.3 (1938); No.4 (version for orchestra, 1941) with Jean-Louis Steuerman (piano) [69:52] – from BIS-CD-1250
• Volume 6:
Bachianas Brasileiras
No.7 (1942); No.9 (for string orchestra, 1945); No.9 (for choir
a cappella
, 1945); No.8 (1944);
Quinteto em forma de Choros
(1928) with members of the Berlin Philharmonic Wind Quintet [77:48] – from BIS-CD-1400 –
review
and
review
• Volume 7: The Complete Solo Guitar Music (Anders Miolin (guitar)) [78:28] – from BIS-CD-686
There's also a short pdf booklet, containing just the track details. The full booklets of the original releases, with their detailed notes – including Portuguese, a nice touch – remain available on the eclassical.com site for all comers.
I can deal with Volumes 1 to 3 in short order because I reviewed them together in 2011 –
review
with full details of performers, etc. I greatly enjoyed hearing these three albums then and again now. I need only add that I listened to the
Chôros
then in less than ideal mp3 from music.com and in streamed versions from Naxos Music Library. Decent as those are – and the Naxos Library is extremely value for evaluating whether or not to buy a CD or download – the lossless BIS versions sound very much better.
Rob Barnett made the whole CD set his
Bargain of the Month
. The only volume of the
Bachianas
that hasn't been covered by Dominy Clements' detailed reviews (see links above) is Volume 5, containing Nos. 2-4, and that's just as fine as everything else here.
The Little Train
(
O trenzinho do caipira
) which features as the final
toccata
of No.2 sounds, if anything, even more colourful than it did from the LSO and Eugene Goossens way back. (
review
) (
2013/16 Download News
). No doubt, for one thing, it's less of an unknown novelty to the Brazilian players.
Anders Miolin's survey of the complete guitar works concludes the series of
Chôros
with a recording of No.1. The other works are the Five Preludes (1940),
Suite populaire brésilienne
and Twelve Etudes (1929). You may prefer Manuel Barrueco in
Chôro
No.1 and Julian Bream in the Preludes, in the Etude in c# and the
Schottisch Chôro
from the
Suite populaire
(see below) but that's to judge Miolin by the highest standards. Otherwise he's not found lacking and I suggest that you buy the other recordings too for the sake of Victoria de los Angeles in
Bachianas
No.5 and Bream's account of the Guitar Concerto.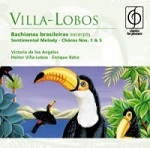 The set at its new price is such a bargain that you can afford to supplement it. If, for example, you find this account of the well-known
Bachianas
No.5 just a little lacking in colour, the classic recording by Victoria de los Angeles and Villa-Lobos himself remains available at mid-price, albeit in slightly faded sound from 1957. (EMI GROC
5669122
, with Nos. 1, 2 and 9). That recording also features on a budget-price Classics for Pleasure anthology of Villa-Lobos which I wrote about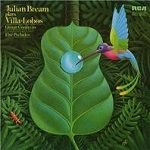 some time ago (
2283762
–
review
).
Julian Bream's recording of the Guitar Concerto (with LSO/André Previn) and Five Preludes (rec. c.1971) plus his later (c.1977) recording of 12 Etudes remains available in the RCA Julian Bream Edition (
09026616042
) but it has also resurfaced, slightly differently coupled, as a budget price download – the Concerto, Preludes, Etude in c# minor and the
Schottisch Chôro
from
Suite populaire brésilienne
, with the striking original cover at £3.99 from
sainsburysentertainment.co.uk
and iTunes, both mp3 only but the former at the full 320kb/s. At 44:12 there's less here than on the CD but at the price it's good value.
There are also several other BIS albums of the music of Villa-Lobos:

• Complete Piano Music: Débora Halász (with Roland Pöntinen on Volume 1): BIS-CD-712; BIS-CD-812; BIS-CD-912 and BIS-CD-1012. These were issued too early to be reviewed on MusicWeb International and they have received a mixed reception elsewhere. You might be better served by the less expensive Naxos series, of which I reviewed Volume 7 – Sonia Rubinsky: 8.570503 – review and links to reviews of earlier volumes. The eighth volume is on 8.570504. Sample both sets from Naxos Music Library if you can.

• Floresta do Amazonas : São Paolo SO/John Neschling: BIS-SACD-1660 – Discovery of the Month, DL Roundup March 2011/1. This colourful musical depiction of the Amazon forest is the place to go once you have been won over by the 7-CD set of Bachianas and Chôros.
Rob Barnett ended his review of the CD set: "This set is the place to go for a single collection conjoining the Chôros and the Bachianas Brasileiras – brilliantly ignited and sustained from intimate solo works to seismic extravagance". That's equally true of the download bundle and it's even less expensive.

Too good a bargain to pass up.
Brian Wilson