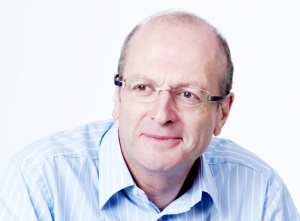 Paul Spicer studied at the Royal College of Music, where his teachers included Herbert Howells. As a student there he achieved distinction as an organist though in his subsequent professional career he's been noted particularly as a conductor. He has established a significant reputation as a choral conductor, firstly with The Finzi Singers, with whom he made a series of highly-regarded discs, mainly for Chandos, and more recently with Birmingham Conservatoire Chamber Choir. Since 1992 he has been the conductor of the Birmingham Bach Choir. He's also an author who published a valuable biography of Herbert Howells in 1998. His new biography and study of the music of Sir George Dyson has just been
published
. In addition he has found time to be a sought-after teacher, including at the Royal College of Music (1995-2008) and currently at the Birmingham Conservatoire, where he teaches choral conducting.
If all this were not enough he is a composer with a significant body of works to his credit. Though he has written music in several genres I think it would be fair to deduce from the list of works on his
website
that, especially in recent years, his principal interest has lain in the field of choral composition. A selection of his shorter choral pieces was released on a CD entitled
Come out, Lazar
which was warmly received, not least by Em Marshall-Luck for MusicWeb International (
review
). Spicer has composed several large-scale choral/orchestral works, including
Easter Oratorio
(2000) (
review
),
The Deciduous Cross
(2003) and
Advent Oratorio
(2009).
On 13 September 2014 a major new choral/orchestral work by Paul Spicer,
Unfinished Remembering
, will be given its world premiere in Symphony Hall, Birmingham when he will conduct soloists, the Birmingham Bach Choir, which commissioned the work, and The Orchestra of the Swan (details
here
). The libretto has been written by the poet, Euan Tait. In a preface to the libretto Tait writes that 'This choral symphony intends to speak both with proud gratitude of the courage and self-sacrifice of the soldiers of the Great War, and yet with the troubled questioning of our own time, involved as we have been in renewed wars, and struggles against destructive hatred and prejudice.' As for the work's evocative title, Tait explains that 'the Great War is an unfinished remembering by which we are all haunted, and the cries of pain of these many, many war-destroyed cities across the world is carried to our generation, and we answer with fierce pride that we honour the sacrifices of the soldiers of the Great War, and see the challenge of their courage as a call to life, to the building of a society where the different and the rejected give us life and joy.'
Recently, I visited Paul Spicer to find out more about the new work and to discuss other aspects of his career to date.
John Quinn
Paul, I'd like to talk with you about your work as a composer and particularly about your forthcoming major piece,
Unfinished Remembering
. However, firstly I'd like to touch on two other aspects of your career: as an author and conductor. You've already written an important biography of Herbert Howells. Now your brand-new book on George Dyson is coming out to mark the fiftieth anniversary of his death and this is both a biography and a study of his works. What drew you to Dyson as a biographical subject?
Paul Spicer
It was a rather serendipitous process really because, quite honestly, I wasn't terribly interested in George Dyson. I really didn't know anything about him at all, except that as a chorister, of course, one had sung the ubiquitous 'Mag & Nuncs' in D and F. And it just happened that I was in Oxford one day and had a bit of time to spare and was leafing through CDs in Blackwell's, as you do, and I came across a disc of Dyson's Violin Concerto. I knew nothing about it but I bought it, brought it home, had a listen and within a very short space of time was
completely
hooked.
JQ
That's the Richard Hickox recording?
PS
. Yes, there's only the one at the moment. As I say, I just got completely hooked on the piece. And the other piece on the disc, the (Children's) Suite after Walter de la Mare, was also absolutely beautiful. I thought this was a voice waiting to be discovered. So I started to buy some other Dyson discs and found that there was actually quite a lot of Dyson represented on CD. I liked everything I heard. In fact, it was more than 'like': it was like how sometimes you almost get something like a little chemical reaction to a composer that you
really
feel a connection with – like I'd had with Howells. And I discovered that Christopher Palmer, who was also a terrific Howells man, as I'm sure you know, and had written that very big book on Howells, was also a big Dyson man and actually he had written the first little monograph for Novello. He had done a couple of other collections of Dyson writings and had pushed very hard to get some of his music recorded. So a lot of the early Dyson work was very much down to Christopher. And so I was interested also that obviously the same two very different compositional styles had also appealed to him.
JQ
That
is
interesting.
PS
Anyway, I began to think – because I love having big projects on the desk – that actually I'd quite like to write about this guy. I was down at the Royal College of Music library one day and speaking to Peter Horton, the archive librarian there, who knows everything that's going on, and I asked him if there was anyone that was in the process of writing a biography because it would be likely they'd come to see him since a lot of the material is there. And he said: 'No. Would you believe it, the Dyson Trust is at this moment looking for someone to write the biography.' And so I decided to put my hat in the ring and ended up being chosen for it. The rest, as they say, is history and seven or eight years later it's apparently coming out this week.
JQ
He was quite a remarkable man, wasn't he? He rose from humble beginnings in my own home town of Halifax, in the old West Riding of Yorkshire. And didn't he write a book about grenades when he was serving in the First World War?
PS
He did.
JQ
He was a long-time teacher, wasn't he?
PS
Very much so. In fact, really, teaching was his life. He was a very big educationalist. He went through a whole lot of public schools. He started off at the Royal Naval College at Osborne on the Isle of Wight – at Parry's suggestion. And then he moved from there to Marlborough; from Marlborough to Rugby; from Rugby to the war; and after the war to Wellington and then Winchester. So he went through all that and then to the Royal College. In fact he did some teaching at the Royal College while he was at Winchester and then he became Director (of the RCM) after that. So teaching was a major thing. But he was a fascinating man and the grenade thing is something that, if you'll pardon the pun, gets thrown at me all the time - either that or 'Is he the same family as the Dyson vacuum cleaners?' The grenade thing is very typical of him. He was a very practical man and his father was a blacksmith – not the horseshoe type of blacksmith; he worked in one of those massive great forges in Halifax.
JQ
Dyson wrote a piece called
The Blacksmiths
didn't he?
PS
He did. It was in honour – in memory - of his father. It's a setting of an amazing Middle English alliterative poem about that whole business. So he grew up in a very practical world and he was a brilliant man at all levels. He had an incredible mind for economics, for finance, mathematics. He had one of the most extraordinary memories that people know of, without it being actually photographic. Apparently, he could sit down and play you any kind of musical example from memory: from Schoenberg, Stravinsky, or Mozart, Bach, Haydn or anybody. He had an extraordinary brain.
JQ
I'm fascinated that when you bought the disc of his Violin Concerto, which I myself bought years ago, that it made such an impact upon you. I remember a super performance of
The Canterbury Pilgrims
at the 2012 Three Choirs Festival in Hereford (
review
). I'd only heard it before in the Hickox recording (
review
). Not only did the audience receive it warmly but also members of the choir to whom I spoke said how much they'd enjoyed learning and performing it. So why don't we hear more of his work in performance?
PS
. The trouble is, if one's honest, a lot of that is due to box office concerns. You put George Dyson's name on a poster and people think: 'Is that something modern that I'm not going to like?' I very much hope this year things will improve. You'll be interested to know that we've managed to get him as Composer of the Week on Radio 3, probably at the end of September or beginning of October. That's a
huge
step forward. It'll also be good in terms of royalties to help the Dyson Trust to do more work on being able to proselytise more. It's extremely friendly music; it's extremely lyrical – it's what I'd describe as
passionately
lyrical. You know, one of the very interesting things in writing this book has been to see how many criticisms of the time – critics attending concerts – just seemed completely not to see or hear the passion in the music. There were lots of lukewarm critiques of the music. I wonder if it's because the performances in those days simply lacked fervour. Or because Dyson himself, who I never saw because I was too young, was rather cool as a conductor and therefore didn't engender a great fire from the performers. He loved the music himself. He kept on saying how much he loved
The Canterbury Pilgrims.
He used to say: 'I love every note of this!' and he conducted it many, many times. When you listen to a Hickox performance of some of these pieces -
Quo Vadis
(
review
)
,
the Violin Concerto,
Nebuchadnezzar
(
review
) or any of these lovely works - you wonder how on earth anybody can
not
be moved by this music.
JQ
I think you may well be right about the fervour. But I think the other thing is that when I listen to performances from the Thirties, the Forties, the Fifties, even the Sixties, it strikes me there's been a
huge
leap forward, not only in the standards of orchestral playing but also in the standards of amateur choirs. I think choirs nowadays sing with more punch.
PS
Yes. That's very true; they do. And also with much less vibrato which can make notes rather difficult to hear - the actual pitch; it clouds the whole texture too. So, yes, I agree with you absolutely about that; I think that's probably got a lot to do with it. I think Dyson is now very much ripe now for rediscovery. I hope the book will help that; I hope
Composer of the Week
will help.
JQ
Have you had the chance to conduct much Dyson? I know you're making
Nebuchadnezzar
the centrepiece of this years'
English Choral Experience
week for singers in July at Dore Abbey in Herefordshire.
PS
Yes, I've done quite a few of these pieces but only very few in their proper condition, in other words with orchestra. I've conducted
The Blacksmiths
about three times now, but with two pianos, not with orchestra; there's a version for strings, two pianos, percussion and timps so at least that's not too far away. I've done
In honour of the City
with full orchestra; I've done
Agincourt
with full orchestra. We're about to do
Nebuchadnezzar
; I've done
The Canterbury Pilgrims
; I've done
Quo Vadis
Part I. So, yes, quite a few of these big pieces, actually and, of course, quite a lot of the smaller scale stuff.
JQ
Can I ask you about another composer whose music is close to your heart: your old teacher, Herbert Howells? You've not only written a biography of Howells but also you've conducted lots of his choral music, notably with the Finzi Singers. In the last couple of weeks I've been listening a lot to a new CD set of his complete music for Violin and Piano, which I'm
reviewing
for MusicWeb International. That set includes the first recording of an early and very big Violin Sonata. You edited the manuscript and you've also edited the Second Violin Sonata back into its original four-movement form. How did all this editorial work come about?
PS
Well, I was always interested in all this violin music by Howells. A long time ago, probably ten or twelve years ago, I produced a single disc of the violin music with Paul Barritt and Catherine Edwards playing the piano for Hyperion (CDH55139).
JQ
That's got the three numbered sonatas on it.
PS
Yes, and the smaller-scale pieces too. And at that point I didn't know that the Second Sonata had actually been raided by Howells of its third movement, the Scherzo.
JQ
He put it into the middle of the Third Sonata, didn't he?
PS
That's right. And before this came to light I'd always thought that the Second Sonata was a real find; I thought it was the best of the three and yet Howells had withdrawn it. But he'd withdrawn it, I think, because he had raided it and he preferred to leave it and let the other one (the Third Sonata) just stand. And actually the Second works perfectly well without its Scherzo. It's a big piece and if you listen to that Hyperion recording you wouldn't miss the scherzo particularly. But it was a revelation getting it back and seeing how originally he had intended those movements to link and how, without it, he'd also rethought the link into the last movement as well. So we put into the score that you can do it either way. Here was a major violin sonata by a significant twentieth century English composer which was just lying on an RCM shelf: why let it languish like that? So Novello decided to let that come forward and the Howells Society and the Trust have been very proactive in promoting getting these Howells works into print.
With the B minor Sonata I knew it existed, of course, and I'd written about it because it was part of Howells' portfolio of compositions when he was studying with Brewer at Gloucester. It was one of the big works he wrote to show to Stanford to present for his scholarship application for the Royal College. We don't think it was ever even performed in Howells' lifetime, even when he was a student; I think it was simply an exercise for Stanford and then put away. Anyway, Boosey's showed an interest in taking this on and so I've tried to put it together. I've been very much helped by Rupert Marshall-Luck in this too; he's taken a big part in the editing process. It's fascinating: it's
terrifically
Elgarian.
JQ
It's enormously so. Both you and Rupert have written notes for the CD and you've both commented on this. Rupert also talks about
The Dream of Gerontius
and the opening of Part II and its implications for the slow movement of the sonata. But you both talk also about the (Elgar) Violin Concerto - and it's there! And the thing that intrigues me is that Howells wrote it [the sonata] in April and May 1911; how could he have known the Violin Concerto, which had only been premiered in London in November 1910?
PS
We really don't know. You know, people used to say to me: "Howells was just stuck in a cul-de-sac; his style never developed!" And yet, you look at all this early stuff: all the Westminster Cathedral music that he wrote when he was actually a student of Stanford at the beginning and see how much Palestrina there is in that. Then you look at this (B minor) Violin Sonata and see just how much Elgar there is. And then you see the Vaughan Williams influence beginning to come through. Howells did say that when he heard the
Tallis Fantasia
for the first time in September 1910 that he knew that was going to be a massive influence in his life. But he was too young to process it at that time and so Elgar remained the big thing. And of course his first hearing of
Gerontius
was in that same concert. Can you
imagine
all that? It's beyond imagination these days, really. But soon after that his style began to develop into that kind of Vaughan Williams mould, although it remained
very
personal to him.
JQ
In the numbered [violin] sonatas I wouldn't say he's shaken off the Elgar influence but it's much less…
PS
Oh, absolutely: its much less; much, much less.
JQ
Was he a violinist, Paul?
PS
No.
JQ
I thought not, and yet the writing for the violin is tremendously…..
PS
He learnt his trade very, very well. Like a lot of them, really. He was extremely well taught. One of my next big projects was going to be a book on the whole of Stanford's composition school, trying to tease out his compositional methods, looking at all his students and trying to find a common thread and see how it was that this phenomenon occurred. But I've just been asked to do a biography of Bliss, which, because there's a greater urgency in that from the publishers, will be my next big project.
JQ
Well, again, he's another composer who's overdue for reassessment.
PS
Yes. There's never been a biography. He wrote a big autobiography, of course…
JQ
Yes, he did.
PS
…but there hasn't been a biography and, again, a look at the works in a friendly kind of way. A difficult composer, Bliss, in lots of ways; he's nowhere near as friendly to the average man and he doesn't get nearly so many performances. But I would love to do that Stanford project and I expect it'll come along after the Bliss.
JQ
It's interesting that you suggest Bliss doesn't appeal to everyone. I went to the Coventry Cathedral performance of
The Beatitudes
(
review
) and I enjoyed it enormously. And as I was getting up to leave an elderly gentleman, who was sitting a couple of seats away from me and must have noticed me applauding, said: 'Well, I'm glad
you
enjoyed that rubbish.' I didn't really know what to say to that.
PS
Oh no! But, you see, that's the whole thing about music. It goes back to what I said right at the beginning about an almost chemical reaction that the brain has. We all do this: we filter out things we don't like; we meet in the middle some things that we quite like; and there are other things that actually positively make us warm. I don't know if
The Beatitudes
did that for you, or you might have been somewhere in the middle.
JQ
I think I was somewhere in the middle, to be truthful. We've talked a lot about other composers and I'd like to talk to you about your own music but before that let's talk a little bit about your conducting activities. You're very well known for your conducting and recording activities, notably with The Finzi Singers, and recently with the Birmingham Conservatoire Chamber Choir. I was intrigued to read in an online
Guardian
article from 2005 that you said you'd never had a conducting lesson in your life, which astonished me. How did you get into conducting?
PS
I fell into it, really, like an awful lot of people of my generation and before. There was no teaching available. The educational side of the conducting of choirs has only really happened in the last twenty years or so, maybe a bit more. I came into it because I wanted to form my own performances. I started at school. It was one of those slightly sad situations with a silver lining. I was at Oakham School as a boy. The Director of Music was the organist and did the Chapel Choir. He had a heart attack and, obviously, had to stop for a time. I was in the sixth form at the time and the Headmaster called me in and said: 'Could you tide us over for a while? Can you play the organ and take the choir?' And, of course, that was a wonderful opportunity.
It was an incredibly musical school. It wasn't big but there were a lot of very good musicians in the school. So there were some opportunities there. I even formed a little group called The Oxbridge Choristers because there were about eight ex-Oxford and –Cambridge boys in the school who'd all been choristers at the various colleges. And we did some choral Evensongs in Chapel, which I put together, directed and played the organ for. So it was something that was a bit in my blood. And it just grew from there to be honest. I got my first teaching job just down the road at Uppingham (School), six miles away from Oakham, It's funny how you get these little marker points: one of mine happened with Walmisley's Canticles in D minor.
It's one of those pieces which is trotted out by everybody because it's quite easy and yet I think it's absolutely perfectly formed. There's a little quartet section for the 'He remembering his mercy' bit at the end (of the Magnificat) and I just remember conducting the Chapel Choir at Uppingham in this setting and the feeling, the power in my hands at that little quartet section, how I could mould it: it was a very, very seminal moment.
And then once I'd become a reasonably successful conductor, I felt that there were so many awful performances in cathedrals and churches by organists who waved their hands in front of choirs and produced really hackingly awful performances of these standard works. And I thought: 'Somebody needs to
teach
these people what to do!' It became something of an obsession in a way, because I just thought someone needs to show these people how to beat clearly; someone needs to show how, through gesturing, you can show so much more than just where the beat is. And, of course, choral conducting is
hugely
different from orchestral conducting teaching. There've always been people teaching orchestral conducting, but not choral conducting. Paddy Russill at the Royal Academy was running a church music course and included some conducting teaching in that, and I think he was probably the first person in the UK to do it.
And then I came along. In fact, I was conducting the Chamber Choir at the Royal College – I'd just been brought in to do that – and I asked if it would be possible to start a choral conducting course; so we had it validated and we made it into a Masters course. Then I started doing the Chamber Choir at Birmingham Conservatoire too and I suggested starting a course there too, so we started a Masters course there and I was running the two then, at the Royal College and Birmingham, Then when I started writing the Dyson book I had a sabbatical term and the College decided to abandon the chamber choir and I said that in that case I couldn't run a conducting course because we needed a choir for the students to conduct. So I left the Royal College and I just concentrated on Birmingham. It's been interesting and, of course, now a lot of other places do choral conducting and the Association of British Choral Directors came into being and they do their own courses and it's become a much bigger thing now.
JQ
That's very interesting. You can teach technique and, as you say, gesture and all that sort of thing, but I don't know how you teach the
alchemy
part of it. As someone who's been on the receiving end for years, first as an amateur orchestral player and now as an amateur choral singer, you know when it's
not
being done well - when you're the victim!
PS
It's very true, and actually teaching conducting is very like teaching composition: you can teach techniques. In other words, you can lead a horse to water but you can't make it drink. And in the same way if the person on the receiving end doesn't have the alchemy or the imagination then you can only go so far. You can show someone how to be effective but you can't teach them to be interesting.
JQ
You've mentioned your activities in Birmingham. Since 1992 you've been the conductor of the Birmingham Bach Choir: tell me a bit about that.
PS
Well, my predecessor, Richard Butt, conducted the choir for twenty-five years before me: he was also my boss as the Senior Producer at the Radio 3 Music Department in Birmingham and I was very much his protégé, really. He was a great man who died about three years ago,. He was a wonderful man, an incredible Bach expert, and had a wonderful feel and flair for all that. In fact I succeeded him both as Senior Producer in the Radio 3 Music Department in Birmingham and then at the Bach Choir. It's a really excellent amateur choir of about 80 people.
JQ
And does the name imply that the choir focuses more on the pre-Classical repertoire?
PS
Well, yes: Bach in particular. Whenever we do Bach we feel we're coming home, so it is a Bach choir, very much with a purpose. But we have a very broad-based repertoire indeed and we go back a long way before Bach and come right up to the present day. And, of course, with my particular interest in twentieth century British music we've done a huge amount of that over these years.
JQ
And you're about to add to this repertoire yourself with this new, substantial work,
Unfinished Remembering
, which the choir has commissioned from you and which is to be premiered in Birmingham's Symphony Hall in September. This is a work inspired by the current centenary commemorations of World War I, I understand, and you're working with the poet, Euan Tait as your librettist. Tell us what we can expect from this work.
PS
Gosh! This was another serendipitous thing, really, because I had no idea of doing this but Euan got in touch with me out of the blue and said he'd written this libretto.
JQ
You've not worked with him before?
PS
No. I didn't think I knew him, but apparently I knew him when he was at Radley and I used to do a bit of part-time teaching there, years and years ago. And he also came to some of those Finzi Singers English Music Festival weeks that we used to do. So he sort of knew more of me that I knew of him at that stage. And I think he came to me because he knew my
Easter Oratorio
and some other pieces. And he said: 'I've written this libretto for a First World War commemoration piece and I wondered if you would be interested in writing the music for it.' I looked at this libretto and it's marvellous, partly because he's got a terrific imagination and also because it's not just harking back to 1914-18 and the terrible sense of loss in that
ghastly
conflict: he brings the whole thing into contemporary focus.
JQ
Stephen Lawrence is mentioned, isn't he?
PS
Yes. There's a whole section about various people persecuted or murdered as members of minorities - being black or being gay. It's very wide-ranging and in its process it also makes us think about current conflicts and all the conflicts that have gone on since [1914-18] because, of course, the world is always in conflict somewhere. And so whilst its genesis is from that early conflict the whole thing is then made to be relevant to all conflicts of all time as well.
JQ
It's a choral symphony, isn't it?
PS
Yes, it's a choral symphony. It's for full symphony orchestra with quite a big piano part in the last movement as well. There are two soloists, baritone and soprano; a semi-chorus, which a group of recently ex-Conservatoire Chamber Choir people are going to sing – and they're also going to sing the whole piece with us – and then the full choir, which is the Bach Choir. In the manner of a symphony it's four movements with a sort of energetic first movement; in inverted commas a "scherzo"; a slow third movement and a big finale, which is much more energised again, and then a sort of reconciliatory end.
JQ
I judge that the words you set are particularly important to you. For
Easter Oratorio
you had a fantastic libretto from Tom Wright, full of theological allusions and insights.
PS
Oh, yes.
JQ
In
Easter Oratorio
the audience were particularly drawn in because they were invited to join in several hymns. How have you catered for the audience this time, if I may put it that way?
PS
Well, there's no audience involvement or anything like that; it is a pure listening experience. But I think the audience will be involved, partly because I think Euan's words are
involving
but also because I think there is a lot of energy and vitality in the music. I've surprised myself, if you like. I've never written anything like this: the
Easter Oratorio
may be twice as long but it has sixty-seven movements, some of which are very, very short. In
Unfinished Remembering
there are just four big movements and I've never written a work with such big spans before, so it's quite a departure for me.
The big problem was getting it commissioned because it's a massive amount of work. I've been at this for over three years but, of course, very part-time because everything else goes on too. So it had to be commissioned: I have to pay my electricity bills like everyone else. And, remarkably, the Birmingham Bach Choir said they'd take it on and very quickly one of our number managed to get the whole of the commission fee from a trust. So that was a little miracle. After that they've now raised £85,000 or thereabouts.
JQ
That's tremendous!
PS
It's been necessary. Symphony Hall costs a fortune; the band costs a fortune – with a big new piece you've got to have extra rehearsal; and of course big-name soloists.
JQ
I'm fascinated that you're coupling it with Vaughan Williams'
Dona nobis pacem
at the premiere: a wonderful work
PS
Absolutely. It's the right length and I think they're quite complementary pieces.
JQ
I should think the
spirit
of them certainly is. Obviously, I've not heard the new piece but I've sung the Vaughan Williams.
PS
Well, my music comes out of that stable. It's very much
not
Vaughan Williams and it's not Howells either – I hope it's mine – but it's not very contemporary in its style, which again I hope will make it audience-friendly.
JQ
The music of yours that I've heard, when I listen to it I know that this is by someone who's been exposed to an awful lot of Vaughan Williams, Howells and Finzi in the past. You've sort of absorbed it into your pores, haven't you?
PS
Yes, absolutely; it's where I come from. And I'm quite unashamed about it these days. I used to be a bit embarrassed about it in the old days. But, to tell you the truth, despite all that I don't think I'm being immodest in saying that there is a personal style there. It does grow through that; you absorb the influences but at the same time you find your own little corner.
JQ
All composers take things from predecessors.
PS
Of course you do. No one lives in a vacuum.
JQ
There's also to be another piece in this concert, isn't there? A song: tell me about that.
PS
Well, there's an extraordinary little saga. It started in the process of raising all this money for the
Unfinished Remembering
concert. We have two extraordinary ladies working on this. One is called Kate Crocker and the other is Hilary Bosko. Kate has taken the particular responsibility of raising the money and she has been
phenomenal
; she is a tireless worker and how she has managed it I do not know. Anyway, she talked to the Royal British Legion and we made a particular connection with them. In Birmingham the Legion wanted to start a new Military Choir. They wanted to give people the opportunity to do some singing and the Bach Choir took this on and have helped begin it – it's fairly small at the moment but I expect it'll grow. So some of the Bach Choir volunteered to go along to help in the early rehearsals to bolster it up and give them a start. And I just thought – I think it came from me – that in the manner of some of the great national songs from the past, like
Jerusalem
or Holst's
I vow to thee, my country
…
JQ
… or Parry's
England….
PS
… and
Dear Lord and Father of Mankind
. Those wonderful English tunes. I thought: 'Why not give this Military Choir a new national song for the spirit of our age?' This was very warmly taken up by the Royal British Legion. So I suggested to Euan that he might think of writing a text for this, which proved very hard. It's hard to be metrical and get the way the lines need to develop in the right kind of way so that the accents fall in the right places and all those sorts of things. We wanted it to be non-religious, non-denominational, so that it's a proper national song for our multi-cultural age and all that sort of thing. I think it's worked quite well. It's called
A Shared Singing
and what's going to happen is that the Military Choir, small as it is, will sing this at the concert, probably with just either piano or organ. Then I will have orchestrated it and I'm going to get the whole hall to stand and sing it through. I'll play it to you if you like.
At this point, Paul sat down at his piano and played through
A Shared Singing
.
JQ
It's right in the tradition, isn't it? A good, solid, sing-able tune.
PS
Well, it fills up quite well to a high point and then lets down.
JQ
We talked earlier about the Birmingham Conservatoire Chamber Choir. I've heard most of the discs that you've done with them and enjoyed them very much (
review
~
review
). I've heard a whisper that there's a Howells disc on the way from SOMM Records.
PS
Yes, that's done. It was recorded last June and that's supposed to come out in June or July this year. That's all the early Westminster Cathedral music, which apart from my old Finzi Singers disc - when we didn't actually do all of it - isn't all on disc, so this is the first concentrated grouping of it. And there are one or two pieces there which have never been recorded before. There's an extraordinary piece called
When first my eyes unveiled
, which I didn't know, I'm ashamed to say. That's from 1925, I think; an anthem for choir and organ. It's very Holstian, a beautiful, extraordinary piece: I don't know why it's not done, And there's a piece which I also edited for Novello's called
Aubade
, which was a wedding anthem, written for Hereford, but the manuscript was left in a compete mess by Howells so I edited that and put it together. So, yes, that'll be quite an interesting disc. And then we are about to record at the end of June the complete works of Samuel Barber, which is a very big project. Again, there isn't a disc with the complete shorter choral works on it at the moment.
JQ
Let me ask you an invidious question. Which gives you greater fulfilment, creating something new through composition or inspiring people, particularly amateurs, through your work as a conductor?
PS
I can't answer that. Everything feeds off everything else. In fact, if I have a really good choir in front of me it'll sometimes get my creative juices going and I want to go and compose for them or for others. Everything is interrelated. I think one of the things which has been, in a sense, difficult in my life has been that I'm such a pluralist that people find it very difficult to pigeonhole me: I'm not just a choral conductor; I'm not a composer; I'm not a writer; I'm not a teacher. I'm all those things and I try to do them all well. It's one of the reasons, if I'm honest, why the Finzi Singers stopped eventually. I didn't want to spend my life as a fundraiser in order to make that work and I felt we'd done a whole lot of really interesting music which had never been on disc before – we'd raised the profile of all that stuff – and I needed to move on, really.
JQ
You've certainly spread yourself.
PS
I spread myself more thinly and so the reputation may be not like other people's is but I'm not a person who likes to focus on one thing only and I just find that everything is interrelated. And I love the variety. I think also to some extent students can benefit from that because you can talk across a broad range, really. And if you take into account also all the production work and all the BBC work and the festival administration ….
JQ
You've been around a bit.
PS
There's probably nobody that's done quite so many things as I have!
JQ
Paul Spicer, thank you very much. We look forward to hearing
Unfinished Remembering
very soon, not just its first performance but also, we hope, a recording as well.
PS There will be a recording but we haven't managed to raise quite enough to do it in the all-singing, all-dancing way we hoped, so it will be a recording of the rehearsals and the live performance put together . Whether that's good enough to release commercially we shall have to wait and see. If not, there will definitely be a recording which we shall be using for our own purposes.
John Quinn
For details of the first performance of Paul Spicer's
Unfinished Remembering
in Symphony Hall, Birmingham on 13 September, click
here
Photograph courtesy of Emotion Studios.