TROUBADISC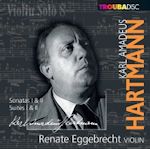 <!- December 2018 -->
colourful imaginative harmony
Renate Eggebrecht violin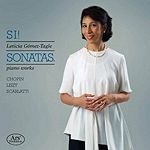 Leticia Gómez-Tagle
Chopin, Liszt, Scarlatti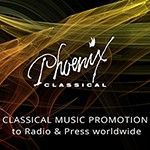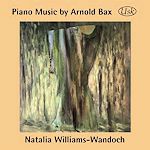 Bax Piano Music
---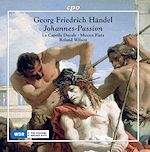 Superior performance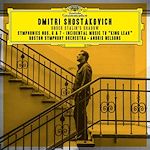 Shostakovich 6&7 Nelsons
Notable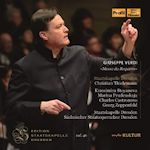 Verdi Requiem Thielemann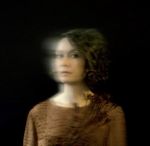 Marianna Henriksson
An outstanding recital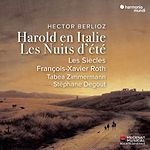 this terrific disc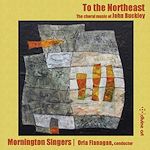 John Buckley
one of my major discoveries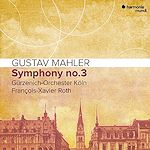 François-Xavier Roth
A game-changing Mahler 3
........................................
Bryden Thomson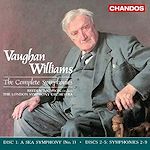 Symphonies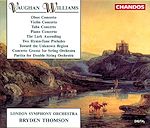 Vaughan Williams Concertos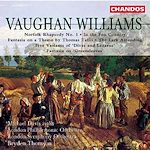 RVW Orchestral
REVIEW
Plain text for smartphones & printers
We are currently offering in excess of 51,000 reviews
Donate and keep us afloat
New Releases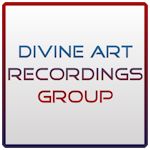 Special offer 50% off
15CDs £83 incl. postage




Follow us on Twitter
Editorial Board
MusicWeb International
Founding Editor
Rob Barnett
Editor in Chief
John Quinn
Seen & Heard
Editor Emeritus
Bill Kenny
MusicWeb Webmaster
David Barker
Postmaster
Jonathan Woolf
MusicWeb Founder
Len Mullenger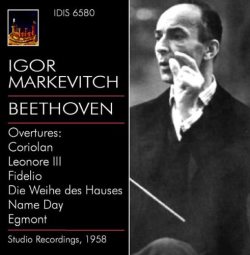 Support us financially by purchasing this from



Ludwig van BEETHOVEN (1770-1827)
Coriolan Overture, Op. 62 (1807) [8:01]
Leonore Overture No. 3, Op. 72a (1806) [13:34]
Fidelio: Overture, Op. 72b (1814) [6:39]
Die Weihe des Hauses Overture, Op. 124 (1822) [11:25]
Namensfeier Overture, Op. 115 (1815) [6:51]
Egmont, Op. 84: Overture (1810) [9:03]
Orchestre des Concerts Lamoureux/Igor Markevitch
rec. Paris, 1958
ISTITUTO DISCOGRAFICO ITALIANO IDIS 6580 [55:35]



Igor Markevitch delivers fleet, linear readings of these six overtures, stressing propulsion and clarity where Germanic interpreters emphasize tonal mass and weight. Lean, generally crisp playing by the Lamoureux Orchestra, one of the better French ensembles of the mid-twentieth century, furthers the conductor's aims.

The best of the performances is Coriolan: Markevitch realises its taut drama effectively, and he knows to hold down the moving eighth notes under the second theme, avoiding the textural clutter that can afflict even high-profile performances (cf. Stokowski/RCA). Namensfeier rolls along in a buoyant 6/8 meter, though, without consulting a score, I wasn't entirely convinced that all the dissonances I was hearing were Beethoven's. The introduction to Egmont is suitably broad and weighted, and the main Allegro nicely balances propulsion and gravitas; the conductor tightens the screws for the Allegro con brio, which occasionally threatens to run away.

Consecration of the House begins impressively, with compact tutti chords ushering in a flowing, dignified chorale. The bassoon scales actually register reasonably clearly under the main theme, which I assume was accomplished in real time, 1958 being early for extensive mixing-board manipulation. Unfortunately, the conductor hasn't left room for the Allegro con brio to go any faster; it proceeds at the previous pulse, which actually feels slower, and it seems to go on endlessly.

The two overtures intended for the opera Fidelio, while lively and full of character, are less impressive. There are striking moments, particularly quieter ones: the sustained, heartfelt introduction to Leonore III slides seamlessly into the Allegro; the woodwinds bring a vernal freshness to the Fidelio development. The demands of both scores, however, seem slightly to tax the players. The body of Leonore sounds nervous: it could use crisper attacks and accents, and the tutti at 9:39 is opaque. There's some "oozing" between sections of the Fidelio introduction. In both scores, the horns and trumpets betray an old-fashioned, watery vibrato, where the similar horn writing in Egmont is firm.

The Egmont had not previously seen CD issue, presumably because of technical problems: numerous passages, including quieter ones, suffer a fuzzy distortion. On the other hand, the woodwind solos register with a nice sense of space. Elsewhere in the program, the sound is vivid and focused, although the strings reproduce with a papery quality which I associate with stereo of the early, rather than late, 1950s. A longer pause was needed before Namensfeier, the opening chord of which sounds like a continuation of Consecration of the House.

Stephen Francis Vasta
Stephen Francis Vasta is a New York-based conductor, coach, and journalist.



---
| | |
| --- | --- |
| | |