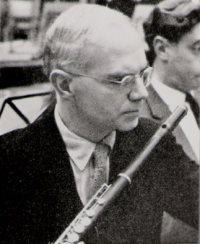 Oliver Bannister, true gentleman, artist and friend, died on 4 November 2014. His superb artistry as a flute player was recognized not only by other flautists but by numerous orchestral players and audiences too. As principal flute, his leadership, musicianship, attention to detail and wonderful tone, maintained throughout his long career, was apparent to all.
Oliver was born in Welshpool on 20 March 1926 and his first teacher was Henry Wilson (1896-1984), a well known theatre musician who played with the Carl Rosa Opera Company and later the National Opera Company of New Zealand. On entering the Royal Manchester College of Music in 1942 (without fee because of his already outstanding accomplishments) Oliver became a pupil of Joe Lingard and won the Hiles Medal in the same year.
The following year, at the invitation of Sir John Barbirolli, he joined the Hallé Orchestra as second flute and in 1945 became the youngest principal flautist the Hallé has ever known. Already fellow musicians were noting the general consistency and beautiful warm rich sound he produced on his much loved Rudall Carte wooden flute.
His early experiences with the Hallé included concert performances of extracts from operas and these, along with some deputising in Mussorgsky's Sorochintsy Fair at the Manchester Opera House in 1942, provided some contact with the operatic repertoire which was to become an important part of his later career.
The 1946-47 Hallé season brought Oliver's first appearance as soloist in Bach's Suite in B minor given on 15th and 16
th
January 1947 and then repeated in Bradford on the 17
th
. On that occasion the critics saw him as "a very agreeable flautist who played charmingly". The following year he was on tour with the Hallé in Austria and during the 1948-49 season at the Albert Hall, Manchester, he took part in the first Manchester performance of Gounod's Petite Symphonie before embarking on a tour to the Hague in April 1949.
The 1949-50 Hallé season gave Oliver the opportunity to play Ibert's Flute Concerto. He demonstrated his ability in this fiendishly difficult work given at the Albert Hall, Manchester on 10
th
and 11
th
May 1950. The Daily Telegraph reported that "the first Manchester performance of Ibert's Flute Concerto with the solo part dextrously played by the orchestra's principal flute, Oliver Bannister, left an impression of brittle brilliance in the quick movements and greater depth in the more tranquil andante." Other critics were full of praise too, mentioning Oliver's "dazzling display of skill" and his "brilliant technique".
On 4 January 1951 the BBC broadcast a Hallé concert conducted by Igor Markevich in which Oliver Bannister and William Barlow gave the first performance in England of Cimarosa's Concerto for Two Flutes and Orchestra. Two months later, on March 1
st
, Oliver was soloist in a performance of Frank Martin's Ballad for flute, piano and strings given by Charles Groves and the BBC Northern Orchestra. The concert was broadcast as one of the BBC's Orchestral Hour programmes on a Thursday afternoon. In June 1953 he toured Rhodesia with the Hallé giving fourteen concerts in fourteen days before returning home to make a first appearance at the London Proms. Even with such a busy schedule he made time for chamber music at Manchester's City Art Gallery taking part in works such as Roussel's Serenade, Ravel's Introduction and Allegro and Beethoven's Serenade in D Op.25.
Throughout the 1950's Barbirolli continued to expand his orchestra's repertoire and Oliver played in many first performances of important works, including the Vaughan Williams Symphony No.8 on 2 May 1956. There were also recording sessions for Pye between 1956 and 1961. These old LP records now serve to remind us of the artistry of the musicians who formed the Hallé Orchestra during that period and they offer opportunities to hear samples of Oliver's sound and technique.
It has already been noted that at that time Oliver Bannister shaped the whole of the Hallé woodwind section, and former leader Martin Milner has written that "Oliver Bannister was so good and of such quality that the other woodwind all played to him. He used to just sit there and turn it out; intonation, phrasing, everything. They automatically played to Oliver and the wind were very, very good because they had this wonderful first flute." Others who played alongside Oliver recognized him not only as a superb flute player but as a person of many cultural interests. His musicianship and personality was such that it was a constant pleasure to work in his section.
In 1958 Oliver Bannister made two final appearances as soloist with the Hallé. The work chosen was the same one in which he had first appeared as soloist in 1947 – Bach's Suite in B minor. On 24 January 1958 he played it at Sheffield, repeating it the following day at Leeds. Both concerts were conducted by Paul Hindemith. In later years Oliver remembered the composer as being a very clear and precise conductor who was business-like in rehearsal but very pleasant in manner.
The Hallé Society's Gold Medal was presented to Oliver on 29 September 1963 by Sir John Barbirolli. That same year he took up the position of principal flute at the Royal Opera House, Covent Garden where he remained until his retirement in 1986. There he continued to distinguish himself. He loved the sheer illusion of musical theatre and particularly enjoyed performances directed by Solti.
Oliver Bannister was one of the great British flautists of his time. He enriched the musical world with his artistry and enriched the lives of those who knew him.
©
Stuart Scott
2014