I had expected this review to be simple. I reviewed a DVD version of this film back in 2002, when it was originally released by TDK, and enjoyed it greatly. It seems that Euroarts has picked up this film and re-released it in both DVD and Blu-Ray formats. I got the Blu-Ray, and I was looking forward to seeing this concert performance in better quality; "Full-HD," as various websites say. Alas, I was disappointed. Rather than "Full-HD" we get a poor upscaling of the original video which looks as though it was shot in SD. The picture quality is horrible (see example provided - click on the image for the full-size version). I started by looking at it on a 27 inch retina iMac, with an external Blu-Ray drive. I found the quality lacking, but I thought, perhaps, it was the Blu-Ray player software that wasn't compatible with the retina display. When I went to my living room and put it in my Cambridge Audio 651BD and saw that I was mistaken. The retina iMac actually made it look better than it did on TV. On a standard HD TV, this disc looks awful.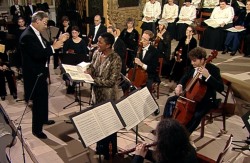 Euroarts does have a series of releases they call "Recorded Excellence – Historic Value", where the video quality is poor, but the recordings are still worth seeing. I've reviewed several of these, and being aware that the video quality is substandard – most of these are old videotape recordings – I have judged them on their merits. This release of the Christmas Oratorio has no such label; it claims to be HD.
The video is full of artefacts, ghosting and halos, with an unstable image and weak colours. It looks as if it was simply transferred from a DVD with no attempt to improve the result. I would have liked to compare it with the DVD, but I didn't manage to find it; many of my discs are in cartons after a recent move.
Shame on Euroarts for selling this disc and claiming that it's HD. The sound is excellent, and that was the case with the DVD. I don't have surround-sound in my living room, so I was only able to test the stereo PCM track. It's possible that one of the improvements over the original DVD is the 5.1 mixes. I note that in my original review, I didn't list any mixes, so it was most likely stereo only. In fact both the DVD and Blu-Ray claim to contain these mixes so if you want the sound, don't pay extra for the Blu-Ray.
As for the music itself do have a look at my 2002 review. In short this is moving and unforgettable. Gardiner has a special touch with Bach's music and his singers and musicians are all excellent with the choir being one of the high points in all of Gardiner's Bach recordings. Gardiner is one of the finest interpreters of Bach's vocal music.
Kirk McElhearn
Previous review (earlier issue on DVD):
Kirk McElhearn