The Everest label will bring back some happy memories for many of our older readers. The label was short-lived but their recordings from the late 1950s and early 1960s were pretty sensational. Bert Whyte was the producer and engineer. Ruth, his wife, was the assistant engineer. The recordings were made on 35 mm magnetic film, which they believed was an improvement over half-inch tape. Westrex built the recording equipment to their specifications and Neumann U47 microphones were purchased to go with the film recorders. Everest's recording philosophy was to make minimally- miked three-channel recordings and they engaged the services of several major conductors including Boult, Krips, Goossens, Sargent and Steinberg.
I first came across Everest as a teenager in the early 1960s when I was regularly buying World Record Club tapes by mail order. Some titles immediately spring to mind: Goossens/Scheherazade, Krips/Beethoven 5, Sargent/Pines and Fountains and the superb Spivakovsky/Sibelius concerto. The LPs were reissued in the late 1970s in really grim pressings and then Bescol released a few CDs, again in depressingly poor transfers, some years later (via Woolworths). The original Everest masters were located in a California vault in 1993 by Seymour Solomon, president of Omega Records and founder of Vanguard Classics. Their extensive series of Everest reissues were simply superb in stunning sound and they were marketed in new, generous couplings.
So now we come to another set of reissues using the original masters. These CDs are presented in their original couplings using the original sleeve artwork and this is to be applauded. I only have five of the series - some more would be very welcome - and they are something of a mixed bag. However, despite my reservations below, please take a look at www.evereststereo.com and see what's on offer. Sargent's Shostakovich 9, Stokowski's
Francesca da Rimini
and Shostakovitch 5, Copland's
Appalachian Spring
, Sargent's
Pines/Fountains
and Spivakovsky's Sibelius are all outstanding both musically and technically. The Krips Beethoven cycle is also quite special. I could go on.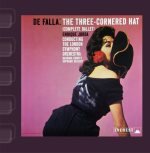 Manuel de FALLA (1876-1946)
The Three Cornered Hat
(complete ballet) [37:40];
Barbara Howitt (soprano)
London Symphony Orchestra/Enrique Jorda
rec. November 1959, Walthamstow Assembly Hall
EVEREST SDBR 3057
[37:40]
This is true, classic Everest sound from Walthamstow Assembly Hall. The majority of the 1990s Vanguard reissues have this "house style" and I assume this will also generally apply to these new incarnations. It's hard to believe the recording was made in 1959. The sound has depth, presence, fine stereo spread and a really satisfying string tone. It does beg the question: how far have recording techniques really come on during the ensuing decades? The new transfer has cleaned up the image and added a little extra bite at the top end. How good it is to hear Barbara Howitt's contributions free from the distressing distortion we used to have on the LP. The performance is good if lacking that final touch of fire that the likes of Bernstein would have brought to the score. The LSO weren't quite in the luxury class in this era but their playing is technically very good and they turn in a fine performance for Jorda. The only complaint is the playing time of 37 minutes.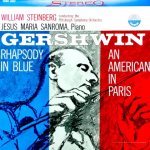 George GERSHWIN (1898-1937)
Rhapsody in Blue
[16:47];
An American in Paris
[17:08]
Jesus Maria Sanroma (piano)
Pittsburgh Symphony Orchestra/William Steinberg
rec. February 1960, Pittsburgh
EVEREST SDBR 3067
[33:55]
Here we have a totally different sound quality. The orchestra is very close and dry indeed with little depth, good separation, limited bass but it has a huge impact all the same. It is similar to some of the Mercury/Minneapolis recordings. The piano tone is clean but boxy. The whole disc sounds authentic. This is sleazy Gershwin playing as only the Americans can do it. In the rhapsody Sanroma does make a couple of errors along the way but Grofé's orchestration, with the banjo clearly caught, springs to life.
An American in Paris
, with those honking taxi horns - not always rhythmically accurate - and a smoking trumpet solo is a classic version. It's very enjoyable and it is exactly as I remembered it. We only get 33 minutes worth of music, however.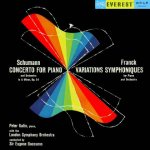 Robert SCHUMANN (1810-1856)

Piano Concerto [31:09]

César FRANCK (1822-1890)

Variations Symphoniques [15:10]
Peter Katin (piano)
London Symphony Orchestra/Sir Eugene Goossens
rec. May 1959, Walthamstow Assembly Hall
EVEREST SDBR 3036
[46:19]
Turning now to my favourite piano concerto. From the closeness of the Pittsburgh Symphony Orchestra in Gershwin we now return to Walthamstow. Talk about chalk and cheese. It's something of a shock to hear the opening of the Schumann presented in distant sound as if recorded from the back of the stalls. However, the ear gets accustomed to the sound and in fact the orchestra is beautifully recorded with fine string tone and what you actually get is something approaching a realistic concert hall experience. Katin's piano is set just in front of the orchestra. One benefit of this kind of recording is that you have to listen really attentively and this pays dividends. You actually get more involved. The performance is very feminine and delicate. There's not an ugly note to be heard and the LSO's singing cello section in the Intermezzo is glorious. The Franck is an appropriate coupling. I've only just noticed the similarity between the oboe tune in the Schumann and the opening piano entry in the Franck. This piece can be something of a bore but not so here. The melancholic passages are most engaging and there's plenty of fire in the closing passages. Overall, a fine CD.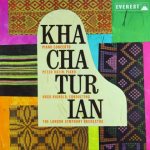 Aram KHACHATURIAN (1903-1978)
Piano Concerto [32:53]
Peter Katin (piano)
London Symphony Orchestra/Hugo Rignold
rec. November 1959, Walthamstow Assembly Hall
EVEREST SDBR3055
[32:53]
From the sublime Schumann to the garish Khachaturian. I suppose there must be some people who warm to this sort of thing but I personally find the hollow, grandiose gestures to be quite embarrassing. The opening theme in the first movement is barely a theme at all and it's done to death over a tiresome 14 minute time-span. The slow movement includes the gimmicky flexatone solo — what's that all about? — and the tune in the finale is so banal it truly beggars description. The performance itself, captured in sound similar to the De Falla, is incredibly spectacular. Katin is in virtuoso form and Rignold gets some fabulous, rhythmically tight playing from the orchestra. There's something peculiar about the first movement. Halfway through there is a tape glitch and during the remaining few minutes there are patches of wow. I assume this to be on the original master tape. I've come across it before in a (very) small number of Everest recordings: Krips/Beethoven 8 and Spivakovsky/Tchaikovsky for example. If Khachaturian is your thing then I think this issue is worth hearing purely on performance grounds. More short measure I'm afraid.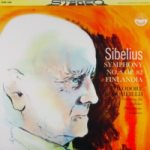 Jean SIBELIUS (1957-1965)
Symphony No.5 [29:54];
Finlandia
[8:14]
Rochester Philharmonic Orchestra/Theodore Bloomfield
rec. February 1960, Rochester
EVEREST SDBR 3068
[38:08]
I hate to say it but this is a non-starter. I've never come across the recording before and it does little justice to the conductor and his orchestra. The opening horn-call is nervous and wooden but then the woodwinds make their first entries and what entries they turn out to be. Clarinets, flutes and oboes are sitting on your lap with everything else in the distance. You can't hear the wood for the trees. There's no mystery or depth to the sound. This is at total odds with the Everest three channel ethos. The solo trumpet sounds undernourished and nervous and so it goes on. The second movement opens with promise but then the flutes leap forward yet again and ruin the atmosphere. The opening of the finale shows the string section in blind panic mode. It's rushed and out of control. The closing pages are effective enough but it's all too little too late.
Everest - Return of the Prodigal
A survey by Rob Barnett