Up to a point, Otto Ackermann is not a forgotten artist at all. His operetta sets of "The Gypsy Baron", "Vienna Blood", "A Night in Venice", "The Land of Smiles" and "The Merry Widow", all made in 1953-55 for EMI by Walter Legge with the vintage Philharmonia and graced by the presence of Elizabeth Schwarzkopf and Nicolai Gedda, have never been far out of sight. Rather more controversial was his recording of "Die Fledermaus", made some years later when Ackermann was already mortally ill and unable to summon up his earlier verve. Much appreciated, on the other hand, were his accompaniments for Elizabeth Schwarzkopf's first recording of Richard Strauss's "Four Last Songs", a Mozart concerto with Solomon and – coming to light much later – Lipatti's live recording of Chopin's First Piano Concerto.
It is not my intention to reassess these famous recordings. Once for all, I quote Andrew Lamb's comment on the CD reissue of the operetta sets – a typical example of the encomiums they have gathered over the years. "Nobody has so consistently captured the charm and elegance, but also the passion of these scores as he did. Whether it be in portraying the waves lapping around Venice or … the return of Hungarian victorious troops to Vienna, Ackermann stands apart" (Gramophone, November 1988).
If, therefore, Ackermann were "merely" a dab hand at operetta and a trusty accompanist, as Walter Legge implicitly thought, there would be no need to write this article. Music lovers in Germany, Austria and especially Switzerland, where he made his home, would have been surprised at such a reductive view. So, happily, were the proprietors of Concert Hall and its affiliates, who recorded him fairly extensively, mainly in the classical repertory, in the 1950s. It is these records I wish to discuss here. My source for most of these discs has been René Gagnaux's fascinating site
Mon Musée Musical
– to the Concert Hall recordings he has also some live broadcasts. A few items can also be found at David Gideon's
ReDiscovery Records
and at the
European Archive
. As ever, I am very grateful to these bloggers for providing access to out-of-copyright recordings which are unlikely to be reissued commercially in the near future.
I must say I had not realized, before writing this, that Ackermann was Romanian. His name sounds German/Austrian and his style of conducting, unlike that of his compatriots Celidibache and Silvestri, is essentially that of the German Kapellmeister, albeit a lively and imaginative one, without the stodginess we tend to associate with this title. His story, obtained from a combination of Wikipedia and a few other internet sources, is quickly told.
Otto Ackermann was born in Bucharest on 18 October 1909. He studied at the Royal Academy of Bucharest and the Berlin Hochschule and conducted the Royal Romanian Opera on tour at the age of only 15. His first permanent position was with Düsseldorf Opera, where he was Kapellmeister from 1928 (some sources say 1927) to 1932. He was Chief Kapellmeister to the German Theatre of Brno, ex-Czechoslovakia, from 1932 to 1935 and then settled in Switzerland, where he was Chief Kapellmeister to the Berne Municipal Theatre from 1935 to 1947. He was principal conductor of the Zurich Opera from 1949 to 1953 and Director of the Cologne Opera House from 1953 to 1958. In 1958 he returned to Zurich but died in Berne at the age of 50, on 9 March 1960. Ackermann's international profile rose during the 1950s and he was a regular guest conductor at the Vienna State Opera.
Baroque
Only one example of Ackermann conducting baroque music has come my way, a
Concerto in C for 2 trumpets and orchestra
by
Vivaldi
. The soloists are
Fred Hausdoerfer
and
Harry Sevenstern
. Ackermann conducts the Zurich Tonhalle Orchestra. There is some brilliant trumpeting in the outer movements, which go about as fast as they reasonably can. The string playing is solid but alert. There is no discernible continuo except in the soft second part of the middle movement (in which the trumpets are silent), where a harpsichord turns up, using its lute stop to softly romantic effect – or is it actually a lute? Baroque playing of its time, but with an enjoyable swing to it. Hardly enough to allow any conclusions about Ackermann in this repertoire.
Mozart
The World Encyclopaedia of Recorded Music shows that by 1955 Ackermann had set down the
complete numerical sequence of Mozart symphonies from 1 to 26
, including no.3 which is actually by Abel but excluding the various unnumbered symphonies that have been included in more recent cycles. He also recorded no.41. Since Ackermann's career was by no means over in 1955, it is possible that more were recorded, but I have found no reference to them. In any case, Concert Hall/Musical Masterpieces were not into the philosophy of conductor-driven complete cycles – nor was anyone else back then – but rather aimed at gap-filling. They possibly felt that the later symphonies were all catered for, many of them by others of their own "regulars" such as Swoboda and Goehr. I take it, therefore, that the Ackermann "cycle" stopped there.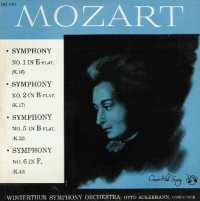 The first discs are listed in WERM 2 and so were available by 1952. They were played by the Winterthur Symphony Orchestra and contained Symphonies 1, 2, 5, 6 (
CHS 1165
), 4. 10, 11 and 14 (
CHS 1166
). WERM 2 also lists Ackermann's recordings of Symphonies 17 and 26, played by the Netherlands Philharmonic Orchestra and coupled with the probably spurious "Adelaide" Violin Concerto played by Louis Kaufmann (
CHS G-10
).
The other early symphonies, listed in WERM 3 and so issued between 1953 and 1955, were all played by the Netherlands Philharmonic Orchestra, a pick-up band of players from the various Dutch radio orchestras, unrelated to the present-day orchestra of the same name. They consisted of Symphonies 3, 13, 15, 16 (
CHS 1178
), 7, 8, 9, 12 (
CHS 1177
), 18, 19, 20, 21 (
CHS 1193
), 22, 23, 24 and 25 (
CHS 1194
). To these were added no.41, the "Jupiter", which was played by the Winterthur Symphony Orchestra and coupled with the Netherlands PO recording of no. 17 (
MMS 23
).
Downloadable from René Gagnaux's site "Mon Musée Musical" are nos. 1-12 and 17-21, plus a live performance of no. 23 with the Cologne Radio Symphony Orchestra and the "Jupiter". According to his information all the early symphonies were recorded in the Neuapostologische Kirche, Hilversum, even those played by the Winterthur SO, in 1952 and 1953.
If I do not discuss these performances one by one it is not because I have limited myself to dipping into them – I have heard all those available from M. Gagnaux and my comments could only be repetitive. While I haven't gone into comparisons with other performances, I was totally convinced by every single movement in every single symphony. At every point in this semi-cycle, I found the same whole-hearted, free-flowing engagement with the music, I never felt at any time that a tempo was either hustling or dragging, the music always expressed a convincing character. All this must have been the fruit of more work than it sounds, since a lot of trouble has gone into phrasing and dynamic shading, which is actually written in the score only in rudimentary form, and into giving each theme its own precise character. Ackermann also sees that any particularly original or surprising moments get their full due. Above all, considering that Mozart's earlier symphonies have not always enjoyed good press – conventional wisdom has it that the lower-numbered Haydn symphonies are more rewarding – I was left marvelling at how good much of this music is. I suspect it's a real loss that Ackermann was not allowed to record the later symphonies as well.
Or maybe not. I expected the "Jupiter" to be a glorious apotheosis to the series. It's a good, lively performance and I particularly enjoyed the flowing but expressive second movement. It may seem perverse to zoom in upon one player, but the even stressing of the timpani part began to give the first movement, in particular, a tub-thumping effect. It says volumes that I was on the whole relieved that the repeat was not taken – Ackermann is not one for repeats in Mozart right through the series.
Well worth hearing is a joyful, exuberant interpretation of the Overture to
Die Entführung aus dem Serail
, one which does not attempt to draw too much expressiveness from the slower section. This recording is downloadable from ReDiscovery in a section dedicated to mysteries – the performance was actually issued under a pseudonym. The close without the concert ending is explained by the fact that it comes from a complete performance recorded under Ackermann in 1954. Rather remarkably for the date, the recording is in stereo, and is pretty good, though the Turkish instruments are only just audible. The overture whets the appetite for the complete performance, but I must say the cast list is not very inspiring. WERM 3 lists another version of this overture by the Zurich Tonhalle Orchestra conducted by Ackermann (MMS 98), coupled with the overture to Don Giovanni.
As with two previous artists in this series, Swoboda and Desarzens, there are notable Mozartian pickings to be found among Ackermann's concerto collaborations.
Not especially, perhaps, in a version of
Piano Concerto no.24 in C minor K.491
in which the pianist is
Grant Johannesen
and the orchestra, the Netherlands Philharmonic. Johannesen (1921-2005) was an American pianist who studied with Robert Casadesus, Egon Petri, Roger Sessions and Nadia Boulanger. He was particularly noted for his performances of French music. The present performance is somewhat matter-of-fact, with moments of fierce energy in the first movement and touches of poetry in the second. Most of these cues seem to come from the conductor, who is nevertheless hamstrung by some unruly wind instruments. Johannesen does pick up the cues, I must say, at least for a while. The last movement is probably the best. Not a bad version if you happened upon it in the 1950s but Mozart's C minor pathos has been better explored many times since (rec. 11.12.1952, Neuapostologische Kirche, Hilversum,
MMS-46
).
Fairly well known is a live broadcast from 11 June 1954 of
Piano Concerto no.9 in E flat K.271
in which Ackermann accompanies
Clara Haskil
and conducts the Cologne Radio Symphony Orchestra. This performance has already come my way, on
Medici Arts MM04-2
. As transferred by M. Gagnaux it sounds a little rougher, the close but not very luminous piano sounding almost like a fortepiano. On the other hand, it is possible to feel we are in closer contact with the pianist.
If Haskil is sometimes referred to as the poet of understatement, she is in unusually galvanic mood here. The skittish, deliberate playing of her opening phrases makes it clear she means business. In the second movement, helped by the sombre mood Ackermann sets, she declaims like a tragedy queen, while her finale verges on the aggressive. The minuet at the centre of this movement is taken very slowly and is clearly deeply felt.
At some stage I shall have to take stock of all the Haskil performances that have cropped up in this series. I don't think this will be one of the most cherishable, but it's very interesting and the second movement is undoubtedly a profound experience.
Readers who have followed this series will know that
Artur Balsam
has been a minor revelation all along, and so it is here, even though the works he plays are among the most expendable Mozart wrote, in so far as he wrote them at all. The
Three Piano Concertos K.107
are actually adaptations by the youthful Mozart of piano sonatas by Johann Christian Bach. Balsam and Ackermann bring to them a joyful vivacity, tempered by grace where need be, that brings them to life. We are not told who wrote the cadenzas – maybe Balsam himself? That in the third concerto is extensive and harmonically adventurous in a manner that could not be earlier than Hummel, but we have to forgive Balsam – or whomever – when the cadenza is so much more interesting than the rest of the concerto! The orchestra is the Winterthur SO (
MMS-1164
).
Balsam was in fact the first to record, as a set, the seven early concertos which Mozart arranged from works by other composers – in the first two, K.37 and K.39, he was partnered by Walter Goehr. In
K.40
and
K.41
Ackermann is back, with the Winterthur SO, to bring his usual zest to early Mozart (or non-Mozart) while Balsam's vital fingerwork and natural songfulness continue to be a treat in themselves. He and the conductor make K.41, at least sound, like real Mozart (
MMS-943
, MMS-925).
Another of René Gagnaux's transcriptions of Cologne Radio SO broadcasts, from 1955, features the
Sinfonia Concertante in E flat K.364
. Ackermann is joined by
Arthur Grumiaux
(violin) and
William Primrose
(viola). It's a mouth-watering line-up, but there are problems. One wonders how much rehearsal an all-star get-together like this was allowed. Ackermann leads off in bubbling style and Grumiaux evidently agrees – if anything he seems inclined to move it on a tad more. Primrose, with his deeper instrument, tries to impose a slower tempo and a more deliberate style of phrasing. The result is that Ackermann indulges Primrose when he's got a solo spot, holds things together when both soloists are playing and enjoys himself when it's Grumiaux who has the solo turn. The marvellous central movement doesn't have problems of tempo but somehow one is aware of two different styles of playing. The finale goes very well. It would be interesting to know if Grumiaux and Primrose had played the work together before, and if so how often.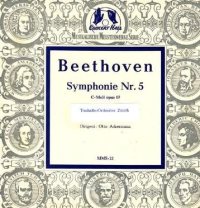 From Beethoven to Brahms
Ackermann can be heard in two
Beethoven Symphonies
, nos.
5
and
7
. Both are played by the Zurich Tonhalle Orchestra.
The first movement of no.5 is swift enough to be dramatic but sufficiently steady to allow lyrical shaping of the second subject. The four-note motive is hammered out in strict tempo except for a certain broadening the very last time it comes. Considerable power is created. The repeat is taken. The second movement is steady but played with much intensity of feeling. In the last two movements Ackermann, like another conductor called Otto, has a constant pulse all through. He's not much faster than the other Otto, but just enough so to obtain a more free-flowing exaltation in the finale, which achieves real incandescence at times. The scherzo does feel a tad slow but has a sort of majestic momentum. The final coda is taken very fast, providing a sense of joyful release. Not quite a great Fifth but one to return to (
MMS-22
).
No. 7 gets a joyful rendering with moments of incandescence, especially in the finale, and pastoral, carolling woodwind in the gentler moments. The second movement, more andante than allegretto, is given with much songful feeling. There are precious few repeats (
MMS-33
).
In
Schubert's Symphony no.8 - "Unfinished"
– Ackermann again conducts the Zurich Tonhalle Orchestra. His tempi are fairly broad, yet they effortlessly accommodate both tender songfulness and great strength. If not yet a winter journey, this is an autumnal one, not valedictory but broodingly regretful. The first movement repeat is played (
MMS 51
)
Mendelssohn's Violin Concerto
is played by the cult violinist Louis Kaufman. The orchestra is the Netherlands PO. Both artists agree on a swiftish, free-flowing, passionate interpretation with precious little dawdling in the more poetic corners. Kaufman uses a level of portamento that might have sounded more in place in a more indulgent, "old-fashioned" performance (
MMS-7
). This performance is also available, with other Kaufman material, from Forgotten Records – see
Jonathan Woolf's review
for the details.
Outside the Concert Hall/Musical Masterpieces Society canon is a recording Ackermann made for Decca of
Weber's Der Freischütz.
Set down in Vienna with the Vienna State Opera Chorus and the Vienna Philharmonic Orchestra, it had a fairly typical Viennese cast of the day:
Alfed Poell
(Prince Ottokar),
Franz Bierbach
(Kuno),
Hans Hopf
(Max),
Marjan Rus
(Kaspar),
Karl Dönch
(Kilian),
Otto Edelmann
(A Hermit),
Siegert Reinhold
(Zamiel),
Maud Cunitz
(Agathe),
Emmy Loose
(Aennchen),
Maria Schobe
r and
Anny Felbermayer
(Bridesmaids). It can be downloaded from the European Archive in a transfer at an extremely low volume and with the end of one of the sides clearly damaged. Nevertheless, those curious can get a fair idea of it.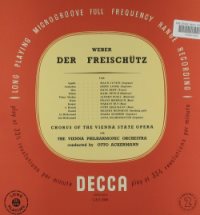 Recorded in 1950, this was the first complete Freischütz, though it came out in 1952 more or less contemporaneously with a 1951 recording on Urania, originally made for broadcasting purposes, under Rudolf Kempe. The Decca set obviously enjoyed greater availability than the Urania, and the revised edition of Edward Sackville-West's and Desmond Shawe-Taylor's "The Record Guide" (1955) treats it as the only available version. At the end of the 1950s two competing stereo recordings, both finely cast, came out under Keilberth and Jochum, and the Ackermann has scarcely enjoyed a mention ever since.
"The Record Guide" found much to praise in Ackermann's handling of the score, the excellent playing of the orchestra and most of the cast. Their serious reservations are clearly those that have relegated the set to the sidelines ever since it acquired competitors. Their first reservation concerned some aspects of Hans Hopf's performance as Max. Here I feel they exaggerated, it's a good, strong performance but not insensitive. With regard to Maud Cunitz they were vituperative, finding her "attempt" at "Leise, leise" "really deplorable". Again, I feel they exaggerated, for the voice is not without quality, though there's not much refinement to the phrasing. But, when it comes to the "Vivace con fuoco" section, Cunitz ploughs through it at what we may tactfully describe as a "rehearsal tempo" or even a "sight-reading tempo". Or, as the "Record Guide" put it, "a snail's pace". It's all the more embarrassing when Emmy Loose, the Aennchen, has just tossed off her aria, which calls for similar agility with the lightest of voices, in an exemplary, not to say delightful, manner.
There's the suspicion that Cunitz's inadequacy has affected more than her own parts of the opera. The theme of the "Vivace con fuoco" section of her aria rounds off the Overture and is prominent in the finale to the whole opera. Each time it comes, Ackermann starts it well below the customary tempo, easing forward a little as the music proceeds. The suspicion is that, rather than embarrass the prima donna by taking the theme up to tempo when she isn't there to stop him, Ackermann has adapted his whole interpretation to meet her shortcomings. So, while the Ackermann enthusiast will find things to delight him here, the recording is too badly flawed where it matters most for there to be any real reason for reinstating it in the catalogue (
LXT 2597-9
).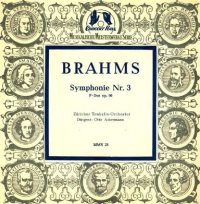 Back with Concert Hall and the Zurich Tonhalle Orchestra, Ackermann is at his finest in
Brahms's Symphony no.3
. The drawbacks are an orchestra that is good but provincial and a recording that risks cracking up in climaxes. None of this can dim a performance that flows beautifully from beginning to end. Ackermann always hits on a tempo that will carry him through the movement with no need either to drive onward or to hold back, the phrasing is warm and relaxed. Some might find the finale a little slow, but how beautifully it all fits together. There is no first movement repeat (
MMS-28
).
Before leaving the German romantics, we have a brief glimpse of Ackermann in Wagner. The
Overture
to
Die Meistersinger
gets an indescribably wonderful performance. Taken at a good, moderate tempo it is nevertheless cholesterol-free and all concerned sound so happy, it is truly the overture to a comic opera. The orchestral playing is nothing special and the recording so-so – though an overwhelming cymbal crash is managed – yet I was caught up in the high, joyful spirits of it all. I swear this piece has never made me feel so good. It is followed by an
Act III Prelude
that is tender and grave but where the ear is always led onwards – there's not a trace of heaviness. If only a complete Meistersinger could be found under Ackermann!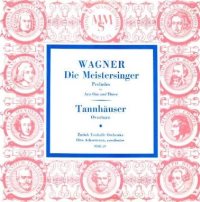 Tannhäuser Overture
is more problematic. It is certainly cholesterol-free, and with less legato than we usually hear. Treating early Wagner as perverted Mendelssohn is no doubt historically relevant, and is the sort of thing we might expect from one of today's HIP conductors. On the other hand, conductors who relate the music to the mature Wagner seem to provide a fuller, more involving experience. All these are played by the Zurich Tonhalle Orchestra (rec. 3.1.1953,
MMS-29
).
Romantics
Some might feel that Brahms and Dvořák were both classically rooted romantics, despite the folkloristic elements in the latter. Anyone following Ackermann's straight, classical but beautifully felt Brahms 3 with his version of
Dvořák's 9th
Symphony - "From the New World"
– is in for a surprise.
I described Hugo Rignold's performance – in the previous article in this series – as "of its time", by which I meant that it's pretty free over tempi. Ackermann goes much further and the big question is why a conductor who took a straight, classical view of Brahms should want to emulate Mengelberg here. One can only assume that, for Ackermann, this was a different
kind
of symphony, a ragbag of folkloristic moments to be played each one for all its worth without trying to relate them to a constant tempo. The Zurich Tonhalle Orchestra seem to have been taken by surprise at the beginning of the first movement Allegro – maybe they thought that the fairly slow tempo he set was going to continue, but not a bit of it. Once they have realized that anything can happen, they follow the conductor very well. Along the way you'll hear some moments sounding perhaps lovelier than ever before – the chirpy rustic Sousedská (a sort of Czech waltz) he makes of the trio of the third movement, for example. You'll also hear a
cor anglais
with a somewhat strangulated tone. But there's certainly never a dull moment – Ackermann's answer to certain
longueurs
in the Largo is to accelerate drastically, which is one way round the problem. There's a lot of conviction – it definitely sounds like a major, even great, conductor busking it. There's nothing small or provincial about the performance (rec. 1952 or 1953,
MMS-36
).
On some issues of
Paul Tortelier
's first recording of the
Dvořák Cello Concerto
the conductor was indicated as Walter Goehr. By general consent this was a mistake and the performance is held to have been conducted by Ackermann, again heading the Zurich Tonhalle Orchestra. The Dvořák style on offer is certainly consistent with Ackermann's "New World". Right from the opening tutti the tempi shift with romantic freedom and individual moments are milked for radiant poetry. The oboe lead in to the G major theme in the finale is perhaps the slowest I've ever heard, but it also exudes more natural poetry than most others. Tortelier seems in full agreement with this way of playing the work, sometimes languishing, sometimes forging ahead with vehement passion. This would be a dangerous disc with which to get to know the work, but it might be one to refresh jaded appetites. It would be hard to find a more passionately engaging version.
This performance precedes Tortelier's EMI version under Sargent by only a year or two. Strangely, in a Gramophone interview in the 1960s, Tortelier referred to the Sargent recording as his first and did not mention this one at all. Much later came another performance under Previn, again for EMI. I don't know either of these, but memories of a performance in Edinburgh in the 1970s under Gibson suggest that Tortelier straightened out his approach in later years. Perhaps he felt the Ackermann version was a youthful aberration (rec. 1954 or 1955,
MMS-2006
).
René Gagnaux has supplemented these two major
Dvořák
works with a 1955 live broadcast, with the Cologne Radio Symphony Orchestra, of the
Carnival Overture
. This is a slightly slower than usual, very detailed performance. The opening is buoyant, the close exuberant – the slowish tempo doesn't bring any heaviness. The middle section is slowed right down, theoretically too much, but with more moonlit, Rusalka-like poetry than I've ever heard it yield before.
In another major romantic symphony,
Tchaikovsky's 6th
– "Pathétique"
– Ackermann shifts his interpretative ground yet again. The first movement is in the Furtwängler tradition of slowish but free tempi. It alternates doleful pathos with feverish passion – the beginning of the development section is particularly exciting. Ackermann is less able than Furtwängler to draw it into a single statement in spite of the tempo changes. The second movement departs from the Germanic model. It flows quite swiftly and lightly, the emotion of the central section etched in without grinding to a halt. Much of the third movement is very exciting, despite slamming on the brakes towards the end – though he does not do this so much as some other conductors. The finale is finely passionate and builds to a powerful climax. There's no doubt where the crisis falls. The Zurich Tonhalle Orchestra is not immaculate and there are some odd balances which we will charitably blame on the engineers. Nonetheless, they are there and are enough to disturb. A "Pathétique" that would be an involving experience at a concert but which tends to reinforce the impression that, in post-Brahms romantic symphonies, Ackermann was slightly
ersatz
and inclined to busk it. This recording is listed in WERM III and was therefore issued between January 1953 and December 1955 (
MMS-2014
).
With
Tchaikovsky
, too, René Gagnaux has a supplementary broadcast offering, a performance from 22/23.04.1953, with the South-West German Radio Symphony Orchestra, of the
Overture to
The Voyevode
. This is the overture to the opera, op.3, not the symphonic poem of the same name, op.78. It finds Tchaikovsky closer than usual to the Balakirev school, with folk-like melodies repeated in varying colours. Ackermann gives it a convincing, flowing performance, though he cannot save the bombastic ending.
And lastly, another Gagnaux "special" gives us
Mahler's Lieder eines fahrenden Gesellen
in a June 1954 broadcast with the Cologne Radio Symphony Orchestra in which the baritone soloist is
Dietrich Fischer-Dieskau
. M. Gagnaux actually has two Fischer-Dieskau versions of this cycle on offer – the other is from the 1957 Besançon Festival, conducted by Carl Schuricht. A comparison leaves no doubt that the Ackermann performance is the one to add to the canon of great Fischer-Dieskau performances. It is remarkable how, in just three years, the interpretation became indulgent to the point of self-parody. Or is the conductor to blame? With Schuricht, the singer is more or less left to his own devices. A conductor I have very much admired in other contexts, here Schuricht follows the singer's every vagary without bringing anything of his own. The music becomes amorphous, indeed interminable. Ackermann is very far from strait-jacketing the singer and he draws yards of plush from the orchestra, but he structures the music, he gives Fischer-Dieskau a context. Fortunately the recording – without any discernible audience present – is pretty good for the date. Definitely a DF-D collectible.
This is a good note on which to end, since it raises the question of how many other interesting Ackermann performances may be gathering dust in European radio archives. Certainly, the evidence here suggests that further Beethoven and Brahms would be worth hearing, at the very least. I also note that Michael Herman's
Russian Symphonies discography
lists a Cologne Radio SO performance of Borodin's Second under Ackermann. This came out on LP as a private issue by the Otto Ackermann Archive. What is this organization and is it still operating?
Christopher Howell
Other articles in this series