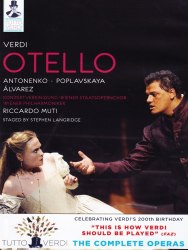 Support us financially by purchasing this disc from
Giuseppe VERDI (1813-1901) Otello

- Tragic opera in four acts (1887)

Otello, a Moor, commander in chief of the Venetian fleet - Aleksandrs Antonenko (tenor); Desdemona, his wife - Marina Poplavskaya (soprano); Iago, an ensign - Carlos Álvarez (baritone); Emelia, Iago's wife - Barbara Di Castri (mezzo); Cassio, a captain under Otello - Stephen Costello (tenor); Roderigo, a Venetian gentleman - Antonello Ceron (tenor); Lodovico, Venetian ambassador - Mikhail Petrenko (bass-baritone)

Salzburg Festival Children's Choir, Vienna State Opera Chorus

Vienna Philharmonic Orchestra/Riccardo Muti

Stage Director: Stephen Langridge

Set designer: George Souglides

Costume designer: Emma Ryott

Video director: Peter Schönhofer

rec. 5-10 August 2008, Grosses Festspielhaus Salzburg Festival

Video format: HD, Aspect 16:9. Sound Format: PCM Stereo, DD5.1

Booklet notes: English, German, French

Subtitles: Italian (original language), English, German, French, Spanish, Chinese, Korean, Japanese

C MAJOR 725008

[143:00 + 10:00 (bonus)]




This performance of Otello is the penultimate opera in the series that C Major calls Tutto Verdi, meaning 'all Verdi'. It is numbered twenty-five in that sequence, with only Falstaff to follow plus The Requiem. Tutto Verdi is intended to mark the bicentenary of the birth of the man who came to be called "The glory of Italy".

As I have reminded readers in me reviews of the majority of the previous entries in this DVD series, the number twenty-six is not the whole truth. As I noted in my review of Nabucco, Verdi's third opera and one of the earliest to be issued in this series (see review), there are in fact twenty-eight titles in the Verdi oeuvre. The difference lies in two wholesale revisions of earlier works. The first, Jérusalem (1847), involved a re-write of the fourth opera, I Lombardi (1843), to a French libretto for the composer's début at the Paris Opéra. The second, Aroldo (1857), was a re-write of Stiffelio (1850) to get away from the portrayal of a married Protestant Minister that offended some audience sensibilities. In my view the new music involved is sufficient reason to consider them new works. However, the same could be said of Simon Boccanegra, when the version recorded, with all the editions that Verdi and Boito added for the revival in 1881, could justifiably be numbered twenty-four (see review). Even more important than those additions, which include the highly dramatic Council Chamber Scene, is that the scene was included at the instigation of the librettist Boito, hardly something Verdi would have accepted from Piave the librettist of thirteen of his earlier operas. If Boccanegra had not been revised, with Verdi and Boito getting on and collaborating so well during the process, it is highly doubtful if there would have been either an Otello or a Falstaff. Such, I suggest, is the importance of the rewrites and which my appendix below on the genesis of Otello, seeks to clarify further. Despite the vocal demands of the title role, Otello is the eighth most performed Verdi opera and the twenty-eighth in the Verdi pantheon.

Most of this C major Tutto Verdi Series has been based around the Teatro Reggio at Parma, Verdi's local main town, and its annual Festival of his works. For whatever reason, a scheduled performance of Otello from Parma was cancelled and this, from the 2008 Salzburg Festival, already seen on DVD, was substituted.

With Riccardo Muti on the rostrum, not long after his nineteen-year tenure as La Scala's musical director had ended, this new production was awaited with eager anticipation. Muti had long been a favourite in Austria having débuted at the Salzburg Festival in 1971. With a string of opera productions at the Festival behind him, as well as conducting the prestigious New Year's Day concerts on no fewer than four occasions, this new Otello had even more meaning than most at Salzburg. It was the first production of Verdi's monumental work since that by Karajan in 1980 with Jon Vickers and Mirella Freni, issued on film (see review) and CD. Whilst Karajan had used a highly experienced cast, with voices dubbed on from the audio recording, as was his habit for stage rehearsals, Muti casts two debutants to their roles, that of Aleksandrs Antonenko in the title role and Marina Poplavskaya as Desdemona.
Using the Paris edition with its extra music for Desdemona in act three, Muti is, as always, true to Verdi's dynamic markings. Thus the opening storm is a wall of sound, as thrilling as one could hope to hear. The producer adds a back screen of visual effects as Antonenko's Otello faces the challenge of the vocal demands of Esultate! L'orgoglio musulmano (CH.3). The manner of his meeting that challenge augured well for the performance. His burnished tenor is well up to its demands. As the opera progresses, this young Latvian shows great vocal strength without quite being totally convincing. His is a young man's portrayal of Verdi's most demanding tenor role, one that neither of the greatest post-war Italian tenors, Bergonzi or Pavarotti, essayed on the stage. Just what the effort takes out of him is all too evident in the rather too many close ups the video director favours. These show heavy perspiration, like translucent measles, on his face. All that being said, and albeit his acting is a little wooden, his is the best singing of the role, in terms of vocal quality if not as yet perfect characterisation, I have heard since Domingo bestrode it for a generation. Not unsurprisingly, I see that he has gone on to make a big impression at major operatic addresses as Otello and in other spinto roles.

In terms of acting both Aleksandrs Antonenko's Otello and, to a lesser degree, Carlos Álvarez as Iago, are acted off the stage by Marina Poplavskaya as Desdemona. Hers is a fully committed acted performance. Every facial expression and movement of the hands and body seem natural and apt. Add a full lyric voiced and well-characterised and expressive vocal performance and I am sure perfectionist Muti must have been ecstatic about his choice. She can be seen and heard exhibiting all her strengths in act four as Desdemona sings the Willow Song to Emilia and says her prayers as she waits for Otello's arrival and death (CHs.29-34). The third salce in each reprise of the former song, softly on the breath and with perfect vocal control and legato, is rarely heard and a mark of a considerable artist.

In giving much praise to the soprano I must not forget Carlos Álvarez as Iago. He is a welcome Italianate baritone who can sing without strain, and good legato whilst ideally weighting his tone to encompass the dramatic demands of the words. His singing of Iago's Credo (CH.11) is spine-chillingly glacial. Of the lesser roles, American Stephen Costello is a lithe-bodied and appropriately young Cassio sung with a well toned voice.

Stephen Langridge's production is bland and resorts to too many design gimmicks. These include back projections, split stage and a sword embedded front stage. Likewise the central transparent dais that splits as Otello loses his marbles altogether at the end of act three (CH.28), intended as some kind of coup de théâtre perhaps,is a travesty when the words demand Iago takes some other action. Thankfully the costumes are in-period. Likewise the cutting of hands in the oath duet (CH.19) followed by Otello smearing his face is gruesome and pointless, whilst in act three he fails to strike Desdemona as the words and consequences demand. As I have already implied the unimaginative camera direction, far too reliant on facial close-ups, makes matters even worse.

Robert J Farr


Appendix. The genesis of Verdi's Otello - its conception and realisation
Otello was premiered at La Scala on 5 February 1887. It was Verdi's first totally new operatic composition since Aida, premiered in 1871. It had a long genesis, becoming known, to a privileged few, as "The Chocolate Project". It is not that Verdi had been idle. His Requiem for Manzoni had followed in 1874 and he travelled widely in Europe conducting his own works. However, friends among the Milan literati, often meeting at the salon of Verdi's friend, the Countess Maffei, thought he had more operatic composition within him despite his being in his seventh decade and although he protested to her that "the account was settled". A number of them quietly plotted to tempt him, his knowledge and love of Shakespeare being paramount in their thoughts. With the aid of a dinner invitation from Verdi's wife, who was in on the plot, his publisher, Ricordi, and the conductor Faccio, broached the subject with the great man with Boito's name being mentioned as librettist. The next day Boito was brought to see Verdi and three days later he returned with a detailed scenario; quick work unless there had been prior manoeuvring. Verdi liked it but would not commit himself. Verdi did, however, encourage Boito to convert his synopsis into verse with the words "it will always be good for you, for me, or for someone else". He would not commit himself to compose the work. Verdi was to prevaricate for some time.

Time passed and Verdi went to Paris to present his Aida in French. Back in Italy two new works, a Pater Noster and Ave Maria, were presented in Milan conducted by Faccio. To Ricordi's frustration, Otello seemed to be on the back-burner. Strepponi warned Ricordi to be patient; he listened and suggested another revision to the composer. This time it was of Simon Bocanegra of 1857 (Venice). He knew that Verdi felt the work did not deserve its failure and neglect. That Boito had agreed to be the librettist of the revision tipped the scales. Verdi and Boito got on well, the latter adding the completely new Council Chamber Scene, the dramatic highlight of the revision. The new version was premiered to acclaim at La Scala on 24 March 1881. Verdi also revised his five act Don Carlos (French) into the shorter Don Carlo (Italian) premiered at La Scala in 1884.

Sparked by the success of the two revisions Verdi, albeit slowly, worked on "The Chocolate Project". It conclusion eventually came to magnificent fruition at La Scala on 5 February 1887. It was his first wholly new work for the stage for eighteen years. He was seventy-four years of age really thought his book of operatic composition was closed with this, his twenty-seventh title. Verdi's conception of Otello involved greater, and significantly different, orchestral complexity compared to Aida and Don Carlos. It marks a major compositional movement from his previous aria, duet and chorus scenes, to a more fluent smooth transition fromone event in the story to the next.In this conception Verdi was greatly aided by Boito's taut libretto which reduced Shakespeare's Otello by six-sevenths. This was achieved without losing its essence: the destruction of the erstwhile hero by the genie of jealousy aided by the machinations of Iago. Boito dispensed with Shakespeare's Venice act and focused the whole of the action in Cyprus.
---
| | |
| --- | --- |
| | |