paid for
advertisements

---
100th birthday of Mieczyslaw Weinberg on December 8, 2019.
Renate Eggbrecht has recorded all 3 violin Sonatas
All Troubadisc reviews
FOGHORN Classics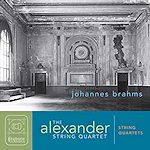 Brahms String Quartets

All Foghorn Reviews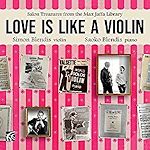 Salon Treasures from the Max Jaffa Library


Follow us on Twitter
Editorial Board
MusicWeb International
Founding Editor
Rob Barnett
Editor in Chief
John Quinn
Contributing Editor
Ralph Moore
Seen & Heard
Editor Emeritus
Bill Kenny
MusicWeb Webmaster
David Barker
Postmaster
Jonathan Woolf
MusicWeb Founder
Len Mullenger
Discs for review may be sent to:
Jonathan Woolf
76 Lushes Road
Loughton
Essex IG10 3QB
United Kingdom

jonathan_woolf@yahoo.co.uk
---
REVIEW
Donate and keep us afloat
New Releases
<!- Bridge end Sept 2022 -->


<!- cpo end Sept 2022 --> all cpo reviews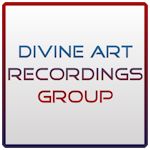 Click to see New Releases
Get 10% off using code musicweb10
All Divine Art reviews
Recordings of the Month
July 2022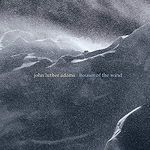 John Luther Adams
Houses of the Wind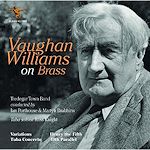 June 2022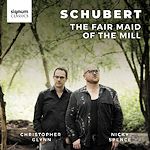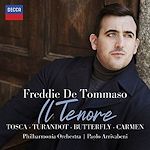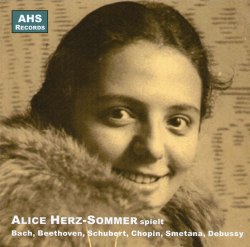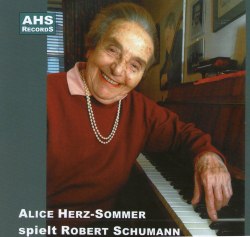 J.S. BACH (1685-1750)
Partita in B major BWV 825 [10:05]
Ludwig van BEETHOVEN (1770-1827)
Sonata in D major, op.10 no.3 (largo) [8:55]
Franz SCHUBERT (1797-1828)
Sonata in B-flat major D960 - I. Molto moderato [13:21]
Frédéric CHOPIN (1810-1849)
Etudes op.10 nos. 2, 4, 9 [6:34]
Etudes op.25 nos. 2 and 9 [2:25]
Bedřich SMETANA (1824-1884)
Czech Dances Vol.2 nos. 1-3 [13:26]
Claude DEBUSSY (1862-1918)
Preludes Vol.1 nos. 10 and 12 [5:16]
Preludes Vol.2 nos. 5 and 6 [6:51]
Images Vol.1 no.1 [4:43]
L'isle joyeuse [7:07]
Alice Herz-Sommer (piano)
rec. privately, analogue tape, 1960s (Chopin); and 1986-1995 (rest)
AHS RECORDS (without catalogue number) [78:04]

Robert SCHUMANN (1810-1856)
Abegg Variations op.1 [9:12]
Carnaval op.9 [24:54]
Symphonic Etudes op.13 [22:53]
Alice Herz-Sommer (piano)
rec. made for Israeli Radio and broadcast in 1983
AHS RECORDS (without catalogue number) [56:59]



There are times when the sheer force of a personality deserves celebration irrespective of other considerations. The first listed disc perfectly illustrates that point.

Alice Herz-Sommer was born into a Jewish family in Prague in 1903. She became a much respected and sought-after pianist who gave many recitals in Prague in the years leading up to the Second World War. After the Nazi conquest of Czechoslovakia first her mother then her father and finally she, her husband and her six year old son were deported. Alice and her husband and son ended up in Terezín, the Nazi transit camp where she and her son spent two years. They were the only survivors amongst them. During that terrible period she never allowed her indomitable spirit to be extinguished. In that awful place she gave no fewer than one hundred concerts while her son performed as the sparrow in Hans Krasa's children's opera Brundibar forty times. She witnessed most of the cast being sent onward, many to their deaths in Auschwitz and other camps. After spending many years in Israel as a pianist and teacher she moved to London to be closer to her son, the renowned cellist Raphael Sommer who died tragically in 2001. At the remarkable age of 110 she is the world's oldest Holocaust survivor. She still spends time every day at the piano, a favourite quote being "I am Jewish, but Beethoven is my religion".

Recently I have read her biography entitled "A Garden of Eden in Hell" by Melissa Müller and Reinhard Piechocki (2006) (Pan Books ISBN 978-0-330-45159-8). In this book I noticed an advertisement for a disc of her playing and was determined to obtain a copy. I have to say I was disappointed; the recordings were privately made on basic recording equipment and on a piano that clearly needed tuning. Her playing on them is uneven to put it mildly and there are wrong notes and problems with pacing. In between pieces her 'crackly' voice - due to even more of an amateurish recording - is heard introducing them in German. Despite all this there is a real sense of history and of an unquenchable spirit coupled with an innocence that shines through. I am glad then to have this disc which is a valuable companion to the book and a compelling listen. I'm sure others will feel the same way.

The second disc (all-Schumann) is a different case altogether. It has been professionally recorded for a radio broadcast by Israeli Radio in 1983. Here the piano is in much better condition than the others used in the first disc*. The recital shows her abilities in a much better light. We can appreciate why she was so successful in the pre-war period and later how she was able to lift the spirits of those who heard her in Terezin. Her playing has a refined elegance and an honesty that shines through. While these thirty year old recordings do not compare with the best they remain, as with the first one, a remarkable document. Her teachers included Conrad Ansorge, a pupil of Liszt, Eduard Steuermann and the pianist-composer Vaclav Stepan. Thus we also hear a real live link with the past. This disc has been released to coincide with her 110th birthday on 26 November 2013.

To sum up, these discs should be judged alongside her history. Anyone who reads the biography will be intrigued to hear them. I would hope that listeners will temper their judgements with the understanding that comes with all the information about her truly remarkable story. Her life sets out valuable lessons: the refusal to allow the warped inhuman ideology that tried to strangle an entire people to succeed and that beauty and truth will always gain the upper hand.

Steve Arloff

Review published on Alice Herz-Sommer's 110th birthday.


---
| | |
| --- | --- |
| | |