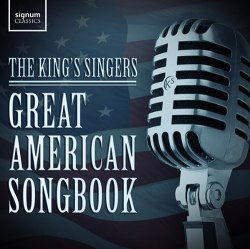 Support us financially by purchasing this disc from
Great American Songbook
Full track-listing at the foot of this review
The King's Singers
South Jutland Symphony Orchestra/David Firman (CD 2)
rec. January 2013 Floating Earth Studios, UK; 11-13 March, 2013, Alsion 2, Søderborg, Denmark.
SIGNUM CLASSICS SIGCD341 [60:10 + 31:36]


Let's begin by saying that this is a collection of great - truly great - songs, penned by some of the enduring names in American music theatre and popular music. Seventeen of the finest American popular songs from the 1920s through to the late 1950s are included here, all in arrangements by Alexander L'Estrange. On the second disc eight of his arrangements are further enhanced by orchestrations done by Jonathan Rathbone. I've come across the work of both these musicians before, notably on one or two Vasari Singers discs, and both are talented and skilled arrangers.

Much of L'Estrange's work here is good though I felt several times that the complexity of the arrangements did stifle the often-clever lyrics - a case in point is I won't dance, but that's not the only example. Mind you, to be fair to the arranger, I think part of the problem may lie in the recorded balance. The game is rather given away by the individual session photos of the group on the back of the booklet. Each is pictured - looking very cheerful - wearing headphones and in front of his own microphone: this is clearly a pop-style recording set up. That's fair enough, but I think it produces a problem in that the backing vocals are often as prominent as the singer with the melody. That means that the tune and words - and there are some fantastic tunes here and some really clever lyrics - don't always emerge as clearly as they might from the sound of the ensemble.

I think several of L'Estrange's arrangements work well. I liked his sympathetic treatment of that great torch song, Cry me a river and When I fall in love is well done too. Cole Porter's Night and day is given a clever and sophisticated arrangement. On the other hand, I found the upbeat approach to Beyond the sea hard to stomach. In case you're wondering, this is an English version of Charles Trenet's La mer and if ever there was a case where the arranger should have left well alone, this is it. Mack Gordon and Harry Warren's standard At last is sympathetically arranged, though I'm not sure about the slow delivery. I couldn't help but recall the last time I heard this great song. The context was completely different. The Choir of Trinity College, Cambridge sang it as an encore at the end of a wonderful recital during the Cheltenham Festival (review). They used a close harmony arrangement by Ken Naylor and, superbly sung with real pizzazz, it came across as the musical equivalent of 'Job done!' at the end of a testing programme. The King's Singers in the recording studio are an entirely different proposition - but I know which of the two experiences I preferred.

I may as well come clean and say that I found these performances wearing. The delivery is polished and each number is delivered in a slick, not-a-hair-out-of-place fashion - and that's the problem, especially when the singing is heard in such close-up sound. It all seems too perfect, too manicured. In the introduction to It's de-lovely everything was calculated to perfection but I just wanted the singers to let go a bit - to be fair, when the main body of the song is reached it's done in a sprightly fashion. Least appealing of all, I found, was Let's misbehave. This is sung using 'posh' English accents - think Bertie Wooster - and I felt a little patronised by it; I'm afraid I couldn't listen to the end of the track.

On the other hand Ev'ry time we say goodbye is super: a stylish arrangement, beautifully delivered. If I heard this as the last encore at a concert I'd go home very happy. That, I think, is the nub of the problem I have with this disc. If one heard a couple of these arrangements as encores or even as a set within a mixed programme they'd be fine but listening to a whole hour of them is too rich a dish.

I enjoyed the second disc rather more. I suspect Jonathan Rathbone is a secret - or not so secret - devotee of the MGM musicals; it rather shows in his arrangements, which I enjoyed. So, for example, we get a subtle touch of the ballroom - sweeping strings and Latin American percussion - in Begin the beguine and his scoring adds a romantic tinge to At last. I also liked the Roaring Twenties style he brings to Let's misbehave - the trouble is, you have to listen to the 'posh' voices again. One reason that this disc works a bit better than the a cappella disc is that the vocal backing parts aren't quite as obtrusive; there seems to be a wider soundscape here and, ironically, the melody lines of the songs emerge more clearly despite the presence of an orchestra.

I'm sure that admirers of The King's Singers will love this album. Admirers of these wonderful songs should, perhaps, look elsewhere.

John Quinn

Track-listing

CD 1 [60.10]
A CAPPELLA arranged by Alexander L'ESTRANGE:-

Cy COLEMAN, Carolyn LEIGH The best is yet to come (1959) [3.07]
Richard RODGERS, Lorenz HART Bewitched, bothered and bewildered (1940) [3.25]
Cole PORTER Let's misbehave (1927) [3.10]
Cole PORTER Night and day (1932) [2.55]
Arthur HAMILTON Cry me a river (1953) [3.21]
Harold ARLEN, Ted KOEHLER I've got the world on a string (1932) [2.54]
Victor YOUNG, Edward HEYMAN When I fall in love (1952) [4.13]
Cole PORTER It's de-lovely (1936) [4.48]
Charles TRENET, Jack LAWRENCE Beyond the sea (1946) [3.51]
Irving BERLIN Cheek to cheek (1935) [4.10]
Cole PORTER Begin the beguine (1936) [4.16]
Mack GORDON, Harry WARREN At last (1941) [2.31]
Cole PORTER I've got you under my skin (1936) [3.42]
Richard RODGERS, Lorenz HART The lady is a tramp (1937) [3.40]
Richard RODGERS, Lorenz Hart My funny valentine (1937) [3.24]
Jerome KERN, Dorothy FIELDS, Jimmy MCHUGH I won't dance (1936) [3.58]
Cole PORTER Ev'ry time we say goodbye (1944) [2.44]

CD 2 [31.36]
ORCHESTRAL arranged by Alexander L'ESTRANGE, orchestrations by Jonathan RATHBONE
Cole PORTER Let's misbehave [3.25]
Cole PORTER Begin the beguine [4.32]
Mack GORDON, Harry WARREN At last [2.49]
Cole PORTER It's de-lovely [5.32]
Richard RODGERS, Lorenz HART The lady is a tramp [3.49]
Richard RODGERS, Lorenz HART My funny valentine [4.03]
Harold ARLEN, Ted KOEHLER I've got the world on a string [3.40]
Cole PORTER Ev'ry time we say goodbye [3.43].
---
| | |
| --- | --- |
| | |