This latest instalment in Hyperionís Romantic Violin Concerto series brings us two concertos which, in a sweeping generalisation, might be regarded as works more notable for their singing qualities than for their display opportunities. I mean no disrespect to Glazunov or to his eminently attractive concerto when I say that pride of place must go to the concerto by the Swiss composer, Othmar Schoeck for, after all, this is a work that you will be lucky to encounter in the concert hall and even recordings of it are not exactly legion.

Schoeck is today known principally for his lieder and, as Calum MacDonald relates in his highly informative notes, his output for orchestra sans voice was not extensive. The present concerto was his most substantial concert work and was written when he had come under the spell of the Hungarian violinist, Stefi Geyer. Though Geyer did not premiere the work she did take it up later and thereís a 1947 recording by her, conducted by Volkmar Andrae, who conducted one of the workís earliest performances. Iíve not heard that recording and I hope itís still available for Rob Barnett was enthusiastic about it (review).

Schoeckís concerto really does deserve a wide audience for it is a hugely attractive work and for much of the time the violin spins lines of enchanting lyricism; indeed, itís one of those concertos in which the soloist is rarely silent. The first movement, in which the musical language is warm and romantic, has some forthright episodes but for the most part itís lyricism that predominates and the solo violin sings and soars most appealingly. The second movement does seem to have some darker undercurrents, which are confined to the orchestra, and there are some passionate moments but again oneís ear is caught mainly by the long melodic lines that Schoeck gives his soloist; not for nothing was he a notable composer of lieder. Around the seven-minute mark thereís a significant episode that anticipates the finale. This last movement eventually follows on without a break and this starts in a lively vein. Both soloist and orchestra project this dancing music most winningly. However, Schoeck is seemingly unable to resist the temptation of a slower, more reflective episode Ė which, admittedly, is rather lovely Ė and thereafter the music alternates between reappearances of the lively material and more ruminative passages. In fact, though it began the movement the lively music never really completely asserts itself and it comes as a mild surprise when, after all the lyrical music thatís gone before, both in the finale and in the concerto as a whole, Schoeck ends the piece in a lively fashion.

Rob Barnett suggested that perhaps there is too much lyrical music in this work for its own good and itís hard to disagree. However, give me that any day in preference to the empty fiddling fireworks in some of the nineteenth-century concertos that virtuosi have so often used as vehicles to show off their technical prowess. ChloŽ Hanslip seems to me to make an excellent job of the solo part; the long, singing lines and her sweet tone could have been made for each other. How appropriate that a concerto by a Swiss composer should be played by a Swiss orchestra; the Orchestra della Svizzera Italiana under Alexander Vedernikov prove to be fine and sensitive accompanists.

The Glazunov concerto also goes very well. Once again, lyricism is to the fore, at least in the first two movements, and this aspect of the work seems to suit Miss Hanslip very well. I loved the delicacy with which she and the orchestra deliver the first few minutes of the slow movement. The cadenza is part of the slow movement (from 7:41) and this is an opportunity for what I might call thoughtful display rather than fireworks. The high spirited finale is delightful and engaging and the present performance sparkles. Brian Wilson felt that ChloŽ Hanslipís performance was rather more restrained than what one often hears and he also felt the accompaniment was ďunadventurousĒ (review). He may be right in the second of those reservations, though I must admit I thought the orchestral contribution was perfectly satisfactory. I am sure that other violinists have injected more dash into the solo part but I think Miss Hanslipís is a view of the concerto that is enjoyable in its own right even if not the last word on the work.

The two short pieces by Glazunov are attractive and well done here even if neither work exactly set my pulse racing.

The recordings are good and so, as I indicated earlier, are the notes by Calum MacDonald. If you value rhapsodic, lyrical violin playing then I think you may come to regard this disc as a winner, particularly for the Schoeck concerto.

John Quinn

See also review by Rob Barnett (March Recording of the Month) and download review by Brian Wilson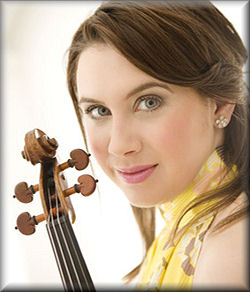 This disc is a winner, particularly for the Schoeck concerto.