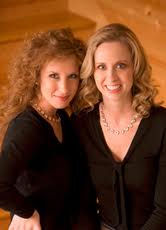 Now here's a fascinating experiment! Sisters Amy and Sara Hamann play Beethoven's complete piano duets on a modern Yamaha piano on CD1, and then again on CD2, this time on three fortepianos modeled on instruments from 1784, 1800 and 1815, and in a
smaller acoustic space
. For history geeks, this offers two learning opportunities: to hear how the pianists approach the music with each instrument, and to hear differences in the three old pianos.
On modern Yamaha, the Sonata, Op. 6, sounds like a full-blown mature Beethoven work, similar to the Sonata No. 25 in its grand homage to classicism. The tangy, rather clanky fortepiano after J.A. Stein from 1784 moderates this 'romantic' feeling, and the Hamann sisters use it to bring out the inner voices and intricate details. The loudest chords can get harsh on the old fortepiano, but with shorter sustain times on the notes more detail can bubble up to the surface.
Again and again the Hamann sisters bring to mind late Haydn on the fortepiano but the modern grand makes the music seem like it was written decades later. If you want to show somebody that the period/modern instrument choice really matters, this album is indisputable proof. The fact that Amy and Sara Hamann were willing to "play to" the instruments is a great help. And they aren't carrying it out as a mere shtick; the ending of the Waldstein variations, for instance, is still quite witty on the Yamaha: just not
as
witty. They actually chose the Yamaha over a Steinway for its "much brighter and sharper" sound, they told me in a message; "We felt this instrument would help us illustrate the evolution of the instrument better."
My colleague
Byzantion
said that this experiment is likely to confirm prejudices of listeners, reaffirming their preference for historical or modern pianos. I love both, so the lesson I take away is that the music is fascinating to hear in a different garb, when the performers so well understand that the instrument makes a difference. Like Byzantion, I find that the Hamann sisters offer punchy interpretations: the three marches, for instance, really have a delightful quick step, and the instrument from 1800 responds with a crisp attack and rich tone. The drier, twiggier sound of the instrument used for the
Grosse Fuge
means that their blazing speeds (14 minutes!) work amazingly well; by necessity you'll hear the music as if it were new. Together with the excellent, generous booklet information and the value of having both period and modern instrument performances in the same CD case, this is one of the Grand Piano label's best releases yet.
Two more points I should mention: first, the artist photo/caption on page 19 is misleading, since Sara's on the left. (My thanks to them for answering this question.) Second, if you like this idea of having the same performers on period and modern instruments, do seek out the Beethoven cello sonatas set by David Hardy and Lambert Orkis, on the Sono Luminus label. The complete cello music is done twice over, like the piano duets here, on instruments old and new, and the packaging is even more luxurious, with color photos from the studio.
Brian Reinhart