NMC has already worked invaluably for the
Britten
inheritance: to date, four superbly prepared and presented discs. Each is addressed here. In addition, in November this centenary year (2013) there will be a CD premiering his music for four works for stage and broadcast: NMC D190. It will go under the title:
Britain to America and An American In Britain
. Performed by the Hallé and Mark Elder, this will allow us to hear the music for two stage/radio productions with W.H. Auden:
The Ascent of F6
and
On The Frontier
.
The label's Britten contribution comes as no surprise when we remember that NMC's founder and Executive Producer is the composer Colin Matthews who worked with Britten in the 1970s. He is also Chairman of the Britten Estate and Musical Director of the Britten-Pears Foundation. Britten is fortunate in that connection as he is also in the support of his publisher and in two momentous sets, one just issued (
Decca
) and the other (
EMI
) that has been available since 2009. There will be more.
In summary the four NMC discs are:
Britten on Film
Birmingham Contemporary Music Group/Brabbins
NMC D112
Archive Britten
: historical recordings from 1941: Les Illuminations • Sinfonia da Requiem • Seven Sonnets of Michelangelo
NMC D030
Unknown Britten
:
Les Illuminations
etc Northern Sinfonia/Zehetmair
NMC D140
Four British Film Scores
including
Love From a Stranger
BBC Symphony Orchestra/van Steen.
NMC D073
We will take each of these in turn: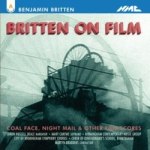 Britten on Film
NMC D112
To my knowledge this is the first collection of film music written by Britten for 1930s information films.
In fact his output for the screen is extensive and includes:-
C.T.O. (1935)
Conquering Space (1935)
The King's Stamp (1935)
Banking for the Millions (1935)
Coal Face (1936)
Night Mail (1936)
Message from Geneva (1936)
Men of the Alps (also including music by Rossini arranged by Britten and Walter Leigh) (1936)
Love from a Stranger - Trafalgar Films (1937) - his sole feature film score.
The Saving of Bill Blewitt (1937)
The Line to the Tschierva Hut (1937)
Calendar of the Year (1937)
Around the Village Green (1937)
The Way to the Sea (1937)
The Tocher - silhouette film (1938)
Four Barriers (1938)
How the Dial Works (1938)
Many a Pickle (1938)
God's Chillun (1939)
HPO or the 6d Telegram (1939)
Advance Democracy (1939)
Instruments of the Orchestra (1946)
There is clearly scope for at least another couple of CDs but the present sumptuous and generous selection - the fruit of a revival project funded by the Britten Estate - will appease most appetites for the time being.
No expense was spared and what we have here is a
de luxe
carrier for a desperately neglected genre. The comprehensive booklet includes photographs and film stills alongside all the spoken and sung words.
The scores and performing materials had to be specially reconstructed from manuscripts and soundtracks held at the Britten-Pears Library by composers Joseph Phibbs and Lloyd Moore under the supervision of Colin Matthews.
The disc includes a new performing edition of
The Way to the Sea
, the première recording of
Coal Face
and the first recording of the complete music to
Night Mail
.
Night Mail
with Simon Russell Beale's suitably hushed narration catches the mystical tension and excitement with a virtuoso performance. For all that these are Auden's words the style is very much pattering alliterative Masefield. The music is cleanly orchestrated - less is more. The small ensemble manages to sound sumptuous and the concentrated sprint and pause never spills over into a lack of control. It's superbly done.
The Tocher
(Rossini Suite) is quite something else. It's a slinky and light as a feather arrangement of Rossini. These five episodes later found their way into the
Soirees Musicales
but for full orchestra.
The King's Stamp
is also tense and this time on occasions quite dissonant. It's clever and sounds a little like Prokofiev or even 1920s Bliss from time to time - I am thinking of the latter's
Conversations
. It also reminded me of two other early scores recently revived on CD: Weill's
Zaubernacht
and Frank Martin's
Cendrillon
. The woodwind carry this score shoulder high.
Negroes
was a film project with the abolition of the slave trade as its subject. Here the instrumental ensemble is supplemented with a sung documentary-style narration from soloists and choir. What we hear is telling, minimalist, insidious and confiding. The music is melodic, wistful and rumba plays its part - as in tr. 23. It's all entertaining and attractive notwithstanding the subject matter.
Beale returns for the narration and ensemble piece,
The Way to the Sea
. This was funded by Southern Railway and was intended to encourage the south coast commuter and day out market - London to the south coast. It recounts, in succinct dimension, the history of that area and especially its relationship with the sea. The music freely adopts the pastiche style of the times it portrays, just as Bloch did in his
America
. Here Britten adopts a simpler style than that found in the helter-skelter tongue-twisting of
Night Mail
.
Telegrams
includes a vibrant children's choir. The score is bright-eyed and bushy-tailed.
Peace of Britain
was a pacifist tract. The music of the film is quite complicated and wheezily melodic, as also is that for
Men Behind the Meters
- a film about gas fitters and appliances. It includes a merry-go-round version of
I dreamt that I dwelt in marble halls
.
Coal Face
had a coal-mining workplace rights agenda although the packaging is documentary rather than obviously sloganised. It is for narrator, instrumental ensemble and choir. The musicians contribute sparely to a machine age referenced score that makes its points tellingly.
The very short song
When you're feeling like expressing your affection
is a light-hearted piece of cabaret-style promotion for the use of the telephone. It's nicely despatched by Carewe and Wilson.
Some of the film music has been recorded before. I can think of
Irish Reel
from
Village Harvest
: Charles Brill Orch. Decca K874 and reissued on Pearl. YPG has been recorded many times - initially in 1946 by the Liverpool Philharmonic conducted by Malcolm Sargent: HMV DX1307-8 and DXS1309.
A fascinating perspective on a little known aspect of Britten's musical patrimony.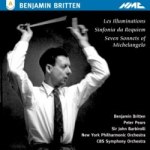 Archive Britten
: recordings from 1941: Les Illuminations • Sinfonia da Requiem • Seven Sonnets of Michelangelo NMC D030
These three works are presented in transcriptions from 1941 off-air 78s. As the notes explain, the originals are from Britten's own collection and appear to have been much played. TLC has been applied and we are assured that what we hear is the best that modern technology can derive from these sources.
Les Illuminations
emerges as a lovely and impassioned work in the hands of a very young Peter Pears. It's an impression I have not taken before. The CBS Symphony Orchestra is conducted by the composer and they play their hearts out for him. Clearly these were intoxicatingly exciting times. This is well worth hearing for Brittenites and devotees of the singing voice. Pears is in supple, fruity voice. It's such a contrast with the later recordings which give us a voice in braying shreds even if the artistic intelligence was always in place. The signal sounds good with only the occasional surface bristle and distortion at climaxes remaining. The performance, given on 18 May 1941, was the American première of the work.
Barbirolli's
Sinfonia da Requiem
captures, arguably, an even more important occasion for what we have here is the second performance of the work, broadcast from Carnegie Hall on 31 March 1941, the day after Barbirolli and the New York Philharmonic had given the world première. The performance has to endure the occasional scuff and cough but otherwise emerges in good heart and with much more detail registering than I had expected. The mind soon filters much of the heard detritus and damage wrought by the passage of time and repeated playing of the originals. It is however a work that shines when heard in modern sound. This is an impressive document of the
Sinfonia
but very much for the Britten specialist.
The recording of the
Seven Sonnets
was made, probably in 1941, in a private concert hall rather than off-air; the work did not receive its official première until September 1942. Pears sounds more strained than in the
Les Illuminations
where he is in magnificent voice. Here we encounter strain and hardness.
Good notes and sung words reproduced in the booklet alongside translations into English.
Les Illuminations
is extraordinary and should be more widely heard but generally, for all the revelations encountered here, this is for the devoted Brittenite.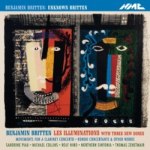 Unknown Britten
:
Les Illuminations
etc Northern Sinfonia/Zehetmair NMC D140
Sandrine Piau and the Northern Sinfonia deliver an athletic, proclamatory, tongue-twisting, rhetorical and calming-stilly
Les Illuminations
. I noted, amongst much else, some alert and really pleasing dialogue and stereo separation from the strings. The great coup is the inclusion of three discarded songs in orchestrations by Colin Matthews. In this context the first additional song,
Phrase
,fits the ambience and style of the main work. The other two feel too lush although they are intrinsically deeply attractive contributions to the French
mélodie
genre.
The
Rondo Concertante
has been pieced together by Colin Matthews. It reminds me from time to time, especially when display is to the fore, of
Diversions
- a much under-esteemed piece. It is often dazzling and rhythmic if not particularly emotional. The exception comes in the second movement which trails off into indecisive silence. It is after all the work of a first year student at college (RCM). It is a privilege to be able to hear this.
The little
In Memoriam
is a bubbly brevity - showy but not steely. Those searing strings reminded me of Peter Racine Fricker. Horn players should look this over. It would fit well with a collection of twentieth century horn concertos matched with Vinter's
Hunter's Moon
.
Also from the same year as the
Rondo Concertante
comes the
Fragment
for strings. Its writing has presentiments of his later distinctive lithe and fat-free style (
Serenade
and
Les Illuminations
) as well as recalling that of Lennox Berkeley whose string writing may have been an influence on or was influenced by Britten. Quite apart from the collaboration with Britten over
Mont Juic
Berkeley also made a contribution to the French
mélodie
genre (see above in connection with
Les Illuminations
).
As with the
Rondo Concertante
Rolf Hind is the pianist for the incomplete 1965
Variations
for solo piano. On this evidence it would have been a work of concentration and seriousness. The severe language is tough and uningratiating. It relaxes only for what is here presented as the final hurly-burly rushed variation - each is separately banded.
The three movements for an early 1940s
Clarinet Concerto
tingle with endearing and impressive freshness; such a pity it was never completed. However these three movements are well worth hearing and performing. At times it is reminiscent of Malcolm Arnold - not a parallel I would have expected to draw. Fascinating and not just as a novelty.
All the words and translations are there together with full supportive notes to complement a generous and fascinating selection of works that invaluably enriches all the new Britten recording activity this year (2013).
See also review by
Michael Greenhalgh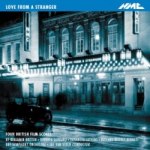 Four British Film Scores
including
Love From a Stranger NMC D073
Among this quartet of CDs this is the only one to mix in composers other than
Britten.
Britten's score for Trafalgar Films' feature of the Agatha Christie thriller
Love from a Stranger
(1937) is packed with lapidary activity. The mood varies between jolly caper, mysterious icy romance and breathy anticipation. It never sits heavily on the ear. This is not
film noir
music. Lightness of atmosphere over-drapes everything. It runs about 10 minutes in six separately tracked segments and represents Britten's only score for a full length cinema feature.
Composers such as Benjamin Frankel dropped their concert hall credentials and wrote accessible film scores.
Roberto Gerhard
was clearly having none of that. His music for Lindsay Anderson's 1963 drama
This Sporting Life
is tough and completely representative of his mainstream. The music heard across eight movements is typically protesting, intense, whooping, sinister, emotionally chilly, spiky and joylessly drained. It's one of only two such film scores by this composer.
I would not have expected
Lutyens
to have had it in her to relax from the gritty atonal intensity, violence and desolation that was her stock in trade. She may have had reservations about her natural proclivities being applied to this Hammer horror film but the music works well and the viewing public will subconsciously have found it a haunting and dramatic fit for the goings-on on-screen..
We end the disc with a return to tonality. We hear from a composer whose concert hall music was for many years more linked to that of his teacher Lutyens than to the tonal romantics such as Alwyn and RVW. The late
Richard Rodney Bennett
wrote some fifty scores for film and TV. These include famous music for
Murder on the Orient Express
,
Far From the Madding Crowd
and
Nicholas and Alexandra
(Chandos -
review
). Here is an eight-track suite from the music he wrote for Alan Bridges' 1982 film of
The Return of the Soldier
. While not exactly lush it is melodic, haunting, mistily dreamy and subtle in a way related to but not identical with the seethingly detailed and dynamic Britten score.
The recording and, so far as one can tell, the performances are completely fluent.
See also review by
Hubert Culot
Fuller content details
Britten on Film
Night Mail (first complete recording) (1936) [5:50]; The Tocher (Rossini Suite) (1938) [9:32]; The King's Stamp (1935) [14:07]; Negroes (1939) [13:03]; The Way to The Sea (1937) [15:29]; Telegrams (1939) [2:30]; Peace of Britain (1936) [1:30]; Men Behind The Meters (1936) [3:11]; Coal Face (first recording) (1936) [11:47]; When you're feeling like expressing your affection [0:53]
Simon Russell Beale (narrator); Mary Carewe (soprano)
City of Birmingham Symphony Chorus; Choir of King Edward's School, Birmingham
Birmingham Contemporary Music Group/Martyn Brabbins
rec. 11-12 March 2006, CBSO Centre, Birmingham. DDD
NMC D112
[78:55]
Archive Britten
:
Les Illuminations [22:35]: date: 18 May 1941 venue: ISCM Festival, New York
the American premiere with Peter Pears, CBS Symphony Orchestra/Britten.
Sinfonia da Requiem [22:53]: date: 31 March 1941
New York Philharmonic Orchestra/John Barbirolli
Seven Sonnets [15:35]: date: 1941
Benjamin Britten • Peter Pears
NMC D030
[61:03]
Unknown Britten
Les Illuminations, Op. 18 (1939) [23:02]
BRITTEN orch. Colin MATTHEWS (b.1946) Les Illuminations: three additional songs: Phrase (c.1939) [0:52]; Aube (1939) [4:59]; A une raison (c.1939) [2:36]
BRITTEN realized MATTHEWS Rondo Concertante (1930) [14:58]
In memoriam Dennis Brain (c.1958) [3:53]
BRITTEN Untitled Fragment (1930) [2:44]
Variations (1965) [6:26]
BRITTEN realized MATTHEWS Movements for a Clarinet Concerto (c.1942) [17:50]
Sandrine Piau (soprano); Rolf Hind (piano), Michael Collins (clarinet), Michael Thompson, Richard Watkins, Peter Francomb, Chris Griffiths (horns)
Northern Sinfonia/Thomas Zehetmair; rec. Hall One, The Sage, Gateshead 22-23 May 2008, 14-15 January 2009, DDD. Booklet includes French sung texts and an English translation
NMC D140
[78:12]

Love From A Stranger -
Four British Film Scores:
Benjamin BRITTEN (1913 - 1976)
Love from a Stranger (1937, ed. Colin Matthews)
Roberto GERHARD (1896 - 1970)
This Sporting Life (1963, ed. David Matthews)
Elisabeth LUTYENS (1906 - 1983)
The Skull (1965, ed. Bayan Northcott)
Richard Rodney BENNETT (b. 1936)
The Return of the Soldier (1982)
BBC Symphony Orchestra/Jac van Steen
Recorded: Studio 1, BBC, Maida Vale, London, 2 March 1999 (Britten) and October 2002 (last track of Bennett, recorded November 2003, conductor Martyn Brabbins)
NMC D 073
[63:22]