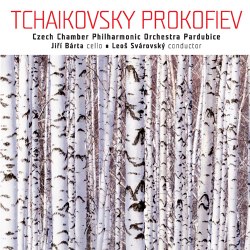 Support us financially by purchasing
this disc through MusicWeb
for £12 postage paid world-wide.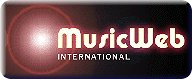 Pyotr Ilyich TCHAIKOVSKY (1840-1893)
String Quartet No. 1: Andante cantabile (1871, string orch. vers.) [6:33]
Variations on a Rococo Theme for 'Cello and Orchestra, Op. 33 (orig. vers., 1876) [19:45]*
Elegy for String Orchestra in G major (1884) [7:12]
Pezzo capriccioso for 'Cello and Orchestra, Op. 62 (orig. vers., 1887) [7:08]*
Sergei PROKOFIEV (1891-1953)
Sinfonietta, Op. 48 (1909/29) [21:22]
*Jiŕi Barta (cello)
Czech Chamber Philharmonic Orchestra, Pardubice/Leoš Swárowský
rec. House of Music, Pardubice, August 2012
ARCODIVA UP 0145-2 131 [62:37]



The rise of Communism after World War II, artificially dividing Europe into "East" and "West," has obscured the fact that, historically, the Czech lands were considered part of "Central Europe" alongside Austria, with which they once shared an empire. Musically, strong Beethoven and Mozart performing traditions - traditions that the Czechs consider as valid as those of the Viennese - reflect this; so does the presence of numerous professional orchestras, not only in Prague and Brno, but in old industrial centres like Zlín and smaller university towns like Hradec Kralové.

It's no surprise then that, about sixty miles east of Prague, the city of Pardubice - population 89,552, if you can believe Wikipedia, and sometimes you can - fields a fine chamber orchestra. The woodwinds are polished and expert with no woolly-toned oboes or "sticking" clarinets. The strings are firm and unified, with lean, tapered individual strands of sound coalescing into a handsome ensemble sonority.

The Variations on a Rococo Theme are normally the province of full-sized orchestras: think the Philadelphia, for example, behind Leonard Rose (Sony), or the Berlin Philharmonic backing Rostropovich (DG). Here and in the lighter-spirited Pezzo capriccioso, everything registers with tonal weight and presence; you never feel that there aren't enough strings. Also the concertante interplay with the cello is effective. Jiŕi Barta's medium-weight cello tone doesn't compare with the juicy sound of a Rostropovich - few do. However it's fuller than the nasal, treble-heavy sound of Lynn Harrell (Decca). He finds the appropriate style and mood for each of the Variations, and holds his own against the higher-profile competition. Only some of the "scrubbing" passagework in the Variations' finale seems to tax him.

The two string-orchestra pieces are luminous. The Andante cantabile, once a staple of old-fashioned "Music Appreciation" classes, is simple and lyrical, avoiding sentimentality. Leoš Swárowský's purposeful account of the less-familiar Elegy far outclasses Sergei Skripka's pretty but aimless version (Classic Talent). It's sombre at the start and agitated in the middle section, with the agitation subsiding, if not quite resolving, at the close.

Prokofiev's Sinfonietta still seems to me inexplicably underexposed, on records as well as in the concert hall. The mood is playful. Even the stark textures of the Andante second movement don't long dispel the prevailing cheer. The Pardubice performance is lithe and buoyant. The playing of the strings has a burnished tone, which full, prominent woodwinds complement with vivid timbres and pointed articulation. A brief, slightly unbalanced patch at 4:58 in the first movement's quick coda and a few seconds of nervous ensemble in the finale's home stretch merely serve to point up the excellence of the performance as a whole.

The engineers have captured a clean, detailed orchestral image, which the generous ambience of the Pardubice House of Music enhances with a modicum of resonance. Nicely done.

Stephen Francis Vasta
Stephen Francis Vasta is a New York-based conductor, coach, and journalist.