The Internet can be more wondrous than Aladdin's cave. I confess I was until recently no more than vaguely aware of the work of CHARM - the AHRC Research Centre for the History and Analysis of Recorded Music. Those wishing to know more will find full details of their aims and activities on their
website
. Among much else they have, over the last few years, made available free downloads of selected historical performances from 78s.
True to their ideals, the transfers are excellent providing you expect 78s to sound like 78s. Surface swish is left in place and, where a work spreads over more than one side, no attempt is made to join them up. You get one flac file for each 78 side. This is fine for me. If you want your 78s filtered and doctored to sound as much like a recent CD as possible, you'll find these frustrating. I personally am suspicious of interventionist transfers. I wouldn't have minded if they'd joined up the sides, though.
Given my particular interest in Stanford, my first reaction on finding this site was to put his name in the search box. Enough interesting material showed up to inspire the following report.
It had better be made clear, though, that, if you're looking for a direct line to Stanford, most of the material stops short of that. The few recordings Stanford himself conducted are unfortunately not listed. They have not been available since the 1970s, when Pearl offered them on an LP (see Postscript). In the church field, Stanford himself had ceased to act as organist and choir master in 1892. There were almost certainly choir masters active in the 1920s who had sung under Stanford in the 1880s, but none of those recorded here had more than passing contact with him. Nevertheless, the recordings available from CHARM can help us to understand the manner and ethos of music-making at a time not far distant from Stanford's own.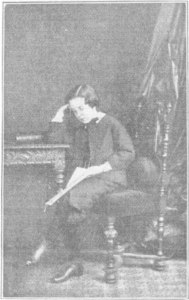 Stanford aged 12 (from Musical Times 1898)
Church and choral music
The earliest recordings offered are a group of four sides by the Choir of St. George's Chapel, Windsor conducted by Edmund Fellowes. An unnamed organist plays on three of the sides. The works recorded are the
Magnificat and Nunc Dimittis
from the Service in G, op.81,
Glorious and Powerful God
, the third of the
Three Motets
op.135, and
The King of Love my Shepherd is
, Stanford's harmonization of the traditional Irish melody
St. Columba
. CHARM give a date - 1926 - only for the
Nunc Dimittis
. There seems no reason to suppose they were not all set down at the same time, especially given Fellowes' very short tenure as director of the choir. The record numbers show, nonetheless, that they were not issued back-to-back.
Many readers will know Edmund Fellowes (1870-1951) as a pioneer in the revival of Tudor church music, and that of Byrd in particular. This did not prevent him - in
English Cathedral Music
(Methuen 1941) - from acknowledging Stanford's place in the great tradition. Fellowes studied at Oxford, and so outside Stanford's direct sphere of influence. He was a Minor Canon at St. George's Chapel from 1900 until his death, and directed the choir from 1924 to 1927. He was therefore a close associate, as well as the successor, of Sir Walter Parratt (1841-1924), who had directed the choir since 1882. Parratt was a good friend of Stanford's and the dedicatee of several of his organ and choral works. If any sort of performing tradition could be traced back to Stanford himself, therefore, Fellowes should have been aware of it.
The modern listener's first impression will probably be how little things have changed. The typical English church choir sound - remarkably well captured by the recording, especially in the
Magnificat and Nunc Dimittis
- is much as you would hear today. Not every modern performance of the
Magnificat
is graced by such a pure and steady treble soloist, but probably not every performance was in the 1920s either. The bass in the
Nunc Dimittis
- neither soloist is named - is slightly plummy, but his words are clear and his tone is steady.
What does strike one today is the fluency and ease with which the
Magnificat
swings along. There is no special point-making, yet everything registers. The
Nunc Dimittis
, too, seems designed to send the congregation away in good spirits rather than in tears. It is well built up and the exchange of phrases between soloist and choir is finely handled. The very swift doxology after the
Magnificat
does surprise. A sense of hurrying ahead of the beat arouses the suspicion that they were under duress to finish before the side ran out. However, the doxology after the
Nunc Dimittis
is also unusually fast, and since this is a shorter piece there was nothing to stop them from singing it more slowly they had wished. This performance would seem to clarify one textual point. Some choir masters have queried Stanford's minim-equals-minim tempo relationship in the last line - the music seems to want to go slower. This disc convincingly proves - so far as anything short of a composer-conducted performance can - that Stanford meant what he wrote.
The choir appear more closely recorded in the unaccompanied
Glorious and Powerful God
. The sound is rather dry. They sing well and keep the music on the move. I'd need a richer acoustic to change my conviction that this is one of Stanford's less inspired pieces.
The interesting thing about
St. Columba
is Fellowes' placing of the third beat, which is just very slightly delayed throughout. I don't know how this would work for congregational singing. For listening purposes, it gives the tune a stronger character than usual. If this is a tradition, it's one that has been lost over the years.
From 1927 comes a recording of
Beati quorum via
, the third of the
Three Motets
op. 38, by the New College Chapel Choir, Oxford. No conductor is named, but the organist and choir-master of New College from 1919 to 1929 was William Harris. If for any reason Harris did not conduct the recording, we are nevertheless listening to the choir he had been training for eight years.
Sir William Harris (1883-1973) is remembered in particular for his anthem
Faire is the Heaven
(1925). He won a scholarship to study at the Royal College in 1899. He therefore came under Stanford's sphere of influence, but does not appear actually to have studied with him. His major appointment was at St. George's Chapel, Windsor (1933-1961). He conducted at the 1937 and 1953 coronations.
The New College Choir of Harris's day has a warm, rounded sound. As with Fellowes, one is struck by the easy fluency with which the music moves. Seemingly unhurried, his flowing one-in-a-bar tempo results in a timing - 3:15 - between fifteen and forty-five seconds shorter than any of the various versions I have on LP and CD. This is despite a big rallentando at the end - the one feature of the performance that seems to belong to a bygone age.
The choir of Rochester Cathedral set down the
Magnificat and Nunc Dimittis
from Stanford's Service in B flat, op. 10, in 1929. No organist or conductor is named. Presumably Charles Hylton Stewart, organist and master of the choristers at Rochester from 1916 to 1930, either conducted or played.
Charles Hylton Stewart (1884-1932) was a chorister at Magdalen College, Oxford and then an organ scholar at Peterhouse, Cambridge. He may have had some passing contact with Stanford at Cambridge, therefore. His period at Rochester was followed by his appointment to St. George's Chapel, Windsor in 1932, but unfortunately he died that same year. Organists know Stewart as the composer of some simple but useful chorale-preludes on well-known hymn tunes.
These are the hardest to listen to of the recordings discussed, since the sound is distant and there is a heavy swish. Oddly, this seems to add to the enchantment of the performances. The
Magnificat
lilts along like waltz from an operetta, remaining mellifluous even when the music passes into duple time. Hylton's choir also uses a more operatic-style legato between the notes than we usually hear today. The
Nunc Dimittis
takes Stanford's divided four-time at its face value, emphasizing flow, and later urgency. The closing doxology is grandly drawn out, though.
1929 was a good year for the B flat Service - possibly in commemoration of the fact that it was now 50 years old. Westminster Abbey contributed the
Te Deum
- stretching onto two sides - and, again, the
Magnificat and Nunc Dimittis
. The conductor was Ernest Bullock. The organist was named as O.H. Peasgood only on the
Magnificat and Nunc Dimittis
. Presumably he played for the
Te Deum
too.
Sir Ernest Bullock (1890-1979) had studied organ with Edward Bairstow in Leeds. He was organist and master of the choristers at Westminster Abbey from 1927 to 1941 and took part in the 1937 Coronation. He conducts the Te Deum at a fairly broad, but flowing, tempo. The music rolls out majestically, taking the various incidents in its long stride and building up majestically. This seems to me ideal. I enjoyed the other two pieces less than the Rochester performances. In the
Magnificat
Bullock adopts a more accented, punchy style than the Rochester Choir, almost Handelian. This is fine, but the duple-time sections are allowed to sag. The
Nunc Dimittis
is considerably slower than in Rochester, closer to how we usually hear it today. Despite fine singing, I'm not sure the music benefits from the extra weight. Stanford's metronome marks are slightly faster even than the Rochester performance, perhaps unrealistically so. It would seem, nevertheless, that he wanted to keep the music on the move.
Incidentally, in 1929 a "cheeky little boy" became a Westminster chorister and so very likely took part in these recordings. His name was David Willcocks.
Shifting now to secular choral music, in 1930 something called the Decca Choir, conducted by Arnold Goldsbrough, set down
Diaphenia
, no. 3 from Stanford's first set of
Six Elizabethan Pastorals
, op. 49. This brief piece shared a side with Charles Wood's
Full Fathom Five
.
Arnold Wainwright Goldsbrough (1894-1964) had studied composition at the Royal College for a year in 1920. He may have encountered Stanford, by then in declining health, but does not seem to have studied with him. He became a harpsichordist and a pioneer in reviving early music. In 1948 he formed the Goldsbrough Orchestra with which to give properly scaled-down performances of baroque music. This band became the English Chamber Orchestra in 1960.
He gives
Diaphenia
a good, straightforward performance. It is not really a piece that offers scope for more than that.
Two of Stanford's most famous partsongs came in 1941 from the Fleet Street Choir conducted by T.B. Lawrence:
The Blue Bird
, op.119 no.3 and
Heraclitus
, op.110 no.4. The latter shared a side with
Coelos Ascendit Hodie
, the last of the
Three Motets
op.38.
The less-than-unanimous attacks in the two secular pieces betoken a choir and/or director of no especial distinction. The recording may have levelled out the dynamics, robbing
The Blue Bird
of its magic. That said, only the conductor can be responsible for a reversal of some of Stanford's dynamics in the second stanza of this piece … and not to the music's advantage.
Heraclitus
comes off to better effect. The choir rise to a vital account of
Coelos ascendit
.
Worth hearing once through in its entirety is the
Thanksgiving Service
for the end of hostilities held in St. Paul's Cathedral on 13 May 1945. The six sides total just under 30 minutes. Details are not shown on the record labels of those taking part. The organist and master of the choristers at St. Paul's from 1936 to 1968 was John Dykes Bower. It is surely unthinkable that he did not participate, either as conductor or organist, in such an important event. The choral entries in the hymns and in an anthem by Wesley are ragged, whereas Stanford's
Te Deum
from the C major Service op. 115 gets a finely disciplined rendering, so I infer that he conducted the latter, maybe with his assistant Douglas Hopkins playing, and led the rest from the organ.
Sir John Dykes Bower (1905-1981) - also known as "Dickey-Boo" - was a pupil of Herbert Brewer. He became an organ scholar at Corpus Christi College, Cambridge in 1922. Theoretically, Stanford was still professor of music at Cambridge at that time, but his influence, and even his attendance, had dwindled to very little by his last years. Legend has it that Stanford developed such antipathy to the Cambridge campus in the post-war period that he gave his lessons at the Railway Hotel, though this has been disputed.
It would be nice to say that the recorded service conveys a sense of history turning its pages. It does up to a point. Modern listeners may feel the same sort of alienation they often feel when seeing old newsreels. So much is done differently now. Only senior royalty still speak with the sort of rolling elocution to be heard from the officiating prelate. So much the worse, some will say, except that the speaker sounds so dispassionate about a momentous historical occasion. Just possibly, the service was taken by Roger Fisher, who had been Bishop of London since 1939. On 2 February 1945, though, he had been elevated to Archbishop of Canterbury. However, his successor at St. Paul's, William Wand, was not appointed till August, so there was actually no Bishop of London when this service took place.
Maybe even today the hymns -
All people that on earth do dwell
and
Now thank we all our God
- would have to go as slowly as this in the long acoustic of St. Paul's. It probably feels right if you're actually there. Just for listening, with an almighty lot of verses, it's a drag. In between these, Wesley's
Lead me Lord
is sung slower than one would have thought possible. The Stanford, though, is given a fine performance, broad and grand but with a natural sense of flow. I must say I expected some sense of extra dedication given the occasion. I don't find this. It doesn't help that the sound is recessed and seems to come and go. The acoustics of St. Paul's Cathedral continued to prove intractable for recording engineers until far more recent times.
In conclusion, some trumpeters arrive to provide a brazen fanfare, a timpanist provides his roll from somewhere at the far end of the Cathedral and we have three verses of the National Anthem, sung very slowly. As I say, interesting to hear once.
Before leaving church and choral music, a few general points.
There seems to have been more difference between one choir and another, or one choir-master and another, in those days. Perhaps this is inevitable since recordings, with their levelling effect, were few. Post World War II, the risk has been for every choir to try to sound as much like that of King's College, Cambridge as possible.
We might have supposed they sang more slowly and sanctimoniously back then. On this evidence, tempi were actually inclined to be a little quicker than today. Even when they were not, the general feature seems to have been a natural, easy flow. However, these differences are not so great as to suggest that we now hear this music through a distorting mirror. In some cases, too, modern performances may find elements that were passed over in earlier times. If Stanford's church music is to remain a part of the living church - and if it held its own in the 1950s and 1960s when everything else he wrote was reviled, then it will surely not disappear now - then choir-masters need to seek out the elements that communicate to us today.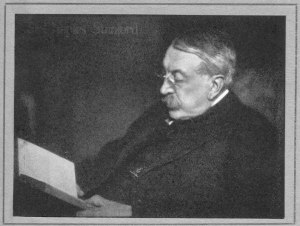 Stanford in his last years (photo by Lambert of Bath from Sydney Grew: Our Favourite Musicians, Foulis 1922)

Instrumental music
Just one purely instrumental item by Stanford is currently available from CHARM - the violinist Isolde Menges, with Eileen Beattie at the piano, playing
The Leprechaun's Dance
, Stanford's own arrangement of the third of his
Four Irish Dances
, op. 89. This was set down in 1928.
Isolde Marie Menges (1893-1976) has always been a well-known name to me, since a former violin teacher of mine had studied with her at the Royal College - and named her youngest daughter Isolde after her. Menges was a pupil of Leopold Auer and Carl Flesch. She had quite a high-profile career in the early part of the 20
th
century, travelling widely and appearing with conductors such as Wood and Walter. In 1931 she formed a string quartet which gave a complete Beethoven cycle at the Wigmore Hall in 1938. Post-war, she increasingly turned to teaching. Major recordings include the Beethoven Concerto with Landon Ronald, Brahms' Sonatas 2 and 3 with Harold Samuel and Beethoven's
Kreutzer
Sonata with Arthur de Greef. The name of Menges is better known today through her younger brother Herbert, who conducted many famous concerto recordings for EMI in the early years of LP.
The Leprechaun's Dance
gets a good, straightforward performance. She appears not to be using the mute, as requested by Stanford - perhaps it was resistant to 1928 recording techniques. An investigation of Menges' merits would have to start from the major recordings mentioned above, some of which can be found at CHARM. Insofar as one can draw conclusions from this one charming little piece, she was a "modern" violinist, not prone to the sort of sliding and swooping we associate with this period.
Song
One artist of all those I'm discussing really does give it "straight from the horse's mouth". Yet he is the most perplexing of all. I refer to Plunket Greene, who recorded Stanford's arrangement of
Trottin' to the Fair
in 1934.
Harry Plunket Greene (1865-1936) was born in Dublin. He studied singing in Stuttgart and Florence as well as in London. After a few operatic appearances he dedicated himself to recital and oratorio singing, the former often accompanied by Leonard Borwick, a leading pianist of the day. This duo is considered to have practically created the serious lieder and song recital in England. In a sense, Plunket Greene was also a co-creator of the new school of British song-writing, because by showing the way to interpret the imaginative art song, as opposed to the strophic ballad, he created the climate for composers to write them. One only has to thumb through the title pages of British songs from the 1890s through to the 1920s to be struck how many bear a dedication to Plunket Greene, or are described as "sung by" him. Moreover, he married Parry's youngest daughter and was a close and very loyal friend of Stanford's from 1888 onward, becoming his first biographer in 1935. Arguably, his loyalty got the better of him in the latter role. According to Eric Blom, Plunket Greene "never had a great voice, but became a surpassingly fine interpreter of songs" (Blom:
Music in England
, Penguin, 1942, p.172).
Given Plunket Greene's very high reputation, it is not surprising that he was invited to the recording studios in the earliest days of the gramophone. From 1904 to 1908 he set down a good many sides, only a few of which were published. Just one original song by Stanford was among those issued -
Johneen
op. 77 no. 4 - but they include a number of his folk-song settings:
Quick, we have but a second
,
Father O'Flynn
,
Eva Toole
,
Trottin' to the Fair
and
Molly Brannigan
. For whatever reason, he made no further records until the 1930s. When Stanford himself conducted recordings of
Songs of the Sea
(1918, unissued) and
Songs of the Fleet
(1923), works that had been premièred by Plunket Greene and were intimately associated with him, the respective singers were Robert Radford and Harold Williams. I hope I shall be able to hear Plunket Greene's early recordings some day - if copies have survived. They may provide the key to an understanding of the late recordings.
For the truth is, Plunket Greene's voice was not only wavery in his late sixties, it sounds like that of a folk singer in decline, not that of a concert artist in decline. As far as
Trottin' to the Fair
goes, this is not wholly unsuited to the matter in hand, and may seem deliberate, like the camp Irish accent. The crystal clarity of the diction must be allowed. Even this comes under strain in the second part of the 78 side, for this very brief song has to share a place with a setting of Moira O'Neill's
The Sailor Man
by "Wood" - presumably Charles Wood. This is sung so fast as to become sheer gabble, with the pianist hard put to keep up. The "other side" is strictly off-topic, a version in English of Schubert's
Der Leiermann
. I discuss it because it bears upon the issue of how art song was interpreted in England in those days. Plunket Greene sings it like an Irish ballad singer. His Irish brogue is very little attenuated, his rhythm free as he croaks around the words. Yet, granted that it's all "wrong", the deathly chill and compassion with which he paints the scene and describes the poor old hurdy-gurdy man may make you think this is the most moving version you've ever heard.
Finally, Roy Henderson, who set down
The Fairy Lough
, op. 77 no. 2 and
The Pibroch
, op. 157 no. 1, in 1942 with Ivor Newton, and
A Soft Day
, op. 140 no. 3, in 1944 with Eric Gritton.
Roy Henderson (1899-2000), born in Edinburgh, was a leading British baritone from the 1920s until his retirement in 1952. He was strongly associated with the English repertoire. He is also remembered as the teacher of Kathleen Ferrier, whose recordings of two of these same Stanford songs are well-known.
By today's standards, Henderson's singing may seem consistently over the top. He opens
The Pibroch
with something not far from "Sprechstimme". He lunges into lines like There's battle roar by sea and shore" and "There's feud of blood and hate in it", his treatment of "There's mist of parting tears in it" might be described as emotionally onomatopoeic. He draws out the last lines unbelievably, approximately halving the tempo where Stanford wrote just
Poco più lento
but how he brings it all to life!
In
The Fairy Lough
, too, he becomes caught up in the scene, finding drama and contrast where others find only placidity. As he starts
A Soft Day
, he sounds truly grateful with all his being for the beautiful day before him. Again, he gets caught up in it. His slowing as the second verse starts is incredible, then he finds a different tone and colour for all the different things that follow: "The hills wear a shroud of silver cloud", "The web the spider weaves is a glitt'ring net" - he's very free here - and "The woodland path is wet". Ten years later, his pupil Kathleen Ferrier shows traces of these same touches of expression, yet places them within a classical frame. She does not attempt to live by the moment, to inject developing drama, as Henderson did. A singer today who got so worked up over little things would risk ridicule. Yet, taking these performances together with those of the elderly and fallible Plunket Greene - Henderson's singing as such is undeniably splendid - we must conclude that Stanford and his contemporaries expected their singers to interpret their songs something like this. The uncomfortable thought arises that, if in Germany Fischer-Dieskau established interventionist lieder singing in the early 1950, interventionist singing of English songs
stopped
at about the same time. Modern singers of this repertoire might ponder the matter, though deliberate impersonation of Henderson's performances might prove dangerous.
Obviously, the story does not end here. The CHARM project is a continuing one, so this article may be subject to updates. Apart from Stanford. though other performances by Plunket Greene are not listed, quite a few by Roy Henderson are. These, together with performances of British songs by other singers of the period, should provide important evidence as to how these songs were sung. Plenty more material by Cathedral choirs is available. Isolde Menges should be worth following up. Lastly, many other blogs are offering a fascinating range of out-of-copyright material, much of it too specialized for there to be much likelihood of commercial CD issues. Just to stay with Stanford, you can
download
Hamilton Harty conducting the overture to Stanford's Irish opera
Shamus O'Brien
from a blog called
Damian's 78s
. Only, beware: Some of these blogs are so enthralling you may spend the rest of the day, or the week, downloading material from them.
Christopher Howell
Postscript
Lewis Foreman has contacted us to advise that Stanford conducting his own Songs of the Fleet from 1923 acoustics are on Dutton CDBP 9777.