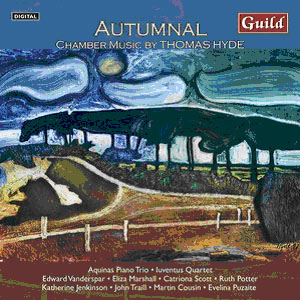 alternatively
CD: MDT
Download from The Classical Shop
Thomas HYDE (b. 1978)
Three Dancers, Op. 11a (2005) [5:31]
Autumnal, Op.5 (2003) [15:22]
Nocturnes, Op.7 (2006) [7:54]
Second Suite for solo Cello, Op.3 (2001-02) [15:47]
Birthday Song (2011) [2:24]
Winter Music, Op.6 (2004) [5:45]
String Quartet, Op.10 (2009-10) [21:11]

Aquinas Piano Trio (Edward Vanderspar (viola): Eliza Marshall (flute/alto flute)); Catriona Scott (clarinet); Ruth Potter (harp); Katherine Jenkinson (cello); Evalina Puzaite (piano); Iuventus Quartet; Martin Cousins (piano)/John Traill
rec. Jacqueline du Pre Music Bldg, Oxford, 22-23 October 2007 (Three Dancers, Autumnal, Nocturnes, Winter Music), 24 August 2011 (Second Suite), 16 January 2012 (Birthday Song, String Quartet)

GUILD GMCD 7389 [73:54]

This album is an interesting collection of music written by the noted modern composer Thomas Hyde. Hyde was born in London and attended Oxford University. He studied with composers David Matthews and Robert Saxton, and gained his doctorate in composition in 2008. Some other influences on his works include Maxwell Davies and Birtwistle.

Three Dancers is performed by the Aquinas Piano Trio and is a blend of alternating rhythms, tempo changes and moody dissonance. Autumnal is one of the longer works here. It is written and performed in a similar style of alternating and repeating rhythms and overall dissonance. The ensemble for this piece features noted violist Edward Vanderspar, a longtime performer with the London Symphony Orchestra. Nocturnes, Op. 7 is a short, three-part composition that features pianist Evelina Puzaite, the well-known and talented chamber musician. Born in Lithuania, Puzaite has performed in various musical productions around the world. She is also a composer and author. Nocturnes follows the same overall pattern of dissonance and moodiness that is found in Thomas's other compositions.

The Second Suite for solo Cello, Op.3 is one of the highlights. It is in six movements and two interludes. Jenkinson displays a remarkable touch and dexterity, and brings out the loveliness and tonal quality throughout her instrument's range. Birthday Song is a short piece for string quartet. This is one of my favourites. The music is slow and relaxed, and tends to wander, as one's mind would during reflections on the passage of time. Winter Music is for cello and piano. The song is similar in style to the other numbers, and brings a vision of short days and long, cold nights. String Quartet, Op.10 again features the Iuventus Quartet. It is a two-part composition written and performed in the style. Thomas dedicated this piece to Hugh Wood.

This disc should appeal strongly to listeners those who already know and enjoy the works of Thomas Hyde.

Bruce McCollum




.