Jon Lord Interview 2010 (To Notice Such Things)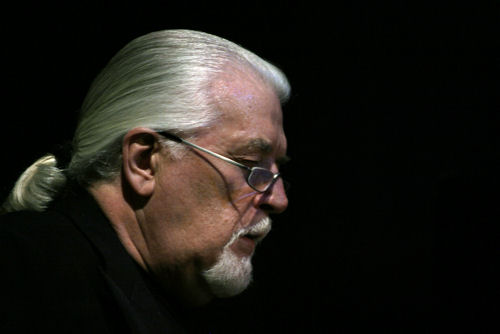 © Elena Blednykh
It seems that there is an increasingly fashionable trend amongst elder statesmen of the rock generation to find creative solace in classical music during the mellowing years of their semi-retirement.
Tony Banks
, the keyboard player and quiet man of Genesis did it with his orchestral suite
Seven
a few years back whilst classically trained Rick Wakeman and latterly Ian Anderson, founder of Jethro Tull, singer/songwriter, manic one-legged flautist and one of the hardest working men amongst rock's intelligentsia, has also dabbled in "crossover" with several albums combining his creative and performance talents with orchestra.  
Even the younger generation now seem to be getting in on the act with Goldie's much lauded commission for the 2009 Proms receiving prime time television coverage and dance/rave artist Aphex Twin attracting a huge following for his orchestrations, albeit with a little help from some friends including composer Kenneth Hesketh along the way.  
For Jon Lord however, classical music has been with him from the start, a strand to his musical personality that has often appeared to want to burst forth from his very being, even during his many years as the keyboard player and creative driving force behind the phenomenally successful Deep Purple.  
In a career that has also seen stints with David Coverdale's Whitesnake and the self-founded Paice, Ashton and Lord, a short-lived Deep Purple spin-off during the band's wilderness years in the late 1970s and early 1980s, Lord has always taken the opportunity to indulge in his classical side with works such as the
Gemini Suite
and the
Concerto for Group and Orchestra
.
The latter proved not only to be a landmark experiment spawned during his early years with Deep Purple in 1969, but also the starting point for a close if unlikely friendship with Malcolm Arnold, the man who conducted the first performance of the work at the Royal Albert Hall.  
In 2002 Lord retired from Deep Purple to concentrate on his increasing commitment to classical writing and the result has been a steady stream of work that reached a new high point with his
Durham Concerto
, released by
Avie Records
to considerable critical acclaim in 2008.  
One of the true gentlemen of rock and a warm, charismatic and often witty conversationalist during the half hour duration of our telephone conversation, Lord was keen to talk of his early musical years and the effect one man in particular had on both his keyboard skills and his spirit of musical exploration.  
"I started to play the piano from the age of six and classical music was with me from then, as well as dance band music and traditional jazz which were two of my father's passions. When I was ten however, I started lessons with a new piano teacher. I stayed with him until I was about eighteen and he took me into much wider musical realms teaching me harmony, how to read orchestral scores and encouraging me to listen to a wide range of music. In many ways he was quite a sad, serious and unfulfilled fellow, a man that wanted to be a concert pianist and didn't quite make it, but he was massively important to my musical life."  
Listening to Lord speak of his formative years I was curious as to how he appeared to fall into rock following what could be thought of as a conventional musical education.  
"I first encountered rock and roll as a teenager of course, but actually I wanted to be an actor, right through into my early twenties. I was very fortunate however in that the relationship I had found with classical music wasn't compromised by the arrival of rock and roll and I simply added the latter to the list of things that I enjoyed. That has pretty well defined my musical career. I have never lost my love of classical music although equally, I enjoyed being a rock musician. I adore orchestra music and I love writing for orchestra although I never wanted one thing to displace the other and that was really the reason for those early experiments with the
Concerto
,
Gemini Suite
and
Sarabande
taking place."  
Many in Lord's position have been known to farm the bare bones of the music out for an anonymous, behind the scenes orchestrator to make some sense of its melodic content in instrumental terms. For Lord however, the piece has to be his own, from conception to orchestration.  
"Ideas for a piece can sometimes come when I am out for a walk and I will try it out on the piano and might write it down and put it away for later. Or sometimes thoughts can arrive lying in bed or waiting to get to sleep at night but I also love to improvise at the piano. Other ideas can also come with the orchestration as I work on it. I find that as I orchestrate that very process can pad out the musical thought as it frees up the creative process."  
The conversation turns to John Mortimer QC, the man that provided the inspiration for Lord's latest musical creation and album
To Notice Such
Things
and who became a close friend of Lord during the latter years of his long and eventful life.  
"I first got to know him well around 1997/98 and although this was late in his life he remained bright and totally
compos mentis
right up until the last few months. He was an astonishingly intelligent man and became one of the best friends of my life. My only regret is that I only really knew him for the last twelve or thirteen years but he became a very dear friend indeed during that time".  
The early years of Lord's friendship with John Mortimer saw him play the piano during Mortimer's one man show
Mortimer's Miscellany
; memorable evenings of wit and wisdom as the host engaged his audience with his innate skills as a raconteur. It was for these shows that Lord first produced the piano miniatures that were to form the basis for the later orchestral suite.  
"There was always a definite connection between the original music and John's personality and certainly the most complete of the original miniatures has ended up in the suite as
Turville Heath
. It was written to open Act Two of the show and is really a picture of John waltzing gracefully in his more advanced years around the garden at his home that was so beloved of his father. It is very much based on the character of John when I first met him. The other two original miniatures were more influenced by the poems that they were intended to accompany but still in that slightly nostalgic English style that John loved so much. When it came to writing the suite, I got back inside these two pieces and they grew quite organically from there although
Turville Heath
is pretty much as I wrote it. The other pieces came quite quickly when I decided that I was going to write a piece in memory of John although I never wanted people to think that it was musical voyeurism. The closest the music gets to John is in the flute cadenza, which becomes his voice during his final weeks although in
At Court
, the music reflects my impression of how John would have been in his heyday when he was the King of the Strand and I hope that his very wonderful sense of humour come across in that."  
For such a multi-faceted man however, I comment that his personality must have had many different sides to it.  
"There was a wistfulness about him that showed his darker side and he could be prone to introversion, but above all I wanted to paint an affectionate musical portrait of a man that I was incredibly fond of."  
The other works on the disc present a no less personal response to their varied sources of inspiration, ranging from Edvard Grieg and Bach to the poetry of Hardy and the gentle colours and peaceful tones of
Evening Song
, originally featured on the album
Pictured Within
but here reworked with the original vocal line given to alto flute and horn. It's a piece that emanates warmth.  
"When I originally wrote it in the early 1990s I had arrived at a turning point as to what I was as a musician. I had really lost my way quite severely from the 1970s and apart from one excursion in the 1980s with an album called
Before I Forget
which was massively schizophrenic and not quite sure what it wanted to be, I think I had almost lost the need to look inside myself. Then from the early to mid 1990s my parents became old and eventually left us and that was the catalyst for discovering a lot more about myself. I think
Pictured Within
and hence
Evening Song
was very much that discovery. To orchestrate
Evening Song
was actually the suggestion of the General Manager of the Royal Liverpool Philharmonic Andrew Cornall and when I suggested that we substitute the voice for alto flute and horn he said 'Let's do it'."  
In
For Example
it is Grieg to whom Lord pays tribute although here the affection takes a slightly different form to that of his tribute to John Mortimer.  
"My teacher had introduced me to Grieg's
Lyric Pieces
for piano and I had fallen in love with them but in particular I can remember him giving me the
Wedding at Troldhaugen
. We worked hard on it although at the time some of it was a little beyond my capabilities and that's why it is quoted slowly at the end of the piece. There are also echoes of the
Piano Concerto
with the lovely flattened ninth that Grieg uses in the slow movement of the Concerto but it also links to my friends in the Trondheim Soloists so there is a genuine Norwegian lineage there."  
The link to Bach in
Air on a Blue String
, originally written for piano but subsequently re-scored for flute and strings, stemmed from a chance remark made by cellist Matthew Barley that Lord noted during a television programme.  
"I had worked with Matthew on
Durham Concerto
but I heard him ask a young cello student if he knew how to improvise and whether he could play the blues. When the student replied no Matthew commented that the raw emotion to be found inside blues music and the ability to take your eyes off the music and play what is in your heart could possibly have a great impact on playing the Bach Cello Suites. It played on my mind and a few days later I improvised a melodic line that became the basis for
Air on the Blue String
. Bach was a great improvisational musician and improvising is an ability that many modern performers seem to have lost".  
As our conversation draws to a close, John Mortimer fittingly comes to the fore once again and I comment that
Afterwards
, the words of Thomas Hardy that conclude the album, eloquently read by Jeremy Irons and wrapped warmly in Jon Lord's touchingly simple piano line, could say much about Lord's affection towards his great friend.  
"It was the poem with which John ended
Mortimer's Miscellany
and when we did John's memorial service at Southwark Cathedral I played the piece underneath as Jeremy Irons read the poem. It was a wonderful moment and it struck me that as the album was all about John and even though it was a touch emotional, it would be a good way to round it all off. I shall just have to ensure that everything on my next album is allegro and presto!"  
Of that next album, there are already plans in the making. A
Concerto for Hammond Organ
(an instrument that for which Lord still retains a great affection and plays in his live shows), is to be premiered by the Oslo Philharmonic Orchestra in 2012. There is also a large orchestral piece in the offing as well as a variety of songs and smaller pieces and with Lord's obvious enthusiasm and passion, one suspects that the ideas will continue to flow.  
"I'm just generally getting on with what I have to do and there is a lot to be getting on with, but I love it. I have no intention of turning the tap off just yet."  
©
Christopher Thomas
, June 2010