SIR MALCOLM ARNOLD:
SYMPHONIST, MELODIST, INSPIRED JOURNEYMAN
An Obituary by Rob Barnett
EARLY YEARS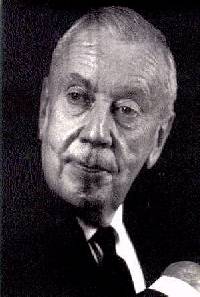 Sir Malcolm Arnold was born in the then flourishing shoe factory town of Northampton in England on 21 October 1921. His father, a Primitive Methodist, was a shoemaker who was also a keen amateur pianist and organist. His mother who encouraged him in music was an excellent pianist. She was the great grand-daughter of William Hawes the eighteenth/nineteenth century composer of glees and madrigals who also conducted the first performance in Britain of Weber's Der Freischutz.
The young Arnold studied with Philip Pfaff, the local organist of St Matthews Northampton. Pfaff's son Nicholas Pfaff is a leading player of the French horn. The 12 year old Arnold had a great enthusiasm for jazz and especially the dizzy trumpet playing of Louis Armstrong ('Satchmo'). It was almost certainly the influence of Armstrong that lead Malcolm Arnold to take up the trumpet. This was coupled with an enthusiasm for Delius inflamed by the Delius Society recordings and Beecham's realisations of the Delius scores.
At 15 Arnold was travelling to London to study trumpet with Ernest Hall leading trumpet player of the BBC Symphony Orchestra. Hall was the dedicatee of Philip Sainton's The Island. Interestingly Arnold was to have studied with Patrick Hadley but Hadley proved too ill at that time to take on teaching duties. Hall was a great inspiration to the young Arnold. One of the unexplained wonders is why Arnold the trumpeter virtuoso waited until the late 1970s to write a trumpet concerto.
His first public appearance was in Bach's Brandenburg Concerto No. 2 playing a Bach post-horn trumpet. This was an experience which he likened to 'blowing down a gas-pipe.'
Arnold studied for two years at the Royal College of Music, London. Before the end of the second year he had won a prize for a single movement string quartet in the Cobbett Competition and left the College. He left to join the London Philharmonic Orchestra as third trumpet. He remained with the orchestra for seven years demonstrating breath-taking technique. The orchestra management also featured him as trumpet soloist in concertos by Haydn, Goedicke and Riisager. In addition he, with the tragically ill-fated Noel Mewton-Wood was soloist in Shostakovich's knockabout first piano concerto.
THE WAR
While he never completed his academic musical education he absorbed the art and craft of music from the inside. He heard the scores from the vantage point of the brass terrace. As a brass player enjoying long tacets he had the chance to follow scores and to absorb orchestration skills which were to stand him in good stead for the future. He particularly recalled playing a single Mahler symphonic movement with the LPO during the 1940s. He felt impelled immediately after the session to rush out to Foyles and buy all the Mahler symphony scores he could find and sat down to absorb them. This is not a surprise. Arnold's symphonies mix the vulgar (crude whistleable tunes, Caribbean tin can bands, military and 'Sally Army' marches and other popular elements) with tragic elements and passion.
His first chamber works were written as a diversion to relieve the boredom of the war years. In the quintessentially British tone poem The Larch Trees Arnold taps into the long tradition of British countryside. It was the work in which he felt his composer self was first truly approached. It dates from June 1943.
Arnold was a Conscientious Objector and had in March 1943 (at the age of 21!) also become Principal Trumpet of the LPO. Months after securing this plum job he had a change of heart and left the orchestra to volunteer for the Navy. They refused him and he joined the army. There his time was not a success. Having been discovered as a musician and directed to join the regimental band of the Buffs he shot himself in the foot to escape his fate. He was discovered in a toilet cubicle in a pool of blood by a sergeant who reputedly had been victimising him.
AND AFTER
Briefly he joined the BBCSO when he left the army. There he played second trumpet to his teacher, Ernest Hall's principal. He then rejoined the LPO for a seven year stint until 1948 when he won the Mendelssohn Scholarship. After this with the independent income it offered he never played professionally again. During the period 1943-48 he had been phenomenally productive with 20 concert works to his name and reputation. These included the raucous overture Beckus the Dandipratt. Eduard Van Beinum ended up recording the overture with the LPO in 1948. In 1947/48 he did his first work for films and married Sheila Nicolson who had been a violinist at the Royal Academy of Music. With his scholarship and financial security he went to Italy where, in Hugo Cole's words, he enjoyed the good life and developed a taste for Frascati.
MALCOLM THE NEW ELIZABETHAN
The peak productive years were those from 1948 to 1960. In 1949 his impressive and very Sibelian First Symphony appeared followed three years later by the second. The Second became extremely popular and received premieres all over the world. The world premiere was given by Charles Groves with the strife-torn, budget-depleted and committee-embattled Bournemouth Municipal Orchestra. Groves rose for a while triumphantly above the municipal heroism and back-biting but was finally sunk by it and moved on to great things elsewhere – principally in Liverpool.
In June 1949 he wrote his first ballet, the full length Homage to the Queen. This was premiered at Covent Garden on the day of the Coronation. He also produced two fresh, boisterous and poetic sets of English Dances. Rich in character and alive with incident these blew away the cobwebs of a more lethargic approach to the British countryside. There was no Delianism in this music. Instead there is an earthiness - a scent of clods new turned and of a pint and pastie at the local pub. This instantly captivated audiences and musicians worldwide. There is also humour and a wink and a nod in these dances but that was nothing new. The humour remained a rich vein and Arnold was in some quarters punished for it and frowned on for vulgarity.
LIGHT MUSIC
The accessibility of much of Arnold's music may well have been an obstacle to its cultural acceptance among the elite circles in London and elsewhere. While this has been less so since about 1980 there is still a measure of discomfort about a composer who can write tunes and still wanted to write tunes. Worse than that; this was a composer from the industrial provinces and also one without personal wealth who wrote to earn a living. His success (120 scores) in film music no doubt militated against him and continues to be an obstacle though perhaps less so now. I have already commented on the 'living dangerously' humour which you can hear in many of his works for example in the rowdy final movement of Concerto for Phyllis and Cyril.
His outstanding achievements in writing music for solo players, duos and orchestras should also be noted. His long series of fantasies for solo instruments has been spectacularly and deservedly successful. Children often hear Tam O'Shanter in the class-room as their introduction to classical music.
CORNISH BARDS
Arnold had a special feeling for Cornwall - the gateway to Atlantis. He holidayed there with a girlfriend during the 1940s and had the warmest affection for the place. During the 1960s he lived in Cornwall in retreat from life, the dead-end obsessions of a London celebrating Stockhausen and Cardew and also perhaps from a corrupting success. It is important to bear in mind that the Cornwall of the 1940s, 1950s and even to some extent of the 1960s was a very different place from the road-crossed peninsula of the 1980s and 1990s. Travelling to Cornwall from London took a long time and although rail travel to Penzance was a convenient option the roads within Cornwall were often narrow and tiring. Arnold bought a house at St Merryn on the North Coast within earshot of the foghorn at Trevose and the wild wild Northern Atlantic coast. Struggling with a taste for alcohol produced a number of startlingly colourful and masterful works. I know something of that violent wild and beguiling atmosphere having had family holidays at Treyarnon and Constantine Bay both during startlingly blue, sunburnt summer holidays and during gusty, foghorn reverberating Autumn and Winter days.
CORNISH DANCES
The Cornish years produced a variety of works. They were not all 'Cornish' in nature. He has little patience with the naff Cornish piskies beloved of holiday souvenir shops. Instead in his Cornish Dances he tapped into the mists, the deserted tin mining wheelhouses, the stern Methodist traditions of the area, the brass bands and choirs and, permeating all, a mysterious atmosphere and a sense of distant engulfed Atlantis. This latter was not that far removed from the music of John Ireland in Mai-Dun and The Forgotten Rite although his visions were from the prehistory of the Sussex and Dorset downs. Bax and Warlock picked up similar influences in Cornwall although neither of these composers could summon the Cornish atmosphere with such urgent immediacy as Arnold in the Cornish Dances. Bax's Tintagel is of course centred on the North Coast of Cornwall but is less topographical than psychological.
LIFEBOATS
Arnold seems to have been at ease in Cornwall although the drinking continued. He conducted a festival of brass bands and choirs at Truro Cathedral and made arrangements of the Cornish composer Thomas Merritt's music. His brass band music includes a gravelly and boisterous march The Padstow Lifeboat. The march is distinguished by an unmistakable evocation of the foghorn. Long before he left his beloved Cornwall for another refuge at the edge of the world (Eire) he had been made a Bard of the Cornish Gorsedd. This happened in 1969. This accolade was accepted in much the same way that Bantock had achieved Bardic status in Wales.
TWO WORLDS COLLIDE
Arnold was an extremely successful and accomplished film music composer. He worked robustly and without sparing himself. At his peak during the period 1950-1965 he was producing six full film scores a year. This was in addition to a large number of concert pieces and miscellaneous conducting duties. In 1957 his score for The Bridge on the River Kwai garnered an Oscar.
It is now something of a cliché and evidence may be hard to identify however there seems little doubt that his success in what was seen as a frivolous and consumer-disposable world did little to impress the critics and some orchestral and broadcasting managements. A composer who wrote tunes and wrote them without shame and in fact with glorious indulgence was not likely to be in favour in the early 1960s. The Glock regime at the BBC was closing doors on the melodists like Bax, Finzi, Rubbra and Alwyn. Arnold certainly suffered however such was the popularity of certain of his works that they continued to receive broadcasts. Performances by amateur and professional orchestras in the concert hall hardly let up at all. In fairness Glock commissioned Arnold's Symphony No. 4 during the mid-1960s. In 1970 the year Arnold received his CBE he commissioned from Arnold a piece for audience and orchestra for the Last Night of the Proms.
ARNOLD THE CONDUCTOR.
His conducting is a little appreciated aspect of Arnold's musical world. Although he is well enough known for directing performances of his own music both in the concert-hall and the recording studio his reputation for conducting the works of other composers is largely overlooked. Fellow trumpeter, Philip Jones (of Philip Jones Brass Ensemble fame) recalls an incandescent performance (the best he could remember) of Berlioz's Symphonie Fantastique conducted by Arnold at Croydon during the 1950s. Arnold's studio performances of Rubbra Symphonies Nos 3 and 4 with the then BBC Northern Orchestra during the mid-1960s are remarkably intense. I rather hope that they survive in the BBC archives but fear the worst. They certainly merit reissue.
NORTHAMPTON
I have no idea what it is about Northampton but it produced three remarkable British composers. Arnold, William Alwyn and Edmund Rubbra were all born there. Arnold and Rubbra each wrote eleven symphonies; Alwyn wrote five symphonies.
ARNOLD AND WALTON: THE BATTLE OF BRITAIN
Both Walton and Arnold were successful on the silver screen. They admired each other's work. Perhaps Scapino and Portsmouth Point are only a few degrees removed from Beckus and Tam! Arnold was infinitely more prolific in film scores. Walton sometimes gave the impression of writing for the cinema when he needed to boost his bank account. Arnold plugged away for the studios at great cost to himself. Arnold visited Walton on Ischia. Walton despised Oldham as much as Arnold seemed to snub Northampton although his home town has now honoured his achievements with an annual Arnold music festival. Both spent years at the geographical periphery away from London concert life. Arnold's years in Cornwall, Eire and latterly Norfolk all serve as testimony to this. In any event when Walton wrote the music for the 1970 film The Battle of Britain it was Arnold who conducted the orchestra and did the orchestrations. As it turned out the score was largely dropped by the purblind (or deaf) movie moghuls and a score by Ron Goodwin was used instead. Arnold, at approximately the same time, also orchestrated Walton's String Quartet and this has been performed as the Sonata for Strings. Until recently the only recording of this work was Neville Marriner's 1970s recording with the Academy of St Martin in the Fields.
ARNOLD AND THE RECORDING STUDIO
In 1986 Arnold was lured back to the recording studio by Richard Itter of the Lyrita Recorded Edition. Lyrita have done more than any other company to promote rare and deserving British music. They have been a constant source of inspiration and enterprise, witness the crop of recordings they made with the ailing Boult during the 1970s. The finest of these was Boult conducting the 'New Philharmonia Orchestra of London' in the Moeran Symphony. Later however they achieved the honour of recording Arnold's Fourth Symphony with the composer conducting the LPO. During the mid-1980s Arnold was undergoing yet another life crisis. This shows in the very extended performance which he gave this largely ebullient work rife with Caribbean rhythms and percussion. People have complained about Bernstein's dragging out of performances of Enigma and various Shostakovich symphonies. Anyone who knows the Fourth Symphony from earlier BBC broadcasts both by the composer and Maurice Handford will (at least) raise an eyebrow. For my part, while still surprised by the performance and aware that it can seem ponderous and portentous, I regard the recording as a very important document. I cannot believe that the composer did not intend to say something vital to us in performing the symphony in this way. It normally runs circa 36 mins but in the Lyrita recording it runs 52 mins! Hearing it is like viewing the symphony through a microscope. Every vein and artery is apparent. In some ways the composer seems to be writing the symphony for us laying open its physical and psychological makeup in lambent detail.
Arnold was knighted in 1993.
REPUTATIONS
There are parallels between Gordon Jacob and Arnold: teacher and pupil. Both were prolific, Jacob more so than Arnold. Both wrote for films: Arnold more than Jacob. Both wrote reliably and with conviction to commission. Neither were effete or ivory tower aesthetes. They were practical musicians.
The differences are obvious. Arnold did not teach. Jacob's music, as far as we know it (and I have only heard the second of his two symphonies), did not so consistently touch the heights of unaffected lyricism or the great peaks of symphonism. Jacob achieved few popular successes and nothing to match Arnold's Symphony No. 2, Tam, English and Scottish Dances and the film music.
Arnold was active in the same era as other great British composers. Walton wrote little but Arnold who was much more productive can be spoken of in the same breath as Walton. Arnold's music has a vulnerable Tchaikovskian heart absent from Britten's music. He was briefly a conscientious objector so there is a superficial parallel with Tippett and Britten but that's about it.
Arnold, Frankel and Alwyn were very successful in the film world. Arnold's music is much closer to that of Alywn than Frankel. Arnold seems to have little time for atonalism and tone rows. Frankel's sometimes tortured lyricism was his own and is in general more difficult to approach than Arnold's. Alwyn is a better but still imperfect parallel as Alwyn's music, in the five symphonies and the clutch of concert works, is unfailingly lyrical even in its moments of anguish and pain. Alwyn was however much more of an aesthete than Arnold although he too wrote celebratory dances and lighter overtures: Elizabethan Dances and Scottish Dances!
There is a certain gorgeously over-the-top quality to Arnold which speaks directly to most people. We hear it not only in the technicolour slow-motion sun-burst at the end of the Fifth Symphony but also in the unrepentant vulgarity of the end of the Concerto for Phyllis and Cyril as well as in the Grand Grand Overture. But also let's not forget the feel-good works like The Larch Trees, the English, Scottish and Cornish Dances, the Eighth Symphony and the grievously neglected Oboe Concerto. Some piece remain enigmatically unperformed and one of the most fascinating is the Cello Concerto The Shakespearean which he wrote for Julian Lloyd-Webber in 1988. Let's hope for an early performance and recording. Everyone has their own favourites but we all have more to discover among Arnold's output.
Arnold survived many troubled years between the 1960s and 1980s as is well known from the book Malcolm Arnold - Rogue Genius: The Life and Times of Britain's Most Misunderstood Composer by Anthony Meredith and Paul Harris and from Tony Palmer's DVD Towards the Unknown Region. That passage of arms can be heard searing through the Seventh and Ninth Symphonies – it is part of the whole man. Latterly he found a trusted carer and companion in Anthony Day.
Sir Malcolm died after a short illness (chest infection) at the Norfolk and Norwich Hospital.
Rob Barnett
Sir Malcolm (Henry) Arnold:-
Born: Northampton, 21 October 1921
Died: Norwich, 23 September 2006
Further details at:-