Let me not beat about the bush. This is one of the most important British chamber music releases for a number of years. It was first published in 2004 but I understand that for various reasons it has not 'flown off the shelves.' And this is indeed a huge shame.
Firstly it presents three major English chamber work classics of the 20th century. Secondly it introduces two works that deserve to be seen on the same level and last but not least this is a beautifully produced and brilliantly played recital. All the works here have the fine playing of Leon Goossens as their inspiration, if not their raison d'être.
It is hard to imagine the Daily Telegraph running a chamber music competition in today's climate. Without delving too deeply into the pros and cons of political correctness, it would seem unlikely that any contemporary event would confine itself to 'string quartets' and 'wind quintets'; there would have to be equal status for entrants writing works for didgeridoo and Tibetan nose flutes. But the world was a different place in 1932 and Elizabeth Maconchy won an award in the competition with her excellent Oboe Quintet. Her work was a precursor to the great cycle of String Quartets that the composer was to write throughout her career. In the same event the young Benjamin Britten received a commendation with his Phantasy Quartet.
The Quintet opens with a declamatory phrase from the oboe followed by urgent string chords - this dissolves into some discursive music where oboe and strings vie with each other to gain the upper hand. Much of this first movement is quite reflective. The harmonies are rather astringent yet there is a sense of Arcadian pastoralist even amongst this Bartók-tinged music.
The second movement continues the meditative mood. This is the heart of the piece. There is no sense of the archetypical 'cow leaning over the fence' here - but neither does the prevailing modernism destroy the pervasive sense of Englishness. There is even a hint or two of folk-tunes - perhaps a nod in the direction of her composition teacher Ralph Vaughan Williams.
This folk idiom comes to the fore in the last movement. The programme notes refer to the suggestion of 'moto perpetuum' about the music. True, but there is still that strain of melancholy that has suffused the entire work. And lookout for the exciting cross-rhythms that cause considerable technical difficulties to the performers. However George Caird and his friends certainly seem to iron out any problems. The movement finishes with reminiscences of what has gone before.
Sir Arthur Bliss is not really that well represented on CD considering his position in the pantheon of British Music. His magnum opus the Colour Symphony is only available in two versions. Strangely it is a chamber work that has the greatest number of recordings. The Pastoral for clarinet and piano is available in some seven versions. Yet it seems that nowadays Bliss is not as well regarded as he ought to be. Read and consider these words from an interview between George Caird and Jeremy Polmear: "...Arthur Bliss, is not really known for anything much these days, I [Polmear] ventured. Was he ever?" Fortunately George strongly disagrees. He points out that "in his day he was very well known as a virtuoso composer, with great facility and ease. This popularity may have contributed to his being made Master of the Queen's Music in 1953 ... his music is overdue for a re-exploration, and this [present] CD is a small contribution."
I have always loved Bliss's Oboe Quintet. It seems to me to evoke an age long past - perhaps from a time before the horrors of the trenches with which he was so well acquainted?
The work came as a result of the composer's relationship with Mrs. Elizabeth Sprague Coolidge. She was an American lady with great enthusiasm for modern music who was prepared to put her money where her heart was. Bliss was impressed with her patronage and intellectual grasp of music and had dedicated his Two Interludes (1925) for piano solo to her. And the respect was mutual: Mrs Coolidge commissioned the present work for the 1927 Venice Festival. Like all the pieces on this CD it was inspired by the playing of Leon Goossens who gave the first performance in that city with the Venetian Quartet. It is reputed to have gained an enthusiastic response from Alban Berg.
We can hardly imagine Berg using Connolly's Jig as a part of any composition – but of course some readers may be aware of an instance of the Austrian master resorting to Irish folk tunes in his works! But Bliss is quite happy to exploit this material for the finale of his Quintet. It is not as simple as making the band sound like a Celtic ceilidh. Bliss uses the theme as a mine from which to extract phrases and motifs to be tossed between strings and woodwind. Echoes from the first movement are heard before the work comes to a conclusion.
The first movement is written in loose sonata form. The easy-going opening theme is soon challenged by more intense and urgent material; however the movement ends with a quiet coda. Perhaps the heart of the work is the fundamentally gorgeous and inspiring Andante con Moto. This is everything we could possibly imagine English music to be. Perfect equilibrium between the soloist and strings, long-breathed tunes and delicious harmonies. The faster middle section looks both backwards to the opening movement and to the 'Irishry' of the finale. This is near perfect: I can never tire of this music.
Perhaps the fundamental beauty of this work is the balance that Bliss manages to achieve between competing styles and influences. There is no doubt that the impressionists in general and Ravel in particular are called to mind. But there are certainly many nods to the prevailing 'Georgian' pastoral imagery. Occasionally jazz is implied and perhaps something a little more astringent imported from Germanic countries? Yet the balance of styles is perfect. This is an extremely satisfying and ultimately beautiful work.
I must confess to not being Benjamin Britten's greatest fan - well at least in relation to the later works. My interest tails off after the Midsummer Night's Dream. In fact I am enthusiastic about the composer's early works and of course the Phantasy Quartet (1932) is one of these. There is no doubt that it is an extremely competent work for an eighteen year old composer.
It was written as one of a long line of 'Phantasies' for the Cobbett chamber music competition. Composers such as Vaughan Williams, Frank Bridge and Herbert Howells had already submitted works to this forum.
Leon Goossens gave the first performance at the St John's Institute in Westminster on 21 November 1933 to an excellent critical reception.
Britten uses the typical single movement form that W.W. Cobbett had specified although the work is divided into five sections. The overall structure comprises a fast movement sandwiched by two slow movements. Interestingly enough the middle andante is written for strings alone – the soloist not coming back onto the scene again until the closing pages.
It is hard not to notice the occasional nods to the English pastoral school or Britten's teacher Frank Bridge. Yet this is a work that is quite definitely the composer's own.
I do not intend to say too much about E.J. Moeran's delightful Fantasy Quartet. I intend to write about this work more extensively in the near future. However a few words are essential.
This work is the latest on this CD: it was commenced in the New Inn at Rockland St. Mary in Norfolk and was completed during 1946. In many ways this piece is a reflection on much that had happened in the composer's life – most especially his boyhood memories of the area.
A number of folk tunes have been detected in this work including Seventeen come Sunday and The Pretty Ploughboy – however it is not a set of variations on those tunes and not a setting of them. Rather they are used as a basis for the generation of themes and motifs.
Perhaps this is the easiest work to come to terms with on this CD. It is always a delight to listen to this very pastoral meditation. Of course, anyone who knows Moeran's biography will realise that by this time the composer was struggling with alcoholism and the effects of his war wounds. Further, his marriage with Peers Coetmore was in deep trouble. Perhaps the innocence of much of this mature and deeply felt work is to be understood against the composer's troubled life and subsequent death only four years later?
The greatest eye-opener on this disc is the work by Dorothy Gow. Now here is a name that is hardly known to music-lovers. She is certainly not a regular on Classic FM. Look at the CD catalogues and there appear to be none of her works available. There is only one entry in the British Library Catalogue and that is for a String Quartet. All in all there is not a lot of information with which to build an informed opinion.
A little bit of biography is essential here and I am relying on the sleeve-notes for most of the information about Gow.
She was born in London in 1893 and studied at the Royal College of Music with R.O. Morris and Ralph Vaughan Williams. Her compositional style was most influenced by her period with Egon Wellesz in Vienna.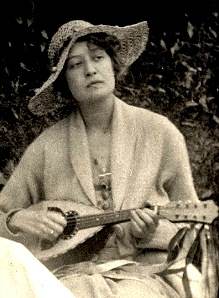 Back at the Royal College she formed a club with fellow composers Elisabeth Lutyens, Elizabeth Maconchy and Grace Williams. George Caird writes that due to her 'acute shyness, diffidence and ill health she never enjoyed quite the same success as they (her colleagues) did. However Ann Macnaghten has written that Gow was perceived as being a composer of 'great distinction whose work became widely known and now is in danger of being forgotten.' Elisabeth Lutyens wrote that she was 'utterly devoid of malice or ambition. Her talent is original and her ear remarkable and the few works she has written are, to me outstanding.'
Listening to this Quintet it is impossible to imagine how a) it is not already part of the standard repertoire and b) a composer of a work of this stature remains virtually an unknown quantity.
I was a bit worried when I read that it was a serial work, what with her Second Viennese School credentials and study with Wellesz. But I need not have been concerned. It may be a perfectly constructed serial work but it never becomes hidebound by that particular compositional discipline. What she manages to achieve is what many so-called 'greater' composers have failed to do and that is to use serialism to construct the work but not to lose the listener's patience. In fact she manages to create a piece that is both emotionally satisfying and intellectually challenging. It is a lyrical work that displays great originality, technical prowess and sheer enjoyability.
The Oboe Quintet is in one longish movement although it is divided into four well defined sections. The theme or 'tone row' is presented by solo oboe after the opening string chords of the 'moderato.' One cannot but be impressed by the competent way that all the instrumental parts are written. There is a great sense of freedom - yet each 'voice' has its part to play. There is never a moment when the listener feels that the composer has resorted to padding. Instrumental colour lends great variety to the unity of this work.
Perhaps the highlight of the Quintet is the slow 'andante tranquillo' for the strings – it is in such contrast to the intensity of the opening pages. This is deeply moving music emerging from the very heart of the English tradition of string writing. Yet the technique used is one that harks back to both early music and to Wellesz: this is basically a string canon!
Just beyond the halfway point in this 14 minute work the music emerges into the sunlight of the 'scherzo'. This is where the soloist and the quartet earn their keep. This is technically difficult music – yet it never sounds pretentious. Soon the mood of the slow movement is recovered and this leads to a reflection on the opening material. The last few moments of the Quintet are once more quite intense – yet it ends on a positive if restrained note.
There is no doubt in my mind that this is a masterpiece – both of the composer, but more importantly in the genre of British chamber music. It is a work that both needs and deserves to be recovered for the repertoire. It would not be too much to say that this is a work of genius – and I never use that word lightly. And one last thing – the remaining works of this remarkable composer need to be unearthed and re-appraised as a matter of considerable urgency.
This is a lavishly produced CD. It feels good. The cover picture is from an elemental painting by Duncan Grant called 'Dancers'. The programme notes are extensive – some ten pages of close-written text describes the works and the performers in some detail.
The sound quality is perfect – every note counts. The playing is absolute inspiring.
If it is just for the Dorothy Gow I would suggest that you drop everything and rush out to the shops to buy this CD today!
John France
BUY NOW