Ronald Malcolm FINCH (1920-1992)
A biographical outline by Averil Davies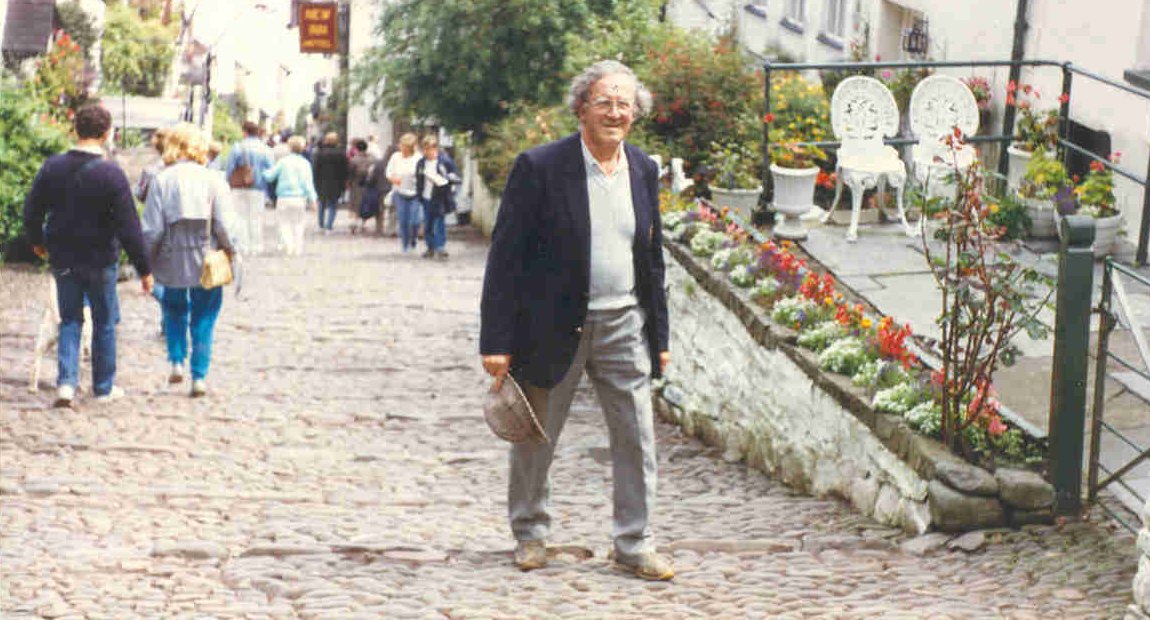 [Ronald Finch in Clovelly]
Ronald Finch was born in March 1920 in Hornsey, London, the son of a railway clerk William Finch who also played as an organist in a local parish church. Indeed music seems to have been a strong background in the family as his grandfather John Finch is recorded as being a musical instrument maker.
Ronald excelled in music from his schooldays at Slough Secondary School, gaining a scholarship to the Guildhall School of Music and Drama where he studied composition with Alan Bush and Gerald Finzi. Like many of his contemporaries in the arts at that time, he did not go into active service but he did manage to find some labouring work in Essex, and later joined a group of like-minded friends in the downs near Newbury, Berkshire. In the years 1945, 1946 and 1947 Ronald was awarded scholarship and licenciateship prizes for Composition from the Guildhall School and upon graduating he was becoming recognized already as an accomplished composer and pianist. His instrument of choice when he played in ensembles with fellow musicians was the oboe/cor anglais. The oboe in fact features in much of his work and he played oboe for pleasure for many years in the Bedfordshire Symphony Orchestra.
Ronald had an intensely felt passion for music and the seeds of many of his works were nurtured in his Guildhall days. He was also an accomplished linguist with a natural flair for the understanding of the roots of words and languages. He spoke Russian, Danish, Spanish and French, and had a deep interest in early English poetry. It is also interesting to listen carefully to some of his music and hear influences of his other love, Russian Folk Song. This love of languages naturally led Ronald to travel and this he often did to gain inspiration but also to indulge his favourite hobby, ornithology. He visited Russia, Denmark, France and Spain, also he enjoyed Malta which is well known to bird lovers as a place rich in various species which halt on their long migratory journeys.
During the next few years after graduating Ronald married and he was gaining a reputation in the musical circles of the time with his own compositions which were well received in performances by various ensembles and orchestras. His wife Jean had a fine soprano voice and would sing many of the songs Ronald composed. They also enjoyed visiting musical events, such as the Three Choirs Festival at Gloucester, where they were enthralled to meet the great Vaughan Williams. At a Christmas concert held at Laverstoke Mills in November, 1951, the programme included Ronald's song "Love's Secret" sung by tenor David Galliver and accompanied by the Newbury String Players, conducted by Gerald Finzi.
At Chelsea Town Hall, April 1952, The Haydn Orchestra, led by Leonard Friedman, conducted by Harry Newstone, gave the first performance of Ronald Finch's "Fugue For String Orchestra".
The programme notes for this performance written by Harold Truscott, give a good indication of the developing direction of Ronald's work:-
"Ronald Finch studied composition at the Guildhall School of Music with Alan Bush and Gerald Finzi. He is a slow and extremely self-critical writer and although he has a respectable list of compositions to his credit a good half of these he regards as merely formative and of no other value. Among recent works are the Four Tenor songs with strings, a Fantasia for String Orchestra, a "Festival" Overture for full orchestra and lastly, the present work, which was completed in February of this year. He has chosen what is obviously, today, the most difficult path in the formation of an apparently natural style.(No style ever is "natural" in its beginnings-it has to be found gradually from the work of one's predecessors and the imperceptibly growing consciousness of one's own personality.)
"This is to steer one's boat between the rocks of archaism and the shoals of an out-of-date extreme modernism. Ronald Finch has achieved this feat with convincing success in both the Overture and the Fugue for Strings, and his language now needs only the application to wider and still deeper thought.
"His Fugue is a beautiful piece of string texture with a subject of an original cast. Rhythmically, it is a 4/2 or an 8/4 arranged in two groups of three plus a two; this offers many opportunities for profitable development, and these the composer has seized with both hands. An interesting clue to the spirit of the Fugue is indicated in the tempo heading- Allegro Ritmico (alla Rhumba)."
Ronald Finch's works continued to be performed and he had several works aired on the Radio throughout the 1970s and 1980s, for example a Northern University Concert from Lancaster on 9 May 1974 featuring the Delmé String Quartet with Derek Wickens (oboe), the "Quintet for Oboe and Strings".
In 1989, after Ronald had unfortunately suffered a mild stroke, one of his oldest friends in the music publishing business, Hans Newman, would sum up Ronald's career thus:
"I have known Ronald Finch for nearly forty years. He is a composer I admire greatly. His orchestral suites, chamber music and song cycles speak with an individuality which is traditional and yet timeless. His pieces have been broadcast on many occasions.
"It is however as a music copyist and calligrapher that he has worked with me since the early 1950s. At that time I was in charge of music production at Boosey and Hawkes. Ronald copied the orchestral full scores, vocal scores and instrumental parts of difficult contemporary works, and his beautiful calligraphy, his profound musical knowledge, his reliability with regard to the usual deadlines, and his kindness and advice to less able colleagues soon became well-known among music publishers and copyists alike. Most of Ronald's working life was spent in the preparation of scores for Oxford University Press, such as Walton and Vaughan Williams. He spent many hours at the home of Gerald Finzi working on the major work "Intimations of Immortality". He also prepared the material for several courses for the Open University.
"Ronald also had a long working relationship with Schott's where for instance his score of Michael Tippett's "Double Concerto" was greatly admired. For Faber Music Ronald prepared the score of Benjamin Britten's "Curlew River", another great calligraphic achievement. Ronald also worked for Novellos, helping them in the preparation of some of their educational music.
"Finally, I want to mention Ronald's work for me. For the last thirty years I have handled some of the production requirements of G. Schirmer (New York), Peters Edition (Frankfurt), Barenreiter (Kassel), and Schott's (Mainz). Throughout this period I employed Ronald as a copyist of extremely complex modern works. I cannot speak too highly of his devotion to his craft, of his professionalism and reliability in the world of music publishing, where these qualities are not always to be found."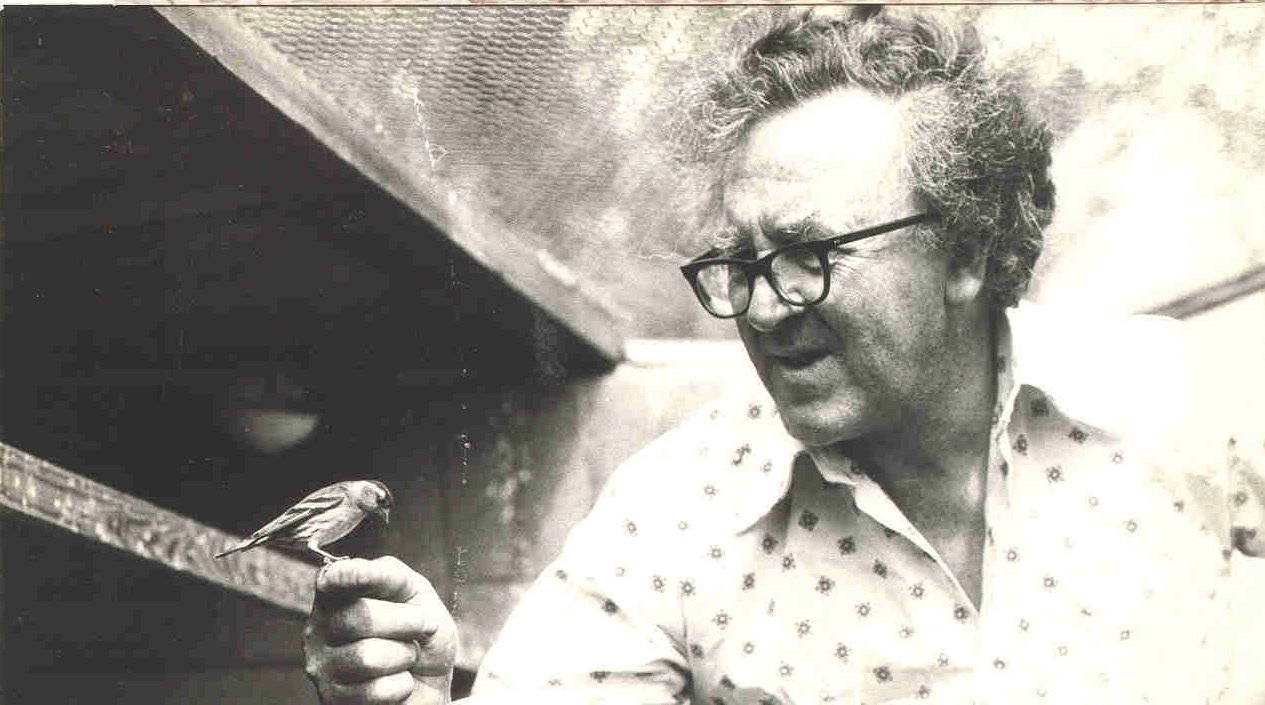 [Ronald Finch with pet siskin]
In his later years Ronald Finch lived near the Fenlands, near Peterborough in Cambridgeshire. Two of his later works in particular show a poetic and maturing style, encapsulating his obvious love of the wide skies and sometimes stark beauty of the Fenlands. These are: "Ivel Spring" which is about the wild life around the river Ivel, a small tributary of the Bedfordshire Ouse; and, "Holme Fen" where he has witnessed sudden winds whipping up the peaty soil and disturbing the calm, darkening the sky and silencing the birdsong temporarily. These works are tone poems with a palpable sense of the spirit of the place; and they bring me closest to the memory Ronald Finch, my father.
The following is a catalogue of Ronald Finch's work for which scores exist, though much to date remains unpublished:-
Quintet or Fantasie Quintet for Clarinet in A and String Quartet (1945)
Fantasia on a Nursery Theme (incomplete) (1958)
Capriccio for flute, viola and harp (1955-56)
Scherzo for string orchestra (1956)
Two Themes and Variations on Mozart, arranged for 3 clarinets in B flat (1960).
Trio Movement. John Stanley, arranged R.M.F. score for flute, oboe, piano (1961)
Wind Quintet for flute, oboe, clarinet, horn and bassoon (1979)
Quintet for Oboe and Strings (1974)
Romanza for solo viola and string orchestra (published) (1980s?)
Romanza for solo clarinet and string orchestra (published) (1980s?)
Colloquy for cello and piano (1971).
Divertimento (1977)
Europa Overture (1971)
Scherzetto for recorder quintet (1964)
Concerto for oboe and strings (1974)
Suite for Two Treble Recorders
Danish Festival Overture (recording in Sound Archive of British Library) (1951-78)
Festival Overture for Full Orchestra (1951-78) (possibly early version of Danish Festival Overture) (recording in Sound Archive of British Library)
Suite for Small Orchestra (recording in Sound Archive of British Library) (1983)
Conversation Piece for oboe and piano (1983)
Concertino for violin and string orchestra – After Organ Voluntary of John Stanley
Dance Movement for String Quartet
Intermezzo and Scherzo for string orchestra
Ivel Spring for orchestra (recording in Sound Archive of British Library) (after 1980)
Holme Fen for orchestra (worked on during 1980s)
Russian Folk Songs arranged for full orchestra and baritone (1983)
Songs of Mortality (1982)
Four Love Songs or Young Man's Fancy (1951-54)
Wassail Song (published) (1960-61)
Hilarita (1960-61)
Sunday Songs (1960-61)
The Lark (for Jean) for mezzo-soprano, clarinet and strings or piano (1950s)
Slumber Song of the Madonna (published in a book of carols)
Fugue for String Orchestra (score not found) (1950s)
Fantasia for String Orchestra (score not found) (1950s)
Compiled by Averil Davies, February 2006