Little is heard of this lesser French composer/arranger. Berté produced a series of mediocre operettas before adapting Franz Schubert's Viennese music to produce an operetta based on social and romantic interludes in Schubert's life. The show was adapted for opening in London a year later as Lilac Time, and later still in New York as Blossom Time. In the London version produced by Dion Boucicault, a few characters were changed: the three daughters of Mr. Veit were changed from Annette, Jeanette and Nanette to Tilli, Willi and Lili, for example. Minor changes in Lilac Time from Berté's music were carried out by G.H. Clutsam. All three productions were a success with plots essentially the same, and all circa 1826.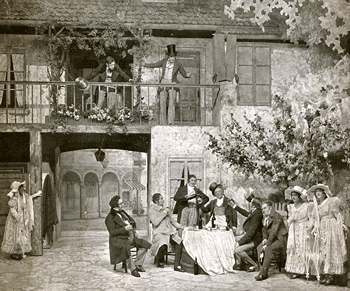 Of the singers, Aimé Doniat and Lina Dachary complement each other admirably in their Act I duet, with Doniat displaying tenderness and good legato. The trio Annette, Jeanette and Nanette have a pleasant balance to their important trio, while secure singing from Gaston Rey and Germaine Parat (M. & Mme. Muhl) reveals warmth and passion in their Act II duet.
Perhaps Berté's finest contribution is his adaptation of Schubert's delightful Rosamunde music for a choral number and an episode in Act II. Its choral setting is excellent. Many of the songs tend to be unfamiliar until one gets to the chorus/reprise. Those who know Schubert songs inside out may well be more aware of threads that are not immediately obvious. Berté's orchestration is more than adequate to enrich the singing. With a sizable cast list one can expect much variation in style, and this tends to be the case. Few of the characters are provided with solo contributions, however. As with other Opérette productions, there are substantial passages of French dialogue; up to six minutes on one track. Welcomed by speakers of the language, who can follow the continuity of the piece, it can become tiresome for other listeners. Disc timings seem to match those of a double LP and it is a pity that the full Overture, Prelude to Act II and the Dance of Bridesmaids and children are omitted in this recording.
The notes are provided only in French.
Raymond J Walker
BUY NOW