Other Links
Editorial Board
UK

Editor

s

- Roger Jones and John Quinn

Editors for The Americas - Bruce Hodges and Jonathan Spencer Jones

European Editors - Bettina Mara and Jens F Laurson

Consulting Editor - Bill Kenny

Assistant Webmaster -Stan Metzger

Founder - Len Mullenger
Google Site Search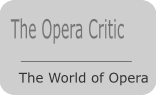 SEEN AND HEARD UK OPERA REVIEW


Samuel Barber, Vanessa: Opera in Three Acts (1958). Sung in English with surtitles. Soloists, Chorus and Orchestra of the Royal Northern College of Music/Gareth Jones (conductor), RNCM Theatre, Manchester, 24.3.2011 (RJF)
Directed by Stefan Janski.
Set and designer: Francesco Rodriguez-Weill.
Lighting designer: John Bishop.
I have never ceased to be amazed by the choices of challenging repertoire the School of Opera and Vocal Studies at the RNCM makes in respect of the twice yearly staged productions they present to showcase singer students. This particular choice caused my mind to go back to the 1960s when the College was simply the Royal Manchester College of Music with productions presented at the University Theatre in Devas Street. Nowadays, the RNCM, as it now is, has a fully equipped opera theatre. Its facilities are used for the opera productions as well as for other concerts and recitals. For me it has always been a centre of excellence and in those far off days the challenging choice of repertoire was the basis of at least one of my specialist fields of interest. I think particularly of my introduction to bel canto with I Capuletti e I Montecchi in 1967, Norma (twice) and La Sonnambula, the latter with Anne Dawson in 1981, whilst the performances of Falstaff, Ernani and Don Carlo help to build my knowledge, understanding and enthusiasm for Verdi. All were great challenges for young singers and perhaps none more so than Die Meistersinger.

Another principal has been evident throughout; if you have got it flaunt it, particularly when it comes to an outstanding talent. I think of Joan Rodgers as Pamina, a performance that slotted her in to the Orange Festival, of Cosi fan tutte in 1988 and Alcina a year later that brought Amanda Roocroft's talent to the fore. Over the past few years another outstanding talent, carefully nurtured, has emerged in the voice and acting ability of mezzo-soprano Kathryn Rudge. After winning the prestigious Kennedy Award for Strauss singing she has won many other awards including the major college award named after Frederic Cox, a renowned teacher at the College. The careful nurturing that is part of the practice at the RNCM led to Miss Rudge, after an early Cherubino in 2007 (see review), being cover to another mezzo student who will represent Australia at the forthcoming BBC Cardiff Singer of the World competition in the performances of La belle Helene (see review) where the tenor in this performance also featured. The two mezzos appeared together in last year's acclaimed La Clemenza di Tito, as did the tenor (see review). Recognising the challenge to a young singer, but also her potential, the RNCM then cast her as the eponymous Carmen last December. Despite the long list of challenging works the College had presented over the last fifty years, some of which I have touched on, this was their first ever Carmen. As my review indicated Kathryn Rudge's acted and sung interpretation was a considerable achievement per se and even more formidable for a young singer.
All the roles that Miss Rudge has sung in the RNCM's previous productions have at least one common feature, they involve singing to music with a distinct and recognisable melodic line to follow and on which the voice can sit. Samuel Barber's opera Vanessa comes from a much later period where rather architectural musical structure makes significantly different, and to my hearing more difficult, vocal demands on the interpreters. Written to a libretto by Gian Carlo Menotti the work was premiered at the old Metropolitan Opera House New York in 1958 and Barber won one of his two Pulitzer prizes for it. Great conductors and singers have championed Vanessa, but after a reasonable Internet search I can find no trace of an earlier British performance although Chandos has recorded the work in Britain with Leonard Slatkin conducting the BBC Symphony Orchestra (issued on CD on Chan 5032). Barber was honoured in his own land when asked to compose an opera for the opening of the new Metropolitan Opera House where his Antony and Cleopatra was premiered on September 16th 1966. To his chagrin Barber's music was somewhat overwhelmed by Zefferelli's grandiose and complex sets with the work failing to receive the merit it deserved, a factor in his subsequent depression.
Francesco Rodriguez-Weill's set for this production used the stage to present a large curved elegant drawing room in which all the action takes place. A large, curved, suspended mirror reflected the emotions of those in the evolving rather bleak story that concerns the eponymous Vanessa and her relationship with her niece Erika, and that of the two of them with a man called Anatol. The elderly austere grandmother and a sympathetic Doctor complete the main soloists.
As the younger woman Erika, the lady who is seduced by Anatol shortly after his arrival and who has constant doubts about their relationship, Kathryn Rudge was an even greater mistress of the dramatic demands of the role than in her previous RNCM performances mentioned - a considerable achievement having in mind the difficulties presented by the music and its distinct and difficult vocal line. She sang with strength, expression and dramatic intensity using her wide palette of vocal colour to the full. Importantly, her acting contributed significantly to create a notable interpretation. In the eponymous role the Spanish soprano Maria Miró matched Miss Rudge in vocal strength, expression and acted involvement as she realised the risk she was taking with this younger Anatol. As the austere, bent, cane rapping baroness, Ivy Mak contributed a fine cameo whilst Andrew fellows created a believable Doctor whether tipsy or as caring friend.
I have left the tenor lead until last. I was greatly impressed by Sipho Fubesi in La Belle Helene with his flashing eyes and comic faces, but less so of his Titus and also when he failed to convey, in both his vocal and acted portrayal, the gradual disintegration of Don José until in desperation he stabs Carmen. In this performance his demeanour and acting got under the skin of the role to a greater extent, conveying the equivocal character of doubted lover and husband whilst aware of what he and his older wife would be leaving behind as they go off to set up home in Paris leaving Erika behind to solitude with the baroness' silence forever condemning her seduction by him.
As always, this RNCM production was under the skilful direction of Stefan Janski. I frequently eulogise his consummate directorial skills; he is imaginative in what he does and never takes his young protegés beyond their limitations whilst fulfilling their hopes and expectations and those of the audience. Gareth Jones drew a professional response from his student orchestra to reveal the many colours and drama of Barber's score.
As to this cast of singers, Kathryn Rudge leaves RNCM after seven years, a training as long and rigorous as that for medicine. I have no doubt she will make a successful career in a very competitive profession, both on the stage, as an accomplished singer actress and also in recital. I was pleased to enjoy her expressive skills and diverse repertoire as the School of Operatic and Vocal Studies representative at last year's Gold Medal weekend. From Miss Miró's programme biography, I cannot quite make out if she, a qualified Doctor, will return to the RNCM after her stay and performance as Fiordiligi in Weimar in September. Hers is a talent and a voice to watch out for. Sipho Fubesi's tenor voice has sufficient promise to secure a career in his home country of South Africa.

There are further performances on March 30th and April 2nd at 7.30pm and on Sunday March 27th at 3.pm.
Robert J Farr