Other Links
Editorial Board
Editor - Bill Kenny
Assistant Webmaster - Stan Metzger

Founder - Len Mullenger
Google Site Search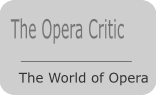 SEEN AND HEARD UK OPERA REVIEW

Mozart, La Clemenza di Tito: Sung in Italian with surtitles. Soloists, Chorus and Orchestra of the Royal Northern College of Music /Garry Walker (conductor) Royal Northern College of Music. RNCM Theatre, Manchester 16.3. 2010 (RJF)

Directed by Stefan Janski. Set designer, Simon Rostrand. Costumes designer, Elaine Needham.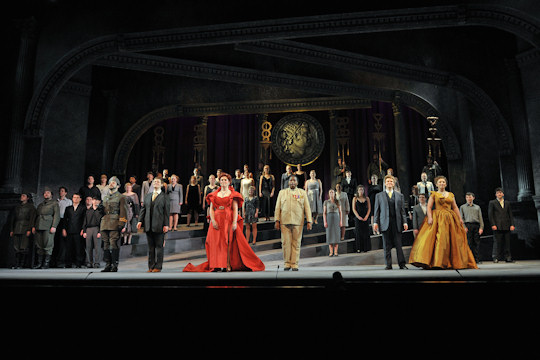 Production Picture courtesy of RNCM


The history of opera composition is full of strange coincidences and quirks and two of the greatest opera composers ever, Mozart and Verdi, share the unlikely similarity of each having composed two utterly different operas simultaneously. The first act of La Traviata was composed contemporarily with the later and amended portions of Il Trovatore because Cammarano, Trovatore's original librettist had died suddenly, bringing about the necessity for new verse from Emmanuele Bardare. The upshot was that Verdi had only six weeks between the premieres of the two operas.

With Mozart the circumstances were different. Following the death of the enlightened Emperor Joseph II, who had commissioned Così fan tutte, Mozart's source of operatic patronage in Vienna dried up, particularly because the Emporer's successor, his brother Leopold II, had no interest in the arts. Ever in a parlous financial state, Mozart welcomed Emanuel Schikaneder's suggestion that he compose a magic opera for Schikaneder's Theater auf der Wieden situated just outside Vienna. This was a popular people's theatre holding around one thousand which mounted productions featuring elaborate machinery, live animals, spectacular lighting and scenic effects. These were interspersed with topical jokes in the local patois, and songs to suit an unsophisticated audience. The work was to become Die Zauberflöte Mozart's last and most sublime singspiel.

As Mozart worked on the composition of Die Zauberflöte an altogether unexpected commission came his way. Following Leopold II becoming both Emperor of the Austrian Empire and the Holy Roman Empire simultaneously, there were various Coronation ceremonies, one of them in Prague. To his amazement Mozart, who knew he was not flavour of the month at the Royal Court, particularly with the Empress, was surprised to be approached by the impresario Guardasoni with a commission to write an opera for the new Emperor's Coronation Day in Prague on September 6th 1791. The decision to stage an opera had been made rather late in the day and Salieri, the Court composer and a Mozart rival, refused the commission due to pressure of other Court work. It was decided to use a Metastasio libretto written in 1734, since a story about the innate goodness and generosity of an Emperor was particularly apposite for the occasion. After some adaptation of the Metastasio libretto the work became La clemenza di Tito. A mere eighteen days later Die Zauberflöte was also premiered on 30th September.
What is significantly different from Verdi's situation however, is the completely different genres involved. La Clemenza di Tito is in the rather static opera seria form. Mozart last work in the genre had been Idomeneo in 1781 since when his operas had moved on in style and vitality as well as humour, particularly in the Da Ponte trilogy. The revised libretto did allow Mozart to breathe some life into Metastasio's original and break away to some extent from the constraints of its form but despite his best efforts, circumstances surrounding the Coronation Day performance led to the work's initial failure. However, by the final performance on September 30th, the night of the premiere of his singspiel in Schikaneder's theatre in Vienna, La clemenza di Tito had become a resounding success. In the following forty years, it stood alongside Don Giovanni as Mozart's most popular stage work after which it fell into decline. A Decca recording in 1967 (see review) and a Covent Garden production by Anthony Besch in 1974, conducted by Colin Davis, helped revive the opera so that it is now featured from time to time on stages worldwide.

When the RNCM presented the operetta Die Fledermaus (see review) Director Stefan Janski noted that operetta offers different but related challenges to a more serious work or even opera buffa, particularly in its mixture of sung and spoken dialogue, often lengthy and accompanied by amusing or confusing situations. The singers not only have to digest the words, but also the finer nuances so important to the evolving situations and complications, whilst holding the audience's belief in the often implausible story. But if operetta is difficult, surmounting the singing and staging of Opera Seria in a meaningful way is many times more so. The production team here chose to update the costumes, but place the action in a distinctly Roman setting. Using curtains drawn across the front of the stepped rear stage, the public occasions in the opera were made distinct from the more intimate exchanges between the individuals involved in the story, as Tito first believes he has been betrayed by his friend Sesto and ultimately forgives him. Most of these exchanges, in solo and various combinations, were sung towards or at front stage - wholly appropriate as they are often in reality of form, complete concert arias.
The music is mature Mozart, full of complex vocal challenges, as the composer believed would be fitting for the cast of singers at the Coronation premiere. But there is always the problem for any cast of breathing life into the recitatives as well as creating and conveying the joys and agonies faced by the characters in the arias. I managed to see the Covent Garden production when it came to Manchester in 1983 with an outstanding cast in which Diana Montague's shapely leg more than compensated for Stuart Burrows' rather matronly presence in a toga. I mention this because any successful opera seria, let alone this one, needs that standard of combination of singer and staging to make it wholly believable. In the Decca recording, the two mezzo-trouser roles are sung by Teresa Berganza and Brigitte Fassbaender no less.

While the solo casting calls for the friends Sesto and Annio to be sung by mezzo-sopranos en travesti, the role of Vitellia calls for a dramatic soprano and Annio a lyric soprano. Dressed in up to date male attire, the two mezzos had the hardest task in creating their characters. Both Helen Sherman, who sang the title role in RCNM's production of La Belle Hélène (see review) last December as Sesto, and Kathryn Rudge, who was the cover in the same production as well as an admired Cherubino in 2007 (see review), sang their roles with great vocal confidence, fluency and nuance as well as facility in Mozart's demanding and wide ranging writing. Despite the modern male dress doing little to assist them in creating believable characters, it says much for the RNCM's tuition that both Miss Sherman and Miss Rudge achieved a more than satisfactory standard in these singularly demanding roles. (A minor point, is Miss Sherman's tendency to stand, and sometimes sing, with her head slightly to one side which I found distracting, particularly when trying to convey her characters varied emotions.)

Lorna James sang the role of the jealous Vitellia with strength and vocal vibrancy. In an appropriate scarlet dress in Act II, hers was a young dramatic soprano voice in the making. Aided by her costume and subtle vocal nuance she created a viable character throughout - although with still some work to do on the evenness of her vocal projection. As Servilia, Sesto's sister and in love with Annio, Alison Rose, still an undergraduate, sang with pleasing lyric tone and created a very sympathetic character through her demeanour on stage as well as her phrasing, diction and warm tone.

The men in the cast were more problematical than their female colleagues. I had expected more vocal fluency and ringing tone from Sipho Fubesi as Tito since his acting in La Belle Hélène had been most impressive: perhaps trying to convey character without use of hands, posture or by means of his flexible facial expressions and flashing eyes inhibited his singing somewhat. Tito's costumes had him looking either like a South American military dictator replete with medals, or a Mafioso in suit and lacking only shades, and detracted from the character. Standing in profile, with jutting jaw and stern expression as pleas were made to Tito to show mercy to Sesto, Sipho looked more comic than plausible. And as Publio, Andrew Fellows was too bland and lacked vocal power and tonal sonority.
In the pit Garry Walker, who won the Leeds Conductor's Competition in 1999 and currently Permanent Guest Conductor of the RPO had an assured grasp on presenting Mozart's mature music. Most importantly, he kept the stage and orchestra in perfect sync whilst supporting his young singers and moving the drama onward. The students in the chorus were vibrant of voice and fully involved in their supporting acted roles, directed with his usual attention to detail by Stefan Janski.

There are further performances on 16th, 24th and 27th of March at 7.30pm and a matinee on 21st at 3pm. Mozart lovers and supporters of the College's endeavours should catch it while they can. Otherwise plan a trip to Salzburg, as I guess La Clemenza di Tito will not get another airing in Manchester for another thirty years or so and the chances of having the travesti roles sung as well as they were here will be equally remote.
Robert J Farr