Other Links
Editorial Board
Editor - Bill Kenny
Assistant Webmaster - Stan Metzger

Founder - Len Mullenger
Google Site Search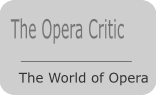 SEEN AND HEARD UK OPERA REVIEW

Welsh National Opera On Tour - Spring 2009:Theatre Cymru (North Wales Theatre), Llandudno, 9-13.3.2010 (RJF)

Mozart - DieEntführung aus dem Serail - Sung in German.
Puccini - Tosca. - Sung in Italian.
Bizet - Carmen -Sung in French.

Welsh National Opera's Winter season, at both the home theatre in Cardiff and the extensive touring venues including the first stop at Theatre Cymru Llandudno, continues the recent practice of two revivals and either a new, often shared, production. It is a policy that makes sound economic sense in the current climate and allows for reserves to be built for the more adventurous days scheduled ahead. With a new Musical Director finding his feet, these become more apparent in the 2010 – 2011 schedule with new productions proposed for the Autumn and Winter seasons. But all is not good news regarding the touring schedules. With budget from the Arts Council still not determined, it's a case of cutting to suit and the bad news for touring venues, if the Autumn 2010 and winter 2011 schedules proposed for Llandudno are followed elsewhere on the normal tour schedule, is a reduction in both performances and repertoire.

I can only hope that the forecast of doom for the arts and academe foretold by Richard Morrison, eminent critic and columnist of The Times (February 14th), which will inevitably come whichever political party is returned to power, will not restrict Welsh National Opera's programming even further. Audience loyalty and commitment are built up slowly and are lost rapidly. That loyalty at Llandudno was reflected in the very full houses for all the performances given during this week int the North Wales resort theatre which might well consider itself the Company's second home.
Die Entführung aus dem Serail (The Abduction from the Seraglio)
Mozart had already had significant success with his youthful Il re pastore and La finta giardiniera, both presented in 1775, when he seems to have got into the singspiel mode, a work of musical numbers interspersed by spoken dialogue, in the 1779-1780 Salzburg winter with the revision of La finta giardiniera into Die gartnerin aus liebe. Te revision involved the replacement of the sung recitative by spoken dialogue but he then went further and began the composition of a further work in this genre. Perhaps influenced by the contemporary craze in Austria and Prussia for all things Turkish, the ever-competitive Mozart might also have been keen to upstage Gluck's harem opera La Recontre imprévue which had been a runaway success after its Viennese premiere 1764. It is not known if Mozart was commissioned to write the work or what the provenance of the libretto might be but after a while and with no prospect of a staging, Mozart abandoned Zaide, leaving it without overture or final denouement of a second act finale.

Whilst Mozart might have been frustrated by the lack of opportunities for singspiel, the summer of 1780 brought the commission for a new opera seria which became Idomeneo and was a significant success. Gottlieb Stephanie, Stage Director at the Burgtheater had been impressed with Zaide and had also promised Mozart a new libretto that would be even more congenial to him whilst also having a Turkish theme. This was Die Entführung aus dem Serail or The Escape from the Harem in English. Mozart was greatly taken by the libretto and composed with enthusiasm. In the work Mozart does not hesitate to include elaborate arias and complex textures in the orchestra. Die Entführung aus dem Serail, premiered on 16th of July 1782 remained his first outstanding success, its music full of invention and vitality as well as significant vocal challenge for the heroine.
Mozart's concern for the Turkish theme underlies the whole work and the many additions he made to the original libretto supplied to him. The complete failure of this idiosyncratic WNO production however is that it is updated to 1920s complete with costumes of the period. The only faintly oriental patina comes with Osmin's costume and the four hijab-clad ladies who appear a couple of times. The Orient Express, on which the production is set, is represented by three cut away railway carriages which move sideways to reveal a kitchen, plush lounges etc, and a large map, showing the supposed journey from Paris to Istanbul and beyond, all of which are is largely irrelevant to the plot. Even so, I had hopes that the performance would avoid the banalities and slapstick visited upon the work by Opera North in their recent production (see review) but this was not to be. Although the Pasha's prisoners did not leave by airplane, I could have done without the silly sheet ladder which dropped down from the top of the moving carriage as Belmonte and Pedrillo supposedly clambered along its outside to their beloveds in the lounge.

Good singing and acting though can rescue even relatively immature Mozart, but unlike the Opera North production, which fielded more than adequate singers as Belmonte and Konstanze, this was not the case here. Robin Tritschler's tenor had neither the vocal mellifluousness nor strength required and in his chequed suit, he looked like a Daily Express animal of yesteryear. Lisette Oropesa was seriously miscast as Konstanze, her 1920s garb not helping the creation of a character in any way at all. Her act one aria did not portend well for the challenges of Marten aller Arten, which she had later to sing while having numerous gifts thrust at her by Pasha Selim.

The production was saved from complete disaster by the three other soloists. Petros Magoulas was a superbly acted Osmin who relished his low notes and the extra arias that Mozart gave the role. He was also the only character whose costume had any oriental connection and I liked his demise at the end after Selim gives Blonde her freedom. In that role, dressed like a waitress and largely consigned to the kitchen carriage, Claire Ormshaw was the other unalloyed success of the evening, acting and singing well and, creating a believable character despite what was happening around her. Dressed as a waiter, Wynne Evans as Pedrillo started poorly but improved to sing a nicely phrased serenade. Baritone Simon Thorpe as Selim spoke his words with commitment and nuance even though his lack of physical stature and western style suit, did not help erase memories of a tall appropriately clad Pasha from Glyndebourne in the mid 1990s, the last time I saw a sensible production of this often wonderful opera for which the set must have cost a lot less than importing the WNO's 'mess of pottage' from whichever location had been daft enough to hire it last. Billed as a New Production, it was actually first seen in Houston (where Anthony Freud, WNO's former General Director is now in charge Ed.) around 2002 and has since since been aired at several other venues. There is no accounting for taste, I suppose.

Lovers of Mozart's wonderful music, too many notes or not, would also have been disappointed by the conducting which was often flaccid and lacking much commitment and vitality.

Tosca

If the set for the Mozart was just silly, that for Puccini's 1900 success was absolutely right. Miracle upon miracles in these days of directorial 'concept', the composer himself would have recognised his opera. This set and staging contrasted completely with Opera North's effort, much liked by the London Critics but described by myself as 'plain daft' (see review). ON's act one church didn't have to be a look-alike of the Sant'Andrea della Valle, used in the 1990s filmed version, but it did not allow the proper entrance of Scarpia and the Bishop in the Te Deum. At least we got that here and in fact the set provided an excellent basis for the act, as did those for the other two. In that important respect at least, this was a good start.
Welsh National Opera's problems of last autumn struck again with the indisposition of the scheduled diva although her absence turned out to be no problem at all, with a performance that was pure vocal and acted gold. Who was the paragon that stepped in? None other than Naomi Harvey who sung Violetta in La Traviata last autumn and who had so impressed me on that occasion (see review). Alex Ferguson, of Manchester United fame, had a player he used to wheel out when in desperate straits and who would come up with a winner. He used to call him super sub which is what WNO should call Ms Harveyi. Her entrance lifted what had been a dire start from the Cavaradossi by several degrees. She has great presence for a start and is a considerable actress into the bargain. Her on key singing in Act I certainly helped Geraint Dodd get back a little vocal grace in the love duet but it was in Tosca's second Act confrontation with Scarpia where her sung and acted attributes came fully into play - lifting this performance to heights it did not entirely deserve. Her Act II prayer, Vissi D'arte vissi d'amore was sung with smooth legato, excellent phrasing and well-supported tone. In the conclusion to the act, after Tosca has stabbed Scarpia and asked 'are you choking on your blood' and with the extra lines about Rome fearing his step, her depth of tone and expressiveness made my remaining hair stand on end. Naomi Harvey fully deserved the standing ovation she received at her curtain for what had been a formidable portrayal. While the only virtue of Opera North's recent reprise of their ill-conceived production was the singing of Takesha Meshé Kizart in the title role - for which I suggested that she was the best Tosca I had heard since Leontyne Price - and while Miss Harvey's voice is more lyric and less spinto - but her sung and acted performances were truly formidable in her own distinctive and valid way. Lucky me then, to have heard and seen two such distinguished interpretations in the space of a couple of years both surpassing anyothers coming my way in the intervening forty or more.
If this Tosca knew exactly what her role was about, Robert Hayward's Scarpia certainly was in some confusion. When I first saw this WNO production in its early years, its Scarpia was portrayed in what I might call the Gobbi tradition - sustere, cold, upright and brutal in his determination to get what and who he wanted. Hayward and the revival director however seemed to have imported some of the psychiatric clutter from the singer's interpretation for Opera North. Is Scarpia having difficulty controlling his testosterone, or experiencing mini-convulsions periodically? Does Mr Hayward know what these physical actions are about? As it stands, they leave Scarpia as less the fearsome figure the story and opera and its music tell. Hayward is in period costume and even a proper wig, but he played the role as if he was in his Opera North boxer shorts! And like his interpretation in the same production, his singing was strong but rather monochromatic.

Elsewhere Julian Close sang and acted well as Angelotti with the other lesser roles also well taken. On the rostrum Lothar Koenig's conducting was not particularly sympathetic to Puccini's lyrical lines and melodic invention.

Carmen
The production of Carmen, shared with Scottish Opera, was by Patrice Courier and Moshe Leiser and first seen in 1997. Compared with many other productions by the pair which are often garish with excess colour, this one is the opposite, except for the blood red drop curtain in front of which the finale of Act IV was played. Elsewhere, darkness and drabness were the order of the day kitted out with a few stage props. For Act I these consisted of white painted school chairs within a shoebox of large drab painted vertical flats, but at least that was adequately lit. There was no attempt to set the scene outside a cigarette factory or even to give any feeling of Spain. Act II at Lillas Pastia's tavern was very dark indeed and the furniture could have been from any Pizza Express. The mountains Act III were non-existent, but the darkness did allow the one piece of imaginative theatre as the smugglers arrived and made their dramatic way forward. The drama of Act IV though was lost in the manner of its presentation in front of the semi-lowered drop.
If the sets, direction and overall gloom were a disappointment, the orchestral playing, conducting and singing of the soloists and chorus were not. The singing highlight of the evening must go to Patricia Bardon's Carmen. Her lowish mezzo was pure in legato, expressive in nuance and wholly involving in characterisation. I first heard her as in Opera Rara's recording of Rossini's La donna del lago recorded live in Usher Hall, Edinburgh on August 18th 2006 (see review). In this performance it was a pleasure to note her well controlled acting which, added to her singing, made hers an interpretation to treasure in memory as quite outstanding. She has recorded the role for Chandos in their Opera in English series and for those who do not mind their opera in the vernacular this is well worth buying. If her Don José, in the tall and ample figure of Gwyn Hughes Jones, did not wholly match his Carmen and his Flower Song did not finish quite as he might have wished, elsewhere his committed and expressive lyric voice was a plus to the evening.
Further vocal pluses were to be found with Sarah-Jane Davies's Micaëla and David Soar's Escamillo. Very often, as with Liu in Turandot, the soprano cast as Micaëla is thin toned, wavery and lacking in vocal colour - this was definitely not the case with Ms Davies's full toned even singing to which she addes excellent interpretation and expressiveness. David Soar was his usual tower of strength vocally and histrionically as Escamillo, his aria a pleasure to listen to and his acted involvement elsewhere all that one might hope for. Frasquita and Mercédès were well portrayed by Joanne Boag and Carolyn Dobbin, who is also covering the title role and the minor male roles were all adequately sung.
In the pit Frédéric Chaslin set a fast pace in the overture and never let the drama drag, whilst also drawing brisk idiomatic tempi from his orchestra. The chorus, were as full toned and vibrant as ever and fully involved in their acting.
Postscript.

I thoroughly enjoy my visits to Llandudno's Theatre Cymru, but have become increasingly irritated by their policy of allowing latecomers to be escorted to their seats once the performance has begun. This reached a near catastrophic state of audience revolution close to where I was sitting on the evening of the performance of Carmen. A group of four late comers, led by an usher, were escorted from the back of the stalls area to clump down the steps between fifteen or so rows of stalls seats costing £40, no less than twenty minutes into the opera. If this was not bad enough, the intrusion was slap bang in the middle of Carmen's Habanera no less. It would have been no more than what the intruders deserved, and owed to the many audience members deprived of the pleasure of concentration on Miss Bardon's singing, if she had stopped the show and insisted on starting again.
I suggest that Theatre Cymru management review their policy in this matter and the training of their usher staff as a matter of urgency. Lyric theatre deserves better, as do the large number of the regular Llandudno attendees or WNO's opera performances. They are vital to the Company's finances and future and must help enormously to justify the theatre's presence in Llandudno.
Robert J Farr