Other Links
Editorial Board
Google Site Search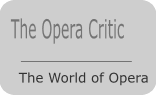 SEEN AND HEARD OPERA REVIEW

Opera North On Tour: The Lowry Theatre, Salford Quays, 4.11.2008 to 8.11.2008 (RJF)

Giacomo Puccini: Tosca (1900)
Vincenzo Bellini: I Capuleti e I Montecchi (1830)
George Gershwin: Of Thee I sing (1931)


Opera North celebrates its 30th birthday in the 2008-2009 season with nine main stage productions as well as concert performances of Elektra and it all started in Leeds on September 26th with a reprise of Christopher Alden's 2002 production of Puccini's Tosca and continued with new productions of Bellini's I Capuleti e I Montecchi and George Gershwin's skit on Presidential Elections, Of Thee I sing. The Company took these three productions on tour starting at Salford's Lowry Theatre and continuing at the Theatre Royal, Newcastle, from November 11th and concluding at the Theatre Royal, Nottingham, from November 18th, with each venue seeing two performances of Tosca and I Capuleti e i Montecchi and a single one of Of Thee I Sing.

Christopher Alden's Tosca, in a single permanent set by Charles Edwards, opened the Lowry season. Forget about any representations of Rome churches or castles or even Scarpia's elegant accommodation. The set looks like a junk filled outhouse which, I suppose, is the sacristry. Full of clutter, including a statue of the Madonna, a confessional, assorted chairs and tea making equipment as well as Cavaradossi's painting equipment, it is stark and is perhaps meant to outline the brutality of the story. However, Alden is not content to outline that brutality but to underline it. Adjacent, the Sacristan sits in his sacristan's office smoking, watching TV or selling lottery tickets throughout all three acts without a glance at the rape and murder taking place outside his window. Looking like a scruffy school caretaker he even smokes as he recites the Angelus and plugs in the electricity supply to mash his brew of tea – the electrical plug he uses has a more sinister application in act two as the source for Cavaradossi's torture. The confessional serves as the entrance to the Attavanti chapel.

Tosca is sometimes referred to as a shabby little shocker and when it comes to Scarpia's intentions in act two, he gets down to his boxer shorts and vest as he tears off Tosca's dress and attempts to mount her as she stabs him. There is no sign of the supper Scarpia sings about, and which normally provides the knife for the stabbing, his henchman willingly provides this, both Spoletta and Sciaronne being peculiarly present, and looking bored, throughout the whole of acts two and three. Scarpia was portrayed as a neurotic limping anorak wearing psycho perv, who suffers semi convulsions at points of frustration and expectation, and a full flat out stupor during Tosca's showpiece Vissi d'art; this is no haughty, terror–inducing, police chief. After the stabbing, Scarpia's body lies on stage throughout act three, which follows without a break. There was no formal firing squad execution of Cavaradossi, blink and you missed it – just the music told you it was done with, and there wasn't a balcony jump for Tosca, Sciarrone cold bloodedly shoots her in the head. For me there were too many idiosyncrasies and untied ends in David Alden's conception, many being all too obvious to the audience following the excellent surtitles, but, fortunately, these didn't extend to the singing.
Rafael Rojas's beefy tenor is becoming more baritonal in hue and was under good control. Well supported by Andrea Licata's tempi he phrased both his solos with elegance and good tone and even sang softly on occasions: the conductor was, in the best Italian tradition, always aware and supportive of his singers. Robert Hayward's Scarpia was strongly sung, but, with both the production detail and his costume robbing the role of some of its innate terror, there were times when I would have liked a fuller and darker tone to bring out Scarpia's saturnine nature. The best singing of the evening came from the American Takesha Meshé Kizart as Tosca. She looked very designer chic, arriving in act one carrying an appropriate bag, complete with shades, after some retail therapy. A good actress, it was her singing that most impressed, and hers was the best-sung Tosca I have heard for many a decade. Her vocal power, tonal lustre, variation of colour and evenness of phrasing over her wide range, reminded me of Leontyne Price at her best. This was an outstandingly acted and sung portrayal that was justifiably appreciated by the well-attended house at curtain.

For its second offering Opera North concluded its imaginative and varied Shakespeare season which has traken in Verdi, Gounod and Britten. Not that Bellini's Capuleti e I Montecchi owes anything to Shakespeare for Romani's libretto is based on a source predating the Bard's play and the story is much the same varying only in details that any opera librettist worth his salt might have altered anyway. Bellini comes from the period of the primo ottocento, the first fifty or so years of the nineteenth century in Italy, which threw up an unrepeated cluster of operatic composers writing works to meet the demands of every Italian city, each having two or three theatres, the most prominent being Rossini and Donizetti and Bellini. However, Bellini's fame rests on five of the mere ten operas he composed before his premature death aged thirty-three. The primo ottocento was the period of bel canto, or beautiful singing and the concern of composers was to write works of vocal display that pleased the audience and the singers, who were often paid more than them, rather than serve the dramatic demands of the story. If the singers didn't like what was composed they would insert arias or scenes from another work – even by another composer – if they thought it better displayed their vocal prowess; Maria Malibran, in the role of Romeo, feeling that Bellini had not provided sufficient opportunity for her to display her vocal skills, interpolated the death scene from Nicola Vaccai's earlier I Capuleti e I Montecchi! Nowadays productions are more concerned by presenting what the composer wrote leaving deviations, even perversions, to the producer and designer and their particular concept, or vision, of the story.

Inevitably, in this production the story was updated to the present day with gang or paramilitary sectarian warfare. The Capulets live in a closely guarded enclave, the entrance to which requires an identity card. In the opening chorus a non–clan member is dragged in and gratuitously shot; pistols and rifles rather than swords go together with the balaclavas and knives. Romeo comes unrecognised, dressed in white trousers, jacket and waistcoat, more appropriate to a yachting marina, to propose peace; Capello whose son has been killed by the Montecchi refuses this. Tebaldo sings of his desire to marry Giulietta who is later shown in a semi abstract prison through which armed men can be seen patrolling, an effective touch. Less effective, and wholly incomprehensible to me, was the scene where a Giulietta look alike is tossed and thrown around with the help of an aerial wire. Yes, we know she is agonising and in conflict between her love for Romeo and that for her family but this near comic intervention didn't illuminate in any way what was quite clear from the surtitle translation from the sung Italian. Unlike this intrusion, the lighting effects were advantageous and effective throughout.

In bel canto, singing is the name of the game and as far as the two eponymous protagonists were concerned, it was an outstanding evening. As Romeo, Sarah Connolly sang superbly, her lean lyric mezzo rising to the many challenges of tessitura and expression that Bellini poses for his singers. Her masculine acted portrayal was also everything one could hope for. Likewise Marie Arnet's petite and fragile looking Giulietta, fragile only in looks, her acting convincing and her singing full of variety of expression and colour. She was in no way over stretched by Bellini's demands. Lithuanian Edgaras Montvidas sang strongly as Tebaldo only wanting more open tone to add to his lyric tenor. Henry Waddington was a convincing and sympathetic Lorenzo who prepared Giulietta's poison and injected it with a syringe; Romeo took his from a traditional phial. Nikolay Didenko looked the part of Capelio but sang without any particular distinction. I would not wish to appear nationalistic in respect of casting, but I would have thought there were plenty of native born basses who would have sung just as adequately.

I Capuleti e I Montecchi was the sixth of Bellini's ten operas. Only with the following two, La Sonnambula and Norma, did he wholly master the art of those long, lines of melody that Verdi, Wagner and Berlioz so admired. Here these are intermittent and there are times in act one when his creativity slackens and the music lacks the melodic vitality and thrust of the rest. Manlio Benzi, immersed in the genre as is in his native Italy, kept the show on the road throughout and with admirable consideration for his singers.

A sparse Lowry was appreciative of the singers. It is over forty years since the region had seen a production of I Capuleti e I Montecchi, which was given at the, then, Royal Manchester College of Music, which also presented Norma. Since then, to my knowledge, only I Puritani has been presented by a professional company – in Welsh National Opera's widely traveled production. The occasional airings of Rossini's Barber of Seville, La Cenerentola or Thieving Magpie and Donizetti's Elixir of Love and Lucia, represent the local opportunities for enjoying the rich bel canto operatic tradition. If the many melodic and interesting bel canto operatic works of the primo ottocento are to more regularly grace the stages round Manchester, it will need the likes of Opera North to build up an audience and enthusiasm for them, much as it has for American musicals with performances of the works of Kurt Weill, and, this year, Gershwin. Or so I thought.

The audience for Of Thee I sing was as sparse as that for the Bellini. The large number of amateur societies in the region, the credit crunch and Carousel down the road for the week with Lesley Garrett as competition did not help. As with traditional opera, the plots of all these musicals are often trite, but few can be as banal as Ira Gershwin's for his brother. There is an excess of dialogue, particularly early on, while George's music barely matches that of Richard Rodgers in Carousel or Oklahoma. Yes I suppose the plot of Of Thee I sing is topical in the week of an American Presidential Election, but a supporter of Opera North expects something of more musical substance. This work has nothing of the calibre of Porgy and Bess let alone the better known of Gershwin's musicals.

At least Opera North gave the work a good show. There was no pseudo updating or in–jokes to jar. The set was smart and colourful, the costumes in period with skirt lengths a couple of inches below the knee and men's trousers held up by braces, visable when they were not wearing pullovers. The staging and dances were slick and smart, the singing more variable. It seemed an awful waste to have William Dazely as the Presidential candidate; he has graced Don Giovanni and Guglielmo with Opera North and he has trod distinguished boards around the world. His singing was easy, his acting suave and convincing as was that of several others, not least the chorus. If I found the female leads a little over parted, it was as if finding the adequate overtaken by the very good. The chorus of Opera North, as always, entered into the spirit of the evening but I left without any tunes humming through my mind. However, I am left with the nagging question as to whether a subsidised Opera Company should be spending its budget on something like this when it has no productions of some of the great works of the lyric theatre in its repertoire. Compared to autumn 2007, when the theatre was packed for an imaginative Madame Butterfly and a reasonably well attended Falstaff, there is likely to be a hole in the budget, especially as Of Thee I sing is reprised in Opera North's winter season, together with its sequel, Let 'em eat cake. These will appear alongside a repeat of Alden's quirky Tosca and the world première of David Sawer's Skin Deep, which seems to be about body enhancement when Opera North's 2009 winter season opens in Leeds on January 16th. Skin Deep is described as an operetta and it follows on from the composer's success at English National Opera in 2002 with From Morning to Midnight. Baritone Geoffrey Dalton will sing the role of the egomaniacal Doctor (sic) and Janis Kelly his wife. Sung in English, it will be directed by Richard Jones and conducted by Opera North's Music Director, Richard Farnes. This will be followed by the British première of Gershwin's Let 'em Eat Cake on January 29th..

Opera North's winter tour takes in visits to Sadler's Wells, London from 17 Feb, The Lowry, Salford Quays from 25 February and the Theatre Royal Newcastle from March 4th. Just to blow any bel canto or operetta dust from vocal chords or brass tubes, the Company will present concert performances of Richard Strauss' Elektra at Leeds Grand Theatre on December 11th and 14th, The Sage Gateshead on January 25th and Manchester's Bridgewater Hall on February 1st, Susan Bullock singing the eponymous role having sung the vocally demanding Salome at Covent Garden and La Scala among other illustrious venues. Richard Farnes conducts.

Robert J Farr