Other Links
Editorial Board
Google Site Search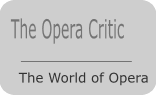 SEEN AND HEARD OPERA REVIEW

Johann Strauss II, Die Fledermaus: Operetta in three acts. Sung in English. Orchestra, chorus and soloists of the Royal Northern College of Music, / Wyn Davies. Bruntwood Theatre Manchester 2.12. 2008. (RJF)

Directed by Stefan Janski. Set designer, Simon Rostrand. Costumes designer, Elaine Needham.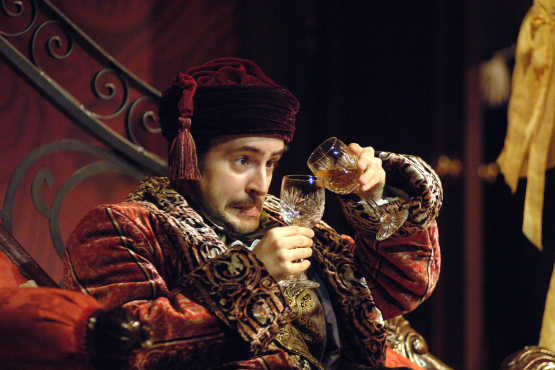 Act I - Jorge Cordero Beneomo as Alfred.


In my introduction to my review of December 2007's production at Manchester's R.N.C.M., I suggested that there was no more challenging opera to perform than Mozart's Le Nozze de Figaro particularly so for students, even those approaching launch into the highly competitive singing profession. Mozart's music is challenging for singers and orchestra with its wide variety of skipping melodies, introspective arias and both serious and comic situations as befits a comic opera. An operetta offers different but related challenges. As this year's programme states, it is some years since Director Stefan Janski and the cream of the College's students had tackled an operetta for one of the major annual productions. Singing itself is challenging enough, add frequent episodes of spoken dialogue, often lengthy and accompanied by amusing or confusing situations, and the challenge is multiplied. The performers not only have to learn the words, but also their finer nuances so important to the evolving situations and complications, whilst holding the audience's belief in the unfolding, often implausible, story. This is the hallmark of Viennese operetta and with it the de rigueur humorous complications of love and marital fidelity. There is no more famous or challenging work in the genre than Johan Strauss's Die Fledermaus. Famously called the waltz king, his melodies permeate the whole work as well as the story, leaving space for some dancing, misunderstandings and double-dealing.

Acting and movement classes complement the vocal training of aspiring singers at the Manchester conservatoire. That is fine, but when it comes to putting the components together in rehearsal or when confronted with a first night audience and a full orchestra it is an altogether different challenge. This is where the student singers and the College are fortunate in having Stefan Janski, Head of Operatic Studies, as Director. Vastly experienced as a director, he is immensely knowledgeable about all aspects of opera, both within the College and internationally and for which he has received many awards. All those on stage, and in Act II at Orlovsky's party there are around sixty of them, know what they are doing and why; and equally importantly so do the audience. Put these combinations into superb sets, and there is the basis for an excellent performance, as long as the cast do justice to the singing too and the conductor can also draw from the orchestra those wonderful Strauss melodies.

From the overture onwards it was obvious that Wyn Davies had the music flowing and lilting off the tip of his baton. A full orchestra of future professional players followed his every nuance and whilst doing full justice to Strauss, Davies was well aware of the need to support, but never overwhelm, his cast. His was the performance of a consummate musician from whom I have never yet heard a dud performance. The set for Act I was an opulent velvet draped lounge in which the action of Dr Falke's revenge on Eisenstein was initiated. Fleur Bray as Adele, Rosalinda's maid, immediately set the tone of the performance as an actress with her well-articulated spoken dialogue. Initially I was a little uncertain as to her vocal security, but as the show progressed so she gained confidence to give an outstanding performance in all aspects of the role with her Act II aria, My dear Marquis complete with coloratura and trill, being justifiably well applauded. The acting quality was further enhanced by the arrival of Jorge Cordero Beneomo as Alfred. He used his small stature to comic effect whenever possible, but particularly when Frank, the prison governor, comes to collect Eisenstein and mistakes Alfred for him. Beneomo's light flexible tenor is a little tight at the top and he lacked the ideal heft for a couple of the brief Italian opera arias he sang. However, whenever he was on stage his acting and well-spoken and projected English was first rate. Although there were many other strong performances in Act II, I was sorry he was detained in gaol!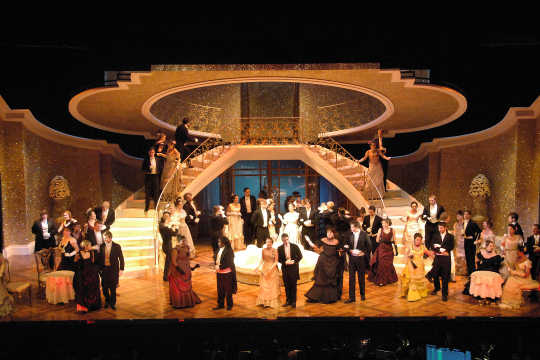 The Act II Set.



The Act II set with matching curved staircases was as classic as it was visually stunning. With a central couch cum table and gold glitter everywhere, this Orlovsky was obviously well heeled. In the role of the rich Russian prince, Carolina Krogius looked the part completely despite her small stature. Her voice was evenly produced across its whole range with a good variety of colour and expression. She too conveyed the spoken dialogue with clarity and in this trousers role for mezzo-soprano her Orlovsky was undeniably masculine ogling any cleavage on view - which with the period costumes used, was not at all in short supply. Nadine Livingston sang the role of Rosalinda, the wife with a seemingly ambiguous past to whom Alfred has returned to woo. This was the third occasion that the college had showcased her in a leading role following her Tatyana (see review) and Susanna (see review) in the two major productions in 2007. She sang strongly with a good variety of tonal colour in the Czardas and acted well in the comic parts. Like her colleagues her spoken dialogue was well articulated and enunciated. While I share the views of eminent critics who see a secure future for her in the profession, I am still unclear what her fach will be. Her strength of tonal emission, legato and phrasing are admirable, but I also hear a hard edge to her voice and wanted a softer, rounder tone in parts of this portrayal.

So far I have not commented on the double crossing and devious men in Strauss's concoction. As the plotting bat, Terence Ayebare in dress suit and white gloves, with left hand behind his back, played Dr Falke rather as a master of ceremonies or even maitre de hotel, as he moved the party guests around pointing with his right hand. This was a somewhat different approach to the cynical two-faced brio often seen and was very convincing. If he lacked some mellifluousness of tone overall, as did Ian Gifford's prison governor, his act two Br

üderlein was well phrased. In their various ways, both Ayebare and Gifford were able to convey the humour of the situations, including the latter's portrayal of the inebriation of the gaoler even though his spoken words needed a touch more projection. Mark Duff's tenor Eisenstein was a little starchy in his acting in Act I, depending too much on a variety of facial expressions. His voice was a little tight in places but overall he sang well and played a good part in the proceedings, particularly in the final act as the disguised Notary.

On the last occasion I saw a professional production of this Strauss masterpiece, a large proportion of the audience left their expensive seats at the interval, tired of the crudely vulgar, boring and perverse production. I watched the DVD of the Munich production conducted by Carlos Kleiber (DG 00440 073 4015 GH) with my host later, just to convince ourselves that Die Fledermaus was really a great work which bore no relationship to the performance just seen. On this occasion, humming Strauss's tunes, and invigorated by the whole experience, I went home and did the same thing for a wholly different reason.

On the evidence of this enjoyable and well sung and acted production, the opera studies department of the RNCM is in good health and continuing to give aspiring opera singers the best possible grounding in their art as well as opportunities to display their improving stage skills. I can continue to look forward to my biannual shots of well-sung and acted opera in recognisable sets and, if Stefan Janski continues to direct, I suspect and hope they will all be without a balaclava or armalite rifle in view.

There are further performances on December 11th and 13th at 7.30pm and on the 7th at 3.0pm. All opera loving Mancunians should ring the box office on 0161 907 5555 and try for a ticket.

Robert J Farr


Pictures © RNCM 2008

Back to Top Cumulative Index Page