Other Links
Editorial Board
Editor - Bill Kenny


Assistant Webmaster -Stan Metzger

Founder - Len Mullenger
Google Site Search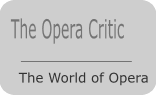 SEEN AND HEARD UK OPERA REVIEW

Bizet, Carmen: Soloists, Royal Opera Chorus, Orchestra of the Royal Opera House, Constantinos Carydis (conductor). Royal Opera House, Covent Garden, London, 5.6.2010 (MB)

Moralés – Dawid Kimberg
Micaëla – Maija Kovalevska
Don José – Bryan Hymel
Zuniga – Nicolas Courjal
Carmen – Christine Rice
Frasquita – Elena Xanthoudakis
Mercédés – Paula Murrihy
Lillas Pastia – Caroline Lena Olsson
Escamillo – Aris Argiris
Le Dancaïre – Adrian Clarke
Le Remendado – Harry Nicoll
Guide – Anthony de Baeck
Francesca Zambello (director)
Duncan Macfarland (revival director)
Tanya McCallin (designs)
Paule Constable (lighting)
Arthur Pita (choreography)
Mike Loades (fight director)
Natalie Dakin (revival fight director)
Actors, Dancers
Members of Trinity Boys' Choir and Trinity School, Croydon (director: David Swinson)
Members of Tiffin Girls' School Choir (choirmaster: Simon Ferris)
Royal Opera Chorus and extra chorus (chorus director: Renato Balsadonna)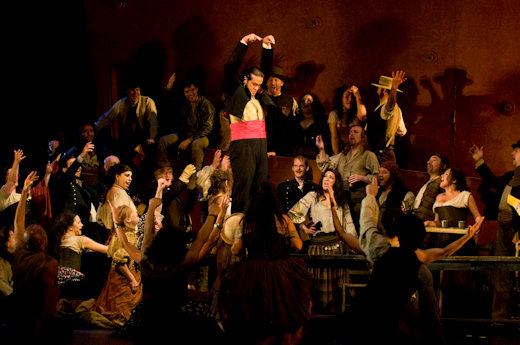 Aris Argiris as Escamillo -Picture © The Royal Opera/Mike Hoban
I wish I could dislike Francesca Zambello's production of Carmen as much in practice as I do in theory. Zambello's West-End spectacular approach relies upon a naturalism that might even give the stage directors of Shaftesbury Avenue pause for thought. It in no way seems to have moved on from what I saw at the Deutsche Oper, Berlin last year – except that was a 1979 production, hurriedly revived when a new director fell ill. There are manifold irritations: the 'picturesque' urchins, the horse and donkey, and worst of all, the grotesque Madonna wheeled on for a priest to bless Escamillo and Carmen before the bull-fight. (Zambello seems to have a thing about Madonna figures, as witnessed by her Covent Garden Don Giovanni, in which the religious imagery had more of a rightful place, though it was a far worse production.) And yet, in a way, it all works. There are no revelations; there is no discernible concept at work. One is nevertheless grateful for the lack of perversity and for relative lack of impediments to the characters' expressing themselves. Intimacy is lost – and that is a serious thing for Carmen, an opéra comique, not a grand opera. If Zambello were a composer, she would surely be Meyerbeer. But Meyerbeer had a certain sense of theatre and there are times when one might prefer to listen to the best of Les Huguenots to certain other, far-from-neglected swathes of the operatic repertoire. Duncan Macfarland certainly does his best as revival director to make it all work and to ensure as much interaction between the characters as the too-grand staging will permit. It will probably look impressive in a straightforward sort of way on the big screen.

Vocally, we had a mixed bag. Bryan Hymel struggled for much of the time as Don José. At his most cruelly exposed during the arias, he picked up somewhat for the final scene. When I saw this production before, the role was taken by Jonas Kaufmann: a more than usually odious comparison. Likewise for Ildebrando D'Arcangelo's smouldering, chocolate-toned Escamillo and the present run's Aris Argiris. Argiris can be forgiven, though, for lacking the sheer charisma of such an operatic star. All in all, he showed considerable promise, though he seemed to tire in the fourth act. Christine Rice is a versatile artist, with repertoire ranging – at least – from Monteverdi to Birtwistle. She is not, however, the first person I would have thought of as a Carmen. That said, she did a good job of confounding expectations through her innate musical intelligence and a stage presence of not inconsiderable sensuality. Her French compared favourably with that of most of her colleagues (a major bugbear throughout). Maija Kovalevska made Micaëla as interesting a character as I have experienced in the theatre, presenting a figure of greater allure than the typical pallid angel we and, to some extent, the score expect. This was an impressive house debut by any standards. There was, moreover, much to be impressed with in the smaller roles. Elena Xanthoudakis's Frasquita and Paula Murrihy's Mercédès sounded a true gypsy – or rather, Bizet's fantasy-gypsy – presence, whilst a subtly modulated Moralès from Dawid Kimberg made one wish that the character might return. The choral singing was excellent: full marks not only to Renato Balsadonna and his Royal Opera chorus (augmented) but to the children's choirs, from whom one could hear every word. Dancing and choreography were of an impeccably high standard too.

However, the true star of the evening was without a shadow of a doubt the conductor, Constantinos Carydis, marking another Royal Opera debut. He presented Bizet's score with fire, colour, grace, precision, dramatic flow, and true structural coherence. The darkness that lies beneath the surface was powerfully conveyed, not least the 'real story', belying Carmen's words, of which he spoke to me in an interview a week previously. Here we could feel, quite frighteningly, the nature of her real feelings for Don José – at least those of who bothered to listen and to turn off our mobile telephones. There was not an ounce of sentimentality, just as it should be in this work of realism. The omnipotence and omnipresence of Fate could be heard from the pit, without any descent into melodrama. In this, the contribution of the Orchestra of the Royal Opera House was, of course, crucial. Every section was excellent: one was reminded once again that this is an orchestra, which, on top form as here, can rival any. I hope that we shall hear more of Carydis in London and at Covent Garden. Many good things have been said about his Gluck and his Mozart: an opportunity to judge for ourselves would be most welcome.
Mark Berry