Other Links
Editorial Board
Editor - Bill Kenny
London Editor-Melanie Eskenazi
Founder - Len Mullenger
Google Site Search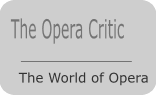 SEEN AND HEARD OPERA REVIEW

Mozart, Don Giovanni: Soloists, Orchestra and Chorus of the Royal Opera House. Conductor: Sir Charles Mackerras. Royal Opera House, Covent Garden, London, 12.2.2008 (MB)

Don Giovanni – Simon Keenlyside
Donna Anna – Marina Poplavskaya
Don Ottavio – Ramón Vargas
Donna Elvira – Joyce DiDonato
Leporello – Kyle Ketelsen
Masetto – Robert Gleadow
Zerlina – Miah Persson
Commendatore – Eric Halfvarson

Orchestra of the Royal Opera House
The Royal Opera Chorus (chorus master: Renato Balsadonna)
Sir Charles Mackerras (conductor)

Production:
Francesca Zambello (director)
Duncan Macfarland (associate director and revival choreographer)
Maria Björnson (designs)
Paul Pyant (lighting)
Stephen Mear (choreography)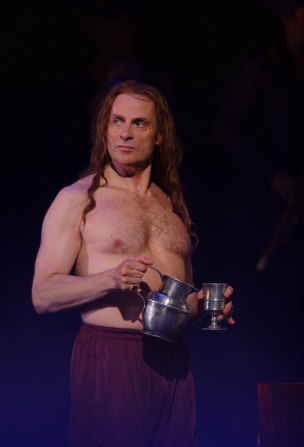 Don Giovanni – Simon Keenlyside


I have until now remained steadfastly sceptical, or downright hostile, concerning Sir Charles Mackerras in Mozart. His widely-praised Figaro earlier this year had seemed to me mercilessly hard-driven and often far too fast for the singers to be able to project the words, let alone the music. In a sense, it had mirrored David McVicar's irritating, manic production, but this had seemed more coincidence than shared (seriously flawed) approach. I retain my incomprehension at why one would employ natural brass instruments; their rasping sound, especially during the Overture, adds nothing but coarseness. And there were occasions when I worried about speeds. To stick with the Overture – and its counterpart in the Stone Guest Scene – one can play alla breve without robbing the music of its cataclysmic grandeur. Here it sounded more like the opening of Mozart's D minor piano concerto than the voice of something eternal and unworldly: not an uninteresting link to make but nevertheless robbing the music of its astounding proto-Romanticism. Where would Romanticism, let alone Romantic music, be without Don Giovanni? There is no wonder that E.T.A. Hoffmann delivered a panegyric to this 'opera of all operas'. However, there was much to admire elsewhere. Whereas the strings had often sounded wiry and under-nourished in Figaro, that was not the case here; nor did they stint unduly on vibrato. I should have preferred greater orchestral weight, as Daniel Barenboim had provided in a miraculous Berlin performance last December, but at least lightness was not now confused with inconsequentiality. Tempi were mostly sensible – and varied. There was even at times, if not so often as I might have liked, a graceful yielding I should have considered inconceivable from prior experience. Perhaps above all there was a dramatic drive, an attentiveness to the drama, which I had previously found to be confused with a headlong rush to the finishing line.

However, I was a little disappointed that we heard the 'traditional' composite version of the work. I am no purist when it comes to such matters and appreciate that many singers will relish, perhaps even insist upon, their additional arias. There may even be occasions when the production facilitates use of this version (thankfully without the dreadful, rarely-heard duet between Zerlina and Leporello), although not here. The Prague version, however, almost always maintains a dramatic superiority over that for Vienna or any composite. Additional arias, however heart-rendingly beautiful, undeniably hold up the action. To use the composite version also seems to me to sit a little uneasily with any claims to 'authenticity' – although I suppose the accusation might well be turned round upon me, to say that preference for Prague might sit uneasily with reverence for tradition.

There remain many conductors from the past and a few from the present whom I should prefer to hear in Mozart, ranging from Furtwängler, Klemperer, Böhm, and Giulini, to Barenboim, Colin Davis, and Riccardo Muti. (These are examples, not an exhaustive list.) Yet I shall now be interested rather than reluctant to hear Mackerras again. He was of course helped by the Orchestra of the Royal Opera House. It might not have sounded as it had for Così fan tutte under Davis – never have I heard a better Mozart performance, although it was betrayed by a crass production – but there was some fine playing, not least from the woodwind. I may disagree with Mackerras, as I often do with Nikolaus Harnoncourt; that should not entail automatic disregard. Contrast this with the cynical, marketing-led exhibitionism of, say, a René Jacobs or a Roger Norrington: 'The wisdom of tradition is naught. Let us strike up a brazenly ugly noise; let us rid the music of any meaning, let alone beauty, and show the world or at least the gullible how it must be done. In other words, let us create a provocation.' The distinction between musical intelligence and charlatanry is clear.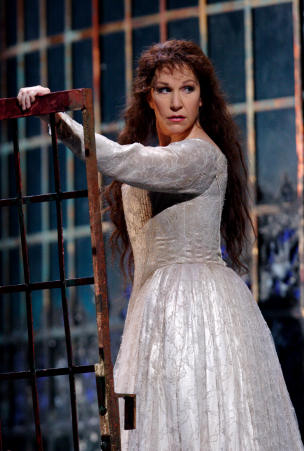 Donna Elvira – Joyce DiDonato



There was certainly no charlatanry when it came to the singers. Simon Keenlyside offered a scrupulously musical and sometimes seductive Giovanni. I suspect that I might have been more enthusiastic, had I not experienced Erwin Schrott's assumption of the role in the same production a little over a year ago. I am not convinced that Keenlyside is so at home with the demonic and Faustian as with the various guises of touching naïveté required in such varied roles as Pelléas, Papageno, or Billy Budd, yet there was nothing really to complain of here. Kyle Ketelsen was at least as good as he was last year, if anything better. Those – and I have heard them – who claim that Leporello is but a stock buffo character should have heard and seen him, to appreciate how the genius of Mozart's music transforms an ordinary servant into a human being. There was once again a more or less perfect balance between comedy, charisma, and class struggle. His shaping of the musical lines was as impressive as Keenlyside's. Marina Poplavskaya was certainly vastly improved upon last year, when I had heard her step in at the last minute for the second act. Her tuning on this occasion was secure, but I still missed a sense of style. I can imagine her in Verdi roles, or as Tatyana, but here the line is too full of steel and somewhat lacking in grace. Joyce DiDonato presented quite a revisionist Elvira. There was none of the usual eroticism, such as we heard last year from

Ana María Martínez. Yet in its place there was a striking transformation from a wronged yet determined woman, with none of the essentialist hysterical caricature that often characterises the role, to someone who really is driven mad by her experience. I suspect that DiDonato's experience in Baroque opera informed this portrayal, as it did her flawless coloratura, even in a swift 'Mi tradi' that pushed towards the bounds of the acceptable in tempo. Ramón Vargas was a more Latin-sounding Ottavio than I am used to, but there is nothing wrong with that. He sang with great musicality, quickly recovering from a slight difficulty in a treacherous passage from 'Il mio tesoro'. Robert Gleadow proved a fine Masetto, never sacrificing musical line for peasant gruffness, yet touching in the artful simplicity of his portrayal. As Zerlina, Miah Persson was quite outstanding: maintaining throughout a beautiful, sensitively spun line and supplying plenty of the eroticism lacking from Elvira. Only Eric Halfvarson was disappointing as a lightweight Commendatore.

That leaves the production. It has not improved with age. To stress the Christianity and indeed the Catholicism of the work and its predecessors is an excellent idea, which one might have expected to have represented some sort of norm, though alas not. Yet nothing is really done with this crucial background; instead, we have once again a backdrop of religious tat and that is just about it. Lavish and somewhat garish designs add to the feel of an upmarket musical, almost as much as in Francesca Zambello's Carmen, also for the Royal Opera. If this is what attracts customers – judging by the Philistine applause following the stage pyrotechnics of Giovanni's descent into Hell, I fear that it might – then let them stay at home. As for the confusion regarding the lack of a statue – to which Leporello nevertheless sings – and the appearance of a large, pointing, National Lottery finger, I despair. Producing Don Giovanni is an extremely difficult task, almost as difficult as performing it. The downright vulgarity of 'bread and circuses' is not an answer. Still, the music was the thing – and it was very good.

Mark Berry


Pictures © Catherine Ashmore

Back to Top Cumulative Index Page