Other Links
Editorial Board
UK

Editor

s

- Roger Jones and John Quinn

Editors for The Americas - Bruce Hodges and Jonathan Spencer Jones

European Editors - Bettina Mara and Jens F Laurson

Consulting Editor - Bill Kenny

Assistant Webmaster -Stan Metzger

Founder - Len Mullenger
Google Site Search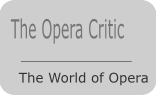 SEEN AND HEARD UK CONCERT REVIEW


Romantic Valentine's Classics: Alice Sara Ott (piano), Royal Scottish National Orchestra, Benjamin Schwartz (conductor), Usher Hall, Edinburgh, 11.2.2011 (SRT)

Tchaikovsky: Capriccio Italien, Romeo and Juliet Fantasy Overture
Rachmaninov: Piano Concerto No. 2
Mahler: Adagietto from Symphony No. 5
Ravel: Bolero
Every orchestra needs a concert like this in their season: pops that will pack in the crowds. It doesn't matter what name you give to it, these concerts will bring in newcomers and for seasoned veterans they remind you of some of the pieces that got you into classical music in the first place. Works like Capriccio Italien and Bolero are also designed to show off the orchestra in all its glory, every section getting a chance to shine. True enough, the Capriccio shone with Italian colour, especially from the brass, and Bolero showcased every section brilliantly, notably a sleazy trombone and a wonderfully decadent pair of saxophones.
For the third week in a row, however, the RSNO strings were the heroes of the evening, and I'm starting to think they're setting new standards. They sounded heavenly in Mahler's Adagietto, rich and fat in the middle, leavened by delicate decrescendos and tantalising pianissimi at either end of the movement. They throbbed with passion at the climax of Romeo and Juliet and they judged perfectly the tone and mood of the opening theme of Rachmaninov's second piano concerto, brooding and passionate without scowling, bearing up the emotional weight of the whole work.
I wasn't so convinced by soloist Alice Sara Ott. This 22-year old German Japanese pianist has wowed audiences on three continents and she has undoubted technical prowess (shown in her virtuoso encore of La Campanella), but to my ears she is still impetuous and lacks restraint at the keyboard so that, at key moments, showy display overwhelmed the music. Too often piano and orchestra just weren't together and the duet with the flute that opens the slow movement sounded dangerously exposed. She is clearly a talent to watch and will be great when she is more mature, but she needs to listen more and to respond to her companions on the stage.
Perhaps part of the reason was conductor Benjamin Schwartz who did a good, if patchy, job of overseeing the evening. His style is somewhat mechanical and his heavy emphasis on the beat is so repetitive as to be mildly comical but, more seriously, he seems to focus so much on timing that there is little room for shaping the notes. For obvious reasons this worked well in Bolero, though his Mahler felt rather automatic and the Rachmaninov felt somewhat workaday, lacking the big Romantic sweep that lifts a performance of this concerto above the ordinary. However, to give him his due, he stood in at very short notice to replace the indisposed Christian Vásquez and considering the limited time at his disposal his achievement is probably greater than I'm giving him credit for.
Ultimately, though, in a concert such as this one very little of this matters. After this programme of crowd pleasers the crowd was duly pleased and it would be churlish not to reflect on a job well done.

Simon Thompson