Other Links
Editorial Board
UK

Editor

s

- Roger Jones and John Quinn

Editors for The Americas - Bruce Hodges and Jonathan Spencer Jones

European Editors - Bettina Mara and Jens F Laurson

Consulting Editor - Bill Kenny

Assistant Webmaster -Stan Metzger

Founder - Len Mullenger
Google Site Search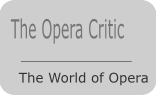 SEEN AND HEARD UK CONCERT REVIEW


Henry Purcell, Michael Tippett, Gerald Finzi, John Woolrich and William Walton: Mark Padmore (tenor), Britten Sinfonia, Jacqueline Shave (violin), Queen Elizabeth Hall, South Bank, London, 9.2.2011 (BBr)
Henry Purcell: Overture and Rondeau from Abdelazer (1695)
Michael Tippett: Little Music (1946)
Gerald Finzi: Dies natalis, op.8 (1939)
John Woolrich: Another Staircase Overture (1994 revised 2010)
Henry Purcell edited by Tippett, orchestrated by John Woolrich: If music be the food of love
Music for a while
Sweeter than roses
William Walton: Sonata for string orchestra (arr. from String Quartet in A minor) (1947 orchestrated 1971)
Dies natalis is a very special work, in which words of ecstatic beauty are married to music of spiritual intensity, together making a work unique in British music. Certainly there have been many other works by British composers for high voice and strings – Les Illuminations is contemporaneous with Dies natalis – but Finzi's work lives in the empyrean. Tonight's performance was well delineated, with a powerful, passionate and forthright Intrada, the first song full of rapt intensity, the second an example of the wildest abandon, while the last two songs displayed wonder and childlike innocence. Mark Padmore made a persuasive soloist but was occasionally too heavy in his delivery, overly free in his use of vibrato and there was some suspect pronunciation. However, this performance never reached the heightened state of awe which Lesley–Jane Rogers achieved in her recent performance of the work with the Oare String Orchestra and Peter Aviss (review). Padmore seemed much happier, and more at home, in the three Purcell songs, which were simpler and held no surprises in the interpretation.
The two excerpts from Purcell's Abdelazer started poorly – nerves perhaps – but the Rondeau – famous as the theme from The Young Person's Guide to the Orchestra – was particularly stylish. Tippett's Little Music was given a splendidly lithe performance with brisk tempi, which suited it perfectly. John Woolrich's Another Staircase Overture started as a marvellously humourous romp but too soon became too serious and engaged in too much navel gazing. There was also insufficient material to sustain a work of ten minutes duration.
Walton's Sonata for string orchestra (an arrangement by the composer and Malcolm Arnold of his String Quartet) made a very strong impression. This expansion of the music makes the slow music in the first movement more wistful and melancholy and gives the fast music more urgency. There is much clever interplay between solo and tutti throughout and, oddly, this version makes the music seem more "English" than the original work does! The orchestra gave a bright and breezy account of the music, which brought the show to a stunning conclusion.

The programme book let the enterprise down, being written in an embarrassing Janet and John style, and containing factual errors. My favourite comment was that Woolrich had instrumented Tippett's versions of Purcell's songs, surely he orchestrated them – a much less clumsy word, and a better description of what he did. Hopefully this naive style will be discontinued immediately, for it does no good service to the orchestra.
Bob Briggs