Other Links
Editorial Board
UK

Editor

s

- Roger Jones and John Quinn

Editors for The Americas - Bruce Hodges and Jonathan Spencer Jones

European Editors - Bettina Mara and Jens F Laurson

Consulting Editor - Bill Kenny

Assistant Webmaster -Stan Metzger

Founder - Len Mullenger
Google Site Search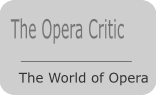 SEEN AND HEARD UK CONCERT REVIEW

Vaughan Williams, Finzi, Rubbra and Elgar: Lesley–Jane Rogers (soprano), Oare String Orchestra, Peter Aviss, Alexander Centre Faversham, 29.1.2011 (BBr)

Vaughan Williams: Fantasia on a Theme by Thomas Tallis (1910)
Finzi: Dies Natalis, op.8 (1938/1939)
Rubbra: Sinfonietta, op.163 (1985)
Elgar: Introduction and Allegro, op.47 (1904/1905)

This concert was the Oare String Orchestra's 60th birthday tribute to its conductor, and joint founder, in 1982, Peter Aviss, and they did him proud! Peter Aviss has directed every concert the orchestra has given, which have included many premieres, and second performances, of British works. Tonight's show was a personal choice and a very good one it proved to be. One of the things I like about Aviss's conducting is that he never imposes himself on the music he is interpreting. As a performer he is totally at the service of the composer, and he obviously gives much time to the building of his vision.

Aviss's first experience of Vaughan Williams's first masterpiece came whilst he was a student, when he led the distant orchestra, in a performance in the Royal Albert Hall under Leonard Hirsch. Tonight's performance was most interesting for although it sang the English countryside, it felt to be part of the broader European scene – let's not forget that only the year before creating this work Vaughan Williams had been to France to study with Ravel. Although the concert room in The Alexander Centre doesn't allow for a real pianissimo Aviss graded the dynamics of the work very well, making the climax sound full and resplendent, and packing a formidable emotional punch. There was a good separation, in sound, if not stage geography, between the orchestras – the full and the, smaller, distant, one – and there was some impressive solo playing. It all blended together to create a superb, touching and most satisfying, performance.

I am sure that most of us got to know Gerald Finzi's Dies Natalis through Wilfred Brown's transcendental 1963 recording, with the English Chamber Orchestra under the composer's son Christopher (still available and still essential listening – EMI CDM 5655882 – coupled with Vaughan Williams's Five Mystical Songs and the anthem O clap your hands, and Holst's A Choral Fantasia and his setting of Psalm 86, both under the composer's daughter). Although I think it is invidious to compare a concert performance with a recording here is one occasion when a recording is so perfect that it stands head and shoulders above everything which followed it and sets a touchstone by which all future performances must be judged. Lesley–Jane Rogers gave a performance of radiant beauty, and after a perfectly paced Intrada, the first two songs were filled with the most ecstatic reverie, both music and text sharing a high plain of euphoria; Ms Rogers easily essaying the high tessitura with ease. The final two songs are more relaxed and with Aviss holding the music back he created a delicate backdrop for Ms Rogers's daydreaming, the final bars seeming to show the music walking away into the distance, and thus the future.

Ms Rogers is my kind of singer. She has a very good sense of line and a sure knowledge of what vibrato is and how to use it to best expressive purpose. Her top B was glorious – ringing and pure!
Edmund Rubbra's Sinfonietta was his final work, written for the Albany Symphony Orchestra, and it is a very serious work in two movements, without the approachability of the Symphonies. Aviss was a pupil of Rubbra and his performance was an obvious labour of love. This is a terrifyingly intricate work to play but the musicians threw themselves into it with gusto and under Aviss's careful direction we were given as clear an exposition of the music as was possible. It seems that this might have been the first public performance of the work in this country, which is a disgrace, and we should be grateful that it was conducted by, probably, its most passionate advocate.

Elgar's Introduction and Allegro makes a good conclusion to a concert for it is too big a work for any other position. Aviss, once again, showed a sure knowledge of how to make the most of this work. A strong Introduction, graced by a lovely statement of the "Welsh theme" by the solo viola, gave way to a strong performance of the Allegro, which stayed faithful to the tempo Aviss set at the start; the "Divil of a fugue", to quote Elgar, was never allowed to get out of hand and run away with itself and the ending, with its forceful pizzicato, capped the excitement of the evening.

This show was a worthy tribute to a fine musician and it is to be hoped that Aviss will continue to conduct, at least, another 30 years of his Orchestra's concerts.

Bob Briggs