Other Links
Editorial Board
Editor - Bill Kenny
Assistant Webmaster - Stan Metzger

Founder - Len Mullenger
Google Site Search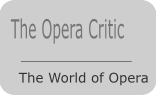 SEEN AND HEARD INTERNATIONAL OPERA REVIEW

Staatsoper Unter den Linden Festtage (2) – Tchaikovsky, Eugene Onegin: Soloists, Staatsopernchor Berlin, Staatskapelle Berlin, Daniel Barenboim (conductor). Staatsoper Unter den Linden, Berlin, 2.4.2010 (MB)
Larina – Katharina Kammerloher
Tatiana – Anna Samuil
Olga – Maria Gortsevskaya
Filipievna – Margarita Nekrasova
Eugene Onegin – Artur Rucinski
Lensky – Rolando Villazón
Prince Gremin – René Pape
Triquet – Stephan Rügamer
Saretzki – James Homann
Captain – Rosen Krastev
Achim Freyer (director, designs, lighting)
Tilman Hecker (assistant director)
Lena Lukjanova and Amanda Freyer (costumes)
Freyer Ensemble
Staatsopernchor Berlin (chorus master: Eberhard Friedrich)
Staatskapelle Berlin
Daniel Barenboim (conductor)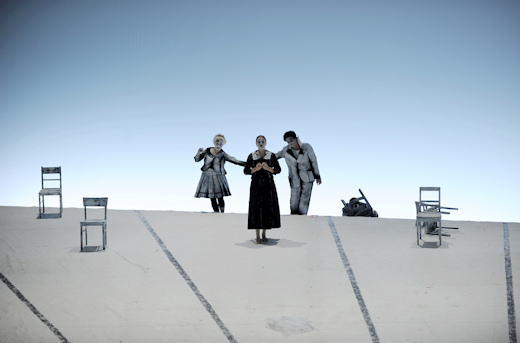 Production Picture © Monika Rittershaus
I had hoped that I might see the light concerning Achim Freyer's production of Eugene Onegin, which I first saw a year-and-a-half ago here in Berlin. Alas not, and I did not even have the element of surprise from the first viewing. In terms of the production, I really do not have anything much to add to my earlier review, which may be read here. In brief, Freyer has decided not only to jettison nineteenth-century Russia – on that, I am pretty neutral, and am happy to judge by results – but to turn everyone in the cast, most of whom are 'extras', into joyless clowns. Or rather, he has adopted his usual practice of doing this, irrespective of the work in question. Everything is meaningless would seem to be the refrain, which might be a point to make, but there is no discernible effort – again, I tried… - to connect this with Eugene Onegin. One could do the same thing to any work, with similar results. I felt no Brechtian alienation, merely boredom, the first time around; the same was the case here, allied with an impulse to scream, to hit someone, to do something, anything to break the tedium. Chairs are still twirled in slow motion and are sometimes suspended in mid-air. I am none the wiser why this should be done, but again it provides some desperately needed variation.

It seems to me that if one has no sympathy with a work, one might be better advised to stay away from it. If one finds it unconvincing, as I assume Freyer must do Onegin, then perhaps it might be better to find something that does convince. I can see why some people might not respond to this opera, though it actually seems to me reasonably straightforward if one accepts what Tchaikovsky accomplished in spite of his apparent intention, in making the friendship between Onegin and Lensky the central focus, with Tatiana as a voice for the composer's frustrated desires. It does not, however, seem to me anything like so bad a work that one would wish to do this to it. (For what it is worth, I do not think it a bad work at all.) One can perversely admire the intricate direction of each clown's movements, but what on earth have they to do with Eugene Onegin?
On the first occasion, the performance compensated. Indeed, I wrote at the time: 'Rarely can Eugene Onegin have been conducted better than it was here under Daniel Barenboim. He conceived the work in one span, yet with impeccable attention to the needs of the moment.' Sadly, this evening did not witness Barenboim on form, especially during the first 'half' (the interval came following the fourth scene). That first part seemed interminable. I do not know how long it took in 'real' terms but it seemed both extremely slow, for the most part, and generally listless. There were occasions when the music came into focus and there were a few when the conductor simply drove the music too hard, but these were certainly in the minority. The Staatskapelle Berlin played beautifully throughout, not least its gleaming strings. And there was much greater focus to the second, shorter 'half', the duel scene especially well judged: flexible but never arbitrary. The Polonaise, however, was once again excessively driven: it might have been Solti in the pit!
Alongside the orchestral playing, the singing was probably the only thing to impress, though, as one might expect, it varied. Smaller roles tended to be taken very well. Margarita Nekrasova truly brought a sense of Mother Russia to proceedings as the nurse, Filiepevna. René Pape was predictably excellent as Prince Gremin: despite his costume, sonorous of tone and noble of bearing. And Stephan Rügamer made the most of the Frenchman, Triquet. Anna Samuil emerged creditably as Tatiana, increasingly moving within the confines of the production, though she could sometimes prove a little anonymous. Artur Rucinski was also a good Onegin. Sometimes he sounded a little stretched, but again, he was hardly assisted by the production, and revealed as time went on a handsome, intelligently inflected baritone. Maria Gortsevskaya made little vocal impression, however, as Olga, though she was called upon to do a great deal of 'clowning'. Then there was Rolando Villazón's Lensky. Likewise called upon to be on stage and acting for most of the time, even after his death, he clearly threw everything into his performance. There were unfortunate moments, for instance during the fourth scene, when almost an entire phrase was alarmingly out of tune. But there was a winning sincerity to so much of his performance that one wanted to forget that the sound of his voice is not especially suited to Tchaikovsky. Rather to my surprise, the chorus often sounded out of sorts, and was a little too often out of sync with the orchestra, but its members were required to do so much irrelevant miming on stage that one could forgive a great deal.
Mark Berry