Other Links
Editorial Board
Editor - Bill Kenny
London Editor-Melanie Eskenazi
Founder - Len Mullenger
Google Site Search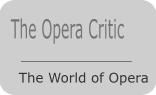 SEEN AND HEARD INTERNATIONAL OPERA REVIEW

Tchaikovsky, Eugene Onegin: Soloists, Staatsopernchor Berlin (chorus master: Eberhard Friedrich), Staatskapelle Berlin, Daniel Barenboim (conductor). Staatsoper Unter den Linden, Berlin, 1.10.2008 (MB)

Madame Larina – Katharina Kammerloher
Tatyana – Anna Samuil
Olga – Maria Gortsevskaya
Filipievna – Margarita Nekrasova
Eugene Onegin – Roman Trekel
Lensky – Rolando Villazón
Prince Gremin – Stephan Rügamer
Zaretsky – Viktor Rud
Captain – Fernando Javier Radó

Achim Freyer (director and designer)
Tilman Hecker (assistant director)
Lena Lukjanova and Amanda Freyer (costumes)
Olaf Freese (lighting)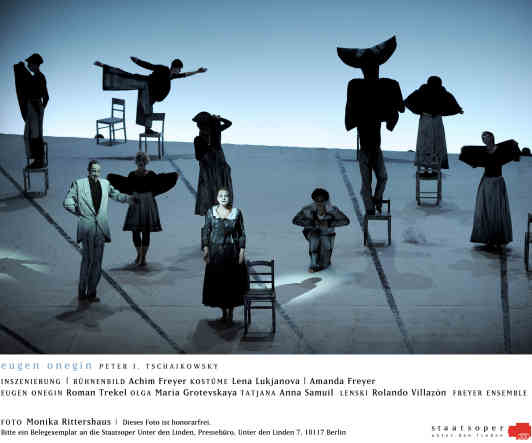 Where to begin? The production or the musical performance? They could hardly have been more different. I shall start with the musical performance, since it is far more cheering to do so. Rarely can Eugene Onegin have been conducted better than it was here under Daniel Barenboim. He conceived the work in one span, yet with impeccable attention to the needs of the moment. There was a flexibility in his account that harked back to Furtwängler – although I am not sure that Furtwängler ever conducted Onegin – with tempo variations often pronounced yet never abrupt. Prince Gremin's aria, for instance, was taken at a daringly slow tempo but with such masterly control that it worked, and the mood swings of Tatyana's Letter Scene registered both with almost psychoanalytical clarity and with heartfelt emotion. Rhythmic security was not sacrificed but enhanced by this. (Instructive is the contrast with the inhibited stiffness that sometimes characterised a far from inconsiderable Covent Garden performance under

Jiří Bělohlávek earlier this season.) The Staatskapelle Berlin followed his every move, displaying an utterly gorgeous, truly burnished tone. I should chance my arm and say that Onegin can never have been played better than it was by this orchestra. A wonderful old-world depth of tone throughout the string section and magical woodwind were complemented by a brass section by turns soothing and assertive, according to the demands of the score. The way in which solo horn and harp registered during the Letter Scene was not only ravishingly beautiful but also indicative of the Romantic possession with which Tatyana was seized.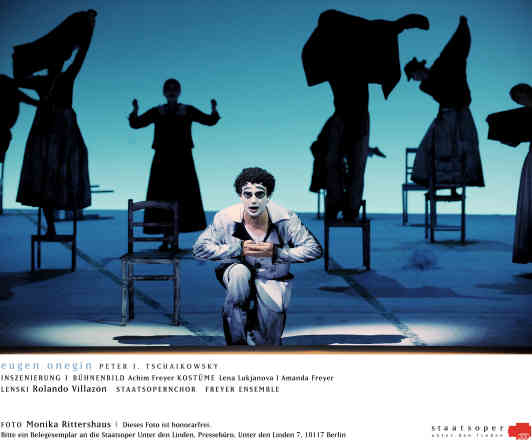 Anna Samuil of course contributed to the success of this scene. Hers was not a portrayal with quite the star quality of some of the great singers of the past – perhaps this will be come – but it was intensely musical and often rather more than that. The Letter Scene and her final confrontation with Onegin were the highpoints of her performance. I thought less of Maria Gortevskaya's Olga; there was nothing especially wrong with her performance but it remained somewhat anonymous. The production did not help, to put it mildly, but there were some singers who miraculously managed to rise above it. Likewise the stiffness that characterised some of Roman Trekel's assumption of the title role cannot simply be ascribed to Achim Freyer, sorely tempted though one might be. The notes were sung – and sung musically – but there was little charisma here. Gerald Finley had shown how it should be done at Covent Garden; by contrast, Trekel, a fine Doktor Faust here in Berlin last year, seemed miscast. The undoubted star was Rolando Villazón as Lensky. It is a wonderful role but Villazón surpassed any reasonable expectations. He proved as ardent and as attentive to the text – both verbal and musical – as the splendid

Piotr Beczala had done in London. Perhaps still more admirable was the way Villazón managed to transform a lifeless production to his advantage, investing his every move with great moment, however misconceived the general premised may have been. I mean it as a compliment when I say that, should, God forbid, Villazón ever lose his voice, he could doubtless pursue a second career as a clown or even a mime artist. Gremins, like King Markes, rarely disappoint. That Christoph Fischesser was no exception does not lessen the achievement of his rich-toned bass aria. Margarita Nekrasova made a wonderful, Babushka-like nurse. Stephan Rügamer and Viktor Rud both shone in their smaller roles. Whilst there was the odd occasion when the chorus was not quite together with the orchestra – and I am not at all sure that this was not Barenboim's fault – the singing of the Staatsopenchor Berlin was of the high standard we have come to expect. Diction was excellent, as indeed it was with the entire cast.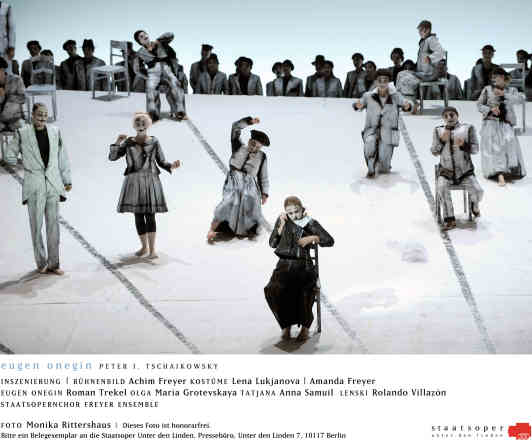 Then, however, there is the small matter of the production. I cannot – may the Almighty be thanked – imagine how a production of Eugene Onegin could be more wilfully perverse than that presented by Achim Freyer. It was certainly not so atrociously inept as, for instance, Katharina Wagner's Bayreuth Meistersinger, which, the angel voice of Klaus Florian Vogt notwithstanding, will surely prove to be the theatrical nadir of my operatic year: an unanswerable refutation of the hereditary principle. In terms of a director who knew what he was doing and was able to accomplish it, Freyer's misconception may rank with that of Peter Sellars's Zaide, although, clutching at straws somewhat, Freyer's production was certainly more tightly disciplined. There could be no doubt that singers and actors alike were doing precisely what Freyer desired; the precision of their movements was highly creditable were one to consider it as a thing-in-itself.

What this production lacked in terms of the inept, it handsomely made up for with the inapt. Throughout we had a scene of alienated, disengaged circus performers, unable to relate to each other, indeed in no real sense of the word characters at all. That was it: no development, no story even, certainly no connection with the words, let alone with Tchaikovsky's music. Freyer's point is clear enough, that the 'characters' are mere stereotypes – which they are certainly not, should one bother to engage with the work – and that the love about which they sing is illusory, non-existent. Everything goes round in circles; no one can do anything about it. I do not exclude the possibility that such a point might be made in a production but this was the only point, hammered home with an insensitive insistency that might make a sledgehammer appear to be a tool of woolly-minded consensus. The fact is that one could do precisely the same thing to any work of one's choice; without even the slightest attempt to connect Konzept and work, let alone to permit the former to grow out of the latter, it is difficult to see how this was a production of Eugene Onegin at all. It was a relief to have chairs appear suspended in mid-air, simply in order to see something different. I could not even say that of the sudden appearance of red ping-pong balls, which merely irritated. Other than that, there was almost no relief from the monochrome all-purpose set and the pointless moving around from the Freyer Ensemble – which seems to appear in all of Freyer's productions, whether called for or not – and from the other, incredibly patient performers. Yes, we got the point a few hours earlier. For some reason, Lensky appeared to be the focal point, which might well have been the nub of an interesting production, but this was once again merely insisted upon rather than developed, let alone explained. Had he been permitted to become a flesh-and-blood character, then it might well have worked. The contrast with the musical performance could not have been greater. Yet, despite Freyer's relationship to Brecht, this did not qualify as Brechtian Verfremdungseffekt. It was not even just a betrayal of the work; it was plain boring.

Mark Berry

Pictures © Monika Rittershaus

Back to Top Cumulative Index Page