Other Links
Editorial Board
UK

Editor

s

- Roger Jones and John Quinn

Editors for The Americas - Bruce Hodges and Jonathan Spencer Jones

European Editors - Bettina Mara and Jens F Laurson

Consulting Editor - Bill Kenny

Assistant Webmaster -Stan Metzger

Founder - Len Mullenger
Google Site Search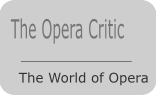 SEEN AND HEARD INTERNATIONAL OPERA REVIEW
Mozart, Le Nozze di Figaro: Soloists, Orquesta Sinfónica de Navarra. Orfeón Pamplonés. Conductor: Ernest Martínez Izquierdo. Auditorio El Baluarte de Pamplona. 25.11.2010. (JMI)

Production Teatro Real de Madrid in coproduction with Las Palmas's Teatro Pérez Galdós and Bilbao's ABAO.

Direction: Emilio Sagi (Original).
Nuria Castejón (Revival).
Sets: Daniel Bianco.
Costumes: Renata Schussheim.
Lighting: Eduardo Bravo (Original)
José Luis Canales (Revival).

Cast:

Figaro: Iñaki Fresán.
Susanna: Sabina Puértolas.
Countess: Maria Bayo.
Count: David Menéndez.
Cherubino: Sophie Marilley.
Marcellina: Francisca Beaumont.
Don Bartolo: Alfonso Echavarría.
Basilio: Jon Plazaola.
Barbarina: Amaia Azcona.
Antonio: Pablo Azpeitia.
Don Curzio: Iker Bengotxea.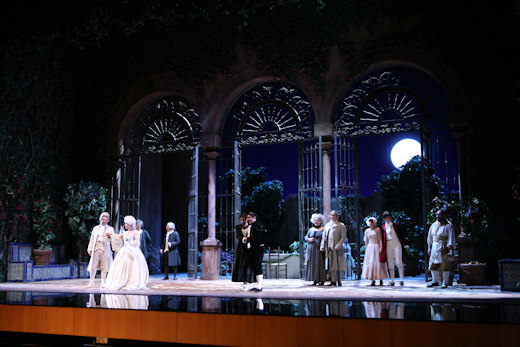 Production Picture Courtesy of Auditorio El Baluarte de Pamplona



Emilio Sagi's production premiered at Madrid Teatro Real in July last year, and was also reviewed in performances in Bilbao last April. Here is what I wrote about Sagi's work then (See Review.)

It is never easy to conduct

Le Nozze di Figaro satisfactorily. In fact, almost all operas by Mozart pose the same problems, especially his mature works. But the case of Figaro is particularly difficult and it requires a conductor very familiar with Mozart as a whole as well as the great masterpiece itself. While the fact that most conductors are interested in Mozart may go without saying, it is one thing to conduct a Mozart Symphony in a concert hall and quite a different matter to conduct one of his opera buffas. And in this connection Ernest Martínez Izquierdo - the director of the Orquesta Sinfónica de Navarra - is a conductor with long symphonic experience, but his excursions into opera have been fairly scarce and often in a very different repertoire. So it was then that coordination between pit and stage in this production left much to be desired – even to the point of losing the impact between the two sopranos during the letter duet although to be fair the similarity between their two voices was no help either. Generally then, Maestro Izquierdo's reading was more correct than brilliant and somewhat short of life and sparkle here and there. This was a reading that was more professional than truly imaginative and while the orchestra gave a good performance, the chorus was fairly mediocre.

The cast contained three local singers, which might have been useful in terms of box office attraction but was more debatable on artistic grounds. Figaro was Iñaki Fresán, who was totally miscast. Singing this role needs a lot more than just delivering notes competently. It needs emotional expression that and to give some meaning to the words and sadly here there was almost nothing of the kind. It is hard to imagine a less lively Figaro and there were problems with audibility at the lower ends of the tessitura. Fortunately, Sabina Puértolas was fun as intensely lively Susanna, who was fully convincing in almost every respect.. My only slight quibble is that I find her soprano slightly too light for Susanna.

Maria Bayo was the third local singer in this opera. She was a Countess with a voice that is still more suited to Susanna. While I can understand that Ms Bayo does not see herself as Susanna now, it is not simply age that makes any soprano the Countess, but the voice. She had a worrying start in "Porgi Amor", improving later to singing "Dove sono" with great taste. Sadly, the wonderful duet that Mozart wrote for the two sopranos was not well served by two light voices, since we lost the necessary contrast between their voices.

David Menéndez gave real life to Count Almaviva at least gave meaning and intention to what he was singing. His voice has never been particularly beautiful however and still is not even though he can be a very persuasive singer in the right roles. Here he managed most things very well except for his third act aria, "Hai gia vinta la causa" where he had some problems towards the end.

Sophie Marilley was a modest and adequate Cherubino whose two arias never really put much heat into the audience. Her voice is not large, but she did bring some fine musicality in the role.

There were also problems now and then with the secondary characters. I liked Jon Plazaola as Basilio and Amaia Azcona in Barbarina. By contrast, Francisca Beaumont had only limited appeal as Marcellina, while Alfonso Echevarria was a very modest Don Bartolo. Pablo Azpeitia's Antonio was unfortunately sometimes inaudible.

The Baluarte was full for the performance but the audience did not seem over enthusiastic during much of the performance. At the end though, all the artists were warmly received for their final bows, with the greatest applause saved for Sabina Puértolas's Susanna.

José M Irurzun