Other Links
Editorial Board
Editor - Bill Kenny

Deputy Editor - Bob Briggs
Founder - Len Mullenger
Google Site Search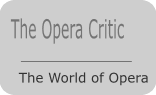 SEEN AND HEARD INTERNATIONAL FESTIVAL OPERA REVIEW

W. A. Mozart: Le Nozze di Figaro: Orquesta y Coro de la Sinfónica de Madrid. Conductor: Jesús López Cobos. Teatro Real de Madrid. 11 & 12.07.2009. (JMI)


New Production Teatro Real in co-production with Bilbao's ABAO and Las Palmas Teatro Pérez Galdós.
Director: Emilio Sagi.
Sets: Daniel Bianco.
Costumes: Renata Schussheim.
Lighting: Eduardo Bravo.
Cast:
Figaro: Luca Pisaroni/Fabio Capitanucci.
Susanna: Isabel Rey/Cinzia Forte.
Countess Almaviva: Barbara Frittoli/Eva Mei.
Count Almaviva: Ludovic Tézier/Mariusz Kwiecien.
Cherubino: Marina Comparato/Ketevan Kemoklidze.
Marcellina: Jeannette Fischer.
Don Bartolo: Carlos Chausson/Miguel Ángel Zapater.
Basilio: Raúl Giménez.
Barbarina: Soledad Cardoso.
Antonio: Miguel Sola.
Don Curzio: Enrique Viana.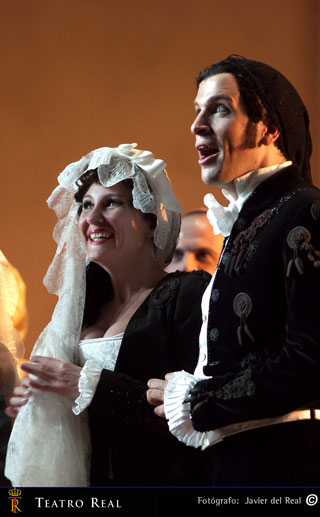 Isabel Rey as
Susanna and
Luca Pisaroni as Figaro


The opera season at Madrid Teatro Real came to an end with an incontestable success.
Le Nozze di Figaro
sported two first class casts and a gorgeous new production by Emilio Sagi. This is perhaps the best work Sagi - former artistic director of the house - has done to date. Beyond personal success, it also served as a lesson to those many conceited stage directors who use opera as a vehicle for their arrogance and lack of taste. How many productions have we seen that have little or nothing to do with what the authors of the opera wrote?
Emilio Sagi offered a production full of Sevillian atmosphere: from the Andalusian patio at the back of the stage on Act I, through the Countess's room full of light, to the sherry aperitif (Fino served from a half bottle, as is the custom in Seville), the fandango with dancers and castanets (as Jose Luis Castro did in his Seville production), to the finish with a garden of lecherous vegetation and the sound of water and crickets. Wonderful sets, beautiful costumes and outstanding lighting.
Jesús López Cobos
was again in the pit and his performance had the accustomed virtues and defects. His reading had more life and delicacy in the second part of the opera, particularly in Act IV. In the first two acts he fell short regarding lightness, joy and vivacity. Among his virtues I must stress the good results he drew from his orchestra. His customary control of stage and pit proved infallible apart from two slight accidents from Susanna and Figaro in the second cast. I should also mention his decision to open out the traditional cuts in Act IV, offering both Marcellina and Basilio arias. The Choir gave one of their poorest performances in years. Strikes are not a good means of improvement and it is urgent that changes are made. They are not what Teatro Real needs.
Luca Pisaroni was a wonderful Fígaro, both as a singer and as an actor. He has all the qualities necessary for one of the great interpreters of this role: he is young, has a good figure, a rich voice, expressiveness and is a very good actor. For me he is one of the great trio of Figaros, together with Bryn Terfel and Erwin Schrott. In the second cast we had Fabio Maria Capitanucci, who was good in what was his debut in Figaro. The impression is quite positive, although I prefer a more flexible voice. A healthy Figaro, then but not at the same level as Pisaroni.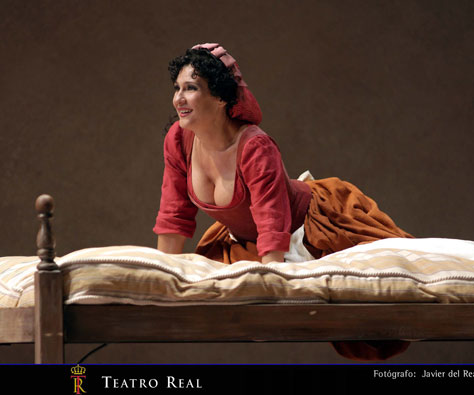 Valencian Isabel Rey made a very good Susanna, a role that fits her like a glove. Not very often have I seen this singer so secure and amusing on stage. Arguably she is too mature for the character but her voice is very well suited. Cinzia Forte was also a very good Susanna, a role that suits her perfectly though I did have a some doubts about her lower range.
Once we were past a somewhat cold reading of "Porgi amor" Barbara Frittoli made a wonderful Countess. She was truly bright in "Dove sono" and offered a very convincing interpretation of the character. She is just ideal for the Countess, offering an excellent contrast to the lighter Susanna. Her demeanour spoke of an unusually proud Countess. Eva Mei was not at the same level in the second cast. She sang without pain or glory "Porgi amor", only improving in "Dove Sono" - not very exciting. Her voice, which has lost some freshness of late, is a better match for Susanna than for the Countess.
Ludovic Tezier was an excellent Count Almaviva. He is in exceptional vocal shape and the role suits him perfectly and is at his best in the aria "Vedró, mentre io sospiro". Mariusz Kwicien was the new Count and I can only say that he seems to be born to sing and play the role. It is not possible to do it any better. If Tezier was excellent, what can I say of Kwicien? He was great from beginning to end. Not only did he sing in a wonderful way, but also he offered the best recitatives I have listened from any Count in years. In the seven years that have passed since I saw him for the last time in this character, he has found new depths in the character; so much so that one does not know whether we are seeing on stage Mariusz Kwicien or Count Almaviva himself. A theatre able to offer two such great Counts cannot be second rate, as Gerard Mortier said when he was appointed as Artistic Director of Teatro Real.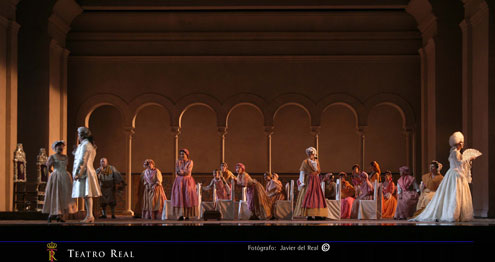 Marina Comparato, who was announced as Cherubino in the second cast, had to replace Maite Beaumont, who cancelled due to her advanced pregnancy - congratulations! Few opera characters can sustain a pregnant singer than Cherubino. The Italian mezzo offered a good Cherubino, somewhat anodyne in "Non so piu" and much better in "Voi Che sapete". The new Cherubino was young Georgian Ketevan Kemoklidze. This young singer was promising. As it happened, with Marina Comparato, she was also at her best in her second aria. She should take care over some of those too open sounds.
Carlos Chausson was Doctor Bartolo, a true luxury throughout and excellent in "La Vendetta". In the second cast we had Miguel Angel Zapater, who was not at quite the same level. Jeannette Fischer replaced Stefania Kaluza as Marcellina proving again that she is a true stage animal and singing a good "Il Capro è la capretta". Raul Giménez was an authoritative Basilio with exemplary diction and well able to face the usually cut aria "In quegl'anni". Soledad Cardoso was a good Barbarina. Enrique Viana proved an outstanding Don Curzio and Miguel Sola a decent Antonio.
There was a full house for both performances and a triumphant reception for all the company with cheers for the main interpreters. In the decibels contest the winners were Frittoli and Tezier at the premiere and Kwiecien and Capitanucci the following night. López Cobos got a much better reception on the second night. The creative team, headed by Sagi, received the recognition and admiration of the audience with a standing ovation. Not bad for a second level opera house.
Jose Marie Irurzun
Photographs
©
Javier del Real