Other Links
Editorial Board
Editor - Bill Kenny
Assistant Webmaster - Stan Metzger

Founder - Len Mullenger
Google Site Search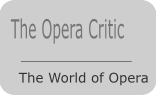 SEEN AND HEARD INTERNATIONAL CONCERT REVIEW

Sven-David Sandström - Messiah: (Swedish premiere) at Gävle Concert Hall, Sweden, 12.3.2010 (GF)

Karin Roman, soprano
Ivonne Fuchs, contralto
Timothy Fallon, tenor
Bernd Valentin, baritone
Gävle Symphony Chorus
Uppsala Academic Chamber Choir
Fyris Chamber Choir
Gävle Symphony Orchestra / Stefan Parkman
A little more than a year ago I saw the premiere of Sven-David Sandström's opera Batseba at the Stockholm Opera (see review). In that review there is also a link to an interview I made with the composer a couple of weeks before the premiere. In the interview he mentions, among upcoming projects, the commission to write an oratorio on the same Messiah text that Handel set 200 years before Sandström was born. The commission was a joint effort from the Bach festivals in Oregon and Stuttgart and it was premiered in Oregon on 9 July 2009 in connection with the Handel celebrations. The male soloists of the premiere also sang their roles in Gävle, lending some extra frisson to this Swedish premiere. Stockholm will hear the work next weekend at the Berwald Hall with Herbert Blomstedt at the helm.

Setting so well-known and beloved work as Messiah is a real challenge, but Sven-David Sandström likes challenges. His aim was decidedly not to compose a pasticcio on the baroque idiom but to write a Messiah for our time, employing Jennens's libretto, which is made up of quotations from the Bible and thus a central of our religious traditions. There are no musical references to Handel – that I could detect anyway – and contrary to 18th century habits there are no da capo arias, which means that Sandström's work is about half an hour shorter than Handel's.

Let me say right away that Sven-David Sandström's Messiah is a masterpiece that, if there is any justice in this world, should conquer concert halls and churches all over the world and become a permanent part of our musical life, side by side with Handel's work. From the magical opening chorus Comfort ye, pastoral and minimalist and then growing in intensity, until the concluding Worthy is the Lamb gradually ebbs away and leaves the listener in contemplative silence, this is the tautest and most beautiful new composition I have heard for ages. My American colleague Bruce Hodges wrote, when Sandström's High Mass had its US premiere in Minneapolis in 2003: 'this might possibly be one of the greatest choral works of the last twenty years or so.' Messiah may be the greatest choral work since Britten's War Requiem!

Sven-David Sandström has always been a master of choral writing, knowing the medium from within as a choral singer himself. And it is the choruses that form the chore of the work – just as it is with Handel. The variety of expression is amazing and every chorus is a gem. Let me list just a few: And the glory of the Lord – jubilant and beautiful; For behold, darkness shall cover the earth – evocative and beautiful; His yoke is easy – rhythmic and ecstatic with drum accompaniments reminiscent of Misa Criolla; Behold the Lamb of God – punchy and intense, a knock-out opening of part 2; Hallelujah – rhythmically vital and with a marvellous increase; Since by man came death – soft and achingly beautiful, possibly the most marvellous moments in the work, should be in the standard repertoire of every good choir.

The orchestral writing is also immensely varied and telling with expressive instrumental solos: the flute flourish at the beginning of the Hallelujah chorus, the ravishing woodwind blending with the female soloists in their duets, the bass drum's explosions in the tenor's O thou that tallest.

As in Batseba and even more in High Mass, Sandström often requires his soloists to sing in the extremes of their registers. The soprano has to soar high above the stave and the baritone should ideally have some extra bass notes to cope with his part. Like Puccini and Richard Strauss Sven-David Sandström seems to have a particular love affair with the soprano voice and Karin Roman, who has sung in several of his previous works, fulfilled all his demands with her bright and superbly well focused voice. Ivonne Fuchs also sang well though a little anonymously. Timothy Fallon has a light and agreeable lyric voice but it is rather weak and didn't always carry out sufficiently. Under pressure the tone also hardened considerably. Bernd Valentin's baritone, on the other hand, is large enough and he has dramatic intensity but was rather gruff at times. All four soloists had to execute some testing coloratura singing – maybe a nod at Handel and the baroque virtuosity.

Stefan Parkman has for many years conducted the great choral works and seems a natural choice to lead the orchestral and choral forces in this deeply satisfying performance. One or two minor lapses apart the playing was first class and the three choirs were impressive. After the last chord there was a long silence before the spell was broken by applause, hesitant at first but then there were enthusiastic standing ovations that seemed to last forever. The beauty and spirit of the music obviously went directly to the heart of everyone present. A magical evening!
Göran Forsling