Other Links
Editorial Board
Google Site Search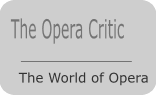 SEEN AND HEARD INTERNATIONAL OPERA REVIEW

Sven-David Sandström, Batseba: at the Royal Swedish Opera, Stockholm, The Royal Orchestra, The Royal Opera Chorus, Children's Choir from Adolf Fredrik's Music Classes, Students from the Royal Swedish Ballet School Conducted by Leif Segerstam 13.12.2008 (World Première) (GF)

Libretto in English: Leif Janzon after Torgny Lindgren's novel Bat Seba
Directed by David Radok
Sets by Lars Åke Thessman
Costumes by Karin Erskine
Choreography by Håkan Mayer
Lighting by Torkel Blomkvist

Sung in English with Swedish surtitles.

Cast:

Batseba as a young woman (Act I) – Elin Rombo
Batseba as a mature woman (Act II) – Hillevi Martinpelto
King David – Michael Weinius
Ahinoam, his first wife – Ingrid Tobiasson
Tamar, David's daughter, Absalom's young sister – IVA
Naomi, prophetess – Marianne Eklöf
Four small prophetesses – Marie Alexis, Jeanette Bjurling, Johanna E. Martell, Marianne Hellgren Staykov
Uria, Batseba's husband – Gueorgui Elkin
Absalom, David's son, Tamat's brother – Karl-Magnus Fredriksson
Amnon, David's and Ahinoam's son, Tamar's half-brother – Klas Hedlund (sung by Carl Unander Scharin)
Captain – Tomas Bergström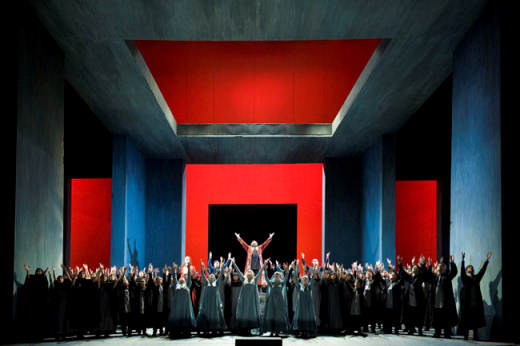 In Sven-David Sandström's new opera the patriarchal world of the Old Testament is seen from a female perspective and the women (read Batseba) in spite of oppression, humiliation, violation come off victorious. It is a cruel, blood-stained drama filled with conflicts: the eternal fight between the sexes, the combat between man and God, the struggle for earthly power. Rape, mutilation, intrigues and murder are the order of the day and when in the end King David dies and Batseba, having out-manoeuvred the other claimants to the throne, installs Solomon, her son with David, as the new king it is a triumph for her personally but we know that this doesn't break new ground. Or does it? The production, rather abstract and ritual – though undoubtedly aesthetically appealing in its sparseness – basically conveys little in the shape of comfort. Emotions as shown on stage are, understandably enough, primarily those of sorrow, suffering, despair and hate. But there is a redeeming factor, and a very important one: Sandström's music.

One would expect the music to such a bleak drama to be harsh and forbidding and certainly there are moments of tremendous outbursts with chilling clusters and ferocious explosions from the percussion department. This is however not the overriding impression of this score. On the contrary it is the most beautiful new opera I have heard for ages. There is a lot of lush, sensual string writing, the opening of the work vaguely reminiscent of the Traviata prelude and elsewhere it can't be completely wrong to hear echoes of Puccini and Richard Strauss at their most ravishing. The orchestral layout has harp and strings to the left, wind and percussion to the right, thus creating a thrilling polarisation of sound. This is also notable in the characterisation of individual personalities. King David, the warrior and ruler, is accompanied by brass, Batseba by weaker flutes. A long, extremely beautiful clarinet solo, exquisitely played by Staffan Mårtensson, accompanies the death of Ahinoam at the beginning of Act II and King David's final moments, where his power is at last broken, are depicted by a flute cantilena.

Choral music is also an important ingredient in the sound world of this opera. Female and male voices are contrasted and there is also a children's choir. Sandström has always had a special liking for the sound of choirs, being a choir-singer himself and having a rich and varied oeuvre of choral music on his opus list – and more is to come (see my interview with him). Powerful, dramatic or lyrically affecting music and the near the end of the opera the children's choir sing a sincere hymn of great beauty.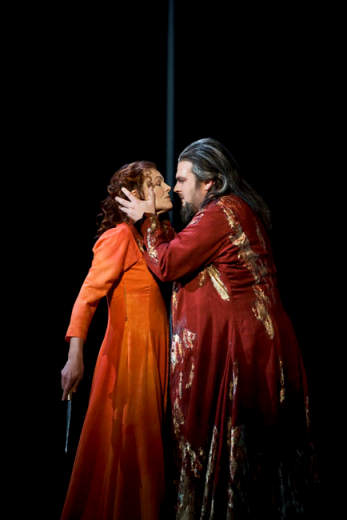 For the leading roles Sandström has written music that veers between – again – the Strauss/Puccini cantilena and melodies that are close to the Broadway musical idiom. Some years ago there were loose plans for some collaboration between him and Benny Andersson of ABBA, Chess and Mamma Mia fame. Batseba shows that he has all the capacity for composing memorable tunes – without falling into the sentimentality trap. Several of the arias are of the kind that – if there were any justice in this world – should go straight to the top of the bestseller lists. They are no easy tasks to bring off for the soloists, who are required to employ the whole range of the voice, from extreme depth to stratospheric height. But Sandström knows the possibilities of the voice and the outcome is bel canto singing of the utmost beauty.

Structurally the opera is divided in two acts and in toto twenty tableaux. Sven-David Sandström said in the interview that he imagined the drama in cinematic terms and was fully aware that his visions would not be able to fully realise on an operatic stage. This was in the back of my head while watching the performance and it would be interesting to see it filmed with all the technical possibilities available. I am sure some of the changes of scene could be done much quicker and heighten the dramatic tension. I won't say there are longueurs as it is, but it would be possible to make the drama flow more seamlessly.

Between the acts fifteen years have elapsed and this has made it necessary to divide the role of Batseba between two singers. The 19-year-old innocent girl in the first act is lovingly played by the young Elin Rombo while the chastened middle-aged woman in the second act has been entrusted the experienced Hillevi Martinpelto. Both of them are fully inside their roles and are vocally excellent. As King David, Michael Weinius, who changed from baritone to tenor a couple of years ago, is already 58 in the first act but his ageing in the second is skilfully depicted, his voice thinner and his whole image frailer. Sandström has made good use of his healthy spinto tenor in the first act and it is not unlikely that he will be a strong Otello in a few years.

The role of Tamar, David's daughter who is being raped by her half-brother, was tailor-made for IVA, a young American rock-singer with classical training. This is another wholly delightful role assumption. Marianne Eklöf as the timeless prophetess Naomi and Ingrid Tobiasson as Ahinoam, David's first wife, make finely etched portraits of their roles and the four small prophetesses, interfering with wry comments every now and then, are refreshing contrasts to the otherwise bleak proceedings, occasionally also indulging in almost vaudeville choreography.

Numerically the women dominate this opera and of the remaining male roles Uria is a mute and the rivalling half-brothers Absalom and Amnon are only heard in the second act, where Karl-Magnus Fredriksson impresses greatly with his powerful baritone. Klas Hedlund was prohibited to sing at the premiere for medical reasons but acted the role while Carl Unander Scharin, who learnt the role during the afternoon, sang the part commendably from the orchestral pit.

The Royal Orchestra played with obvious commitment and former music director of the Royal Opera Leif Segerstam, led his forces with unerring precision and deep involvement.

Encountering a new work, especially so many-faceted a work as an opera, has a special thrill and to assess the potential of it in the long run one needs to see and hear it more than once, but the musical merits, the power and the exceptional beauty of the score, make me believe that Batseba will return to the Royal Opera after the first round of fourteen scheduled performances, running until 5th March next year. The voluptuous music makes it a feast for the ear and whether the rather abstract sets and direction is contra-productive to the musical sensualism or merely contrapuntal remains to be seen. In any case it is a magnificent triumph for Sven-David Sandström. The violent ovations and standing ovations at the curtain calls seemed to indicate that the premiere audience felt the same.



Göran Forsling

Photos © Carl Thorborg & Alexander Kenney