Other Links
Editorial Board
Editor - Bill Kenny


Assistant Webmaster -Stan Metzger

Founder - Len Mullenger
Google Site Search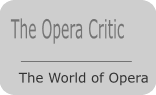 SEEN AND HEARD UK OPERA REVIEW

Bizet, The Pearl Fishers: (Sung in English) Soloists and Chorus of English National Opera/Rory Macdonald. London Coliseum, 1.6.2010 (CC)
Nadir Alfie Boe
Zurga Quinn Kelsey
Leila Hanan Alattar
Nourabad Freddie Tong


Pity the poor Pearl Fishers, an opera that seems famous only for one duet ("Au fond du temple saint"), and that thanks to Jussi Björling and Robert Merrill. A good performance persuades the listener that the work is worth more than that; a poor one confirms history's judgement.

Thankfully, this performance generally fell into the former camp. The new production, by Penny Woolcock (who also directed Doctor Atomic here) began in eye-popping form. The stage of ENO becomes a window into an underwater paradise, with divers moving smoothly and beautifully. The town where the opera is set ("somewhere in the Far East") is similarly well done, an oriental shanty town of remarkable poverty. Omnipresent tourists added a smattering of the West; the ENO chorus depicting all this was superb (as they were in their prayer later in the first act), all held together by the sterling conducting of Rory Macdonald. The town is ever in awe of the power of the sea (a comment of climate change, doubtless)

Alfie Boe took the role of Nadir, something I must confess filled me with dread. My previous experience of Boe (in fact my only previous experience of him live) had been at a filming for the TV series Maestro, an event that left me decidedly underwhelmed. His voice in the Coliseum was stronger than I had expected, and his famous duet with Quinn Kelsey was remarkably heart-felt (the text here began "From deep within the shrine …"). His own big solo aria, "Je crois entendre encore", was well done also. He disappointed significantly only once, whilst off-stage towards the end of the opera. Macdonald kept the music flowing, and avoided any sense of the hackneyed in the orchestral sections between verses. There is, it has to be said, an ensuing drop in inspiration on the part of the composer.

The part of Leila was taken by the American soprano Hanan Alattar. Her voice was secure and she certainly looked the part of the desirable princess. The part carries with it considerable challenges however, not all of which Alattar surmounted with ease. Her Act One prayer, though, was one of the evening's highlights. As the jealous bully and wife-beater Zurga, Kelsey projected a human character, no cardboard cut-out. And perhaps that sums up this entire production – the human aspect. Villagers who steal electricity through need, vulnerable in their fear of the sea and their own poverty root the action in the intrinsically human.
Finally in this short cast list, Hong Kong-born bass-baritone Freddie Tong took the role of Nourabad. He has a fine voice and dramatic presence. Rory Macdonald, whose conducting of Rossini's Barber was applauded by my colleague Jim Pritchard in 2008, inspired the orchestra to its not inconsiderable best. Well worth seeing.

Colin Clarke