Other Links
Editorial Board
Editor - Bill Kenny
London Editor-Melanie Eskenazi
Founder - Len Mullenger
Google Site Search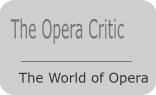 Price Comparison Web Site
SEEN AND HEARD INTERNATIONAL OPERA REVIEW
Wagner, Die Walküre: Soloists, Orquesta Sinfónica del Liceu. Conductor: Sebastián Weigle, Gran Teatre del Liceu de Barcelona. 28. 5.2008. (JMI)

Concert Version.

Cast:
Brünnhilde: Evelyn Herlitzius
Sieglinde: Waltraud Meier
Siegmund: Plácido Domingo
Wotan: Alan Held
Hunding: René Pape
Fricka: Jane Henschel.


It is interesting to see how things change over time in the world of the opera. Not too many years ago, when there was a good cast in a Wagner opera, it was normal to say that the line-up was worthy of Bayreuth. No Wagner fan could say this now however after looking at the stellar cast list for this Liceu Walküre. What we enjoyed in Barcelona would never be available on the Sacred Hill although the mystique of the place is a different matter, as is the Orchestra.

Although this Walküre was advertised as a concert version, taking into account the great experience of all the singers, it became more of a kind of semi staging. as all the singers moved round the stage and none of them used a score: the orchestra was in the pit and the singers sang from the front of the stage. Usually operas are offered in concert, when they are rarities, and then mostly to avoid building new productions, but the reason here was simply due to the exceptional casting. Managing to get superstars like Domingo, Waltraud Meier and René Pape together for a longer period of time than a concert, would be almost a pipe-dream these days.

The musical direction of this opera in concert was in the hands Sebastián Weigle, whose performance was very uneven, with some good moments and some others that were truly disappointing. I had the impression that conducting two such complicated works as Death in Venice and Walküre one immediately after the other requires more preparation time than he probably had availablt to him, . but although this may be an explanation, it isn't enough to justify such a poor performance by the musical director of a world class opera house. The first act did not go much beyond correctness in the notes, with a love duet that was very short on inspiration indeed. Weigle improved in the second act, the best part of his reading, mainly in the Todesverkundigung. The worse came in the last act with a very poor Ride of the Valkyries and disappointing Magic Fire music. The cast was worthy of better conducting than this and the Liceu Orchestra was not on its best form either, with some catastrophic failures from the brass during the first act and a constant lack of strength in the string section.

Separate from the other singers in term of star quality, the valkyrie giving the opera its title is of course Brünnhilde, interpreted here by Evelyn Herlitzius. If Jennifer Wilson were able to sing with the intensity and conviction that this German soprano does, we would have the perfect Brünnhilde. Herlitzius' voice is not exceptional and is even rather unattractive in some registers, but her intensity and her capacity for living the role is such that these flaws almost become secondary sconsiderations. She had slight difficulties in the initial 'Hojotoho', but she overcame them with power and artistry. Very few singers these days have her capacity to move me so much.

Waltraud Meier was a very convincing Sieglinde, in a role that suits her far better than some others she sings, since its tessitura is very much in the middle range. She does not need to overplay her hand to be completely convincing, since Sieglinde is a part of her that everything flows out from her naturally and easily. I am almost tempted to say that I prefer her in concert, since her everyday appearance is so elegantly gorgeous.

Placido Domingo becomes more like Superman every day. The pact of Faust's pact with Mephistopheles to retain youth seems like a children's game compared with him. It is almost impossible to understand how at 67 (that's official) he can maintain the affecting so many of his colleagues much earlier. He is in fact unique and a phenomenon never likely to be repeated: . his Siegmund was extraordinary in every sense. It is evident that he has lost his very top notes – if he hadn't he would actually be Supergod - , but he has enough intelligence to produce the high A at the end of Act I with tremendous dignity, if not brilliance. He is definitely from another planet.

American Alan Held was a powerful Wotan, more in the line of Falk Struckmann than James Morris or Albert Dohmen and his voice is well suited to singing the God, although finishing the opera with some signs of tiredness. All in all a good Wotan, though perhaps slightly on interpretative nuance.

What I can say of René Pape? He actually is Hunding. One does not know whether to admire his sumptuous true bass voice more , more than his interpretation or his general way of singing. I cannot remember any Hunding able to sing so softly as he does.

American Jane Henschel was an outstanding and powerful Fricka, too often reduced almost to a secondary role in some cast lists. Not so here though with Ms Henschel providing the perfect complement for a stellar cast.

The group of Valkyries was rather poor, with some significant failures. The worse came from the best known, ie Silvana Dussmann (Helmwige) and Renate Spingler (Siegrune). Every opera house needs to be careful casting Helmwige, because she has to reach a high C in a clear and sonorous way but Silvana Dussmann hurt my ears with her shouts and something similar happened with Ms. Spingler. This is very surprising considering that the group also included Eugenia Maria Bethencourt singing Ortlinde, who was a remarkable Helmwige in Valencia and Florence. Michelle Marie Cook, who replaced Maria Rodriguez as Gerhilde, was not very convincing either. The other sisters were Jane Dutton (Waltraute), Nadine Weissmann (Schwerleite), Inés Moraleda (Grimgerde) and Gemma-Coma Alabert (Rossweisse).

Obviously, the Liceu overflowed with people, many coming from distant places. I witnessed Superman's arrival for the performance when he was almost covered by flowers from his numerous fans. He was more "infiorito" than la Madonna in Tosca. This was huge triumph for all the artists: I left the theatre after 1 a.m. and the ovations were still continuing. Maesto Weigle was received with a mixture of applause and extremely loud sonorous booing, which did not stop, but continued to crescendo

Any theater that can offer offers this dream cast two days after a marvellous production of Death in Venice however deserves hearty congratulations. Bravo, Joan Matabosch!

José M Irurzun


Ba
ck to Top
Cumulative Index Page