Other Links
Editorial Board
Editor - Bill Kenny
London Editor-Melanie Eskenazi
Founder - Len Mullenger
Google Site Search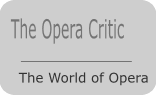 Price Comparison Web Site
SEEN AND HEARD INTERNATIONAL OPERA REVIEW

Britten, Death in Venice: Soloists, Orchestra and Chorus Barcelona's Liceu, Conductor: Sebastian Weigle, Gran Teatre del liceu de Barcelona. 27.05.2008. (JMI)

New Production by the Barcelona Liceu, Madrid Teatro Real and Deutsche Opera am Rhein

Direction: Willy Decker
Sets: Wolfgang Gussmann
Costumes: Wolfgang Gussmann/Susana Mendoza
Lighting: Hans Toelstede

Cast:
Aschenbach: Hans Schöpflin, tenor
Traveller (several roles): Scott Hendrick, baritone
Apollo's Voice: Carlos Mena, countertenor
Tadzio: Uli Kirsch (non singing)
Employee of travel agency: Leigh Melrose, baritone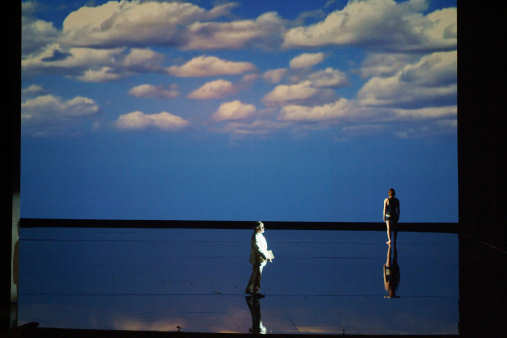 Aschenbach: Hans Schöpflin and Tadzio: Uli Kirsch


Barcelona's Liceu continues its policy of offering Benjamin Britten operas, this one being the sixth work by the English composer to be performed and with this production Death in Venice finally arrives in Spain, 35 years after its premiere in Aldeburgh.

Over the last few years it has become more and more frequent to have Britten operas included in the programs of Spanish opera houses and these productions have been successful, almost without exception. This one is new, production with stage direction by Willy Decker, whose Peter Grimes met with great success in Madrid and Bilbao. Decker's Death in Venice follows on from this in being one of the best stage shows that I have seen in a long time, and this is a key element in the success of the opera. The sets are of great beauty, with very fast changes of each one of the 17 scenes that form the opera. The costumes are beautiful and are based on early XXth century fashions, with a most appealing contrast of colours. The lighting is outstanding and perfectly complements a great production.

There is no scene that does not strike us with its beauty. In particular, I would mention the trip by gondola to the hotel, the visit to the Museum with gorgeous reproductions of paintings from Caravaggio and Magritte, the scenes of the boys on the beach, and the representations of Aschenbach's dreams. The stage direction is very good too, dealing with the subject of homosexuality with some care and good taste Altogether this is a wonderful production, and is one of the very best that I have seen.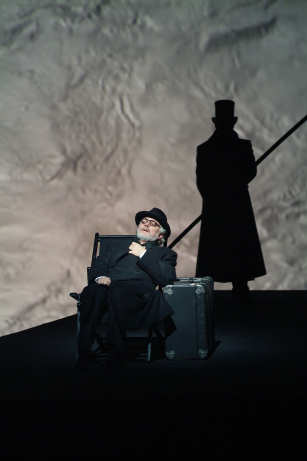 Hans Schöpflin as Aschenbach



Death in Venice

is not a work easy to conduct. Far from it, since it is almost entirely a monologue recited by Aschnebach. It needs a conductor who believes in this music in order to keep the interest and attention of the audience. Sebastian Weigle achieves that perfectly in one of his best performances in this theatre. The relationship created by Decker and Weigle between stage and pit was a true team work, worthy of great praise. The Orchestra sounded remarkably improved on previous performances, as if they had extra motivation. It is necessary also to praise the Chorus, singing a particularly difficult work for them.

The protagonist Gustav Von Aschenbach is on stage nearly all the time, in a real vocal marathon that needs a great interpreter more than an outstanding voice. German tenor Hans Schöpflin is an accomplished interpreter of this character and he was most convincing, able to transmit both emotion and sympathy to the audience.

The other major character in the opera is Aschenbach's "alter ego" , the incarnation of evil, which appears in different roles, from the traveller in the Cemetery to the voice of Dionysius, besides appearing a the gondolier, hotel manager, barber, etc. Texan baritone Scott Hendrick interpreted this role very well.

The secondary characters are also numerous and among them the Voice of Apollo, interpreted by the countertenor Carlos Mena and the travel agency employee , sung by Leigh Melrose. Both brought their roles to life and gave good vocal perfomances.

The other great part in this opera is the non-singing role of Tadzio, the boy who dazzles he elderly Aschenbach with his beauty. The actor and dancer Uli Kirsch was perfect in this role. The whole production received a particulalry warm reception from the audience.

José M Irurzun


Pictures © Antonio Bofill

Back to Top Cumulative Index Page