Other Links
Editorial Board
Editor - Bill Kenny
London Editor-Melanie Eskenazi
Founder - Len Mullenger
Google Site Search
SEEN AND HEARD INTERNATIONAL OPERA REVIEW

Kaija Saariaho, Adriana Mater: (Finnish Premiere - First Night) Soloists, Chorus and orchestra of Finnish National Opera, Ernest Martínez Izquierdo conductor, Helsinki, Finland. 23.2.2008 (BK)

A joint production by Bastille Opera, Paris and Finnish National Opera. Computer music by the IRCAM studios, Paris.

Production:

Conductor-Ernest Martínez Izquierdo
Libretto - Amin Maalouf
Director - Peter Sellars
Sets - George Tsypin
Costumes - Martin Pakledinaz
Lighting design - James F. Ingalls
Sound design - IRCAM computer music designer Gilbert Nouno,
Petteri Laukkanen, Josi Keinonen

Cast:

Adriana - Monica Groop (mezzo-soprano)
Refka (Adriana's Sister) - Pia Freund (soprano)
Tsargo (A Soldier) - Jyrki Korhonen (bass)
Yonas (Adriana's Son) - Tuomas Katajala (tenor)




L- R : Yonas, Adriana, Refka and Tsargo

Two years after its world premiere in Paris, Kaija Saariaho's Adriana comes to Finland, tenderly re-polished to be new-pin bright. Much more a new production than a revival for Helsinki, the stage set has been trimmed by a third and some scoring redrafted, tailoring the sound carefully to the FNO's clean acoustic. The result is both moving and impressive.

All Kaija Saariaho's operas - L'Amour de Loin and the opera/oratorio La Passion de Simone (see review) are the others - move very slowly, tracing their characters' experiences rather than dramatised events. Very little happens in the way of action, but the audience shares deeply in the emotional impact of such events as there are, and also in the characters' thoughts about them. It was Messiaen's St. Francis of Assisi that led Kaija Saariaho to turn to writing opera herself and like so much of Messiaen's own output, all of the Saariaho narratives draw us gently into an unusually contemplative frame of mind. As the characters make sense of what happens to them and distil out the meaning of their lives, we share in their meditations about the things that affect them : we share in their Regards, to use one of Messiaen's carefully chosen words. This curious sense of sharing - which steals up on us so quietly that we may not realise what is happening at first - is what makes Kaija Saariaho's operas so unusual and compelling. It is also what makes them so complete.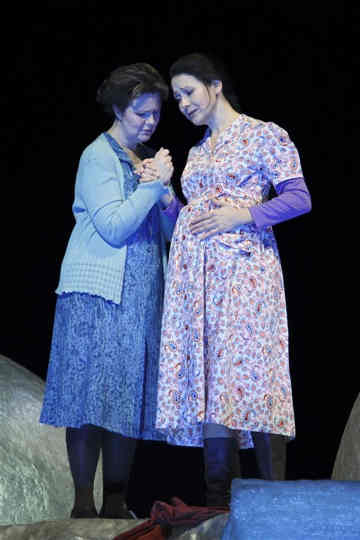 Pia Freund (Refka) and Monica Groop (Adriana)


Adriana Mater deals with war, rape, motherhood and ultimately with the significance of compassion. The narrative was developed after Kaija Saariaho described her experiences of her first pregnancy to librettist Amin Maalouf, especially her musings about her baby's heart beating next to her own. What kind of person was this growing child, what events might shape its future, what could it / might it become?

Using the background of a modern civil war, Amin Maalouf's plot describes how a young woman called Adriana, is raped and made pregnant by Tsargo, a man active in the conflict and living in her village. Against advice from her sister Refka, Adriana bears the child and brings him up to believe that his father died heroically in the fighting, which ended shortly before he was born. While carrying her unborn child, Adriana wonders if the baby will become like its father. 'Will he be Cain or Abel?' she asks herself repeatedly.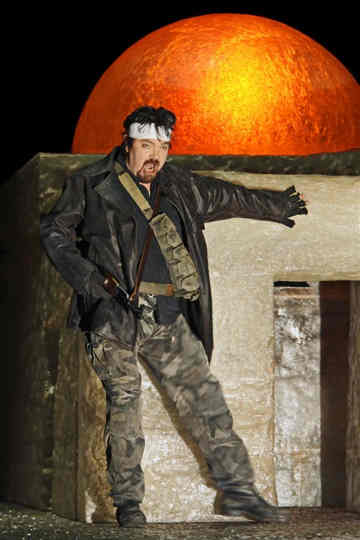 Jyrki Korhonen (Tsargo)



Seventeen years pass. The boy Yonas discovers his history and is furiously angry after learning the truth and realising that his mother has deceived him. He resolves to kill Tsargo and sets off to do so, only to find that Tsargo has lost his sight. Yonas realises that he is not a murderer - he cannot kill because of his father's blindness - and confesses his 'weakness' to his mother. Comforted at last, and having a growing man's shoulder to lean on now, Adriana tells Yonas, 'We are not avenged Yonas : we are saved.'

The creative team that developed the three operas, librettist Maalouf, director Peter Sellars and the composer herself, have come to regard their work as a trilogy of which Adriana Mater is the final third, even though it was composed and written before La Passion de Simone. They share both a creative vision and a commitment to economy. There is not a superfluous word in the libretto, the direction and sets are deliberately spare - the rape is not visible to the audience and is suggested only by James F. Ingalls' lighting and the orchestra - and even the music has a carefully restricted palette, despite substantial instrumental forces, the IRCAM designed computer sound and a large off-stage chorus. The totality however, including George Tsypin's set design which in Helsinki exposes the complex lighting rig on the stage, adds up to the nearest thing to a Wagnerian gesamtkunstwerk imaginable these days. Less, as they say, really can be more in careful and capable hands.

Better singing and a better orchestral interpretation, from the four principals and conductor Ernest Martínez Izquierdo, would be difficult to find anywhere in the world just now. This is not an easy score by any means and is typical of Kaija Saariaho's mature style, in which the balance between soloists, the orchestra and computer sound design, not to mention the impeccable FNO chorus, feels completely seamless. The overall effect is of an engaging and innovative soundscape depicting everything from extreme violence through to the tenderest human emotions with equally easy facility. Small wonder then that the Helsinki performances are now completely sold out. They certainly deserve to be.



Bill Kenny

Pictures © Heikki Tuuli

A concert version of Adriana Mater will be performed at London's Barbican Hall by the BBC Symphony Orchestra and BBC Singers on April 24th, conducted by Edward Gardner. The soloists are Solveig Kringelborn, Monica Groop, Jyrki Korhonen and Gordon Gietz.

Santa Fe Opera will offer a staged version with Pia Freund, Monica Groop and tenor Joseph Kaiser in July and August. See the Santa Fe season preview page here.


Back to Top Cumulative Index Page