Editorial Board

London Editor:
(London UK)
Melanie Eskenazi

Regional Editor:
(UK regions and Worldwide)
Bill Kenny

Webmaster:
Bill Kenny

Music Web Webmaster:
Len Mullenger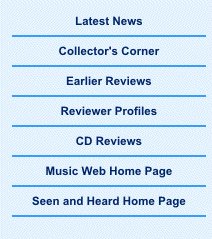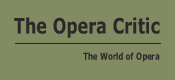 MusicWeb is a subscription-free site
Clicking Google adverts on our pages helps us keep it that way

Seen and Heard Opera
Saariaho: La passion de Simone
Dawn Upshaw (soprano), Dominque Blanc (speaker), Michael Schumacher (dancer), London Voices, City of Birmingham Orchestra, Peter Sellars (director), Robert Spano (conductor), Amin Maalouf (libretto), Barbican Hall, London 10.07.2007 (AO)
There is no way anyone could fault the intention of this opera without being churlish, so high minded is its intention. Thereís so much here that makes it "beyond" criticism because itís dominated by the saint like image of Simone Weil who removes herself from the world, refusing to engage in the sort of trivialities the rest of us are concerned with, like survival. Weil apotheosized herself, her death a blazing entry into Valhalla, casting contradiction into the shadows. To their credit, Saariaho, Malouf and Sellars do present a more balanced approach, but itís hard to escape the basic nihilism. Whatís the point of anything, if, as Weil tells us (in the voice over) if "nothing exists thatís worthy of love". This isnít Gandhian effacement of ego. As the libretto (based on the comments of others, including Weilís sister) responds, "You never knew how to say "we"". But this isnít about philosophy; itís about how the opera draws from this an aura of profundity that ordinary discussion canít touch.
The orchestra takes central place on stage, the acting confined to a small box above the players Ė suitably claustrophobic and elevated. Sellars gets right to the essentials: the drama here is in the music and in Weilís mind. Distraction would dilute the impact. Dawn Upshaw carries the entire opera on her own: sheís the only singer throughout, and the fact that it works at all is a tribute to her personality and skill. Saariaho wrote this specifically for Upshawís voice, using its distinctive strength. Upshawís sensible and sensitive delivery makes the role seem grounded in reality, a very effective counterpoint to the other-worldly musings being quoted from off stage. Upshaw is supported by the dancer Michael Schumacher, who flits in and out of the shadows. Iím not sure what he symbolizes but itís a very expressive role, though he doesnít speak. Sometimes he and Upshaw mimic each othersí movements, sometimes he literally holds her up, such as when sheís referring to Weil being "crucified". Again, his muscular, animal magnetism works as a plot device, because it adds a great deal to the ideas behind this extremely cerebral work.
Iím much less convinced about the frequent allusions to Christianity. The reason why the bible makes a big thing about Christ feeling forsaken on the cross is because even in extremis, God hasnít forsaken him at all. The punchline left out here is that Jesus dies acknowledging God. Thereís a lot of pseudo-Christian rhetoric in this opera; even the operaís title is a direct reference to Christís passion. However, since so many western composers borrow not very accurately from other cultures, itís probably fair enough that a western religion gets the same treatment.
The music, however, is far more convincing. Saariaho feels deeply about the plot, but her music redeems its fundamental inconsistencies. Blank out the words, (though you shouldnít) and you have an intoxicating feast of chromatic colour. Itís so vivid and beautiful that, consciously or not, it undermines Weilís ideas that life is polluting, unworthy "bestiality". Saariaho even manages to incorporate into her music some of Weilís other ideas, such as the dichotomy between gravity and grace: gravity comes in the dark undercurrents of the brass and winds, for example, and grace in the diaphanous, glistening textures of her writing for strings and percussion. Thereís lots of her distinctive exoticism in the gamelan-like passages for marimba, bells and harp. There are some pretentious moments, such as over-long silences between the sections, and passages pushing the same point too long, but on balance, itís the music that makes this opera. No wonder Sellars wisely put the orchestra on display!
No doubt ĎThe Passion of Simoneí will be a huge hit and earn a permanent place in the repertoire. Itís more concentrated and focused than ĎLíamour de loin, and its subject matter almost guarantees a devoted audience. Itís an experience, definitely, but Iím not sure it gives the long term satisfaction of Shadowtime, built around Benjaminís suicide in the same period. Ferneyhough, who was Saariahoís teacher, diverged from Benjaminís story to create something quite new, but The Passion of Simone remains bound to its origins.
Anne Ozorio
Back to the Top
Back to the Index Page

Seen and Heard, one of the longest established live music review web sites on the Internet, publishes original reviews of recitals, concerts and opera performances from the UK and internationally. We update often, and sometimes daily, to bring you fast reviews, each of which offers a breadth of knowledge and attention to performance detail that is sometimes difficult for readers to find elsewhere.
Seen and Heard publishes interviews with musicians, musicologists and directors which feature both established artists and lesser known performers. We also feature articles on the classical music industry and we use other arts media to connect between music and culture in its widest terms.
Seen and Heard aims to present the best in new criticism from writers with a radical viewpoint and welcomes contributions from all nations. If you would like to find out more email Regional Editor Bill Kenny.
Contributors: Marc Bridle, Martin Anderson, Patrick Burnson, Frank Cadenhead, Colin Clarke, Paul Conway, Geoff Diggines, Sarah Dunlop, Evan Dickerson Melanie Eskenazi (London Editor) Robert J Farr, Abigail Frymann, GŲran Forsling, Simon Hewitt-Jones, Bruce Hodges,Tim Hodgkinson, Martin Hoyle, Bernard Jacobson, Tristan Jakob-Hoff, Ben Killeen, Bill Kenny (Regional Editor), Ian Lace, John Leeman, Sue Loder,Jean Martin, Neil McGowan, Bettina Mara, Robin Mitchell-Boyask, Simon Morgan, Aline Nassif, Anne Ozorio, Ian Pace, John Phillips, Jim Pritchard, John Quinn, Peter Quantrill, Alex Russell, Paul Serotsky, Harvey Steiman, Christopher Thomas, Raymond Walker, John Warnaby, Hans-Theodor Wolhfahrt, Peter Grahame Woolf (Founder & Emeritus Editor)
Site design: Bill Kenny 2004